Here we present part two of our massive ISE 2020 round up, this time taking a look at the exciting sector of audio and home cinema.
See here for part one on automation and control.
Canadian brand Totem who's CI range is distributed in the UK by Redline chose to highlight several parts of its range including the new Solution Bars.
Part of Totem's Tribe series, the Solution Bars family comes in two variants that deliver strong aesthetics to match with super slim stylish TVs, coupled to the company's signature wide dispersion and detailed audio performance. A passive design means superior off-board amplification can be used to get really impressive results.
Designed for use with a TV or for music only playback, the products are designed to produce the large musical soundstage and accurate phase coherency that Totem is known for.
The Tribe Duo Solution Bar is a two-channel design in a sealed cabinet, while the Tribe Trio Solution Bar is a three-channel LCR in a ported enclosure.
Offering long-throw 4in woofers, both models have been created to work with screens 65in and larger and their low-profile design and included flush mount non-resonant wall bracket make them ideal for on-wall installations. Should it be desirable to place either product on furniture or a mantle, adhesive backed sound isolation feet are provided to create a solid base from which the product can perform.
Each has closely grouped inputs and wire channel management for a clean, simple connection and are available in white and black satin finishes. An average efficiency of 90dB and a 6ohm load make the Solutions Bars easy to drive and a viable option for a wide range of systems and applications. Phase consistent from any position or location, Solution Bars offer ease of placement within the room.
Creator of the brand and the products Vince Bruzzese was at the show to give his unique insight into the most recent creations. Referring to the soundbars, Vince commented, "These products really punch above their weight, they are very versatile and the reaction to the demos we have been running has been really positive. Wait until you hear them in a real-world situation, they are even better. Never fatiguing with very wide dispersion, we don't beam like other speakers, the centre is really full and present."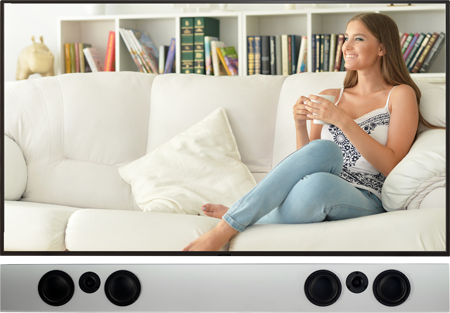 Lithe Audio
Innovative UK maker Lithe Audio had four new products to shout about at the event. Introductions consisted of the Wi-fi PRO, an all-in-one ceiling speaker, a new wireless Micro sub, an In-wall Dual Zone audio system and an updated version of the company's popular Bluetooth in-ceiling speaker now with Bluetooth 5.0.
Equipped with Airplay2, the new wireless Micro sub is a discrete solution that can be easily connected to the Lithe Audio multiroom audio system and boost the bass.
This cute little speaker (17cm cubed) can be fully integrated with smart home systems and works with other speakers equipped with Airplay2 or Google cast and has Wi-Fi and Bluetooth built in.
Aimed at the hospitality sector, Lithe Audio is also introducing the In-wall Dual Zone hotel audio system with Bluetooth 5.0 and DAB+ radio bringing the brand's improved high-quality speaker sound to hotel rooms or in fact any single room application.
This approach is a good match for when music playback is required without the use of a phone or smart device.
The company's popular wireless in-ceiling Bluetooth speakers introduced the concept of being powered by the lighting circuit simplifying installation. ISE witnessed the launch of new version with Bluetooth 5.0, a new 30M range (compared to 10m on previous models) and an Aptx Low latency protocol for seamless wireless syncing with TVs.
The event also saw the introduction of Lithe Wi-Fi PRO for ultimate connectivity offering wireless multiroom audio or hardwire connections, powered by the lighting circuit or via PoE, the speaker is WISA compatible for wireless surround sound and other connections include Airplay2, Google cast, Bluetooth (4.0), optical input and ethernet.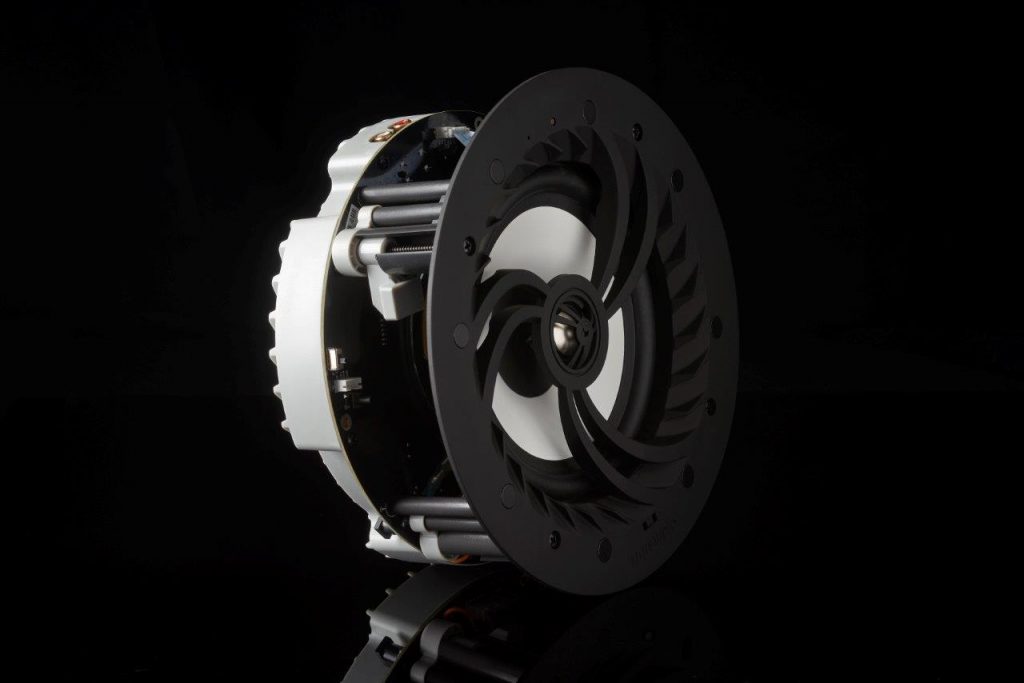 NAD
NAD announced an all-new advanced amplifier targeted squarely at high performance distributed audio systems. The CI 8-150 DSP delivers 8 X 150W per channel @ 8 ohms, it is also bridgeable to 4 x 365W per channel @ 8 ohms. The hybrid digital amplifier platform has been created to deliver stable and efficient power with high current capability, all in a slim 1U rack space.
To make this level of performance possible, the CI 8-150 DSP uses a customised version of the proven nCore output stage. NAD says this allows for massive power with extremely low distortion and noise in the audible range. Every detail of this design has been carefully executed to wring out every last drop of performance. Designed to deal with the stringent demands of the CI world, the new NAD amp was made to handle long cable runs and difficult speaker loads.
The CI 8-150 DSP also allows installers to program and control a variety of functions which can be accessed through a web browser. The custom web UI can manage DSP calibration and IP control as well as offer several helpful diagnostic features. Once the installer has accessed the unit from within the network, the amplifier can be set up, calibrated, as well as reboot, factory reset, restore custom settings, and update firmware.
NAD is keenly aware that reliability is paramount for a professional installer so all models will be based on tried and true amplification platforms delivering stable and reliable performance. The CI 8-150 amplifier is stable at 4 ohm impedances. A variety of power methods are available as well as an Eco mode.
Designed to fit in a 2U rack space, the CI 8-150 will deliver a dual bus system and analogue inputs, as well as optical and coax inputs.
"NAD's newest CI 8-150 distribution amplifier highlights one of the brand's strongest features which of course is our performance amplifier platforms". commented Joe de Jesus, Lenbrook's Product Manager for CI. "The brand has a stellar reputation for rock solid amplification and a tonal balance that seems to shake hands with virtually any speaker it powers. Our clients can expect the same exacting standard. For example, this new CI 8-150 DSP adheres to the same stringent sonic tests as our best traditional amplifiers. Quite simply, that sonic signature is what separates NAD from the rest."

Meridian
Meridian was highlighting the recently re-packed distribution part of the business now known as DbM (Distributed by Meridian) – now an independent brand and part of the Meridian experience.
DbM has been set up to provide focussed expansion for its distribution partners, now an independent service that uses its connections to push partnered products out on the market, whilst also providing solutions for DbM dealers and integrators.
Basically, the idea seems to be to give the brands under this part of the company more awareness and a stronger identity within the group. The first new company announced as part of DbM is Waterfall, French audio brand with its striking range of glass speakers and CI products too.
"DbM is an extension of the Meridian Audio experience, giving manufactures who share our desire for greatness more options," commented Katy Bradshaw, Director of Marketing at DbM. "DbM helps our dealers provide authentic and exceptional home theatre experiences for their clients, and we've been overjoyed with the positive feedback we've had since its launch. The independent DbM brand marks a new chapter for Meridian, as we look to expand our service and provide even more for our growing customer base working in the professional home integration channel."
DbM's other brands are Barco Residential, Display Technologies and Cinema Acoustic Treatment System (C-ATS).
Meridian also took part in a demonstration of high-performance home cinema in partnership with Barco. Offering a 9.4 cinema set up, the room featured the latest Meridian loudspeakers and subwoofers (DSP750 and the DSW.2).
Asked why not an immersive set up in Dolby Atmos or DTS:X, apart from the difficulties of creating such a set up in show conditions, Meridian was just one of the companies arguing that whilst immersive technologies are great, sometimes, its worth thinking about, less speakers, but better speakers.
Often trying to hit a particular configuration, can impact on the quality of the speakers available if there are budget constraints, so in those instances going for less speakers but of a higher quality, can produce the best outcome.
As the brand's highest performing architectural loudspeaker yet, the DSP750 in-wall digital active loudspeaker, can of course do either very well. The room also featured Meridian's Reference 861v8 processor with Meridian Room Correction. With a full 96/24 signal path all the way through the chain, the 861v8 is designed to maximise the resolution of UHD content.
The hi-res audio from the Kaleidescape UHD movie server being used was first re-clocked by the Meridian UHD722, then up-sampled to 96/24 resolution before being transmitted to the 861v8 via Meridian's proprietary zero-jitter Meridian High-Resolution MHR link. The UHD video was sent on to the Barco Residential Bragi via the UHD722's 18.2Gbps HDMI output.
Waterfall
For its part Waterfall introduced a new design approach for its in-wall subwoofer in the form of the SUB IW FLEX200.
The maker says listeners will be able to enjoycrisp and clear bass within this 9.9cm deep in-wall product. The maker says the sub features a new design approach close to a designed radiator with its paintable front cover, offering a more aesthetically pleasing in-room presence than regular grills.
Created at the new Waterfall Design Center, the company also underlines that it went to great lengths to deliver on detail and to make the life of the installer easier.
Ultimately the product has been created to offer strong bass performance, with no loss of floor space, ease of install and an appealing design. Its ships in Q2 of 2020 and there are strong rumors of a further announcement regarding a new distribution partner for the brand.
Trinnov
Trinnov used the event to highlight the delivery of DTS:X Pro to owners as a free-of-charge update to all new and existing owners of Altitude32 and Altitude16 processors. Trinnov also demonstrated DTS:X Pro at ISE in its purpose-built 15 seat 15.3.10 channel immersive audio system. Also featured were co-exhibitors Procella Audio and Kaleidescape.
An Altitude32 processor and Amplitude8 power amplifiers were used for the playback system, along with 28 Procella loudspeakers, Procella amplifiers, a Kaleidescape Strato and a Sony VPL-W5000ES projector.
The upgrade to include DTS:X Pro is available through a simple online download that is typically completed in under 15 minutes. Prior to the introduction of DTS:X Pro, DTS:X for the home was limited to only 11 main channels plus LFE, typically in a 7.1.4 configuration.
Trinnov's implementation of DTS:X Pro enables discrete rendering of the full DTS:X complement of 30.2 channels, up to the channel capacity of each individual processor.
Visitors to Trinnov's ISE demo also experienced two unique bits of program material with the debut of Trinnov's new cinema trailer and, as a bonus, were offered the ability to later download it for playback in their own cinemas.
The will also witnessed Trinnov's Music Machine One video, which combines images of an imagined music machine with a dynamic soundtrack that takes full advantage of the capabilities of immersive audio, using multiple, active objects and DTS:X Pro playback which used all the loudspeakers in the room.
Trinnov also promised that it is not resting on its laurels with even more resources being ploughed into RnD this year resulting in more CI focused announcements this year.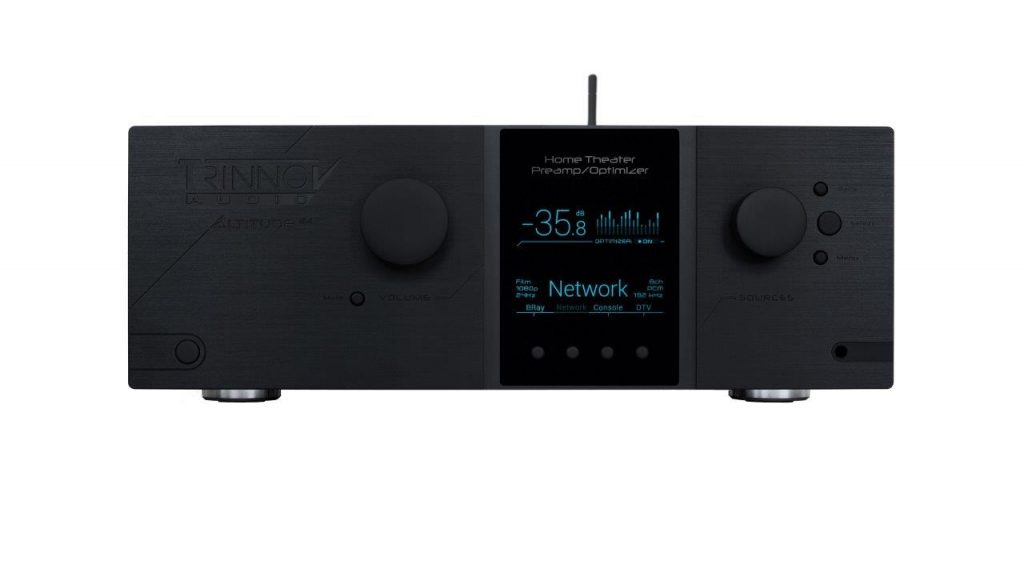 StormAudio
Also had a big show with the launch of the MK2 line of its immersive audio processors. Already popular with installers and end-users, StormAudio's family has received a significant up-grade ushering in many new features and abilities.
As well as getting a full run-down of all the new specs, show visitors got a chance to hear MK in action via a demo in partnership with Alcons Audio using the ISP.32 Digital MK2 in a full digital 11.4.8 cinema set up. The demo was another opportunity at the show to experience DTS:X Pro tracks, one of the new functionalities on MK2.
Offered in a new better looking industrial design, MK2 keeps the company's promise to deliver modularity and flexibility with 16, 24 or 32-channel analogue preamp/processors, a fully loaded digital AES 32-channel version as well as 8 and 16-channel amps.
The line-up already supported Dolby Atmos, DTS :X, Auro-3D, Dirac Live Room Calibration as well as including StormAudio's own web-based remote monitoring tool, StormMonitoring.
However MK2 adds DTS:X Pro, IMAX Enhanced, Auro-3D Version 2, eARC HDMI card, 24-channel (13.1.10 Dolby Atmos and DTS:X Pro) decoding, rapid codec switching (as much as 50% improvement), and advanced bass management including the recently introduced Dirac Live Bass Control module carried across the new 4.0 firmware package.
Another unique feature on the processors is StormAudio's own 7+2 eARC HDMI card which delivers quicker, reliable switching with total HDMI2.0b/HDCP2.2 support. The card supports 4K,18 Gigabits per second bandwidth on every input and output port with DolbyVision and HDR10 compatibility.
Distributed in the UK by Pulse Cinemas, the brand was just one stop on the now regular ISE tours offered by the distributor, check out pages 26 and 27 of the March issue of EI mag to see a full round up of the tour.
Harman Luxury Audio
The Harman Luxury Audio Group went for a full-on JBL Synthesis cinema demonstration at the show. The fresh line of JBL Synthesis electronics for 2020 is designed to once again firmly establish JBL Synthesis brand as a turnkey solution to the home cinema market.
Announced in 2019 at the US CEDIA show, the SDR-35 Immersive Surround Sound AV Receiver, SDP-55 Immersive Surround Sound Processor, and JBL Synthesis SDA-2200 and SDA-7120 Class G Amplifiers with Dante, have been designed to operate at the top end of AV and cinema performance, but also offer value and flexibility for a broad range of custom install applications.
The SDR-35 and SDP-55 provide a number of ways to experience content- over Ethernet or Wi-Fi with Google Chromecast built-in and Apple AirPlay 2, playback from network media servers, or a USB flash drive.
High resolution audio can be sourced from a smart TV via eArc. Bluetooth with aptX HD is supported, as well as DAB/FM for terrestrial radio. The MusicLife app enables control of the streaming content from iOS and Android devices. In addition, the SDP35 and SDP-55 are Roon Ready.
Best known for its applications in the pro audio world, the new line of products features Dante, the uncompressed multi-channel digital media networking technology, with near-zero latency and synchronisation. All 16 channels of 24 bit / 192K processed audio, plus Zone 2 (18 channels total) can be routed to any Dante-enabled receiving device over a standard network. Eliminating the need for analogue or multicore cabling, replacing it with CAT5e or CAT6 cable.
The SDR-35 AVR, SDA-2200 and SDA-7120 feature dynamic Class G amplification, implementing multiple power supplies.
The first power supply runs in pure Class A, which has no crossover distortion. If a dynamic signal is received that goes beyond the capability of this first power supply, the secondary supply is gradually incorporated up to full rated power output as required.
This design means additional power is only used when required and delivers exceptional fidelity.
The JBL Synthesis brand is available in the UK from Karma AV.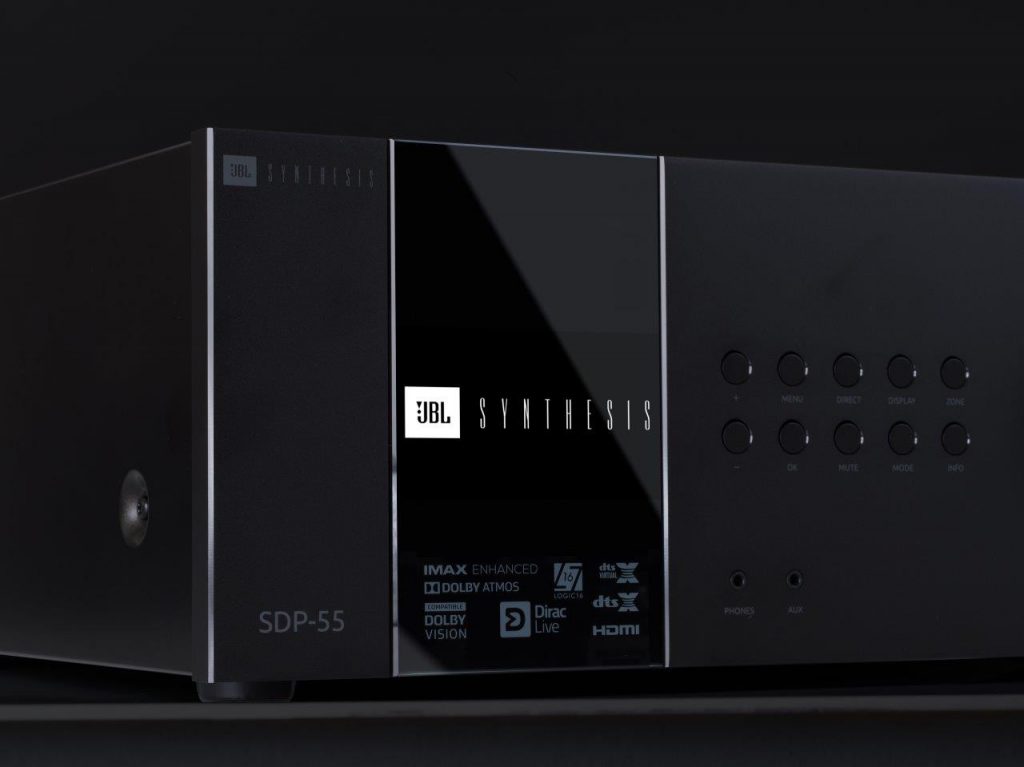 L-Acoustics
Definitely taking the prize for the wackiest launch at the show, pro audio brand L-Acoustics offered its first foray into the domestic arena with its high-end 'Island Prestige'.
Created by main company off-shoot L-Acoustics Creations, this concept offers an elegant, completely self-contained, 'personal auditorium' offers integrators the chance to take an exciting, high-performance and versatile approach to media room design that the company claims can deliver the ultimate audio experience.
"Island is unprecedented," says Christian Heil, President and Founder of L-Acoustics, and the creative force behind Island Prestige. "This is not just another loudspeaker. We have designed innovative lifestyle packages that enable specification of a remarkable media environment, inviting listeners inside the music. They can share the hyperreal panorama of an orchestra conductor, a musician on stage with a band, a concert pianist at the keyboard, or the fast-paced action of a film. Reclining in the sumptuous comfort afforded by Island Prestige, users simply close their eyes and they are right there, fully immersed, and as close to an authentic experience as they can possibly be."
So, basically the concept offers a sort of room within a room which has comfortable adjustable seating, within a circular construction with speakers built-into the walls, oh and it spins round so users can face a cinema screen or look out of the window of just listening to music, why not.
Island Prestige features thirteen front speakers, five rear speakers and two sub-woofers, precision manufactured and aligned to deliver accurate, richly detailed audio to listeners relaxing in its central lounge area. Overhead speakers can be added, if required.
The system can reproduce the proprietary BluSpace standard, matching human hearing spatial resolution and bringing full, live concert dynamics at all audible frequencies. In total, 20,000W of power creates ample headroom for distortion-free play at high SPL, making Island Prestige suitable for all media playback needs, from conventional stereo to Dolby Atmos cinema to ultra-realistic Bubbles music and sound art content in Immersive Hyperreal Sound.
Suitable for open plan living spaces, unusually shaped media rooms, or as an alternative to in-wall speaker installation, Island Prestige is designed as a modular, plug-and-play solution that's quick and easy to assemble, without the need for any additional room treatment. It can operate as a stand-alone personal auditorium, with its own Bubble Deck controls, or can be integrated with projector, screen, lighting, blinds and other home technologies as part of a whole house control system.
What is a Bubble Deck? Well it's a sphere designed to host and display limited numbered edition Bubbles recordings certified in the BluSpace standard. Placed within the control area of Island Prestige it also provides control of player functions, such as volume, pause and skip.
Two high-gloss lacquer exterior wood veneers are available for the walls and the outer shell of Island Prestige is upholstered with a light layer of padding to create an inviting softness that doubles as a seating area.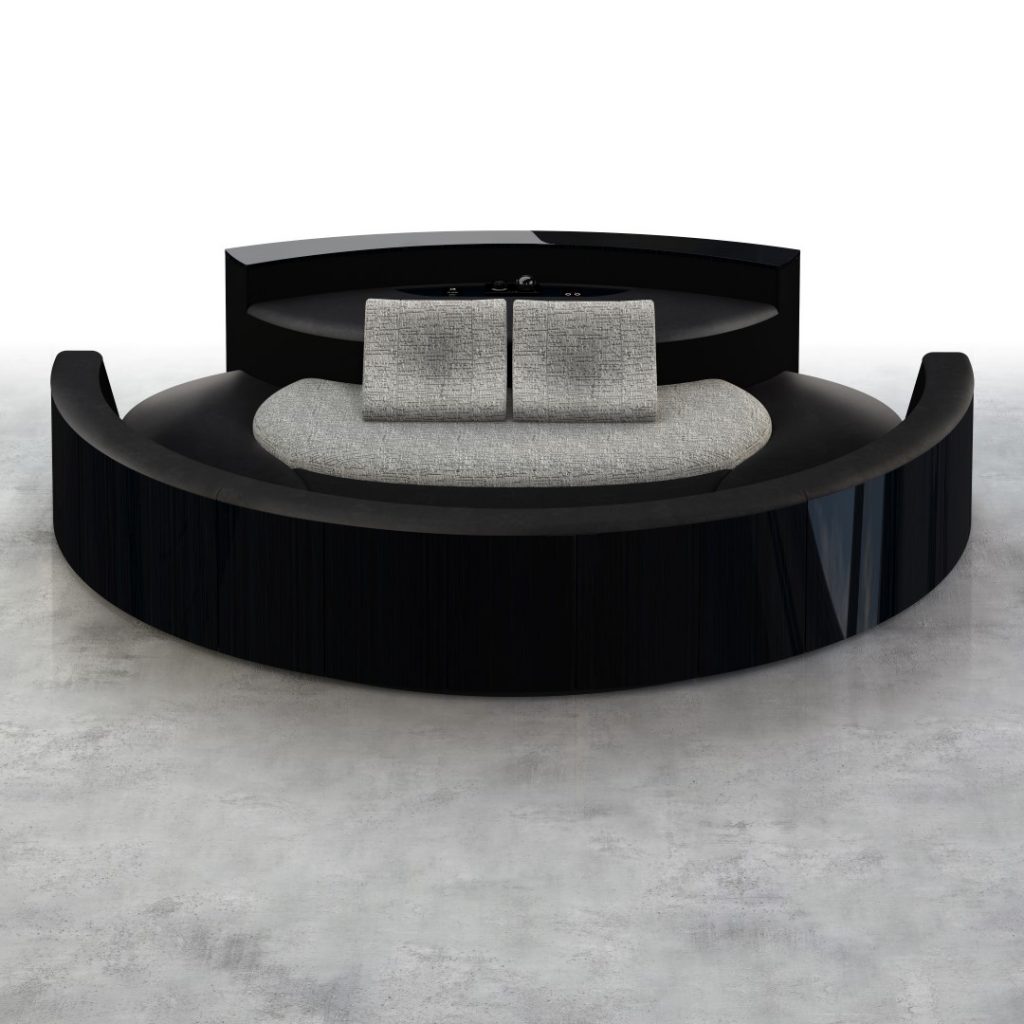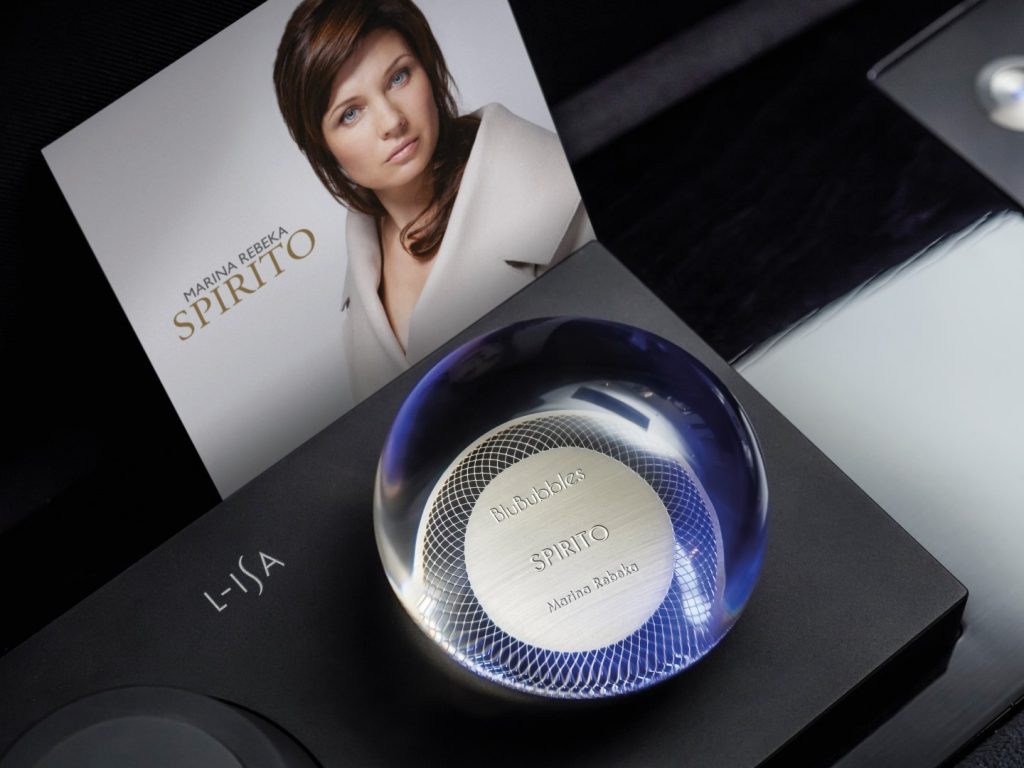 Stealth Acoustics
Exterior speakers are now a very real part of the installers arsenal and so hoping to offer a high-performance solution here, Stealth Acoustics introduced its 8in three-way high performance StingRay outdoor speaker – the StingRay 83.
The StingRay 83 is designed for outdoor audio quality in luxury residential, commercial and marine applications by producing a bass response down to 40Hz, with a smooth midrange and solid upper frequency.
It features a 30mm midrange device, a 25mm tweeter and an 8in high-power cone woofer in combination with Stealth's Fidelity Glass Advanced flat front radiating surface to give ultra-wide dispersion within a hermetically-sealed enclosure.
Designed with outdoor theatre audio in mind, the peak power handling of over 300w allows the device to become much more than simply a background music speaker says its creator.
The StingRay 83 is sealed off from the elements constructed using high strength UV protected fibreglass and marine grade, fibre-infused ASA plastics, meaning the speaker is completely sealed against intrusion. It has an Ingress Protection rating of IP-68 per international CEI/IEC 60529 standards.
The maker says no moisture, salt or sun will affect the unit, nor will it ever rust or discolour over time, making it ideal for audio performance in harsh, superyacht or outdoor environments. This new speaker is available in standard black, white or with a custom graphic wrap finish.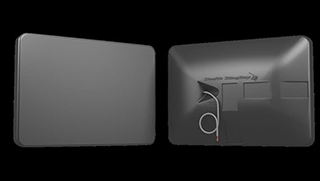 Artcoustic
This company chose to highlight the Performance A6, the latest addition to the Artcoustic collection, described as a true game changer – especially for larger cinema rooms where seating is positioned across multiple rows and more than one level.
To achieve the high sensitivity needed for a fully immersive cinema experience, Artcoustic uses its line array technology to create a focused 'beam', projecting the sound directly at the listener.
The smaller size of the cabinet and adjustable angles allows each individual module to be laser aligned to different locations in the audience, ensuring everybody get the same incredible, dynamic and detailed sound regardless of where they are sitting.
A typical Hi-Fi speaker is designed using single tweeters together with mid and low frequency drive units, which work well within smaller spaces and at lower volumes, but lack the output needed for the high dynamics of today's movie soundtracks.
Artcoustic's array technology uses tweeters and mid frequency drive units like Hi-Fi, but positioned in multiples, enabling the speakers to achieve high sound pressure levels without the need for a compression horn. Artcoustic says this allows the company to produce systems for any room size, from the smallest snug to the largest auditorium.
Sonance
Another company keen on the great outdoors this year was Sonance with its Patio Series getting its launch at the show.
Distributed in the UK by Habitech, the system is designed for smaller outdoor spaces demanding an even, balanced audio coverage and strong performance. The speakers have been designed to blend in and be comfortable to listen to.
The Patio Series system of four satellite speakers and one in-ground subwoofer gives integrators the ability to accomplish this in spaces up to 100 sqm.
The landscape lighting-like speaker housings and the textured brown finish allow Patio Series to be hidden amongst the natural elements of the landscape, blending into the surroundings.
The system's four staked satellite speakers, each deploying a 3.5in (89mm) anodised aluminium cone driver with a Santoprene surround, are joined by a subwoofer featuring an 8in (203mm) dual voice coil polypropylene cone and Santoprene surround driver for impressive output in intimate courtyard or patio settings.
The system can be expanded to include eight satellite speakers and two subwoofers when using a Sonance SR 2-125 DSP amplifier.
The new system announcement comes just as the Sonarray solution plans its exit from the Sonance line up.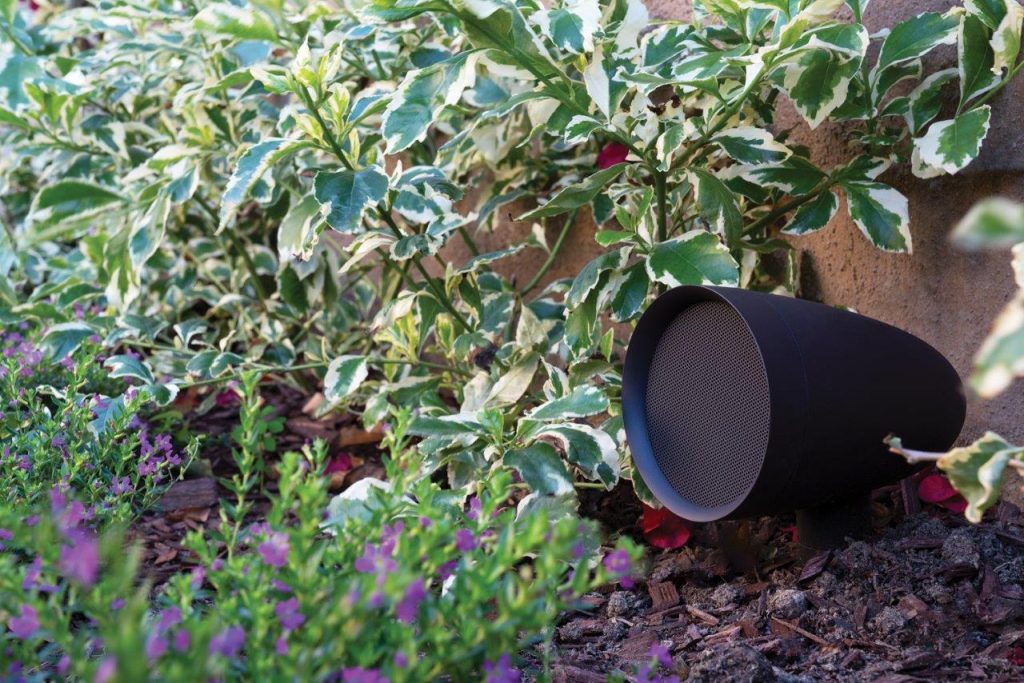 Amina
Show regular Amina celebrated 20-years as innovator and manufacturer of invisible architectural loudspeakers by demonstrating its newest EDGE and Mobius models.
These incorporate the company's newest Excelsior exciter which brings increased power handling and frequency response.
The Amina loudspeakers are designed to be completely concealed in walls, ceilings or millwork. Comprised of either aluminium honeycomb or composite planar soundboards with integrated exciters, the speakers radiate full-range 180 x 180° sound.
Used in a multitude of décor-sensitive applications both residentially and commercially, the spread-source nature of the technology also makes the speakers ideal for settings acoustically challenged by hard surfaces, glass walls and obstructions.
Speakers of this kind have improved performance considerably in recent times. For many consumers it is no longer a question of wanting the speakers hidden, the way sound is produced is impressive and arguably for some environments and use case scenarios, 'better' than conventional speakers.
AMINA's new EDGE-Isound panels are designed for drywall, plasterboard and retrofit applications representing a completely new approach for plasterboard application.
The speaker gets installed by simply replacing a small section of plasterboard, attached only to the wall and not the studwork, therefore no special framing is required.
The speaker 'moves' with the drywall when the studs or floor-joists flex and twist, assuring that the finish will not crack. Once filled, taped, feathered and painted it becomes fully invisible. The speaker can also be installed as a post-plaster retrofit product.
By way of Amina's new 2nd generation Excelsior exciter, EDGE-i delivers smoother low frequency extension and increased power handling over the previous version. It also offers a sensitivity of 90dB @ 1 W/1 Meter including finish. AMINA says the result is a dynamic, engaging listening experience unimagined from a simple installation product. Two models are available, the EDGE5i and higher sound pressure level capable EDGE7i.
The new Mobius-iuses the new Excelsior class high frequency driver integrated into a honeycomb aluminum soundboard. This brings a significant 6dB boost in mid-range sensitivity over the previous, plus an extended lower frequency and increased smoothness and extension in the high frequencies to above 30kHz. Available are the Mobius5i and higher SPL capable Mobius7i.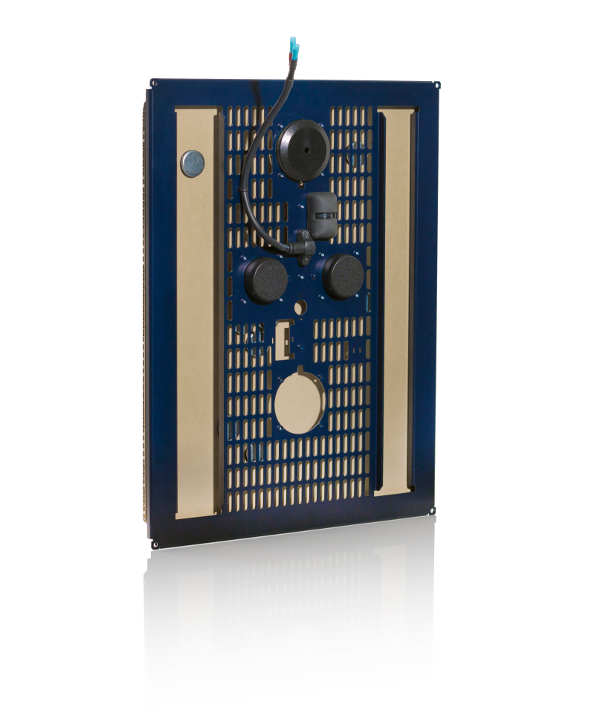 PMC
PMC unveiled no less than four new models in its custom installation series. The ci30, ci45, ci65 and ci90 complete the offering in this series of slimline, high-performance on-wall and in-wall custom installation loudspeakers, following the launch of the ci140 and ci140sub at CEDIA 2019.
The ci30, the smallest in range, is designed for discreet applications and may be installed in-ceiling, in or on-wall. While it may be compact, the ci30 reportedly out-performs speakers twice its size, thanks largely to the proprietary ATL technology, making it suitable for surround channels, including immersive formats like Dolby Atmos and stereo in smaller rooms.
Using a larger cabinet provides the ci45 with all the speed and power of the ci30, but provides it with a greater image depth, bass extension and dynamism. By adding a second, long throw, 130mm bass driver, the ci65 creates greater slam and presence, with increased headroom and extension. This model is suitable for use in medium to large sized theatres for all channels in a multi-speaker system.
With standard wall construction in mind, the ci90 slim is encased in a long slim cabinet, 280mm (11in) wide, which fits neatly between studwork to provide more flexibility as a retrofit option.
All four are designed with a shallow depth for wall mounting and may also be used in-wall, due to an optional mounting sleeve which fits around the cabinets to conceal the in-wall mounting system, creating an elegant on-wall model.
The use of one product for both in-wall and on-wall reduces the number of models that need to be stocked and gives the installer greater mounting flexibility.
The series also offers PMC's Qikfire spring loaded mounting system, which, with a simple twist of a screwdriver, mounts the loudspeaker securely and quickly and permits post installation micro adjustment.
The on-wall mounting is a simple process using the optional interlocking wall bracket, which is designed to also offer pin-point level adjustment.
The four new smaller models join the flagship, the ci140 – a three-way design with four bass drivers and an all new 50mm (2in) dome midrange driver – and the ci140sub. All speakers are supplied in black, with square perforated bezel-less metal grilles in black or white.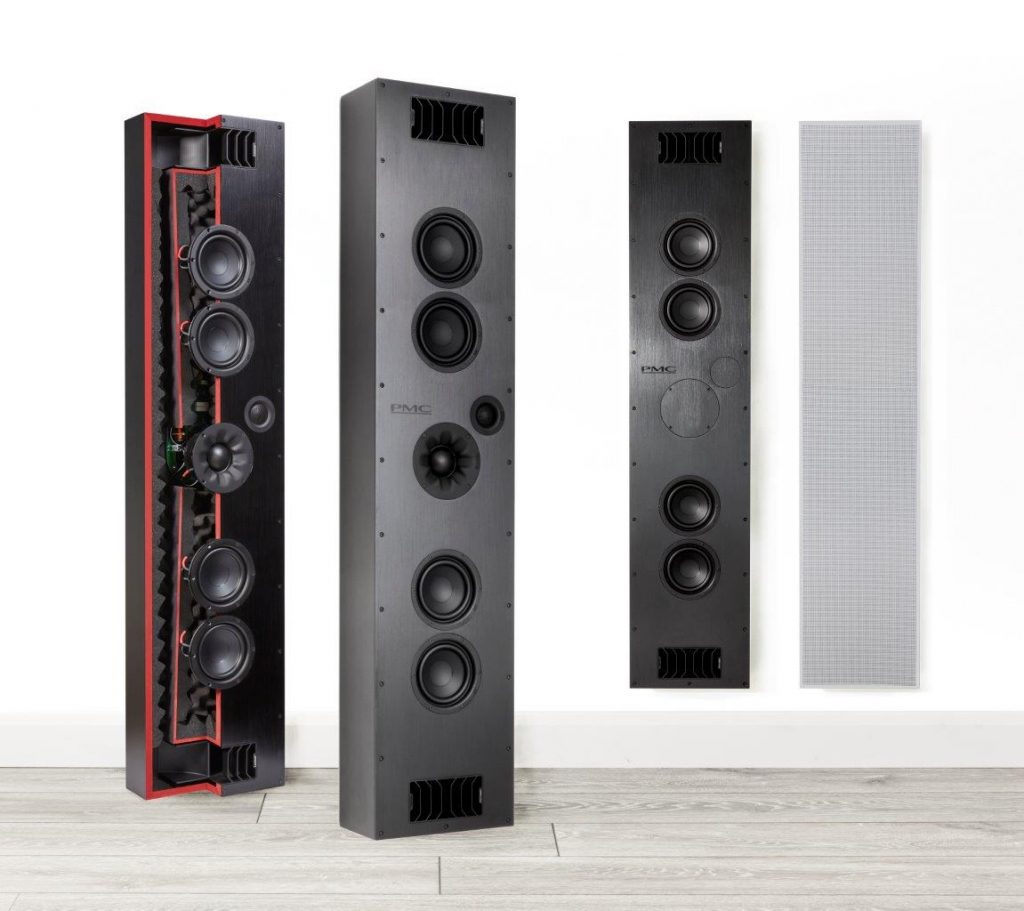 Monitor Audio
As well as showcasing its impressively large choice of CI speakers, Monitor Audio demonstrated its new IMS-4 Music Streamer.
Featuring BluOS technology, the slimline IMS-4 can stream to four separate zones and its BluOS Controller app offers complete flexibility, including streaming from music services, easy access to music libraries and voice control through a smart device.
Accessed through the app, or one of the many supported integrated control systems, multiple IMS-4 Music Streamers can be integrated with other BluOS devices to provide up to 64 zones of music, with each zone able to play together in perfect sync or play different streams to separate zones. And, BluOS allows streaming of lossless music up to 24-bit/192kHz to every room in a home network.
With BluOS the IMS-4 delivers millions of Master Quality Authenticated (MQA) recordings, presenting music that can be heard exactly as the artist intended and approved by the studio, providing a seamless music experience anywhere in the home.
Monitor Audio recommends that the IMS-4 is partnered with an installation amplifier such as its IA150-8C. Integrated with Crestron, Control4 and RTI, the IMS-4 is also compatible with other BluOS enabled devices.