UK distributor for the brand, Redline underlines the strength of the Kin Play range from Canadian speaker creator Totem Acoustic.
Customers rely on your knowledge and experience to find agile and pleasing solutions for their AV needs. It is great then to have a coherent family that caters for a range of audio scenarios, offering a mix of traditional Hi-Fi quality combined with modern connectivity, all wrapped up in an attractive aesthetic package. The Totem Acoustic Kin Play family does all of this and more, says Redline.
The idea of a range of products that provide different options whilst adhering to a set group of principles and performance characteristics is of course not new. However, Redline says every now and again a family of products comes along that really delivers on every aspect of this concept, offering dealers a tool kit that can provide something suitable for each customer and each situation.
Listening to music in the home has evolved in recent years. For a time, it was convenience that was king, often (in some consumers eyes) at the expense of quality. Those that wanted to maintain the quality, were perhaps restricted in terms of aesthetics and a lack of choices that felt accessible and fun. That culture has moved on and a wider range of customers want to embrace something that performs strongly, but also looks great. Versatility is also a huge part of today's market; a speaker range needs to deliver not only music playback but high-quality gaming audio and sterling home cinema performance too.
Redline argues the Totem Acoustic Kin Play range delivers a bang on trend, a high-performing group of products that is ready to put a big fat smile on your customers' faces. The Kin Play range consists of the active Kin Play bookshelf speakers, The Kin Play Mini Bookshelf Speakers, Kin Play Soundbar and the Kin Sub10 which supports connectivity between the sub and the rest of the range with the Kin LINK wireless subwoofer receiver.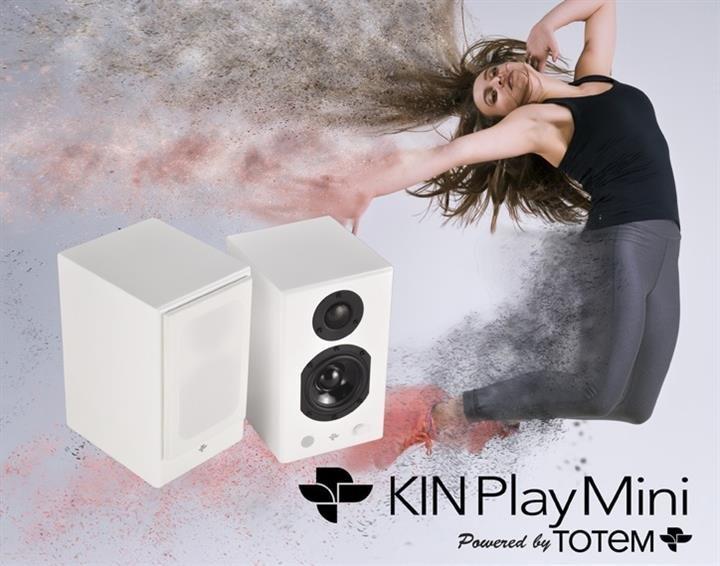 The Kin Play/ Kin Play Mini
The Kin Play delivers an attractive active bookshelf speaker (w x h x d 180mm x 355mm x 235mm), which also offers freedom to the installer as the active 120W per channel design means there is no need to find extra space or power sources for separate amplification products. Clean and simple, the speakers are ready to go and offer a wide choice of connections and use cases. Kin Play connections include a switchable Phono/Line stereo RCA input (With in-built Phono stage); 3.5mm (Mini Jack); Optical input, Subwoofer output and an Amp bypass input.
The Kin Play, along with the rest of the products, also delivers the clear and open soundstage Totem Acoustic is known for. Offering phase linearity, speed, emotion, off axis natural presentation and spatial articulation. All the components have been created to work together; this means no DSP is needed to get the Kin Play family performing as intended.
An important feature for installers is the Kin Play's amp bypass input. Coupled with auto on/input sensing, this means the speaker literally plays well with others such as streaming products and more expansive custom installation and automation systems. Bluetooth 4.1 combined with Qualcomm aptX HD technology means support for any type of high-quality streaming is on-board.
The Kin Play comes complete with four metres/12 feet of 16-gauge, 19 strand, Oxygen Free Copper wire terminated with dual banana plugs, a 17-function aluminium remote, 3.5mm (mini jack) and optical interconnects and adhesive backed isolation feet.
Offering the same feature set and audio ambition, is the Kin Play Mini, great for when space is at a premium for scenarios such as an office or bedroom with its compact dimensions (w x h x d 162mm x 270mm x 190mm). The other main difference from Kin Play is the 70W per channel stereo amplifier, which still offers plenty of poke for a room filling, rich audio performance.
The Kin Play and Kin Play Mini are both available in Satin White or Black finish with colour matching magnetic grill covers meaning they look great, but are neutral enough to not interfere with the customer's interior scheme.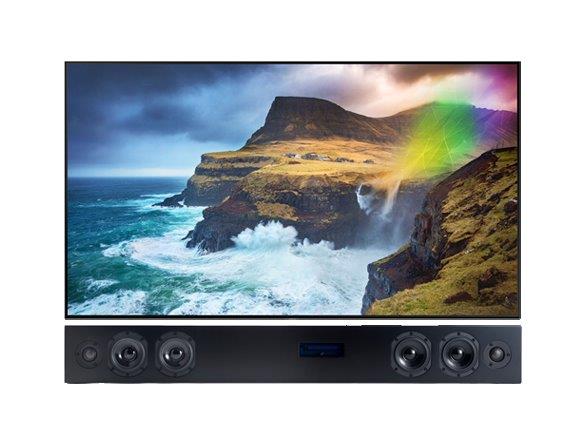 Kin Play Soundbar
The Soundbar category has been around for a good length of time and its importance has only grown as TV manufacturing has continued to focus on ever thinner screens and not audio. In a mature market like this, it can be difficult for a new product to stand out, but Redline argues the Kin Play Soundbar does just that.
Designed to partner screens of 55in and up (w x h x d 52mm x 1200mm x115mm) this high-performance product marries the screen to its audio output; however it also delivers for audio only applications via in-built Bluetooth 5.0 Qualcomm aptX HD technology. Other connections include Optical, 3.5mm (Mini Jack), Stereo RCA and subwoofer output. Despite the ability to offer a wide range of use cases, the product always maintains its quality with a range of equalisation settings meaning that whatever the user needs it to do, it delivers.
Totem Acoustic developed KIN Natural Hybrid woofers and metal alloy tweeters are driven by the Soundbar's specially created 75W per channel dynamic digital amplifier. Delivering on every aspect of audio performance, the Soundbar can go as low as 60Hz (-3dB), meaning often a subwoofer will not be required, but should one be needed, the range has that covered too.
Also included with the product is its own dual piece mounting bracket and optional adhesive backed sound isolation pads which separate the speaker from any surface it is mounted on. A 17-function aluminium remote is also included, and the front mounted display gives users the status of the product at all times. The Kin Play Soundbar is available in the same Satin White and Black as the others in the range, with colour matching magnetic cloth grilles.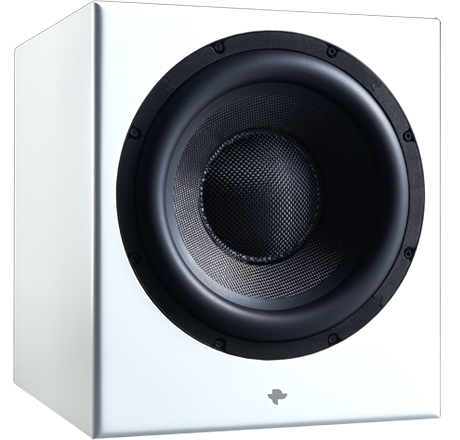 The Kin Play Sub 10
Standing in the wings for when more bass is required and presented in the now familiar Satin White and Black livery is the Kin Play Sub 10, equipped with a 10in Woven Fiberglass Woofer, driven by an oversized vented magnetic structure designed to deliver impressive dynamic capacity.
Powered and precisely controlled by the bespoke created 300W amplifier, musicality and impact are delivered in equal measure. In room presence can be fine-tuned via the BASS EQ offering a pure and linear 'Natural' setting or an enhanced 'High Impact' setting for something more intense. Despite its power, the unit is relatively compact (w x h x d 330mm x 292mm x 345mm) with ultra-low-profile feet and its sealed enclosure construction means consistent performance regardless of placement.
Options for placement are also increased as the Sub 10 can join the Kin Play party via the LINK unit which wirelessly connects the sub to the rest of the range. The LINK is simply connected to the subwoofer out on the rest of the Kin range and just one LINK can control two Sub 10s if needed.
For a final flourish across the range, Redline offers its Custom Colour Cloth printing service, delivering a vast range of colours for the speaker grilles if required. Redline also offers a full custom paint service, allowing any of the Kin play range to either stand out or blend into a room's décor. So, for a fun fuelled, family of excellent speakers, talk to Redline about Totem Acoustic Kin Play.