EI presents a special case study looking at how a Together For Cinema project comes together. In this instance how well-established community support hub White Lodge has been furnished with its very own cinema.
Amy Amesbury PR and Marketing Manager at proAV, the installation company responsible for the build, explains, "I was aware of Together For Cinema from my time at Crestron where the company was involved in supplying some equipment into the scheme. I became aware of White Lodge when I began working at proAV as there was an existing relationship already established. Understanding the work that White Lodge do we wanted to provide something that was really going to make a difference to people that use the centre, their families, and the staff. It can be challenging for many of the families that use the center to access a commercial cinema. So, I got in contact with Ian and we arranged for him to come and visit."
Mike Hey, Head of Fundraising and Marketing at White Lodge, reveals some of the history behind the centre, "White Lodge has long history of supporting the community. We first began as a center supporting children with cerebral palsy, but we now support people of all ages facing all types of disabilities with places to meet, interact, learn, receive respite as well as access various therapies.
"Our main mission statement is 'enabling ability', so as well as providing support for those who face challenges in their lives, we want to be a place that provides added value as well, something really out of the ordinary. I had actually heard of Together For Cinema before, so when the chance came along to get involved, we were like 'yes!' it fitted with our aims really well."
Based in Chertsey in Surrey, White Lodge is a registered charity providing services that enable those with a range of disabilities, their families, and carers to lead fulfilling lives. The centre supports over 2,500 individuals across Surrey and beyond through a diverse range of services. White Lodge is based on a two-acre site in three specialist buildings with great facilities and services for all ages, including: physiotherapy, occupational therapy, speech and language therapy, a specialist nursery, hydrotherapy, holiday clubs, personal support in the home, short breaks, fitness and rehabilitation.
The first site visit occurred in January of 2019 and planning for the project proper got underway soon after with the cinema being completed and open by September of 2020.
Mike says that once the space that was going to be converted into the cinema had been identified, White Lodge undertook some work of its own to the get the area ready. This included creating a partitioning wall to make the creation of the cinema easier and provide more of the feel of a proper venue separate to the rest of the center. The space identified for the cinema was originally part of a larger open plan space. A talented member of the of White Lodge maintenance team also made some cabinets to house the equipment to support and provide protection for the kit that was going to be used.
Ian Morrish Founder, Together For Cinema, adds,"Once Mike was clear that we were really serious and what we said was deliverable really was, they could not have been more pro-active getting the space ready for the installation to happen, it was a pleasure to work with the whole White Lodge team."
Amy says, "There were lots of discussions about how the room was going to be used which obviously had a bearing on where and how the equipment was fitted to deliver the best performance and protect the settings of the system from being altered inadvertently. They have made it look really good inside, it really feels like a proper cinema and the anticipation builds as soon you enter and even before the system springs to life."
On the effect the cinema Mike has had, Mike says, "We have always known the impact that high-quality audio-visual experiences can have on people and approaches such as music therapy can be very powerful. With technology having moved on so much in the recent years, the cinema is a great way to access experiences that really make a difference to people.
"Many of our visitors have never been to any type of cinema before, so the effect our cinema has is really powerful. We have really tried to make the space special and feel like a 'real' cinema with movie posters on the walls and with the colour scheme of the space too. Accessing commercial cinemas is challenging for all sorts of reasons for many of the families that use the center, so taking all of that away and just allowing people to enjoy it is brilliant for us."
Mike adds that the cinema is also used for other activities as well as just movie time. The space that cinema now occupies used to host a discussion groups that occasionally would use the TV that was located there. However, with the cinema this activity can really be taken up a notch as the cinema can access YouTube and all sorts of content can accessed, discussed, and used to help and support those who visit, as well as entertain.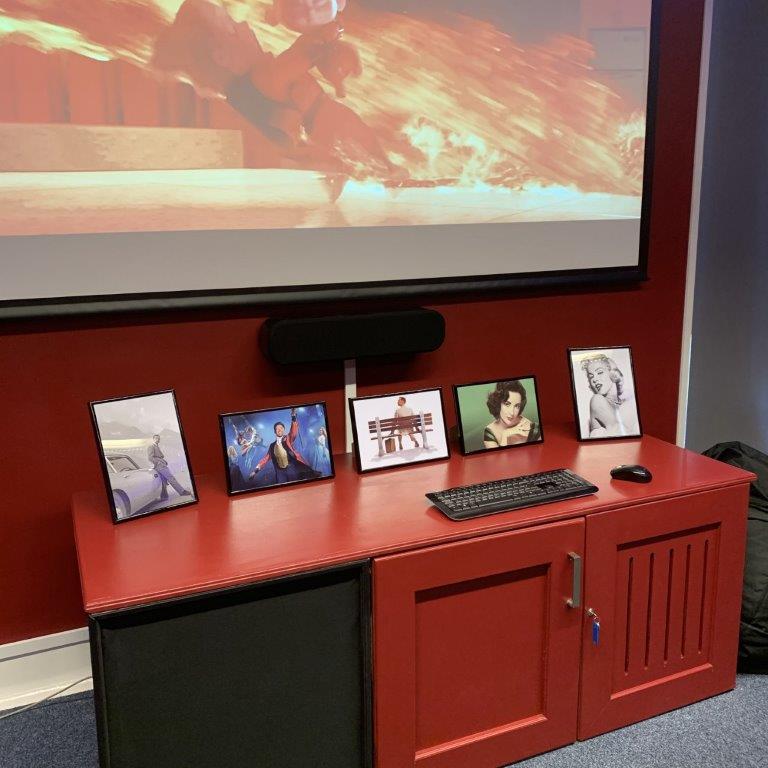 Ian enthuses, "This is such a good example of how Together For Cinema is a genuine team effort. From the initial idea, the planning, the sourcing of the products, getting the space ready for the project, the installation and then the follow up awareness campaign, everyone has played a role in getting the install to where it is now.
"Mike and the White Lodge team have been fantastic to work with throughout and have been very effective about spreading the word to the wider world. Mike even provided us with a lead that has led to the next Together For Cinema project, more news on that soon!"
Mike explains, "We are quite well known in our area, but not everyone knows the scope of the services that we provide, so the cinema has been a great vehicle to not just provide excitement and entertainment, but to enable us to communicate with the community talking about this fantastic new facility.
"As soon as the cinema opened it delivered an instant wow factor, people were really surprised at just how good it is, everyone from our preschool nursery visitors to the adults that use the centre love it. We don't leave it open the whole time, we want people to really value it and use it for specific purposes, there are a few rules as well to ensure we look after it and keep it in working correctly."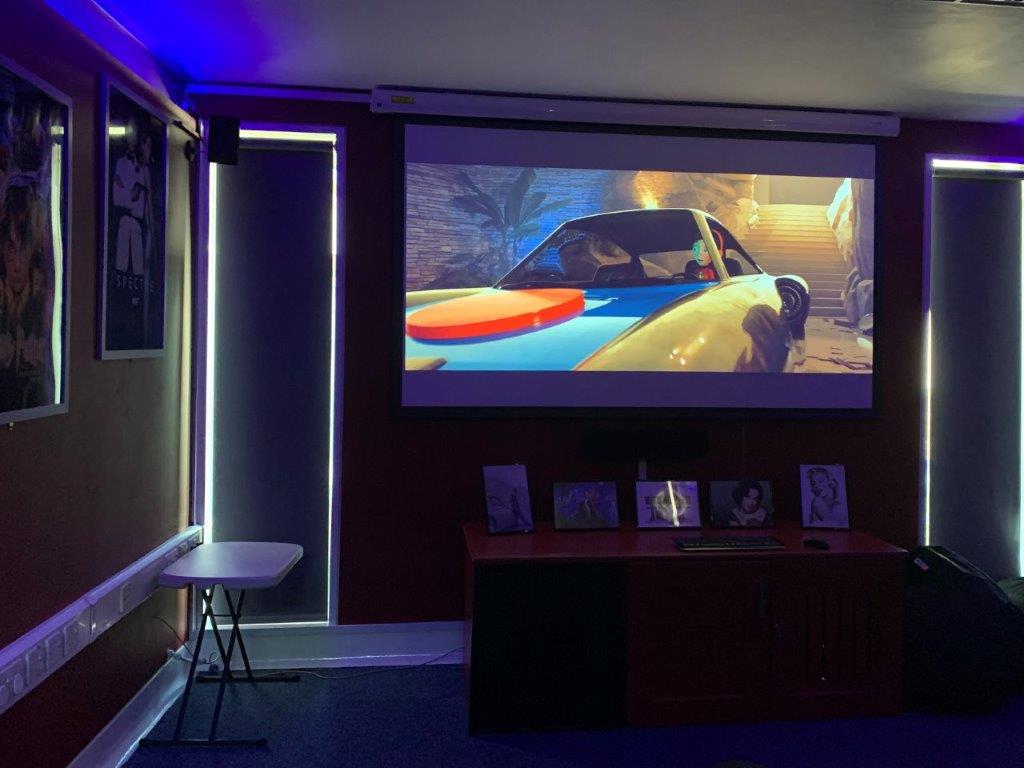 Celebrity support
The Centre is not short of its share of celebrity supporters.
Singer and songwriter Chesney Hawkes has been a long-time supporter of the White Lodge Centre in Chertsey and visits whenever his busy schedule allows.
"The addition of the Together For Cinema cinema room at White Lodge in Chertsey has made such a positive difference. It's hard to take the children and young adults to the cinema so to have it brought in house is amazing. Their reaction to the big screen and the quality of audio is a joy to see. Thank you Together For Cinema and thank you to all those from the AV industry that have helped make this happen – keep up the good work!"
Chesney, March 2021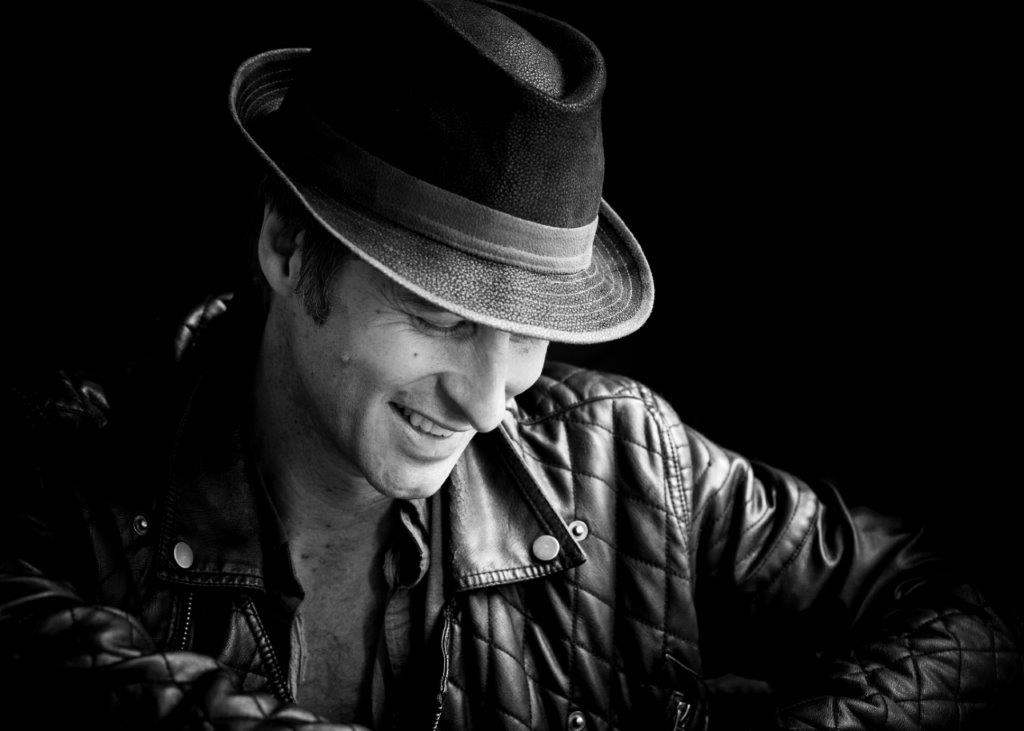 Diana Moran, BEM, is an English model, fitness expert and journalist. In the 1960s and 1970s, Diana was a print and catwalk model. She also appeared as a TV announcer and newsreader for HTV West.
'What a brilliant initiative by Ian to galvanise his industry to come together in this way. I am blown away by the new cinema room at White Lodge. It's just like a sophisticated, intimate cinema and it's visually and audibly superb. It will bring so much joy for the children and adults that use it.'
Diana, May 2021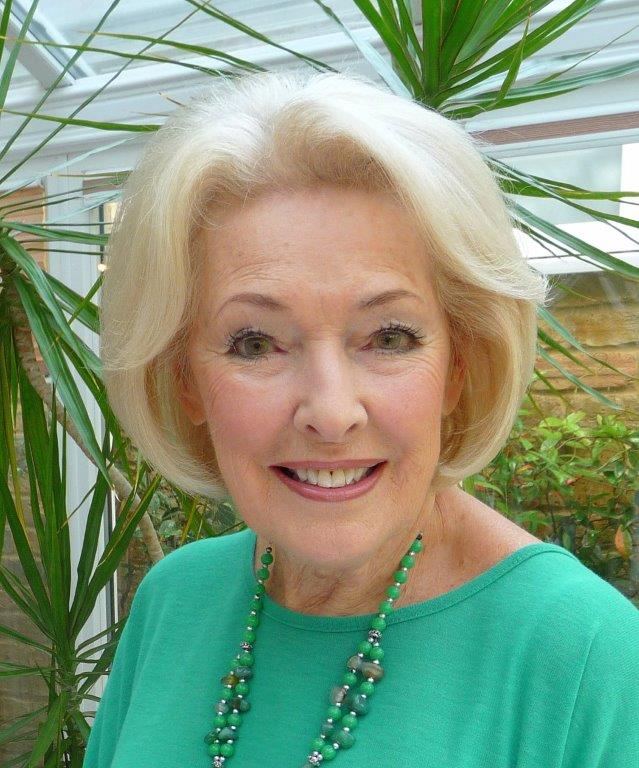 Popular actress Gemma Bissix is a Patron of White Lodge.
"What an amazing transformation, the last time I visited White Lodge this was just a room and now it's a dedicated space that delivers a full-on cinematic experience. Many of the children won't have had the opportunity of going to a cinema before and now we have this inclusive and accessible facility at our disposal. The sensory aspect will be so beneficial to the children and adults with disabilities. Thank you Together for Cinema, what an amazing gift."
Gemma, May 2021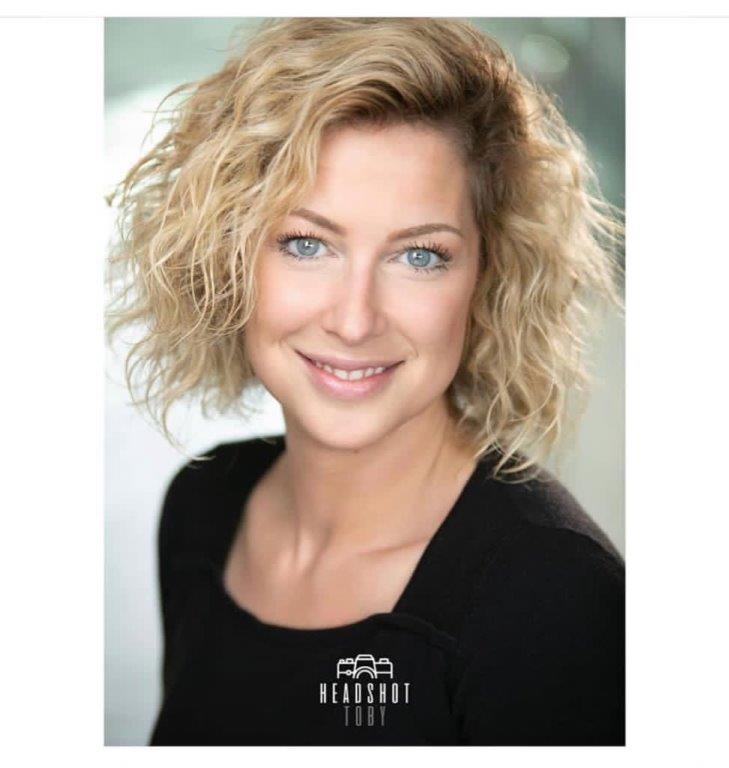 Kit List and Roll Call
KIT LIST
Crestron (Control): CEN-SWPOE-16, RMC3, HD-TX-101-C-E, Crestron App.
Dataflow AV (Screen):Sapphire Electric Screen.
Marantz (AV Receiver donated by AWE): SR 5014.
Middle Atlantic (Racking) donated by RGB Communications: MA-CFR-12-18 Racking, Shelving and other items as required.
Monitor Audio (Speakers): 4 Radius 90 speakers, Subwoofer, Apex A40 centre speaker.
NEC (Projector): NP-P554WG.
QMotion (Automated Blinds): 3 x motors and fitted blinds. QzHub3.
Sony, donated by Midwich (BluRay Player): UPB X8000.
On top of the list above many other products and accessories were generously donated by proAV.
PEOPLE INVOLVED
Ian Morrish (Founder of Together For Cinema)
Amy Amesbury (PR and Marketing Manager, proAV)
Mark Roberts (Residential Sales Manager, proAV)
Andrew Bradley (Project Manager, proAV)
Scott Sole (Site Manager, proAV)
Brendon Bennett (Programmer, proAV)
All the manufacturers and distributors that supplied the necessary product, all of whom have already been mentioned in the Kit List above…