Redline distribution is well known for the audio-visual brands the company distributes. However, Redline is also keen to underline that it supplies the Intuitive brand of mounting hardware which delivers on trend and seriously innovative support solutions.
Whilst locating all of your control and distribution products in a central location in the traditional 19-inch rack is still very popular, there has been a trend in the last few years for control points, AV equipment and distribution products to spread out over a project.
This has happened because many of  the products necessary to build a system have become smaller and are able to be located locally. Also, more control and content delivery capability is now present in these smaller packages. Locating them close to where they are needed is simply a more practical and often more cost effective.
With Intuitive mounting products, installing Sky Q mini boxes, baluns, signal switches and compact amplifiers etc, whilst also keeping the installation discreet and aesthetically pleasing, is a viable option.
Assembling products at the company HQ in Arizona, Intuitive underlines that it takes pride in every product that it produces. It believes this shows in the build quality and its approach to solving tricky problems with simple solutions.
As the old saying goes 'time is money' and the company's products deliver savings in both, says Redline. Improvising mounting solutions even with the best tape or Velcro can't guarantee you won't be back on site eating into your margin fixing mounting issues that never needed to occur in the first place. Redline says that Intuitive' s range provides a guaranteed fixing for your accessories and peace of mind.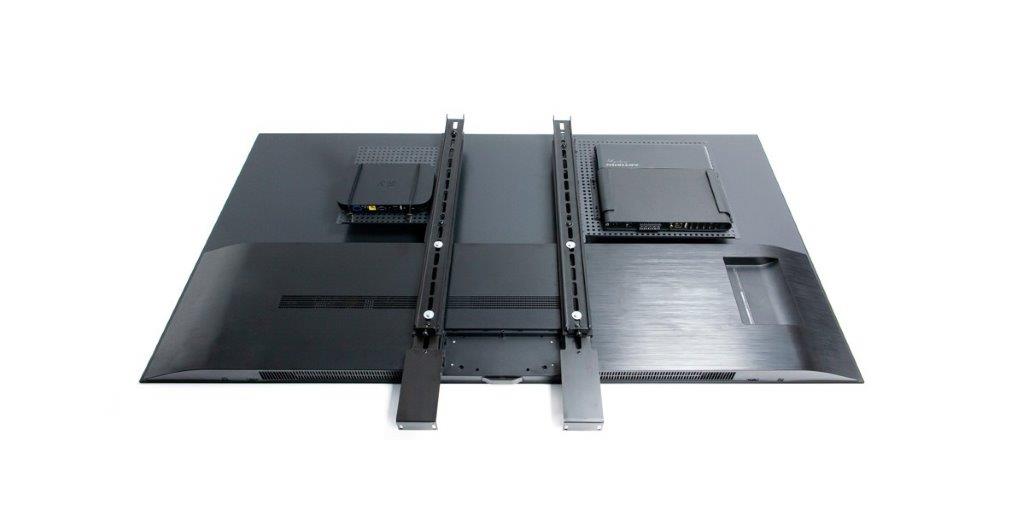 The intuitive range
For mounting compact audio visual and networking items, the company offers its Component Mounting Plate (CMP) range which attaches to the VESA mounting locations on the rear of any TV.
There are two different versions, the CMP-1 and CMP-XL, the difference being that the CMP-XL has over twice the mounting area of the CMP-1. The dimensions for both products are 230mm x 280mm for the CMP-1 and twice those dimensions for the XL version at 381mm x 381mm.
The VESA adapter allows the CMP-1 to be installed in seconds and is attached directly to the TV. The perforated breadboard can then be orientated in any direction or location on the adapter providing endless options for mounting locations, so whatever product you are trying to mount and hide, will be accommodated.
The products are manufactured from solid 1.5mm steel and have a black powder coat finish to fit in with their surroundings. The super sticky support foot and nuts can be easily trimmed to height offering another level of convenience and adaptability.
Included with every product is the CMP VESA mounting Plate, CMP Breadboard Plate, CMP support foot, self-tap screws for attaching VESA plate to the breadboard, VESA Mount adapter and a bag of screws and washers for attaching VESA plate to the display.
We are so confident in this product's abilities, we don't just sell them, we use them. Mounted on the back of the large LG OLED TV in our demonstration suite, the CMP range is used to mount a Sky Q mini box and an Artison Backpack P5. A simple solution, but one that delivers a serious content boost and 5.1 surround sound audio exactly where we need it.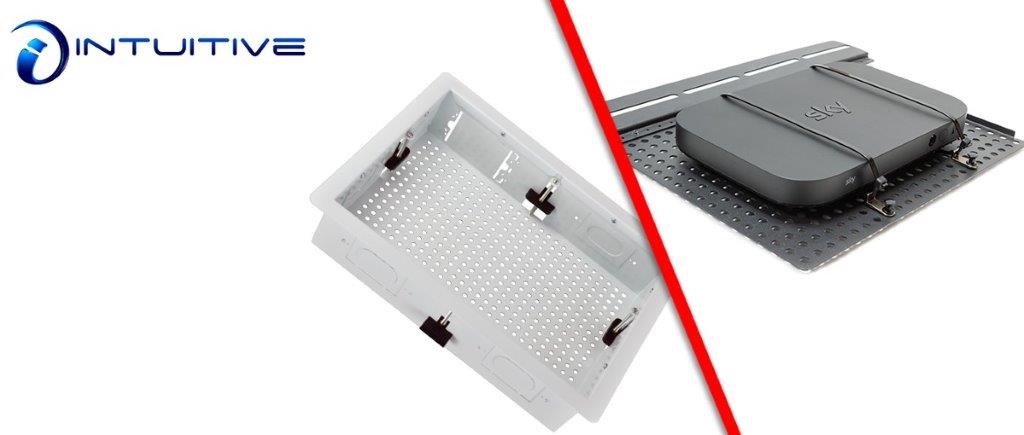 Boxing clever
The Intuitive range does not end there, as further options are available with the company's IWB-X in-wall box products. Able to be installed during renovation, new build or as a retro fit option, these boxes are designed to accommodate components that need to be mounted behind a TV. The IWB-X family offers multiple punch-outs for conduit, power boxes, wall plates, or direct wiring. This option has been created to help installers deliver more fully integrated and better-looking projects and can be adapted to suit almost any situation.
The products are available in two sizes, the full-size product (IWB-1XW) has dimensions of H/W/D (mm): 365 x 265 x 90 mms with its smaller cousin (IWB-2XW) coming in at H/W/D (mm): 265 x 215 x 90 mms. Both products can be fitted into wallboard of 19mm in thickness, have mains and conduit knockouts, a removable trim ring and cut out template.
Partnering the in-wall box products is a component mounting kit which contains 2 x self-tapping screws, 2 x Zip ties, 2 x Zip tie clips and 4 x rubber feet. Also, for aesthetic purposes there are Intuitive plastic covers which partner the IWB-1/2 enclosures. Finished in white, each size is made from paintable ABS plastic and is attached magnetically with knockouts for cable and ventilation included.
Often in our industry it's the big high-performance audio-visual solutions that get the headlines, but as Redline underlines often it's the simpler but no less useful solutions that really keep the wheels turning.
Redline urges installers to get in touch and find out how the range from Intuitive can make your commercial or residential installation life simpler, with better looking projects and longer lasting, reliable results.