UK distributor Redline says the Totem Acoustic Kin Play series of active speakers offer installers a fantastic option that mixes traditional Hi-Fi approaches with bang up to date technology and connectivity delivering install versatility as well as the awesome sound the brand is known for.
The one thing installers can never afford to be is 'run of the mill'. Offering products that the customer can get elsewhere that don't offer anything unique is not the name of the game, so that is why making sure you have access to high-quality brands with an innovative take on AV is so vital.
Audio consumption is at an all-time high. The vinyl revival, heathy sales of CDs, digital music and high-quality streaming, the growth in home cinema and consumers using a growing army of sources such as games consoles to reach the content they want, are all contributing to a challenge for manufacturers to cover all the bases.
A set of products to cover all these needs sounds like a stretch, but not so argues Redline, enter the Kin Play range from Canadian audio company, Totem Acoustic.
The Kin Play family comprises of the Kin Play bookshelf, the Kin Play Mini and the Kin Play Soundbar, all fully active and ready to rock your customer's world in a variety of ways and locations says the maker.
The Kin Play/Kin Play Mini
This set of stereo bookshelf speakers look simple from the outside, but inside these fully active speakers free the installer from having to find room and extra power for amplification and carry a varied choice of connections that set the customer's content free. With a powerful 120W per channel amplifier on board driving the speakers with purpose delivering an open and filling soundstage, characteristics the brand is known for, without filling the room with enormous speakers to achieve it.
Totem Acoustic always takes great care in its driver designs with every unit exhibiting phase linearity, speed, emotion, off axis natural presentation and spatial articulation.
The amplifier inside the Kin Play was precisely created to work in partnership with the drivers to create harmonious interaction between the two. This partnership offers strong phase linearity and safeguards Totem Acoustic's sonic signature, absolutely no DSP is used, just solid audio engineering.
One of the leading experts in delivering impressive audio from smaller enclosures for decades, the Kin Play carries on this Totem Acoustic tradition with performance the belies their size, says the distributor.
In addition to this, the Kin Play is equipped with an amp bypass input, coupled with auto on/input sensing, meaning the speakers can play nice with streaming, wider custom installation and automation systems. The product can also deliver audio via a tablet, smartphone or in fact any Bluetooth compatible device. Its Bluetooth abilities allow support for any type of streaming the customer wants to do. On board is Bluetooth 4.1 combined with Qualcomm aptX HD technology, meaning high resolution, CD quality streaming from a wide variety of devices is easily achieved.
The Kin Play suite of connections includes a switchable Phono/Line stereo RCA input for anything from a TV to a turntable; 3.5mm (Mini Jack) input for computers, phones or other portable devices; Optical input for digital sources like satellite boxes, gaming systems, streamers; Subwoofer output to add a powered subwoofer and the Amp bypass input for custom installations mentioned earlier.
The size of the Kin Play (w x h x d 180 x 355 x 235mm) and lack of the need for a separate amp also increases placement options to suit the customer's room layout. Couple that with the mixture of analogue and digital inputs, remote control, high resolution Bluetooth streaming and the introduction of a built in turntable phono stage, the Kin Play easily meets the current need for consumer to mix and match different types of products.
Inside each box installers will find all the accessories required to get started with most sources. 4 metres/12 feet of 16-gauge, 19 strand, Oxygen Free Copper wire terminated with dual banana plugs, a 17-function aluminium remote, 3.5mm (mini jack) and optical interconnects and adhesive backed isolation feet for the speakers are all included.
You could be forgiven for thinking that choosing the Kin Play Mini over its larger cousin would mean a significant compromise in performance and connectivity, But the maker promises this feisty speaker plays its part in the range magnificently delivering an identical feature set as the Kin Play. More suited to smaller spaces or rooms where there is just a lack of surface space, the Mini's dimensions (w x h x d 162 x 270 x 190mm) come in very handy. The main difference between the two is that the smaller speaker carries a 70W per channel stereo amplifier, which still offers strong performance from this more compact design. Both the Kin Play and Kin Play Mini come in satin white or black finish with magnetic grill covers to match.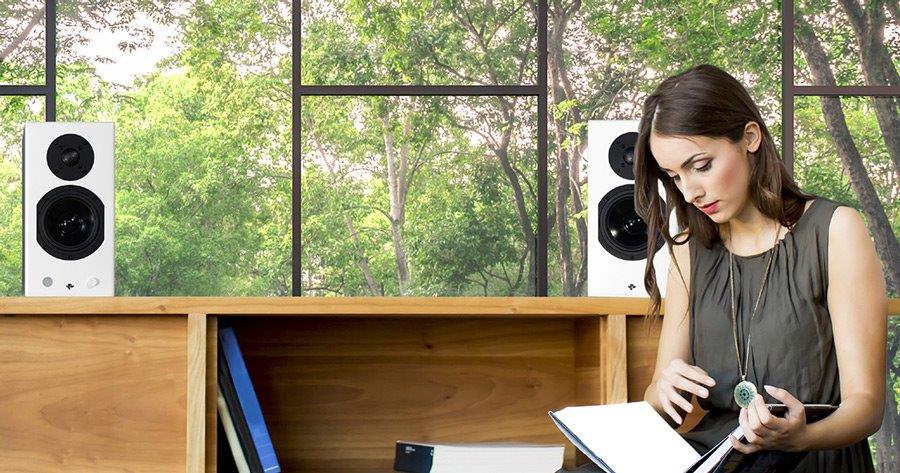 Kin Play Soundbar
A well-known area that TV manufacturers have had to compromise on to achieve ever slimmer designs is the audio performance. Whilst some TV makers have tried to beef up their performance in this area, there really is no substitute for 'proper' speakers, especially when it is movie time or when user wants to enjoy a music concert or an enhanced gaming experience.
It this space that the active Kin Play Soundbar occupies, ensuring customer's audio performance matches today's improved viewing and entertainment experiences for screens of 55in and up.
The user does not just get to enjoy a better marriage between audio and viewing, the soundbar is also fully equipped with Bluetooth 5.0 combined with Qualcomm aptX HD technology meaning the product can become an important music only source as well.
This type of varied use scenario can mean the sound ends up being a little 'average', not so with the Kin Play Soundbar says its creator, this versatile member of the family carries a varied array of equalisation settings ensuring it adapts to every application exceling at any volume level.
Totem Acoustic proprietary technology drives this performance level with in-house developed custom KIN Natural Hybrid woofers and Metal Alloy tweeters all driven to perfection by the soundbar's bespoke 75W per channel dynamic digital amplifier, created specifically from the ground up for the Kin Play Soundbar.
We all know bass is very important for a product like this and again the Kin Play family hits home with plenty of punch, however if required, the KIN Sub 10 or Tribe Solution Subwoofer can be paired wirelessly to offer even more room filling weight to the audio performance.
Another area a soundbar must deliver in is providing the right inputs, the customer needs to ensure all they want to achieve is catered for. The Kin Play Soundbar boasts; aptX hi-fidelity Bluetooth for streaming, Optical for digital sources like the TV, satellite box, gaming systems, streamers; 3.5mm (Mini Jack) input for computers, phones and other portable devices; Stereo RCA for anything from a TV to a turntable and the subwoofer output to add a powered subwoofer wired or even wirelessly with the optional Totem SimpLink.
Also included with the product is its own dual piece mounting bracket system which securely holds the KIN Play Sound Bar on the wall whilst also providing enough space for the associated wiring. The Kin Play Soundbar also comes with adhesive backed Sound Isolation Pads which decouple the speaker from the surface on which it rests eliminating any potential distortion created by vibrations transferred from the surface. A choice of equalization settings enhances the listening experience, adding dynamics and meaning the KIN Play Sound Bar can accommodate almost any user case scenario. The soundbar also has its own 17 function aluminium remote and optical interconnect. The front mounted display gives users status feedback showing power, input, volume setting, tone control, pairing and EQ effect settings. The Kin Play Soundbar is also available in Satin White and Black.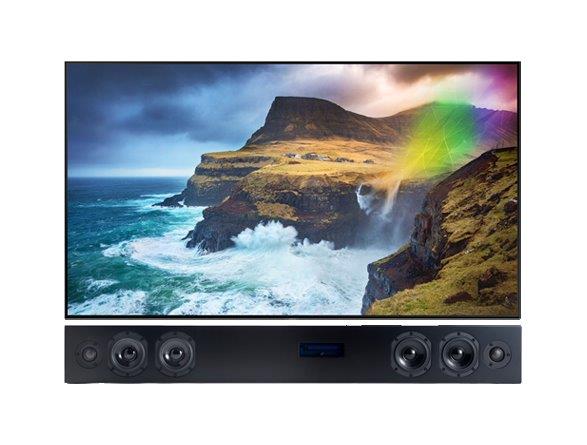 Product Details: Totem Acoustic Kin Play
Kin Play Specifications
Frequency Response: 39 Hz – 22 kHz ± 3 dB
Integrated Amplifier Power: 120 watts x 2, Class D
Woofer: 5.25in / 13.97 cm Natural Hybrid
Tweeter: 1in / 2.54 cm Metal Alloy Dome
Dimensions (w x h x d): 7.08in x 13.97in x 9.25in / 180 x 355 x 235mm
Inputs: Bluetooth, Stereo RCA, switchable to phono 3.5mm Mini jack
Optical, Amp In (Custom Bypass)
Phono Stage: Moving Magnet Compatible, 18mV, impedance 47kohms
Outputs: Subwoofer output
Placement distance apart: 4′ – 8′ / 121.92 – 243.84 cm
Break-in Time: 70 – 100 hours
Crossover Frequency: 2.3 kHz, 2nd order
Weight: 15.85lb/7.19kg active, 12 lb/5.4kg passive
Kin Play Mini Specifications
Frequency Response: 59 Hz – 22 kHz ± 3 dB
Integrated Amplifier Power: 70 watts x 2, Class D
Woofer: 4in / 13.97 cm Natural Hybrid
Tweeter: 1in / 2.54 cm Metal Alloy Dome
Dimensions (w x h x d): 6.37in x 10.62in x 7.48in / 16.2 x 27 x 19cm
Inputs: Bluetooth, Stereo RCA, switchable to phono 3.5mm Mini jack
optical
Phono Stage: Moving Magnet Compatible, 18mV, impedance 47kohms
Outputs: Subwoofer output
Placement distance apart: 4′ – 8′ / 121.92 – 243.84 cm
Break-in Time: 70 – 100 hours
Crossover Frequency: 2.3 kHz, 2nd order
Weight: 10.69lb/4.85kg active, 8.49lb/3.85kg passive
Kin Play Soundbar Specifications
Description: Active Soundbar
Frequency Response: 60 Hz – 22 kHz ± 3 dB
Woofers: 4 x 4in Natural Hybrid
Tweeters: 2 x 1in Metal Alloy
Power: 150w total (75×2)
Analog Inputs: Stereo RCA, mini jack
Digital Inputs: Optical, Bluetooth 5.0
Bluetooth Sampling Rate: 8kHz, 11.025 kHz, 12 kHz, 16 kHz, 22.05 kHz, 24kHz, 32kHz, 44.1 kHz, 48kHz
Optical In Sampling Rate: 192kHz/24bit
Decoding: MP2/3, WMA, FLAC(8/16/24bit), AAC/MP4/M4A, WAV(IMA-ADPCM and raw PCM), AIF, AIFC
Outputs: Subwoofer output 20-220Hz @ ±3dB
Dimensions (HxWxD): 152 x 1200 x115mm / 5.98 x 47.24 x 4.52"
Weight: 38 lb/17.23kg
Accessories: Wall bracket, template, adhesive feet, remote, power cord