With its 100 Series range of integrated equipment, Focal is continuing its overtures to installers with the addition of two new products. For the very first time its including a built-in sub and matching amp in its line up, the 100 IWSUB8, along its dedicated amplifier, the 100 IWSUB8.
This new bass enclosure, specially designed for in-wall mounting, along with an amplifier have been created to deliver a unique ambiance and sound coverage, blending in with the chosen setting, says the maker. The products are the ideal add-on to a 100 Series audio-video setup, also providing strong value for money.
Inside the sound
Including an 8in Polyglass speaker driver and a front vent with a streamlined inner frame to guarantee no-noise operation, Focal 100 IWSUB8 high-power passive bass-reflex subwoofer can be installed during pre-construction of the walls using 16in OC studs.
With a shallow in-wall depth (33/8in), a high-quality bass reproduction (bass cut-off frequency: 30Hz to -6db) and covered with a low-profile magnetic grille, which can be painted. The 100 IWSUB8 has been developed a dedicated easy-install amplifier specially tailored for this subwoofer, that can also be rack-mounted if desired.
Capable of powering up to two subwoofers connected in parallel, it delivers 200W of power over 4ohms.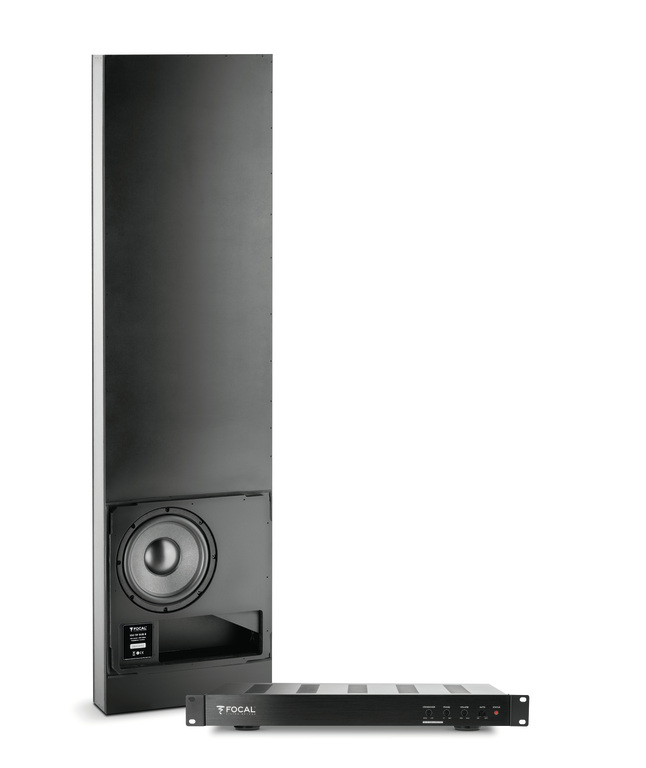 100 IWSUB8
Key Points
• Bass-reflex subwoofer with 30Hz low-cut frequency
• Low depth fitting 16in OC studs in-wall installation
• Nominal impedance of 8 ohms, able to be connected by pairs with 100 IWSUB8 Amplifier
100 IWSUB AMPLIFIER
Key points
• Peak power 200W, continuous power 150W under 4Ώ
• Amplifier able to drive 2 x 100 IWSUB8 subwoofers connected in parallel
• High-level electronic protection