As the popularity of home cinema and media room experiences continue to expand, choosing the right audio can be tricky. Now available from Redline Distribution is the Totem Acoustic KIN Play Soundbar which the distributor says has all the versatility to deliver superb quality audio whatever clients' viewing, listening, or gaming habits are.
Despite some TV manufacturers trying to solve the issue of underwhelming audio in today's big screen TVs, the issue still remains a significant one with unclear dialogue in films coupled with thin sounding audio and a distinct lack of bass, just a couple of the issues that plague audio on today's flat panels. Redline underlines that most modern sets simply do not have the chops to cope with everything a user is likely to throw at it.
Consider everyday use in your average media room living space, the owners are going to want to enjoy clear, high-quality audio for their TV and movie viewing, enjoy listening to just music and expect an enhanced gaming experience.
Totem Acoustic has a long history of producing high-quality sound from compact enclosures, so the fully active KIN Play Soundbar is billed as packing a huge punch with its twin 'in house' designed woofers partnered by tweeters at either end in a stereo configuration, whilst still fitting in with the aesthetics of the room and proportions of large screen TVs.
To enjoy content independently from the screen, music can be wirelessly streamed in high resolution direct to the Soundbar. This is coupled with an array of equalisation settings allowing audio to be tailored just the way each user likes it. Redline says this makes the KIN Play Sound Bar one of the most versatile products in its class. Being able to perform well at a variety of volume levels is also important in a soundbar and the product does not disappoint here, matching the content and mood of the user perfectly each time, says its creator.
This quality of performance is delivered via in-house created technology such as the customised KIN Natural Hybrid woofers and Metal Alloy tweeters. These are driven by a bespoke dynamic digital amplifier, created in tandem with the drive units this allows Totem speakers to obtain perfect phase linearity and ensure Totem's sonic signature remains intact. Absolutely no DSP is used as the amplifier and drivers are created to work symbiotically and in perfect harmony.
Bass is also very important in a soundbar and the unit can go as low as 60Hz (-3dB) so in many instances there will be no need to add a subwoofer. However, if the customer needs more bass the KIN Sub 10 or Tribe Solution Subwoofer are waiting in the wings as the perfect bass partners to the soundbar. All Totem drivers are created to the company's strict ethos of delivering phase linearity, speed, emotion, off axis natural presentation and spatial articulation, perfect for soundbar applications.

Design meets technical excellence
Having a great audio performance profile is of course vital here, but the abilities of the product do not end there. The KIN Play Soundbar comes with a dual piece wall-mounting system (created to suit screens 55in and up) designed specifically for the product and if the soundbar is going to be sitting on furniture, sound isolation feet can be added to the bottom of the enclosure to enhance sound and provide a solid isolated platform. The mounting bracket system securely holds the KIN Play Sound Bar in place while providing just enough space for the associated wiring, whilst the included mounting template ensures an easy, accurate installation.
The KIN Play Soundbar comes in attractive Black and White Satin finishes and has convenient colour matching magnetic grilles, easily removed if the customer prefers the 'drivers out' look.
The tweeters are 1in Metal Alloy Dome units delivering the higher frequencies in perfect voice, says the maker. Any soundbar worth its salt will have a generous connections suite and the KIN Play delivers Optical, Stereo RCA and 3.5mm inputs and full Bluetooth 5.0 wireless connectivity. The Bluetooth 5.0 capability is partnered with Qualcomm aptX HD technology meaning high resolution, CD quality streaming from a wide variety of devices is possible allowing users and their guests to access playback quickly and easily. If the customer is adding KIN SUB 10 and Tribe Solution Sub, the integrated transmitter pairs wirelessly with both these options. The KIN Play Soundbar also has its own 17 function aluminium remote ensuring complete control over all the unit's considerable abilities. The Soundbar's front facing display shows the status of the unit indicating power, input, volume setting, tone control, pairing and EQ effect. The display disappears 15 seconds after the last function is activated. The Kin Play Soundbar is in stock right now, so contact Redline for more information.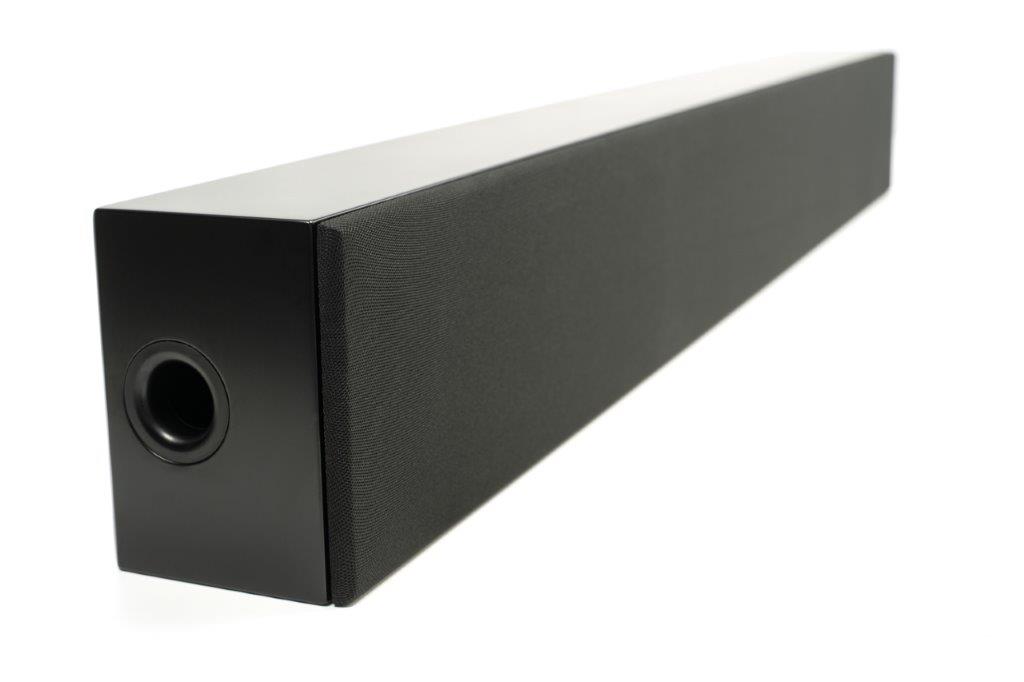 KIN Play Soundbar Specifications
Description: Active Soundbar
Frequency Response: 60 Hz – 22 kHz ± 3 dB
Woofers: 4 x 4in Natural Hybrid
Tweeters: 2 x 1in Metal Alloy
Power: 150w total (75×2)
Analog Inputs: Stereo RCA, mini jack
Digital Inputs: Optical, Bluetooth 5.0
Bluetooth Sampling Rate: 8kHz, 11.025 kHz, 12 kHz, 16 kHz, 22.05 kHz, 24kHz, 32kHz, 44.1 kHz, 48kHz
Optical In Sampling Rate: 192kHz/24bit
Decoding: MP2/3, WMA, FLAC(8/16/24bit), AAC/MP4/M4A, WAV (IMA-ADPCM and raw PCM), AIF, AIFC
Outputs: Subwoofer output 20-220Hz @ ±3dB
Dimensions (HxWxD): 152 x 1200 x115mm / 5.98 x 47.24 x 4.52"
Weight: 38 lb / 17.23kg
Accessories: Wall bracket, template, adhesive feet, remote, power cord