For the final part of our ISE 2020 review, we take a tour of some of the highlights fro those offering networking, connections and signal management.
See the other parts of the review here and here
Kordz
Kordz unveiled a new PRS Series CAT6A Network Patch Cord offering a slim-profile, high performance cable designed to deliver a strong, reliable connection for high-bandwidth AV and smart home installations.
"On many projects, the network patch cord connection can be a common source of failure and massive frustration for professional home integrators," comments James Chen, Managing Director and head of Engineering at Kordz. "Connectivity Assured is the principle that underpins the design and manufacture of every Kordz product. This new CAT6A Network Patch Cord is a great example of this commitment in practice as our patent pending design dramatically reduces any issues with the RJ45 latching tab breaking or coming free under stress."
On display for the first time at ISE 2020, the Kordz PRS Series CAT6A Network Patch Cord is a stranded 28 American Wire Gauge (AWG) U/FTP Category 6A shielded cable, suitable for 10 Gbps and POE++ rated networks. Kordz has custom-designed the RJ45 connector with a robust, anti-corrosion gold plated material.
The result is a more secure latching tab with a 15.2mm cable bend radius. The tab itself is rated to 2,000+ 180O bend cycles which will minimise the risk of connector failure, help create a tidier AV rack and save installation time and cost for integrators. The 28AWG oxygen free copper conductors and solid extrusion also offer maximum twist protection for greater cord flexibility and signal integrity.
In addition, this Network Patch Cord reportedly has the thinnest and most flexible profile on the market, making installation faster and easier whilst still fully complying with the strict CAT6A ANSI/TIA 568.2-D standard. The cable's 4.8mm diameter gives it a 40% reduction in area size when compared to traditional 26AWG CAT6A network patch cords.
Every cable in the range is available in a choice of lengths up to 30m. In fact, installers can select from 16 different lengths, beginning at 15cm, to suit multiple project requirements with every Kordz PRS Series CAT6A Network Patch Cord up to 10m supplied with its own component test report available to download giving confidence to integrators that they are making the right choice for each application.
Netgear
NETGEAR used the event to showcase AV-over-IP applications.
"We are happy to be able to accelerate the AV over IP transition while making things easier for the integrators. Our certified solutions provide valuable innovations offering an integrated solution that works for any AV deployment from small to extra-large," remarks Richard Jonker, VP of SMB Product Line Management at NETGEAR.
The new M4500 switches are engineered for AV over IP installations with NETGEAR IGMP Plus for strong ease of use. Zero-touch multicast using Layer 2 commands without the need for more complex PIM (Protocol Independent Multicast) routing along with the 100G bandwidth and ultra-low latency, makes these switches not only a better, but also more affordable choice than traditional data-centre class products, says the maker.
NETGEAR was also demonstrating the ability to run third-party AV over IP control and management software directly on the M4500 switch. For Software Defined Video over Ethernet (SDVoE) systems, running Director from iMAG systems or IPBaseT Manager from Aurora Multimedia right on the switch eliminates the need for a separate controller unit, resulting in a simpler system design with fewer points of failure.
NETGEAR also emphasised that its switches now certified by more than a dozen AV vendors including AMX SVSI, Atlona, Aurora, Biamp, Broadata, Christie, Crestron, DVI Gear, Just Add Power, Kramer, Megapixel, PureLink, Savant, tvONE and ZeeVee.
Another partnership was underlined, this time with automation platform Savant. Savant has enhanced its existing partnership with NETGEAR to offer the full suite of the company's networking solutions to technology. The companies say this exclusive arrangement will make best-in-class products and services available to integrators, enabling them to improve efficiency for any job size while creating new opportunities by offering superior networking capabilities along with exclusive, co-engineered solutions for the custom installation market.
As audio/video, lighting and IP have come together along with a limitless array of IoT devices in the modern smart home, the role of the network has become more vital than ever before of course.
The objective of the alliance is to create networking solutions that are optimised for the Savant smart home ecosystem, streamlining design, installation and service processes. Additionally, Savant and NETGEAR are working on a strategic roadmap of new products and services exclusive to and optimised for Savant. Through this partnership, integrators will gain access to 24/7 system design and support services, increasing jobsite efficiency while ensuring client satisfaction.
"Understanding the vitality of networking products and services to our integration partners for jobs of every size, it was our objective to align with a highly respected provider such as NETGEAR," said Robert Madonna, CEO at Savant. "Savant and NETGEAR are creating a hassle-free, highly streamlined infrastructure that converts the challenges of networking into an important opportunity for integrators."
SurgeX
SurgeX, distributed in the UK by RGB Communications, is introducing the new Squid power management device at ISE, a product design that packs an array of power quality features into a single, compact chassis to fulfill the unique needs of the growing number of collaborative flex and huddle space environments.
Squid is designed to streamline installation, combining multiple features, including boxed networked control and analytics of AC and DC, front-end protection with SurgeX's patented Multi-Stage surge suppression technology, as well as monitoring and management capabilities.
Squid includes two 5V USB ports inputs for charging and network troubleshooting, eight outputs, four of which are traditional controlled and monitored IEC receptacles, and four are DC so integrators can eliminate the need for wall warts or a two box solution. By using a relay-based system, the AC and DC ports can be controlled, the device can be monitored, and can be easily integrated into third party control systems.
Available in three models for (2) 12V, (2) 24V, and a combination of the two, integrators can use Squid to power small spaces and keep them running smoothly with preventative maintenance, mounting the small device in the rack, behind a flat panel, mounted under a table, or integrated into a table hatch.
With built-in autosensing, Squid is also the first SurgeX product with universal compatibility with 120V to 240V, allowing global companies to simplify installations and spec the same product worldwide. As an intelligent, and flexible power foundation, Squid offers SurgeX Axess ELITE capabilities such as sequencing, scheduling, auto-ping, IP Control, monitoring, and management, helping integrators reduce service calls through proactive management.
Squid features built-in diagnostic monitoring, similar to the popular SurgeX enVision, providing a single solution for management, mitigation and control of the system's power.
Squid measures electrical parameters, including voltage, current, power, frequency, power factor, and crest factor, and provides time stamped power quality events, and an internal storage of 30 days' worth of max/min/average electrical parameters. Its maker says that Squid meets the highest security standards, with support for all the leading network security protocols including 802.1x authentication and active directory.
HDBaseT
Lots of interesting stuff this year on the HDBaseT Alliance stand as the platform is making a strong play to fight for its place again competition from systems like AV over IP. In the main the message was the power delivered by HDBaseT Spec 3.0 which the Alliance says is the first in the industry to enable long-distance transmission of uncompressed 4K@60 4:4:4, allowing unparalleled value and the best possible performance for your installations.
Tzahi Madgar, the new President of the Alliance was on hand to explain the diversity of the companies involved in the technology from large to smaller, the HDBaseT family is growing all the time so there is increasing amount of choice for different applications. The Alliance underlines that interoperability is not a given, it needs to be managed and maintained and the organisation keeps its processes very strict to maintain reliability, last year over 200 new products were certified.
Pulse-Eight neo matrix products contributed to a clever demo showing how fast and responsive gaming can be over HDBaseT as two stands placed a long way apart shared the same gameplay in real time.
Other news at the show included the launch of a new Pulse-Eight Ultra Receiver product, which has been officially approved by Steinway Lyngdorf to work with the Steinway & Sons P300 immersive sound processor.
The Pulse-Eight Ultra Receiver is a HDBaseT 4K60 Type-A-compliant receiver solution, that employs DSC technology, enabling long-distance transmission (100m/328ft) of HDMI2.0 video (4K, 60Hz with 4:4:4 chroma encoding) and 100Mbps ethernet over a single category cable. The Pulse-Eight Ultra Receiver is, at only 13mm high, a good choice for a discreet installation behind ultra-thin TVs.
"Today's 4K video and audio extension requirements over a long distance offer a technical challenge due to the immense data rate requirements over the cable," says Thomas Birkelund, CEO/CTO of Steinway Lyngdorf. "Our P300 sound processor offers the most advanced HDBaseT output available, supporting HDMI 2.0 (18Gbps) extension. We are confident of the capabilities of the Pulse-Eight Ultra Receiver which has been thoroughly validated by our engineers to work flawlessly with our P300 processor at the highest rates achievable."
Jonathan Regalado-Hawkey, Business Development Director for Pulse-Eight adds, "We are extremely proud of this endorsement from Steinway Lyngdorf, who are regarded as a standard of excellence within the AV industry for offering the finest sound systems in the market. All of our Video/Audio solutions are expertly designed and manufactured in-house so we are committed to providing the best-in-class products to our customers."
Also launched at the show from Pulse Eight was the ProAmp8, check out the video below.
The Valens Stello family VS3000 (using the latest chip set, also developed by Valens) also showed versatility and speed as a demo showed how products from the family can act as transmitters and receivers, switching between the two for installation convenience and for sharing different content from different sources around a collection of screens. The company also underlined the new chip delivers HDMI 2.0 and Dolby Vision.
Also on the HDBaseT stand, MSolutions introduced and demonstrated new AV over IP testing capabilities that address emerging signal and infrastructure test needs in AV environments. MSolutions also showed its specialised HDMI Cable Tester module, which allows integrators to efficiently perform bandwidth and physical layer quality tests.
Says Eliran Toren, CEO, MSolutions, "Our new IP-capable test features give installers the insight they need today to verify signal integrity and network health in AV over IP systems without having to purchase a separate device, while allowing them to test for HDBaseT and HDMI requirements from the same portable platform."
The MS-TestPro is the first device of its kind to integrate AV over IP test capabilities into an HDBaseT device, eliminating the need for an expensive standalone IP tester. The software-driven capabilities, available to existing users via a simple software update, are activated upon connecting the device to a network switch.
Once connected, the software provides immediate, detailed feedback on network switch information and settings, and a general overview of IP network conditions and connections. The information received allows integrators to quickly confirm if the network settings fit the AV over IP requirements. This includes identifying network configuration faults, the status of network ports (open or blocked), and whether pertinent multicast settings are correctly enabled.
MSolutions introduced its HDMI Cable Tester module last year to provide customers with a comprehensive physical layer quality test solution. The HDMI Cable Tester drills down to each cable's conductors and shielding and provides instant feedback on missing or defective wiring.
The module attaches to both ends of an HDMI cable, and delivers detailed information on HDMI bandwidth requirements, the presence of HDMI-standard conductors, and compatibility tests for signals up to 4K@60Hz 4:4:4 in the HDMI 2.0 specification. MSolutions is in the process of developing a special pattern generator for next-generation HDBaseT systems and HDMI specifications.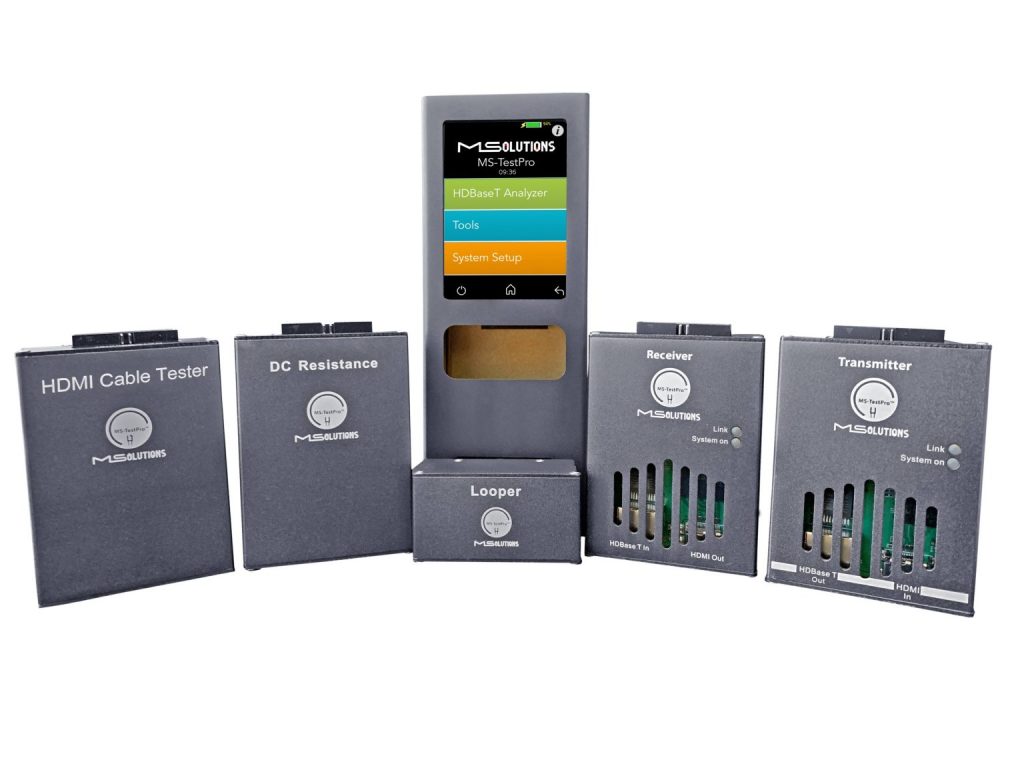 Blustream
Also delivering a busy show, Blustream offered a full run down of how the company has to to where it is today going from a relatively new entrant to a real force to be reckoned with 15 new products at this show.
HDAnywhere
HDAnywhere showcased the handy new 'zone processors' which take the power of the brand places it in a handy, easy to install compact box. Check out the interview below.
OneAV
Also some hot off the press info from OneAV with not just control brands, but structural changes to how the company interacts with the its install customers.
Atlona
Atlona was also keen to draw attention to the new HDBaseT extender kit that pairs two of its most popular HDVS Series solutions for huddle rooms and small meeting spaces.
Shipping now, the AT-HDVS-150-WP-KIT combines the AT-HDVS-150-TX-WP two-input wall-plate switcher with the AT-HDVS-150-RX scaling receiver to provide HDMI and VGA auto-switching, integrated display control and HDBaseT signal transport in a convenient package that simplifies ordering for integrators and system designers.
Suited for corporate, educational, and other environments, the HDVS-150-WP-KIT transports video signals up to 1080p or 1920×1200 alongside embedded audio, power and control across distances reaching 230 feet (70 meters) over standard category cable. The HDVS-150-TX-WP switcher/transmitter features one HDMI input and one VGA input with corresponding analogue audio, automatically selecting between the two interfaces and powering on or off compatible displays when a video source is connected or removed.
Front-panel input selection and display on/off buttons facilitate simple manual operation.
At the receiving end of the chain, the scaling capabilities of the HDVS-150-RX automatically transform incoming signals to the native resolution of an HDMI-connected display.
Two-channel audio de-embedding with stereo analogue outputs enables integration with external amplifiers and audio systems. Front-panel controls allow access to flexible configuration options through intuitive on-screen menus displayed via the receiver's HDMI output.