Pulse Cinemas has recently been underlining its wide-ranging and high-performance demonstration facilities.
For installer partners and their customers, these spaces are a good way of experiencing how good cinema can be and as a way of starting journeys into building bespoke cinemas for each client.  
The Reference Cinema
The Reference Cinema takes a no compromise approach and shows the very top end of what can be achieved with the right technical knowhow, combined with Pulse ingredients.
This is a theatre of dreams, but Pulse Cinemas says those dreams are entirely achievable for any home given the multi-discipline approach which considers every conceivable option, from acoustics, design, lighting and the audio-visual aspect of the cinema.
Able to deliver all the latest immersive cinema formats such as Dolby Atmos, as well as life like images, this cinema lives on the cutting edge of performance.
This cinema also shows how stylish and comfortable a dedicated cinema can be. The specially designed seating is top quality and the company argues they are so luxurious, that once installed, customers won't want to sit anywhere else!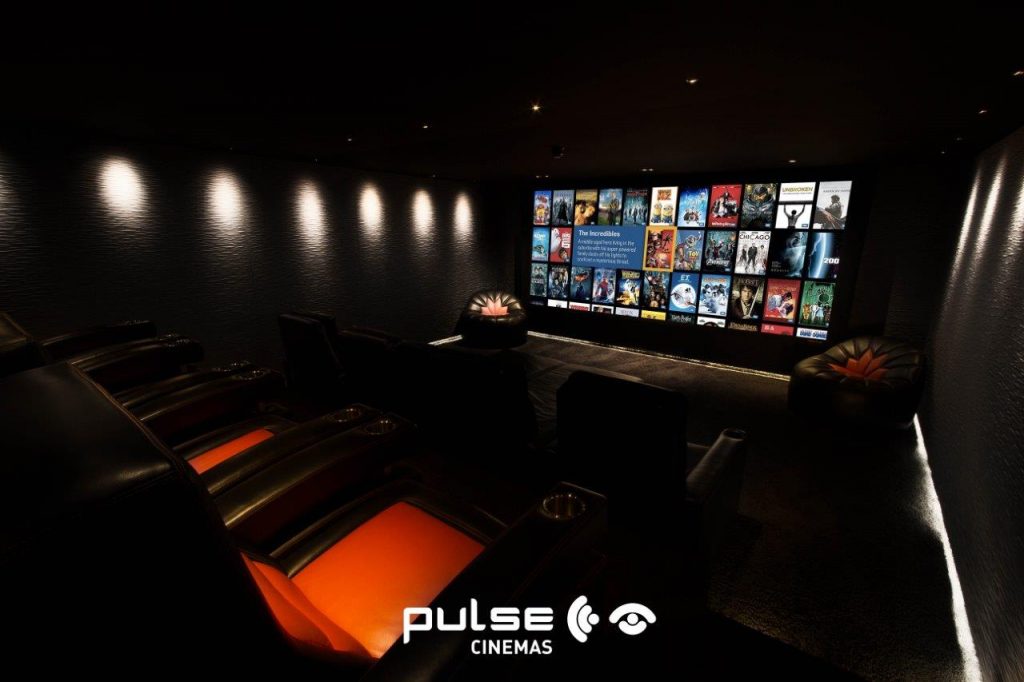 The Apartment Cinema
This space is designed to show what can be done with a smaller space. Designed to the same exacting standards as its bigger brother, the Reference Cinema, and also part of the demo facilities at company HQ, this compact and cosy cinema shows what can be achieved in a smaller space.
In the Apartment Cinema, special attention is paid to the design of the space, making every inch work to its maximum potential. The arrangement of the seating, the placement of the equipment and tuning of the system, all combine to deliver impressive performance.
A strong platform for enjoying music, film, and live sport, this size of room is also particularly good at delivering an awesome gaming experience.
Acting as a family room, a den for the older members of the family or a space where teenagers can enjoy their content without disturbing the rest of the house, this room makes it easy to see how a good cinema can become the beating heart of the home.
The Media Room
This attractive room was created with the help of many of the services that Pulse Cinemas offers, not just the supply of all the top-quality audio-visual systems, but the full design, interiors, bespoke cabinet making and technical knowhow that comes as standard.
This room is designed to surround all who enter it with comfort and style, with its evocative Moroccan theme. Long before the hidden AV systems come to life, the room looks and feels special, having gone through a whole series of design phases, mood boards and ideas to reach the final concept.
The design brief was to create a cinema experience that integrates perfectly with the fabric of the room, so transition from at rest mode to full-on AV experience feels completely natural.
As well as making a statement with the furnishings, the audio-visual systems match the interior for precision and accessibility.
There are two cinemas hidden within the fabric of the room; one based around a high-quality large screen Loewe TV and a Pulse Cinemas speaker package, the second a full Dolby Atmos/DTS:X immersive audio and projector/screen system.
The TV system remains hidden behind the wall panelling until called upon. When needed the wall panels reveal the TV. The room's integrated and hidden speakers back up the TV with balanced audio to match and enhance what is happening on screen.
This room's other ability is to morph from a comfortable living room into a full-blown Dolby Atmos/DTS:X cinema, with performance that offers impressive levels for a price that will surprise.
Based around one of Pulse Cinemas specially created packages, the cinema offers all the advantages of a BenQ projector, Anthem processing, Paradigm CI Elite speakers, Screen Research screen, Kaleidescape movie server, (which can also be called upon for the TV system) and a full acoustic treatment package woven into the fabric of the room from Vicoustic.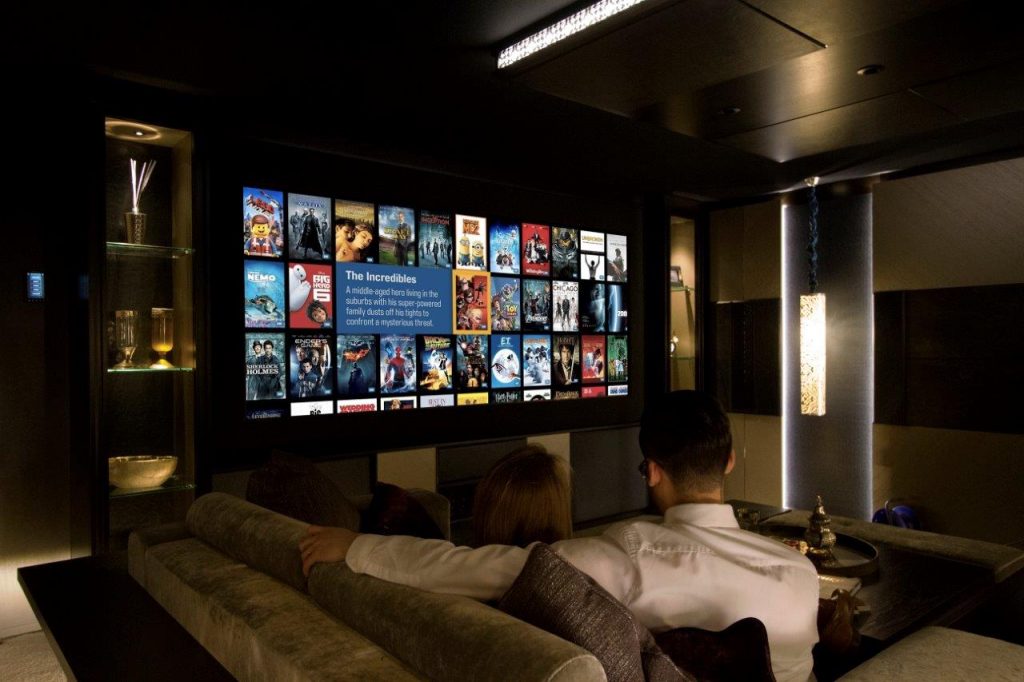 The London Experience Centre
Another one of Pulse Cinemas' demonstration suites, this one situated away from company HQ, is located in one of the Capital's most prestigious luxury furniture showrooms, The Sofa & Chair Company.
This West London facility is the go-to destination for interior designers and homeowners looking to be inspired by the company's collection of high-quality furniture, furnishings and fittings.
Thanks to Pulse Cinemas, visitors can also experience the media room cinema, along with other room set scenarios showing home automation, entertainment and intelligent lighting/shading systems.
This space was created to show just how well technology can integrate with high-quality interior design and different living spaces, offering a cinema woven into the living room area, a bar and a dining room space.
Created by Pulse Cinemas' in-house interiors expert, award-winning designer Stephen Clasper, the space gives a 'real world' example of what can be achieved when intelligent design meets intelligent technology.
Conveniently located in West London, this space is a chance to get a flavour of the range of services Pulse Cinemas can provide; the first step on a journey towards a more enjoyable and personalised home.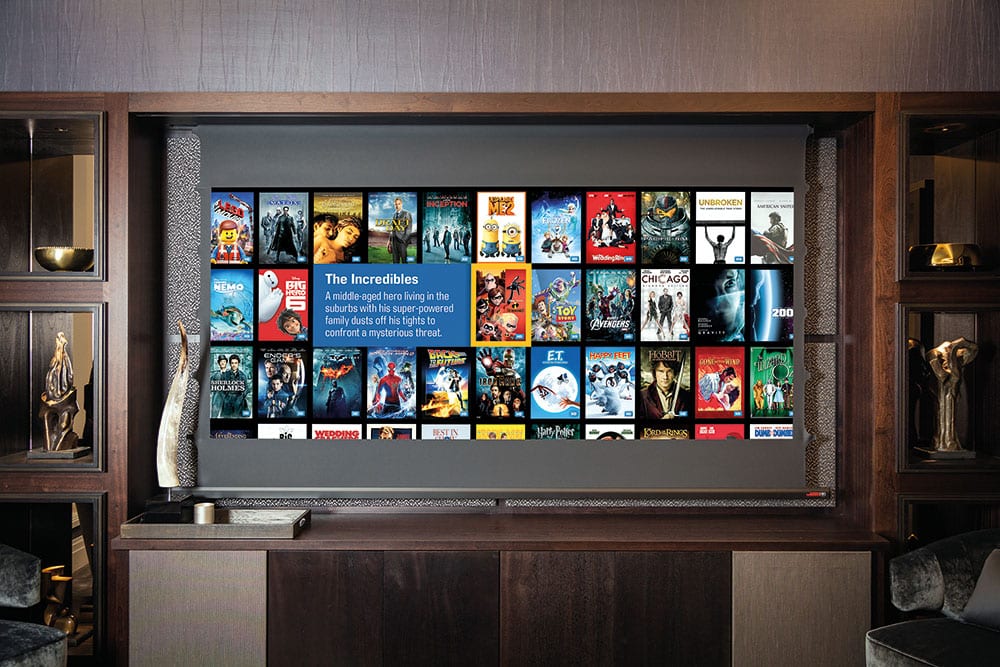 The Cabin, Chalfont St. Giles
The proud owner of this cinema is none-other than Pulse Cinemas' Cinema Sound Consultant, David Crozier.
When David retired from his award-winning career as a top sound engineer and sound mixer in the film industry, having received four British Academy (BAFTA) nominations and an Outstanding Achievement in Sound Mixing for Motion Pictures award for Finding Neverland, he wanted to create a home cinema that would adhere to his exacting standards.
Having worked on franchises such as Harry Potter and Indiana Jones, David wanted to recreate the magic of cinema in the grounds of his home, so in partnership with Pulse Cinemas, that is exactly what he did.
This purpose-built cinema uses a Norwegian solid timber cabin design as its base, to provide a rock-solid platform to allow the cinema to really sing.
Designed to the same high technical standards as the Pulse Reference Cinema at company HQ, this outdoor space also shows how far a cinema can be personalised and offer bags of character.
Inside, it's like stepping back to the golden age of cinema with plush seating, decoration and a crimson curtain which swishes back to reveal the screen when it's movie time, to add a touch of drama.
Regularly up-dated to demonstrate the latest in cutting edge performance, events are often held here to show just how good this cinema is.
Speaking at a recent open day for the cinema, David said, "The thrill for me is to have all these people here, the house and the cinema really come alive. We've got dealers and very enthusiastic people here and they can't fail to be impressed, I think it's amazing."
So, if a man of David's movie experience thinks that highly of his Cabin Cinema, it has got to be worth checking out. Pulse Cinemas full demo suites are open, get in touch to find out more.