Monitor Audio says its has melded the finest materials and decades of loudspeaker know-how to lovingly create its new Gold series of loudspeakers. Designed to be rich in both tone and build quality, the speakers have been carefully crafted to last a lifetime.
Painstakingly assembled by Monitor Audio's team of craftsmen, the maker says each Gold speaker is beautifully finished to ensure that their combination of premium audio technology and class-leading build quality delivers a compelling Hi-Fi and home cinema listening experience.
The rounded vertical edges of the cabinets combined with the sharp profile of the horizontal lines are designed to give a classic and timeless appearance.
A soft touch panel on the top of the speakers (stand mount and floor-standing) adds a further sophisticated appeal to the series. The speaker also offer a choice of ultra-smooth premium finishes (dark walnut or ebony real wood veneer and piano gloss black or satin white).
These speakers features the technology used in Monitor Audio's flagship Platinum II loudspeakers with the drivers having been especially re-developed and honed for Gold and secured inside the
well-damped cabinets using Monitor Audio's single bolt mechanism to give a clean appearance.
The design improvements have created a stronger performance when compared with the previous range, allowing for a smaller number of models now totalling six different speakers; a single stand mount model, two floor-standers, single centre speaker, rear/FX speakers and subwoofer.
Gold 100
The Gold 100 is the only stand mount speaker in the series. With the combination of a powerful 61/2in RDT II bass/midrange driver and an MPD tweeter, the performance of a true high-end two-way speaker is delivered.
The bass driver utilises a 50 mm diameter voice coil, which the maker says yields huge power handling capability. The larger radiating surface area of this voice coil ensures heat is radiated away much quicker than in a typical driver to give a stronger performance.
Gold 100 can produce powerful low frequencies for its size and the cabinet is incredibly rigid and well braced, to deliver an accurate tonal reproduction. The HiVe II port has been located on the rear of the cabinet to give a compact size and a clean appearance.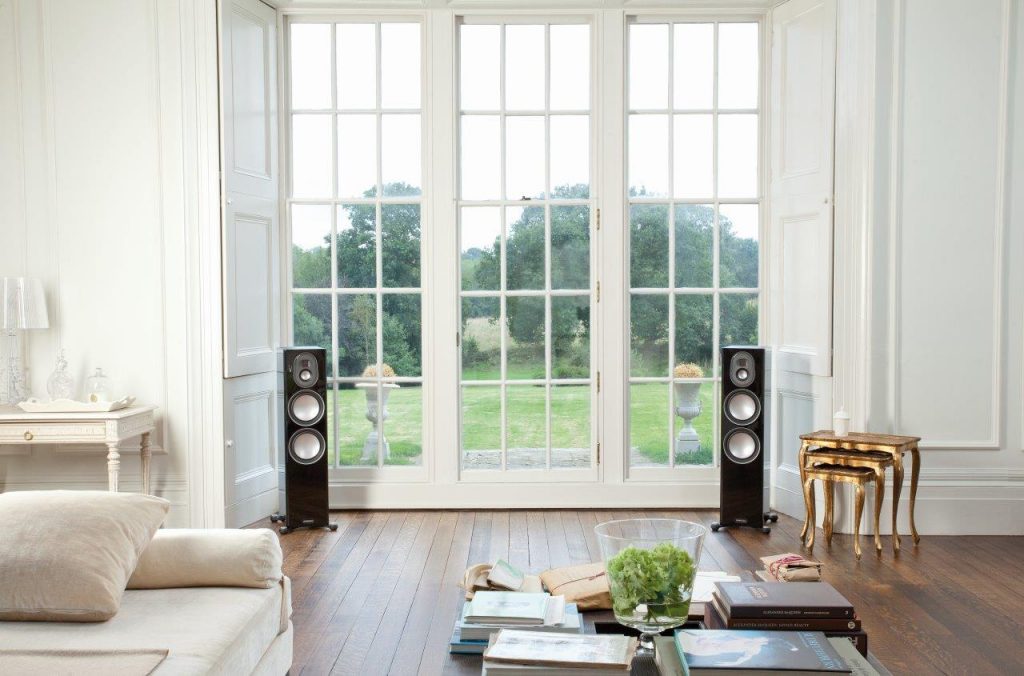 Gold 200
Whilst remaining compact, the Gold 200 has a more traditional design format with two powerful 6.5in drivers and a mid-range/MPD module in a full three-way system.
This design ensures the drivers are working optimally, delivering wide-band sound naturally and with low distortion.
The Gold 200 delivers low end yet manages to remain tight and well controlled at any power level, says its creator.
This compact floor-stander is recommended for medium to large rooms and prefers to be sited with at least 30cm between the speaker and wall allowing room to breathe and perform optimally.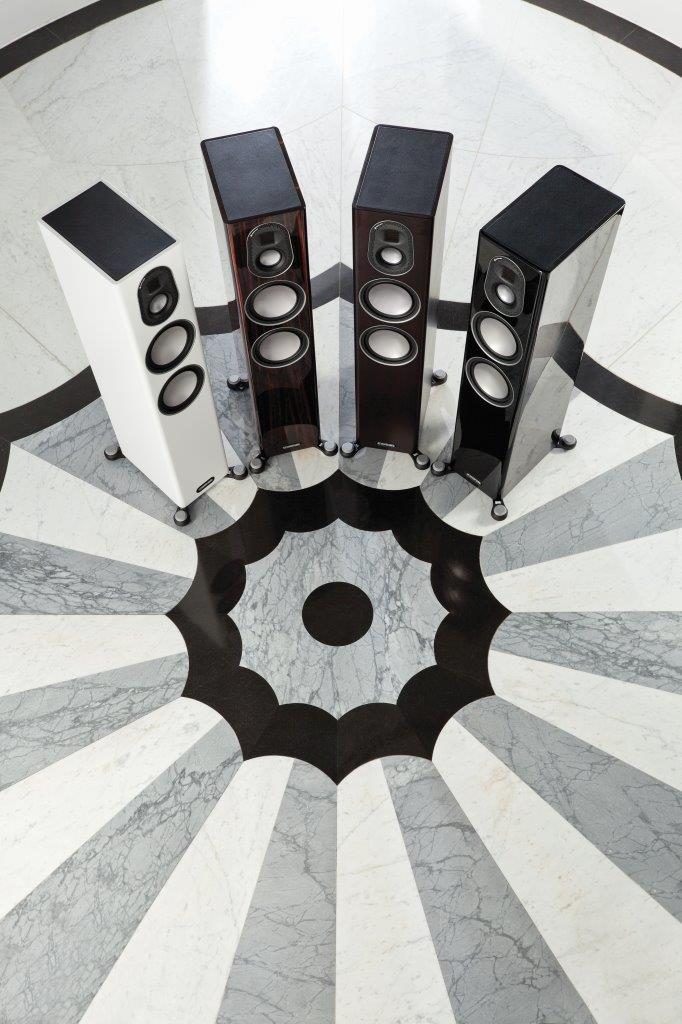 Gold 300
The statuesque Gold 300 is the flagship of the range and features a pair of powerful long-throw 8in RDT II bass drivers in each cabinet.
With low frequencies being accurately delivered (down to 30 Hz, and high frequencies reaching beyond 50 kHz) this is a wide-band speaker designed for a wide range of listening requirements.
The Gold 300 is recommended for larger rooms and also requires at least 30cm between the speaker and wall to allow the system to breathe and perform optimally.
Gold C250
The mid/high frequency module featured in the C250 has allowed Monitor Audio to create a high-performance three-way speaker with compact dimensions.
The design of the C250 eradicates the need for two different centre speaker options in the Gold Series, as it creates a wide horizontal dispersion to give coverage wherever in the room the listener is positioned.
The three-way configuration and high performance make it a good ideal match for either the Gold 100, Gold 200 or Gold 300 when specified as part of a home theatre system.
Gold FX
The Gold FX is more compact than previous Gold FX speakers and features two 4in C-CAM drivers and two MPD high frequency transducers.
The FX can be flush-mounted on side or rear walls to blend unobtrusively with any interior.
Its switch allows dispersion characteristics to be changed easily to accommodate the precise requirements for di-pole or bi-pole orientation in multi-channel system installations.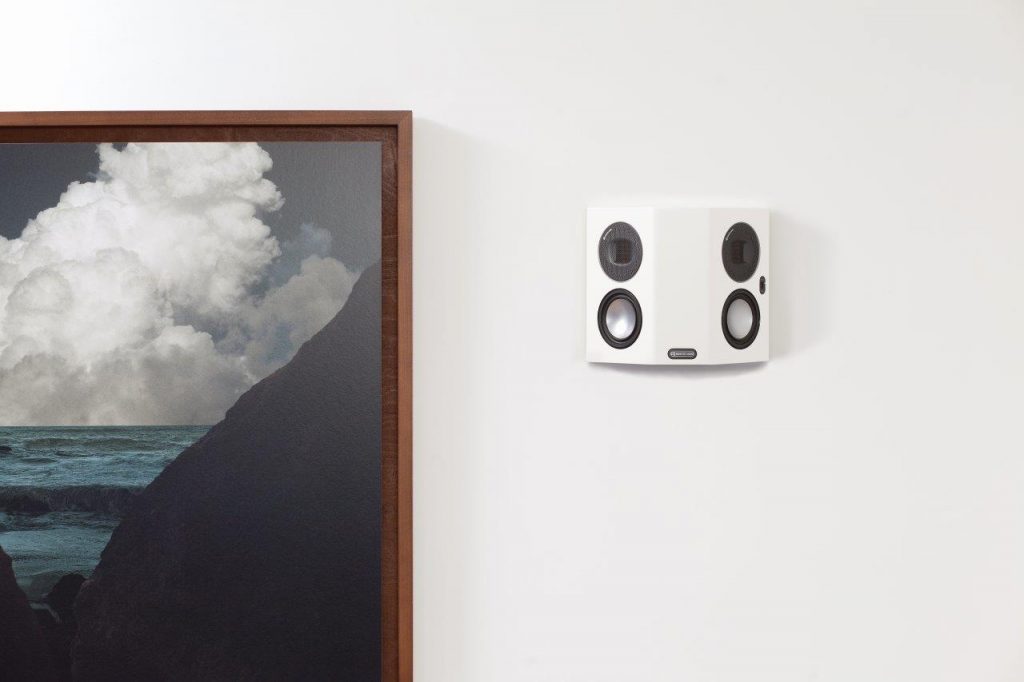 Gold W12 Subwoofer
The Gold W12 subwoofer can produce more articulate bass from a smaller cabinet than before.
The powerful long throw 12in driver is augmented by two auxiliary bass radiators, precisely tuned to assist the main driver in delivering bass lines right down to 20 Hz.
The bass driver assembly employs a powerful magnetic system and massive voice coil to deliver the immense power and scale required for serious home theatre or music reproduction.
A 600 Watt Class-D amplifier (Hypex manufactured) is matched to a high current switching power supply to ensure continuous delivery of high sound pressure levels, whilst accurately reproducing peak transients.
A powerful DSP has been employed to deliver the best performance and filter characteristics whilst running the unique APC system.
The APC (Automatic Position Correction) system has been designed by Monitor Audio to automatically correct for different types of rooms.
It uses a microphone and test tones to calculate detrimental room modes and automatically correct frequency response, optimising it for the room and position.
This ensures the user can enjoy the subwoofer without the restrictions of positioning. A 32bit micro-controller, monitoring the sound levels thousands of times per second, ensures the woofer delivers.
Settings adjustment is provided by the controller mounted on the cabinet top panel, or by using Monitor Audio's proprietary 'SubConnect' software settings provide four fully configurable user pre-sets per input, including modes for; Flat/Music/Movie and Impact equaliser settings.
Fine-tuning can be made by adjusting the frequency, slope, trim and equaliser filters for each pre-set. The Night Mode actively reduces the dynamic range of louder sections according to the level the listener desires.