Polar Bear Design is offering the Zentium Thermostat as a replacement for the Cool Automation ThermoPad which has issued an end-of-life statement.
As we move into March of 2021, the smart home/smart building industry has seen many challenges in the last 12 months. For roughly a year projects have been distributed, put on hold or cancelled. So, good news on how to avoid added disruption to planned projects should be very welcome and that is exactly what Polar Bear Design are offering with the Zentium Thermostat.
Polar Bear Design says the company is determined to not just provide the great products and service that is always has, but also offer solutions to real world problems experienced by installers out in the field.
One such example is providing a replacement for the Cool Automation ThermoPad distributed in the UK by Tenways Engineering, which has come to the end of its life in the market.
Polar Bear Design says that it knows this situation has left many installers with an issue as the Cool Automation ThermoPad has been specified in many projects which are at various stages of planning or execution. Installers need to find a replacement for the ThermoPad which will perform all the same tasks and be able to slot right into the existing project plan; Polar Bear Design says a great choice is the Zentium Thermostat.
The Cool Automation ThermoPad delivers a control panel for air conditioning and heating, installed in a flush mounted design fitting a UK 2-Gang back box. The product also offers a built-in temperature sensor as well as auxiliary heat output functionality allowing it to control other sources in the same zone such as under-floor heating. Compatible with brands such as Mitsubishi Electric, Daikin, Toshiba, Panasonic, Hitachi, Sanyo, LG, Fujitsu, Samsung and Gree, the Cool Automation ThermoPad also communicates with building automation systems such as Crestron, Control4 and Lutron. ThermoPad was also available in six types of cover plates, a capable product for sure, however Polar Bear Design argues that the Zentium Thermostat offers all of this and goes further too with a whole range of additional features, aesthetic opportunities and a guaranteed supply commitment. As many sectors in manufacturing have suffered due to the global pandemic affecting supply of components and delivery times, the maker says it is proud to say that the 'Made in Britain' approach has stood the company in good stead keeping customers supplied and supported.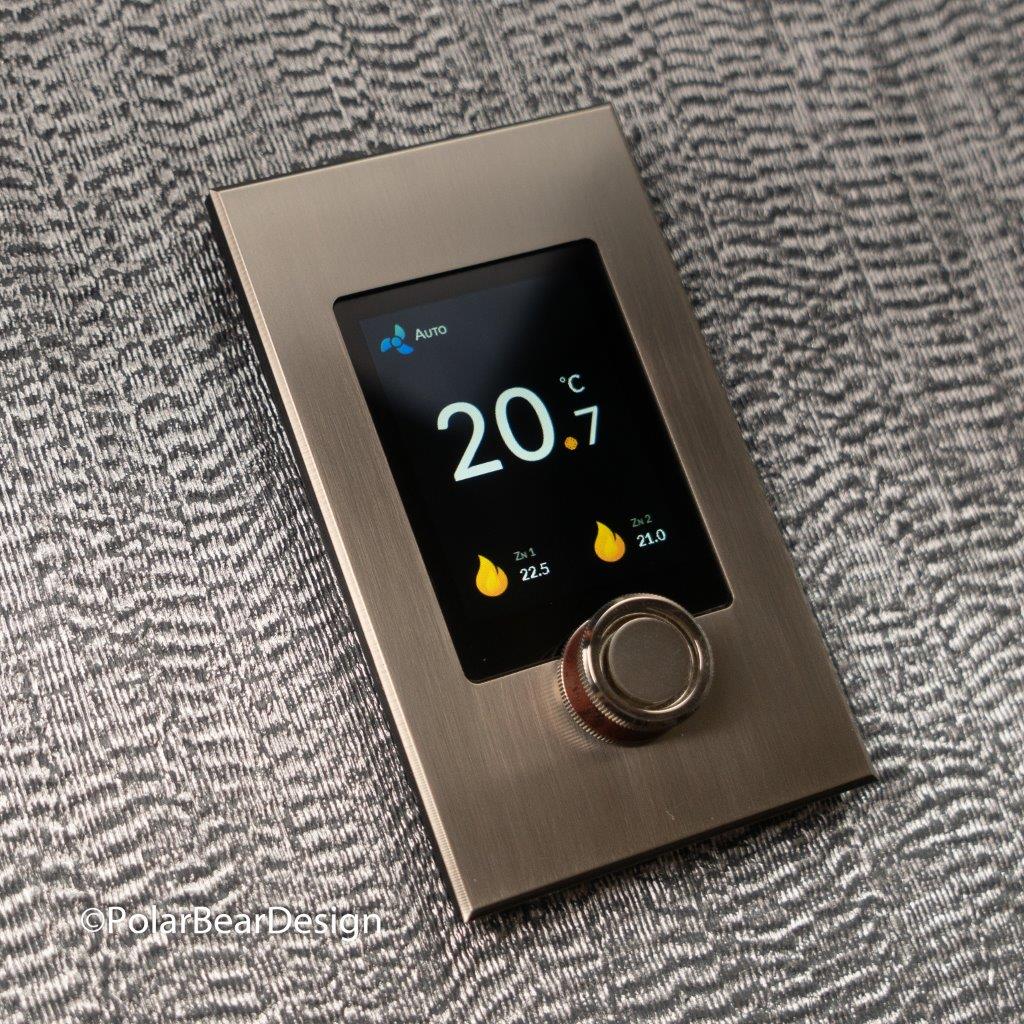 The Zentium Thermostat
The Zentium has enjoyed considerable success in the market since its introduction, last year the product was in the enviable position of reaching the final in the CEDIA Awards Hardware Category on both sides of the Atlantic.
Polar Bear Design says that it believes the reception the Zentium has received is due to producing a product that truly delivers for the smart home and smart building sector offering the control and functionality needed to create today's cutting edge and bespoke systems, but also superb aesthetics that mean not only is the 'standard' product stunning to look at and interact with, the maker can create almost any look or design needed to match a huge range of projects.
The aim of the Zentium desing is to ensure that there is never a learning curve to using the system.
The product's 'Digital Crown' control dial does not just look attractive, but the company says that the control approach means the user already 'knows' how to work it. At its most basic, turning the crown 'up' for more heat, 'down' for less. This intuitive user interface is backed up with easy-to-understand visual cues, coloured numbers on the wide-angle viewing display indicate the direction and new setting for the temperature, orange for more heat, blue for less. Once any interaction is completed, the Crown glows blue or orange to indicate the direction of the command and the screen displays an orange flame or blue snowflake. Further controls are made available to the user by pressing the Crown, with the user able to cycle through each function by pressing the Crown again. Polar Bear Design underlines that the company is aware that far too many HVAC controllers offer way too much information that is either not necessary or worse confusing to the owner. Installer functions and information are kept hidden in separate menus.
Custom finishes also allow the installer to create something bespoke for each project making sure interiors design cues are enhanced and not diminished. Polar bear Design can also create cover plates to match Crestron or Lutron systems. All the plates can be fitted at final fix stage to avoid the potentially more damaging phases of construction or renovation.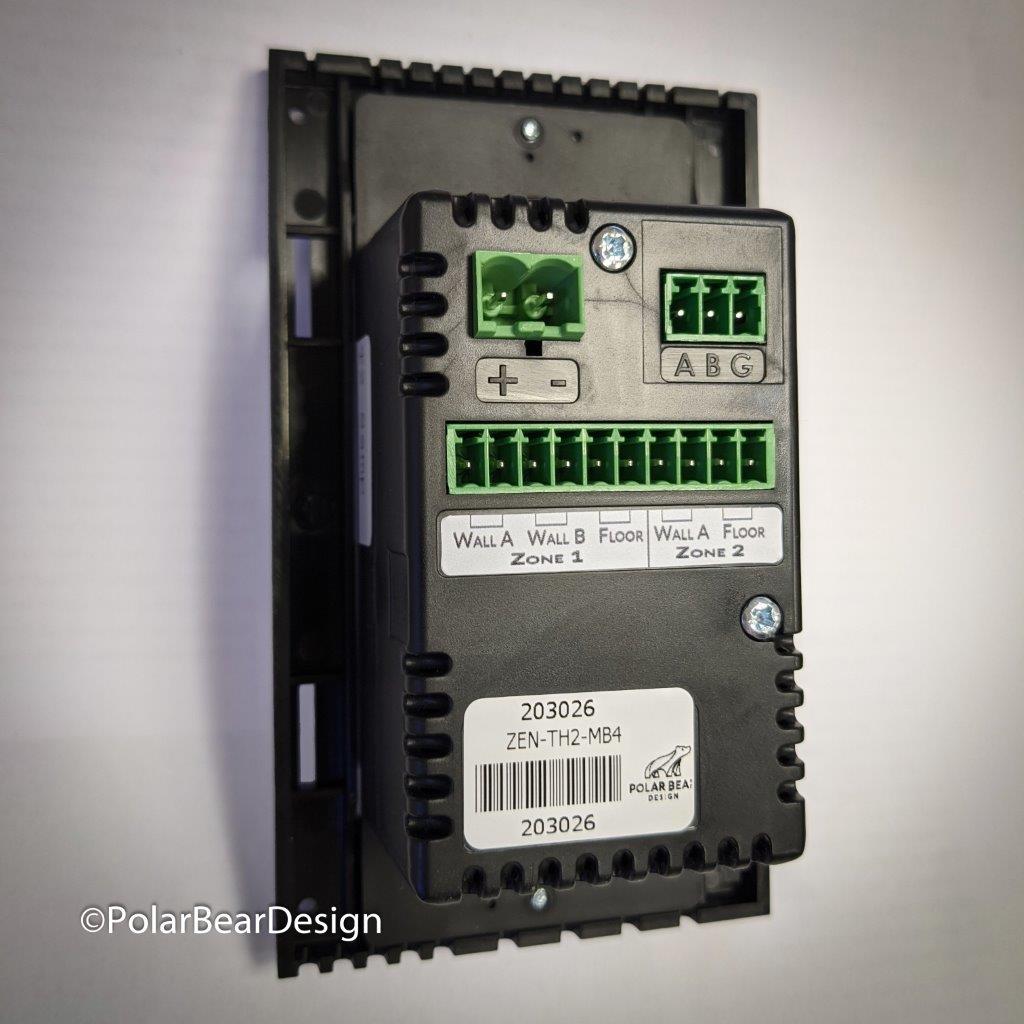 Brains as well as beauty
Its creator says that the Zentium does not just look and feel great, it has the operational abilities to deliver the complete Climate Controls and environmental control that matches the demands and needs of modern homes and other buildings.
The Zentium thermostat does not just have a built-in temperature sensor but includes a humidity sensor, meaning less sensors are needed around a building to get the same result. Just one Zentium Thermostat can also take temperature measurements from five other locations via five remote probe inputs. This approach means that the Zentium can measure more accurately the 'real' temperature of a space, not just relying on one location that may not be a genuine reflection of the state of the room.
These additional inputs can also be used to deliver temperatures to a main BMS system reducing cable runs and adding another practical advantage. Efficiency is of huge importance right across the smart building sector, delivering on energy saving and more efficient operation is a massive priority with all sorts of clients, so it is reassuring to know that the Zentium Thermostat controls requests for heating and cooling, managing any potential conflict issues between HVAC and heating systems, which has been a challenge to installers for many years.
The Zentium's abilities to control both heating and cooling in two independent areas from a single unit is allowing the product to evolve in important ways. The company argues that in many cases a full 'BMS' system for homes is not necessary with the Zentium on duty making sure each aspect of environmental control is working in harmony and at full efficiency with everything else in the building. In many projects, whilst the product was establishing itself, the Zentium was used a frontend control product for large BMS systems and it will continue to play that role, but the maker argues that for many homes this type of approach is no longer needed as the Zentium Thermostat delivers all the control that is needed and no BMS system is required.
Compatibility in of course massively important so information collected by the Zentium is made available over an open standard, Modbus communications protocol providing compatibility options with HVAC/BMS makers and automation platforms such as Crestron, Lutron, Control4, Savant and Elan.
So, if you have a project with the Cool Automation ThermoPad specified and are worried about supply, or any type of project for that matter, Polar bear Design is encouraging installers to get in touch.