Gira boosts personal safety and security in the home with the launch of a safe and convenient light control unit with high-specification motion detectors.
Mark Booth, Managing Director at Gira UK says, "Safety and security is a key part of building regulations today, vitally protecting the property and all occupiers instinctively round the clock. The high functionality of our new Motion Detector is suitable for installation in new builds and retro-fits, designed to work with all Gira System 2000 flush-mounted inserts. This also includes our design line of relay inserts that switch any light sources on or off, and dimming inserts that allow users to adjust brightness levels as desired."
Increasing multi-functionality in the smart home is a growing trend, so if the top unit is installed on an HVAC relay insert, it will also switch heating and ventilation systems on and off in addition to lights, giving end-users increased levels of comfort and extra energy efficiency.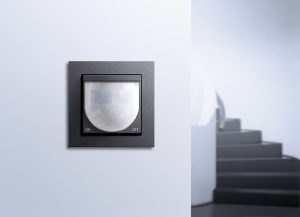 The new, state-of-the-art detection lens with double sensors provides a field of vision up to 180 degrees so the response times are instant and highly intuitive. Designed with high installation areas in mind, Gira has also expanded the detection field of its original switch, now reaching a circumference of 72m and radius of 32m. Potential intruders are unable to escape the 'protection field' of light so no one can evade detection, which makes this ideal in areas like a stairwell, cellar or garage, for optimum visibility and home security.
Available in two models, as a standard top unit and a Komfort top unit, the new Gira Motion Detector offers the following highlights:
Standard version: has a pre-set overrun time of two minutes during which the light remains switched on. A teach function enables the end user to adjust the brightness simply by shading the device with their hand – with a range of 1 to 200 lux to suit their needs.
Komfort version: includes an infrared remote control. This gives end users extra settings such as occupancy simulation, a night light, or pre-set lighting for staircases. The automatic mode can be controlled via an On/Off function and manual switching is as quick and easy as using a conventional light switch, with coloured LEDs showing the current status.
Protect the home: it's easy to make it look like you're at home when you're out as the device can save up to 120 switching events over a period of 7 days. If occupancy simulation is switched on, the Gira Motion Detector uses the saved data to operate your lighting system in your absence. If there's not enough data, the switch will generate random switching events depending on the brightness levels so your home will look occupied around the clock.
Night safety: if the motion detector is combined with a dimming insert, the light is toggled between two brightness levels when the night light function is activated. The light will be at 20% of the maximum brightness and when motion is detected, it will then change to the programmed switch-on brightness.
Easy integration: compatible with Gira System 2000, System 55, E22, and ClassiX ranges and water-protected installations in accordance with IP 44 are possible with the TX_44 range. The switch has also been tested to withstand temperatures from -15°C up to 45°C.