Gira shares its expertise and valuable insight on how to transform your home office into a more perceptive and efficient working environment.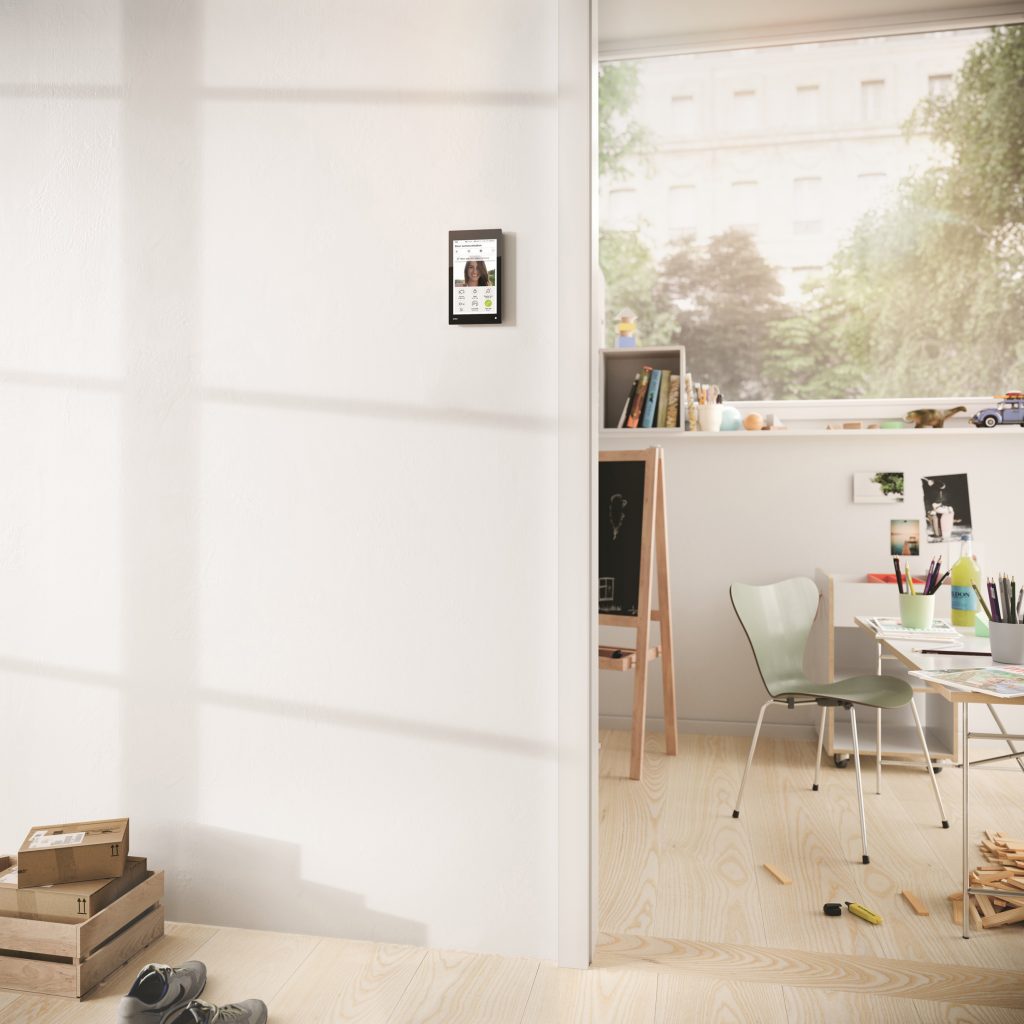 "Creating the 'perfect home office' has been given new meaning of late and we are pleased to be able to serve this growing need with a range of stylish switches, easily adjustable lighting and smart, connected workstations that enhance how we use the home during business hours. Providing you with a host of automated solutions to assist, convene and improve your workday, Gira outlines seven key products it believes will help to enhance your home office space visually and functionally" says Mark Booth, Managing Director at Gira UK.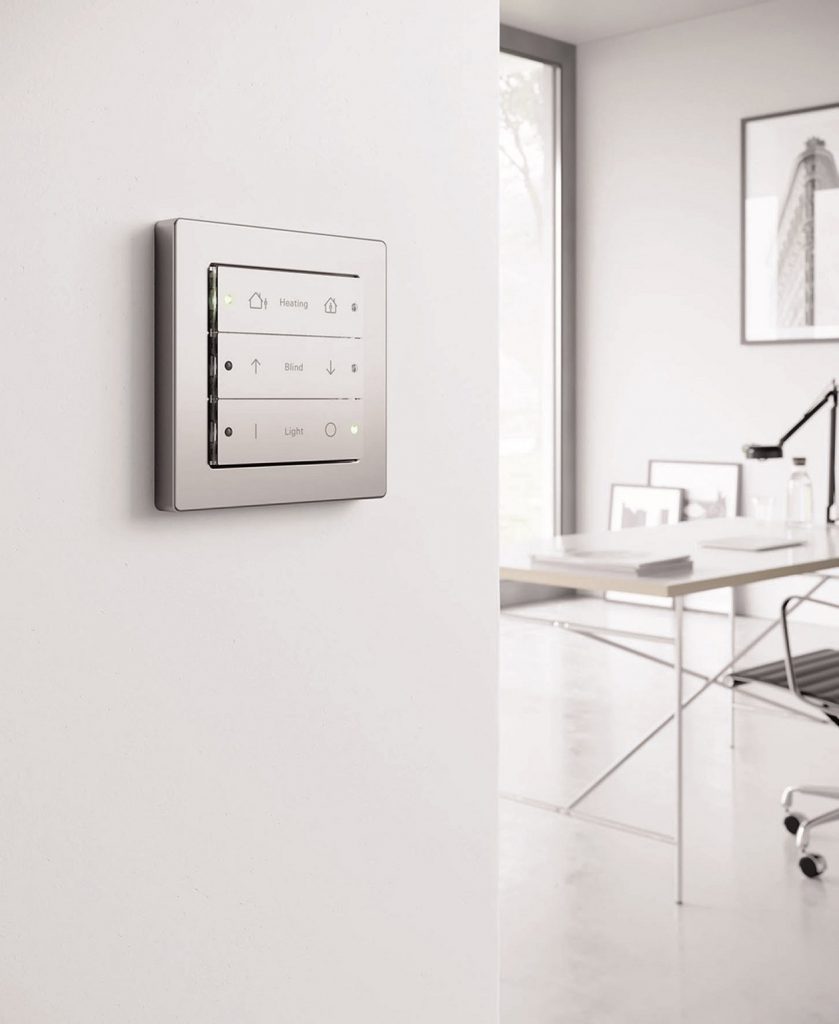 1. Flexible & chic: Gira USB power supply for your smartphone – Charge your smartphone quickly by plugging the USB lead directly into the socket. Not only is the classic USB A port compatible with most older devices, this power supply also easily accommodates the latest devices with its futureproof USB C slot. Thanks to a speedy charging function with a 3000 mAh, your smartphone, tablet and other devices can be up and running within minutes and with two ports, you can charge two devices at the same time.
2. A multifunctional wonder for your home office: Gira Profile 55 – Need extra power sockets in your home office? Maybe you like background music while you work? The Gira Profile 55 is the answer. This aluminium multifunctional socket outlet can be easily retrofitted onto the wall or your desk and you can choose from over 300 System 55 functions to install in the 1-8 gang housing unit. So make it your own with Gira switches, the Gira Door Intercom with video function, cable connections like USB and the  Gira Radio, in addition to your socket outlets.
3. Illumination, right at your desk: Gira Plug & Light – The right lighting can do wonders for your productivity. Do you prefer a focused reading light, or subtle, indirect lighting? The Gira Plug & Light with dimmable LEDs offers the ideal solution for your work station with easy, flexible adjustment to suit you. Simply put the Plug & Light spotlight or the Plug & Light floodlight into a socket, switch on and you're good to go! What's more, they can be swapped around whenever you like. Simply remove them or plug them in as you wish.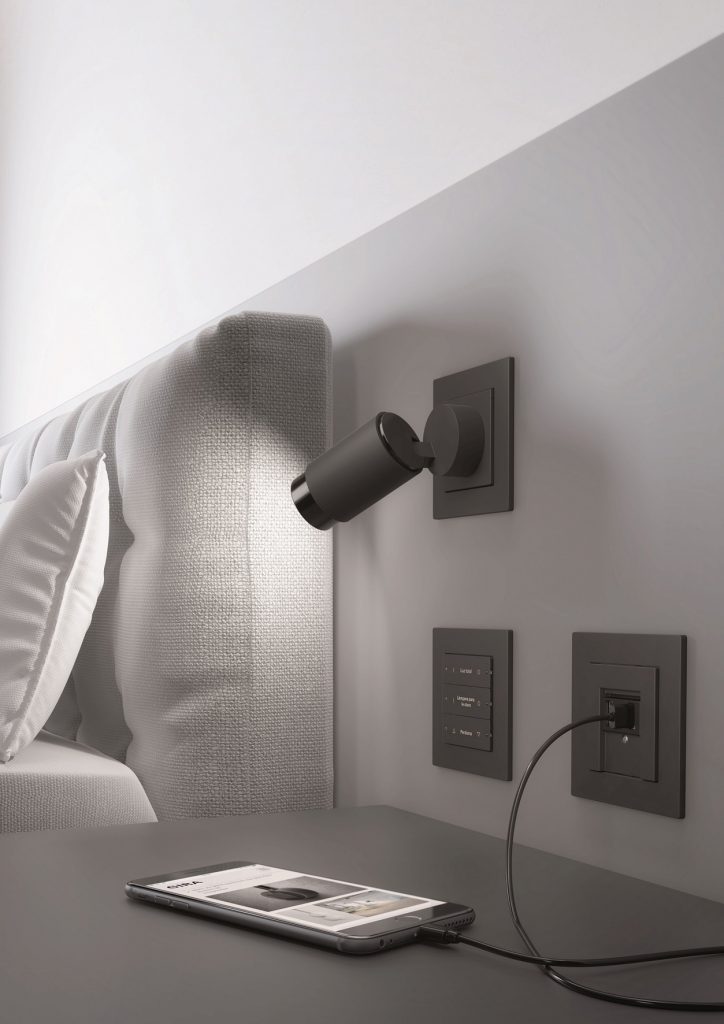 4: Designer decor for a modern feel: Gira E2 design line – Work becomes so much easier in a beautiful environment, doesn't it? With the elegant Gira E2 design line, you can instantly elevate the design of  your home office. With a clear and minimalist look, you'll benefit from modern switches and controls that fit in seamlessly. Choose from contemporary colours such as anthracite or stainless steel. The Gira E2 not only looks good, of course, but it is also pleasant to the touch for the height of comfort.
5: Smart door communication at your desk: Gira DCS mobile app – Chat to visitors at the front door without leaving your seat with the Gira DCS mobile app, which updates you whenever someone rings the bell. This handy app for smartphones and tablets is a great extension to your existing door intercom systems, allowing clear communication with visitors. You can easily take photos and keep track of your visitors, and even greet couriers and delivery drivers and open door, all from your desk!
6. Enjoy an outdoor home office: Gira outdoor socket outlets – Working outside in good weather is a treat. And with the water-protected, surface-mounted outdoor socket range from Gira, you can keep your power levels at maximum charge come rain or shine so there's no danger of your battery running low. This secure power supply will give you maximum flexibility in your back garden so you can just concentrate on the tasks at hand.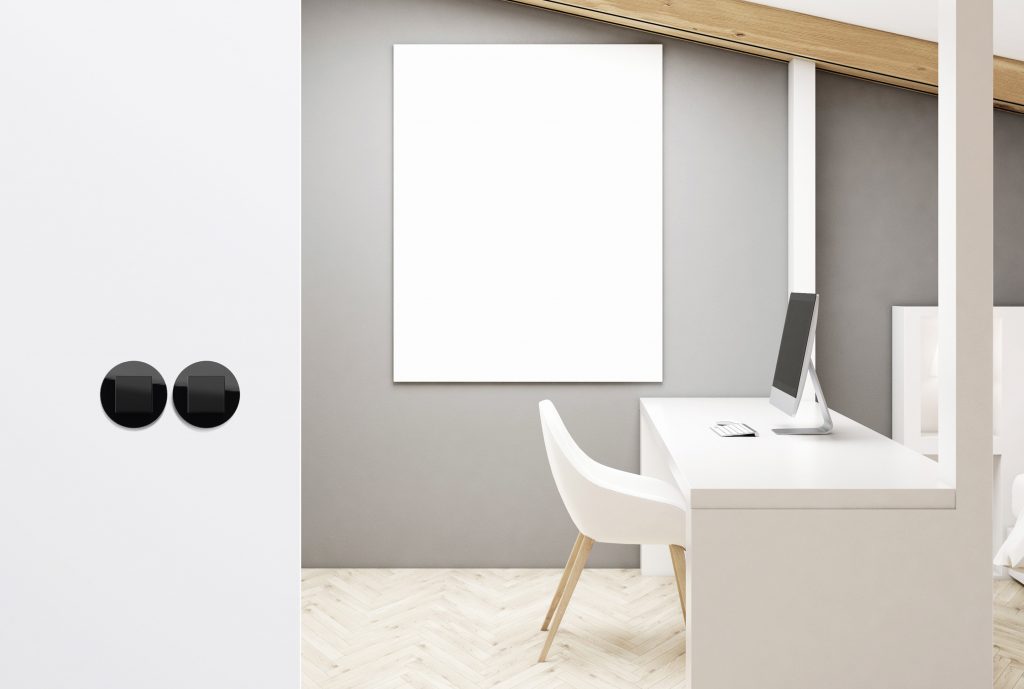 7: The smart home duo for more complex functions: Gira X1 and Gira G1 – If you want all benefits of a professional home office and a cosy living space under one roof this is where a smart home comes into play. With the Gira X1 server, you can control the individual elements of your home office like lighting and blinds to keep your entire home under digital-control. Furthermore, the integrated IFTTT (If This Then That) interface means you also have the option to integrate any device with a corresponding IFTTT compatibility into your smart home. This lets you customise and combine functions as you need to suit your unique lifestyle; now or long into the future.
"So if you need the lights on, the heating up and the coffee brewing in the kitchen before you start the workday – it can be done!  You can easily set these if-then functions with the right system and solutions in place. Your vacuum cleaner robot can get to work, the lights can go out when you leave the house, in fact, the Gira G1 control unit will set automatic functions and give you the freedom to customise each setting of your smart home at the push of a button" concludes Mark.