Designed as a quality music or media room sub, the new Artison RCC160 delivers the company's exclusive Reactance Cancelling Configuration, an innovation that eliminates disruptive vibration and distortion. Helping the listener to experience audio the way the artist intended.
Sold in pairs by UK distributor Redline the RCC160 offers the equivalent of two eight-inch subwoofers. Delivering the RCC160 in two separate enclosures allows system designers to intelligently and precisely place each driver where they can provide the smoothest and most accurate in-room bass response, says the maker.
If you are unfamiliar with Artison, the company has built a solid reputation over the years for innovation in the architectural speaker category.
The company's goal is to create visually unobtrusive loudspeakers, but in such a way as to not compromise on the quality of the listening experience. Redline says a serious team of audio engineers have found ever increasingly clever ways to combine discrete installation with high- quality sound. A keen understanding of physics and acoustical science has allowed the company to reach impressive performance curves few thought possible for integrated speakers just a few short years ago.
Artison pioneered Reactance Cancelling subs and has been making them since 1998. So, much of this acquired knowledge and knowhow has been poured into the RCC160. Being the original creators of the Reactance Cancelling Configuration sub design allows Artison to consistently be generations ahead of the pack when it comes to vibration free bass, say the company.
Diving into the detail
With the extra time and investment in Reactance Cancelling Configuration, Artison says it is ahead of the crowd in exploiting the ability of the technology to reduce physical vibration, while increasing output, an invaluable asset when you consider that they will be finding their home installed into walls, ceilings and joinery.
The journey to improve doesn't just stop at market leading Reactance Cancelling Configuration audio performance. Artison has also become extremely effective in reducing the size of the vent needed to produce strong bass performance. Obviously, this is a real advantage when wanting to achieve minimal aesthetic impact, always important of course, but increasingly these days as the trend for media room and home cinema systems in multi-use living spaces continues to grow.
The team at Redline are very proud that input from the company was key in developing an architectural sub with such a small grille size, thus reducing the impact on a room's aesthetics.
Redline underlines that it is always fully engaged with its suppliers, pushing for the improvements we know are needed out in the field and the new RCC160 is a great example of that partnership.
The unit ships as standard with an amazing array of grilles ranging from metal perforated for in-wall, round and square perforated for covert in ceiling installation or to match in-ceiling grilles for conventional speakers. There is even a clever slotted grille designed to look like an AC vent and the optional and far more discrete 'Plaster up to' Grille, manufactured exclusively at Redline.
Another performance advantage is that the RCC160 has been created to be scalable to meet the need of the installation environment. Being able to be used in multiples. In fact, up to eight can run from one amp (Artison RCC1000-SA DSP-enabled amplifier) to counter any standing wave issues.
One Artison RCC160 can get all the way down to 35Hz, however its creator says that using multiple units in one room, the listener will experience the most full even bass response in all parts of the room making the speaker phenomenally versatile for many types of uses from movies, to gaming to music only.
Martin Morecroft, Managing Director at Redline, says, "Our own experience out in the field has shown us just how versatile this speaker is. The Reactance Cancelling approach has enabled us to deploy the speaker in a really varied array of locations. Within joinery is a favourite, because of the vent size and zero vibration. "Its also possible to vent the product out through skirting board and because of the IP65 rating it can used in pools, wet rooms and suitable exterior locations. For this last one you would need to carefully consider driver size verses the location. This speaker is so versatile, it can also be installed in the floor! We are seriously impressed with this compact, powerful and versatile unit and we are sure you are going to be as well."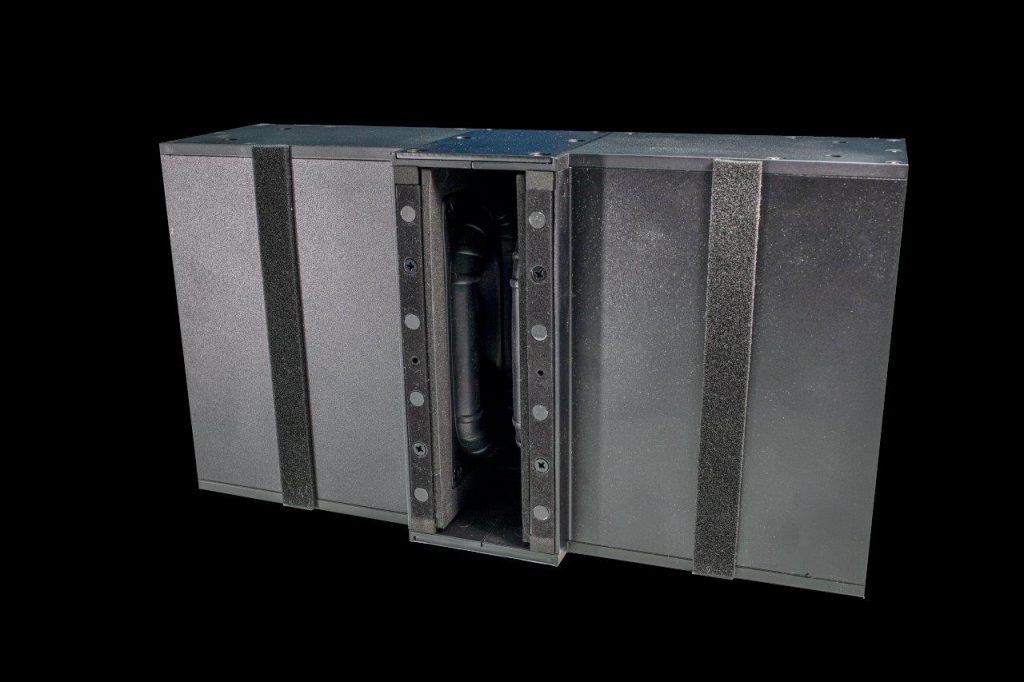 Full Specifications for the Artison RCC160
Driver compliment (2) RCC MKII 4in X 6in Woofers
Impedance: 16 Ω, 8 Ω per pair
Frequency Response: 35 Hz – 160 Hz ± 3 dB
Sold in Pairs
Cabinet: H (190mm) x W (354mm) x D (89mm)
Weight: 14 lbs. / 6.4 kg.
Designed to work with the RCC1000-SA MKII Amplifier
IP 65 Rating
Solid Aluminium Cabinet, black anodized finish
Multiple Grille Options.