Redline has announced the introduction of the latest bass solution from Velodyne Acoustics, the Deep Blue Series.
The new line offers four sizes of skilfully crafted subs, housed in sleek enclosures, says the distributor, adding that Deep Blue offers the best 'pound for pound' performance possible by cutting out all the extra digital superfluousness and packing and including nothing but the highest quality, proprietary designed components.
Getting the bass delivery correct is one of the hardest and most important aspects of any type of system, points out Redline, be it music only, home cinema or gaming. The distributor underlines the subwoofer is a multi-faceted tool and needs to be agile enough to keep time with the most difficult of rhythmical pieces of music and with film and it needs to underpin the wide gamut of screen action. But just as important is the more subtle job it plays in the background, keeping the soundtrack grounded, warm and realistic. Bass helps tell the story, says Redline.
For gamers, the same is true. Gaming is now the biggest single entertainment platform on the planet. With some games costing 2 or even 3 times more to create than the biggest Hollywood blockbuster, adding quality bass to game audio is a huge component in the impact and enjoyment of the latest and greatest action titles. Also, not forgetting the subtly and nuance it can bring to some of these huge, living, breathing worlds and environments.
Happy customers equal happy dealers and installers. So, when making bass delivery decisions for your clients, it is such a positive thing to have an outstanding brand like Velodyne on your side, says Redline.
Martin Morecroft, MD at Redline, explains, "Velodyne Acoustics has been creating cutting edge subwoofers for over 30 years. There are very few companies who can claim to have the same level of expertise when it comes to bass, so when the company put this much effort into a new line, it is a good idea to listen. With the Deep Blue Series, the company has done it again, stacking this four-strong family with quality components to make sure these really are one of the best bang-for-buck subs you can buy. Good looking and technically advanced, compact, easy to place and dial in, they make a great bass support product no matter what type of system you are going to build."
Deep Blue: Deep Dive
Described by the manufacturer as 'Small, but distinguished.' The Deep Blue Series (DB) represents the first, all new 'Ground up' design from Velodyne in 10 years. A wholly brand-new subwoofer platform based on Velodyne Acoustics' own internally created technologies. The maker says the main features of note are an uprated driver and a new amplifier design coupled to modern styling to give unmatched performance in its price range with a dynamic and highly accurate output
Created in four different versions (8in, 10in, 12in and 15in) to suit a variety of use case scenarios, room sizes and client preference. The new DB subwoofer line-up is the spiritual successor to the successful 'SPL i' series, a very small form factor sealed box design, that found many fans in the market looking for serious bass ability without giving up their whole living space to achieve it.
Important features introduced for DB include a new rigidly braced MDF closed box design with a front firing woofer for a large impactful performance. A small footprint helps by giving more placement options and room integration.
The new high excursion drivers partner with massive dual ferrite magnets and optimised internal motor technology featuring powerful four-layer voice coils, delivering maximum output with low distortion.
DB also features connection versatility, giving line-level and speaker-level inputs, variable crossover and phase control to fine-tune output. These same controls allow an installer to tailor the subwoofers low-frequency response to the acoustics of the room.
On the introduction of this exciting new offering, Martin concludes, "When making choices for projects, it's a real bonus to have 'go to' brands with a range of products that will deliver constantly strong results across a range of scenarios. This is what Velodyne has delivered with the Deep Blue Series. Reliable, high-quality bass in attractive cabinets that will do what you ask them to do and keep clients coming back for more."
The Velodyne Acoustics Deep Blue range is in stock now and ready for order, get in touch for more details.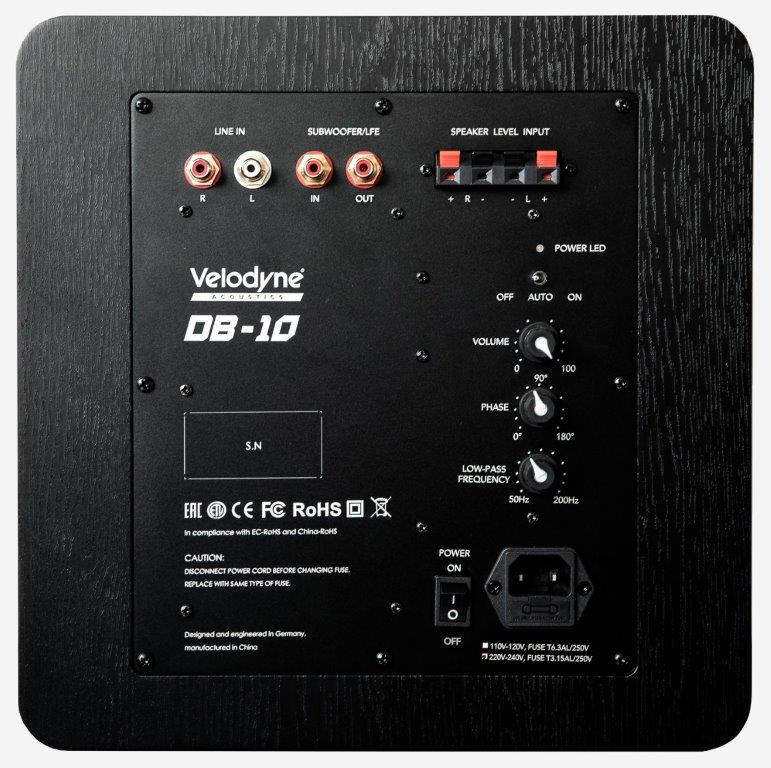 Deep Blue Range Details
Deep Blue 8
8in Subwoofer
Frequency Response: 18 – 300 Hz (overall); 32 – 180 Hz (± 3dB)
800 watts dynamic
300 watts RMS power
Low Pass Crossover: 50 Hz to 180 Hz (12 dB/Octave)
8in high excursion double vented basket driver with PP inforced Membrane
Four Layer 2in/ 52mm Voice coil
Input: Gold Plated Line in Stereo RCA, LFE in, Nickel Plated High level
Output: Gold plated LFE /RCA
Dimensions (TBC)
Weight 9 kg
Deep Blue 10
10in Subwoofer
Frequency Response: 16 – 280 Hz (overall); 28 – 180 Hz (± 3dB)
850 watts dynamic
350 watts RMS power
Low Pass Crossover: 50 Hz to 180 Hz (12 dB/Octave)
10in high excursion double vented basket driver with PP inforced Membrane
Four Layer 2in / 52mm Voice coil
Input: Gold Plated Line in Stereo RCA, LFE in, Nickel Plated High level
Output: Gold plated LFE /RCA
Dimensions (W/H/D): 29,6 x 31,6 x 34,8 cm
Weight 11 kg
Deep Blue 12
12in Subwoofer
Frequency Response: 15 – 250 Hz (overall), 26 – 140 Hz (± 3dB)
850 watts dynamic
350 watts RMS power
Low Pass Crossover: 50 Hz to 180 Hz (12 dB/Octave)
12in high excursion double vented basket driver with PP inforced Membrane
Four Layer 2,5in / 65mm Voice coil
Input: Gold Plated Line in Stereo RCA, LFE in, Nickel Plated High level
Output: Gold plated LFE /RCA
Dimensions (W/H/D): 35 x 37 x 38,8 cm
Weight 13 kg
Deep Blue 15
15in Subwoofer
Frequency Response: 13 – 200 Hz (overall) 23 – 120 Hz (± 3dB)
1000 watts dynamic
450 watts RMS power
Low Pass Crossover: 50 Hz to 180 Hz (12 dB/Octave)
15in high excursion double vented basket driver with PP inforced Membrane
Four Layer 3in / 75mm Voice coil
Input: Gold Plated Line in Stereo RCA, LFE in, Nickel Plated High level
Output: Gold plated LFE /RCA
Dimensions (W/H/D): 42,5 x 44,5 x 48,8cm
Weight 25.5 kg