Our specialist trade reviewer, Richard Stevenson, takes a look under the hood of the much anticipated Sonos Amp.
The Sonos Amp takes over from the old Connect:Amp device, packing in more install features and even better build quality into a svelte and rather good-looking case.
The Connect:Amp was always the easiest way to add a powered music zone to any install, leveraging Sonos's slick app mesh wireless networking to get sound into a zone without cabling infrastructure.
Despite the Connect:Amp's fairly humble 55W output, many installers were are also happy to put them into racks, albeit having to work around the clunky size and shape, and deal with the heat output.
The Amp is a better fit for CI audio in every way. It is much easier to rack mount on a tray, being only 1.5U tall and half rack width, and innovative heat sinking means it runs cooler despite packing over twice the power output of the original Connect:Amp.
Cooling is a mix of through-unit venting, from the base up to the circular vent moulding in the top surface, and a die-case aluminium sub-chassis that acts as a heat sink.
Power is supplied by very efficient direct digital feedback amps with discrete output stages to keep things running as cool as possible in the first place.
Even the printed circuit boards are painted black which, Sonos claims, makes them better at radiating heat.
The upshot of all this thermal management is cool running and stackable architecture for maximum zone in minimal space. For example, eight Amps stacked four-high side-by-side would only take up 6U of rack space.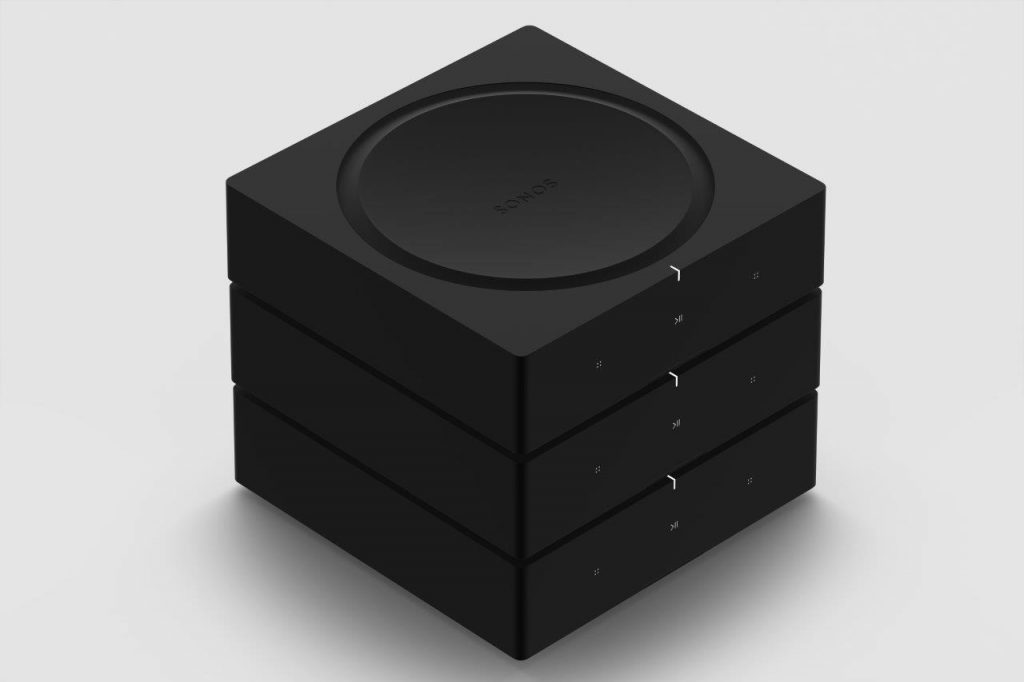 Installation
Underneath the Amp there is a small threaded socket to secure it to a rack shelf, and all of the rear panel connections are flush or recessed to keep the front to back dimensions of a fully connected Amp as compact as possible.
To that end the supplied figure-eight mains cable is a bespoke flush-fit design and the four flush 4mm banana plug sockets are supplied with beautifully engineered shallow banana plugs with side cable entry to keep things neat.
Other hard connections on offer are analogue stereo input, ARC HDMI input, optical input (with the optional optical to HDMI adapter) and a subwoofer output.
The latter deploys a user-adjustable a 50-110Hz crossover in the app, auto enabled/ disabled when a sub connection is detected.
Network connectivity comes courtesy of 802.11b/g/n Wi-Fi or hardwired RJ45 Ethernet. Sonos have usefully thought to include a second RJ45 allowing you to daisy-chain the network connection to several Amps without having to take separate feeds from the network switch.
If you are running hardwired network connection, you can shut off the Wi-Fi to each Amp in the app to reduce the wireless signal chaos in the rack.
Once installed, illuminated touch controls on the fascia give you play/pause, next/previous and volume control without delving into the app, and there is an IR receiver for remote control.
This can be set-up to use a TV remote volume for the Amp's volume control.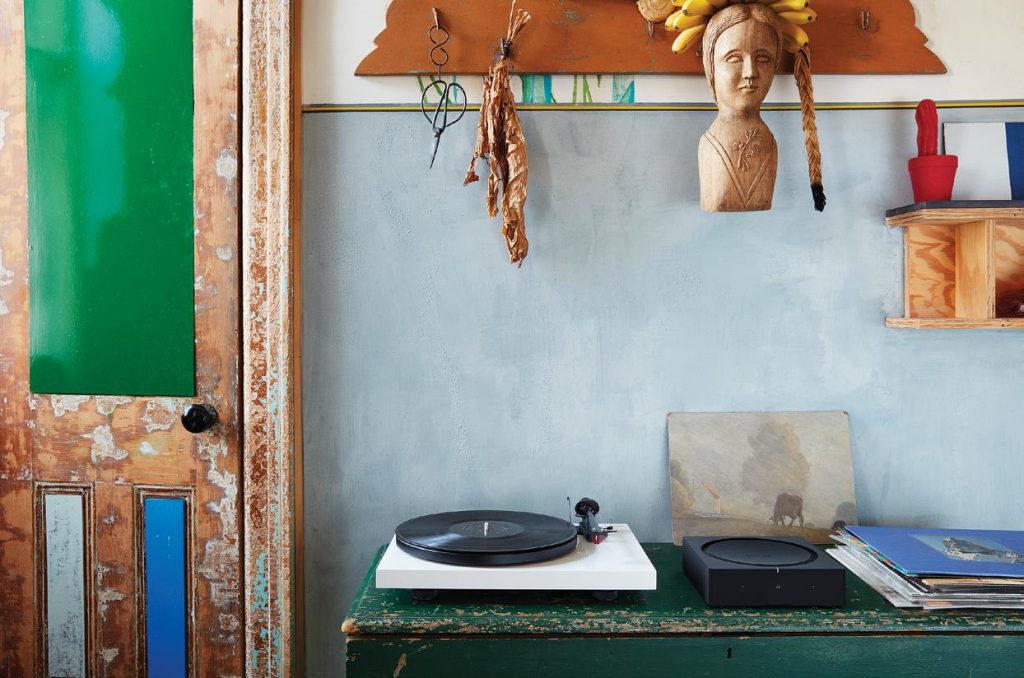 Set up
Connecting an Amp to the network and the Sonos app is seamless and all but fully automatic. For Wi-Fi you need to press the join button on the rear of the Amp and follow the instructions to drop in the Wi-Fi network password. Hardwired units appear in the app virtually instantly.
You can allocate a zone name to each device, set parental controls, sign-in to a wide selection of music services, search for uPnP server and so on.
Sonos's experience as one of the first companies into the 'streaming system' space, means the control app is the slickest on the market bar none.
It is fast, seamless, logical and packed with features that are easy to find. Sonos offers a Control API interface for control platforms working over IP, including URC, Crestron and Elan.
These would allow you to connect Sonos to wall panel controllers or automatically start playlists in conjunction with some other facet of smart home automation.
Alongside all the features you would expect of a top-flight streaming system, the app offers manual lip-sync, a raft of settings for the sub and an Audio Compression setting, which defaults to automatic.
We could not trigger any obviously audible compression in this mode, but we would suggest opting for the uncompressed setting to ensure best sound quality.
If your install includes driving Sonos architectural loudspeakers with the Amp you can also use Sonos's clever Trueplay room EQ system.
This uses the mic built into later Apple iOS devices while you wander around the room listening to various test tones.
It then applies a range of parametric filtering to the Amp's output to deliver a flatter in-room response. It is currently limited to iOS devices and Sonance speakers.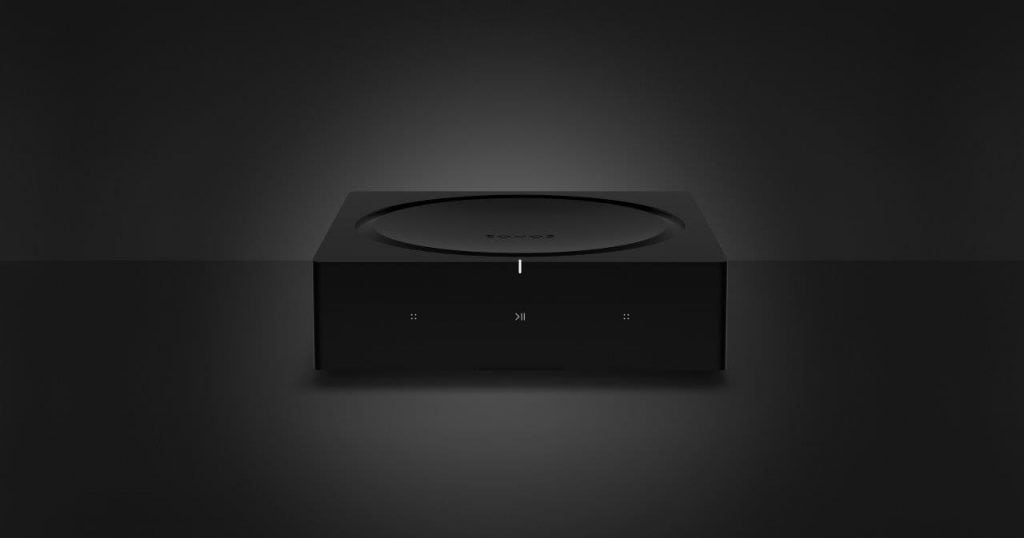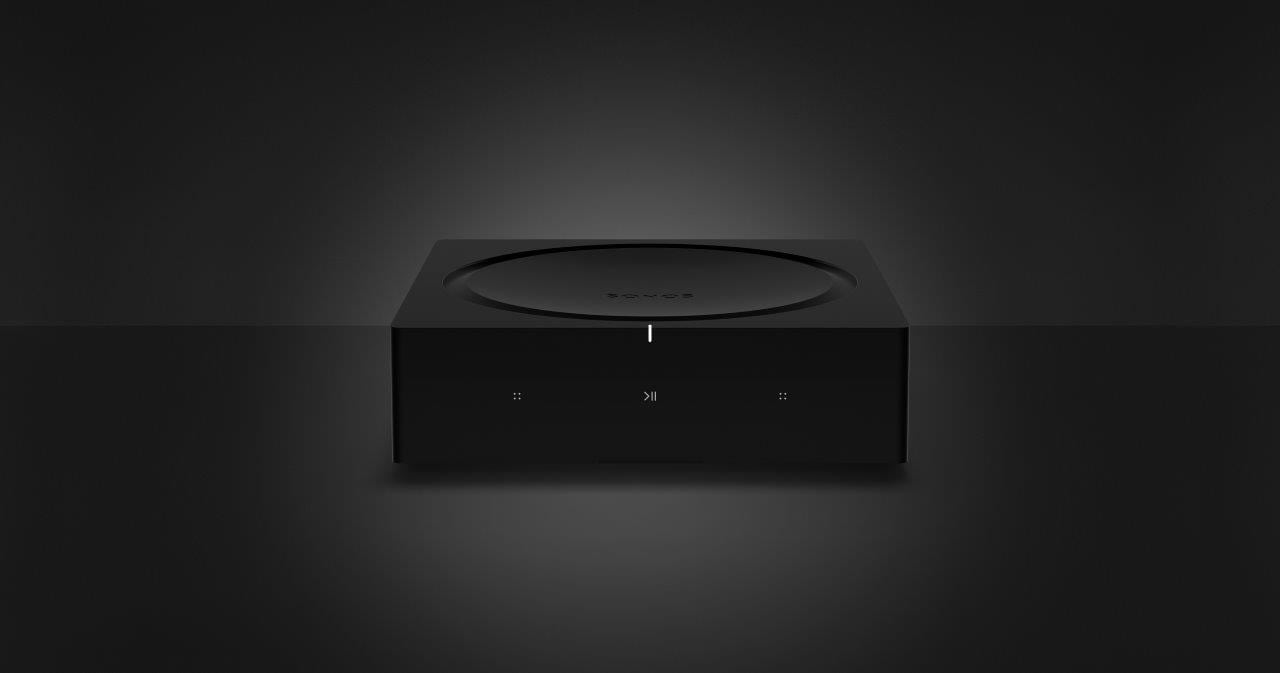 Performance
From its rack-compatible dimensions to the super-slick app, the Amp is an exceptionally adept powered zone audio device.
It's about as plug-and-play as multi-room streaming audio gets, and absolutely ideal for 'lite' multi-room installs without a control system backbone.
Delve into the menus and there are some further clever tricks up the Amp's sleek casework. It can be configured to add rear channels to a Sonos soundbar for 4.1 surround sound, albeit decoding only Dolby based formats rather than any DTS variants.
It is also AirPlay2 certified, allowing comprehensive streaming from iOS devices and Siri voice control.
On the missing list from Amp, or rather Sonos per se, is any ability to play high resolution audio or MQA files. Given the increasing number of services looking to implement premium HRA services to catch up with Tidal, that might be an issue for true audiophile customers.
The high-power output is relatively agnostic of speaker load, and we successfully simultaneously drove four in-ceiling speakers per channel using parallel-wired series pairs.
Driving full-size, full range audiophile loudspeakers, the Amp gives a very good account of itself especially considering its features, outstanding build quality and sub-£600 retail price.
Installs for main room audiophile performance will need more affluent electronics but for baseline multi-room audio driving a range of install speakers, the Amp is an extremely flexible and highly compelling proposition for installers.
This review first appeared in the pages of Essential Install Magazine, subscribe here.