About Essential Install Magazine
Essential Install delivers the very best in industry news, views, features and facts for the Custom Install sector. The mix of a high quality monthly magazine with a fast reacting and far reaching website and weekly newsletter means distributors, manufacturers and service providers have access to every conceivable way of reaching their clients from one publishing house.
With 16 issues published every year this included 12 monthly issues and 4 standalone supplements, Essential Install reaches a reader audience consisting of Installers, Retailers, Consultants, Distributors, Manufacturers, Sales Agents, Specifiers, Developers, Architects, and many more.
Not only does Essential Install publish monthly magazines but also holds a UK based trade show once a year, EI Live! 
Keep updated with the latest industry news, updates and changes to custom install with the one stop package that is Essential Install.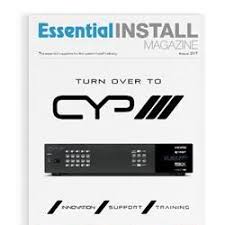 Subscription is completely free!
Interesting in advertising?
Speak to the team behind Essential Install today, call +44 (0)1634 673163. Alternatively email Ian@allthingsmedialtd.com directly.