Celebrated recently during EI Live! the Smart Building Awards showcased some of the best work delivered by the sector in recent times.
Picking up the award for its work at Centre Point Residences in the Best MDU category, was Smartcomm with this sleek and well executed project in one of London's most stylish and celebrated buildings.
Centre Point Residences, situated between Fitzrovia, Soho, Covent Garden and Marylebone at Tottenham Court Road, in central London, is a 117m tall, 34-storey landmark with an additional nine-storey affordable housing block.
The developer, Almacantar, has transformed the building into 82 stunning, super-prime residential apartments.
At the top of the building a deluxe, duplex penthouse, with a wrap-around balcony, enjoys spectacular 360° city views. All apartments have full lighting, window and blind control as well as a full network system and core hardware required for distributed audio and video as part of the base build.
The private amenity areas include a club lounge, which boasts a meeting room and deluxe screening-room, and a spa with a pool and gym.
Crestron powered
A centralised design was chosen, with full height racks to house remote sources, remove clutter and provide room for additional equipment. In total, 85 Crestron Digital Media Matrix Switchers with six HDMI inputs for four zones, and two with six-zone multi-room distribution, were installed across the development.
A total of 84 Crestron Cresnet 12-port distribution blocks and 86 Crestron DIN-DALI rail High V 8-channel power switches were installed in apartment racks, together with 88 rack mountable 3-series Crestron control processors, chosen for their processing power, speed, memory, solid networking IP control and numerous ports.
DALI lights were selected because of the precise adjustment they deliver, the Crestron control solution was chosen because of Crestron's native integration with BACnet ipbms systems, delivering integration and the ability to offer customisation and a wide range of options.
The deluxe screening room boasts a 147in motorised projection screen, a Sony 4K Cinema projector, with a Crestron PROCISE 7 channel high definition professional surround sound amplifier, paired with the Crestron PSPHD processor via an ethernet connection.
Control and monitoring of the amp is through the PSPHD's front panel. The PROCISE's was chosen because it delivers excellent audio with a smaller footprint than many others.
Smartcomm installed the B&W, three-way, in-wall loudspeaker, as the client required great 'invisible' sound. With the cinema room, the biggest challenge was projector location, as it had to be housed off-centre.
To ensure the screen was filled without compromising quality, the install team chose the Sony projector because it had an 80% vertical and 31% horizontal shift and excellent keystone adjustment.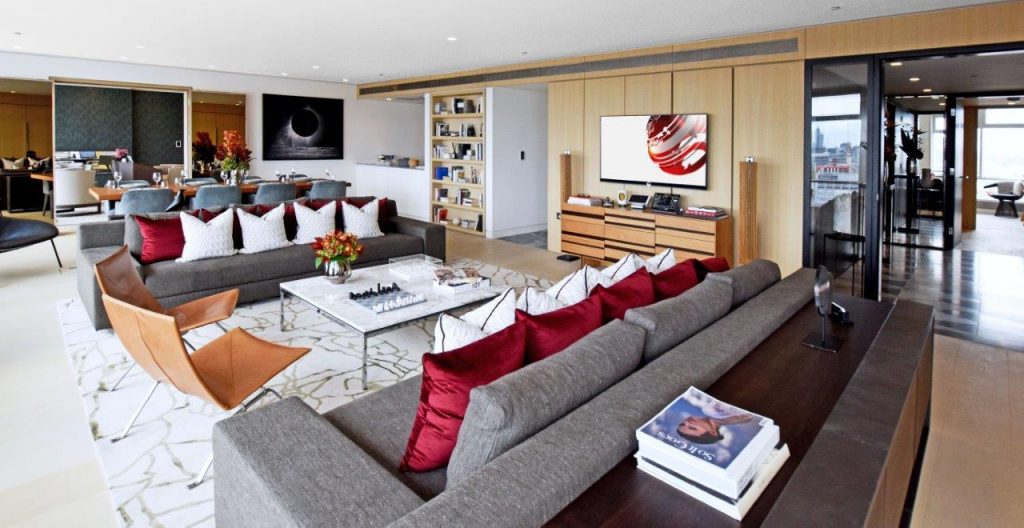 Real innovation
Almacantar wanted new solutions that were both intuitive and subtle, so all control is via GUIs on touch panels, iPads or remotes, there are no light switches or keypads.
By working closely with Crestron, Smartcomm was able to deliver a brand-new product, the 5in portrait control panel, especially for Centre Point Residences. 1,205 of these were installed and 100 of the 7in touch panels, most flush mounted and all colour matched to blend in.
The 7in Crestron Touchscreens have door entry interface using BPT security software. Fingertip control is delivered for music, TV, temperature, windows, curtains, blinds, communication with concierge and video door entry, even extending to the fireplace and shower in the penthouse.
67 Creston PIR light with motion detectors were installed in bathrooms, because they are one of the smallest PIR units on the market and offer energy saving and convenience.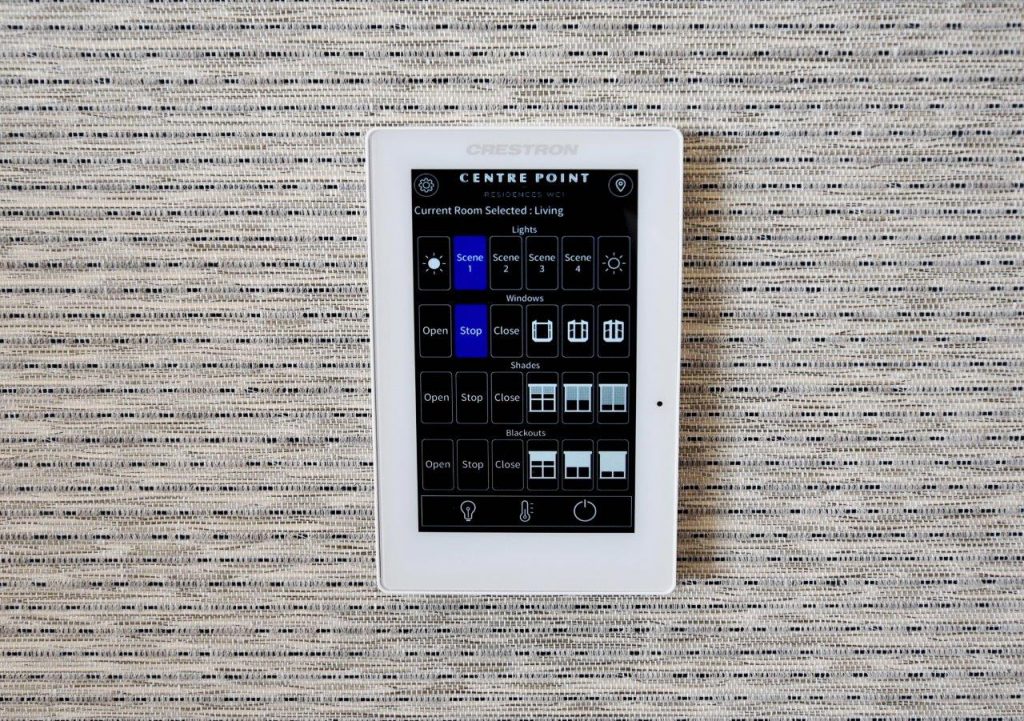 Mini HDTV IP cameras were installed into the door peephole and wired through the hinges, delivering a unique, cutting-edge solution and enhanced security. DTV in all areas is delivered by a combination of GI Switchblades and Quatro GTUs distributed through coaxial prewire.
Centre Point constructed in 1966 has Grade II Listed status. This meant successfully contending with access challenges and issues consistent with buildings from this era, such as smaller interstitial spaces and asbestos. Almacantar was delighted with the end results.
Daniel Ritterband, Director of Communications, Almacantar, comments, "A building such as Centre Point Residences, with its many idiosyncrasies, needed a particular specialist team to bring it back to life. Throughout every stage, we were incredibly fortunate to have worked with the very best in the business.
"Smartcomm understood we were creating homes at the very top end of the market that required a bespoke solution that fit the high expectations of our customers; whilst being sympathetic to the exacting construction and design requirements of the project. The first-class solutions they delivered are effective, elegant and capable of handling the technology of tomorrow."
As well as the new residences, the regeneration of Centre Point also contributes to the city as a whole, providing a new public square, St Giles Square, including new restaurants offering unique dining experiences.
This project demanded advanced engineering and expert programming in the delivery of bespoke solutions and it has produced new products onto the market, all whilst working within the physical limitations of this Grade II listed building.
This is the first MDU to completely remove physical light switches, replacing them with PIRs and GUI interfaces. Features of the home automation also drive efficiencies and safety e.g. linked HVAC and window control.
The solutions installed are scalable, customisable and future-proof. This project beautifully showcases how vital AV technology is to the housing solutions of the future and was a really well-deserved winner of this year's Smart Building Awards Best MDU category.