This 70s themed retro TV room was part of a multi-award-winning night for install company Maven at the Smart Building Awards picking up the gong for Best Media Room Over 50K.
Rob reveals, "This 70s themed Media room is part of a whole-house system we installed as part of a large refurbishment at a Northamptonshire period property. The 'TV room' is one of two main viewing rooms which the client wanted of similar specification so there was no compromise whether watching in this room or the main cinema."
With this in mind a 7.2.4 Dolby Atmos system using Arcam and Artcoustic loudspeakers was chosen as not only would this produce reference level audio, but also be customised to suit the aesthetic of the room. The front soundstage consists of two of Artcoustic's flagship 16-8 Time-aligned array precision monitors for front L&R with the HSPL soundbar containing the same quantity of drivers and tweeters for centre speaker dialogue.
Sides and rears are the smaller SL 8-4 format for consistency and for the complete timbre-matched acoustics four Architect SL 4-2s were used for the Atmos overheads.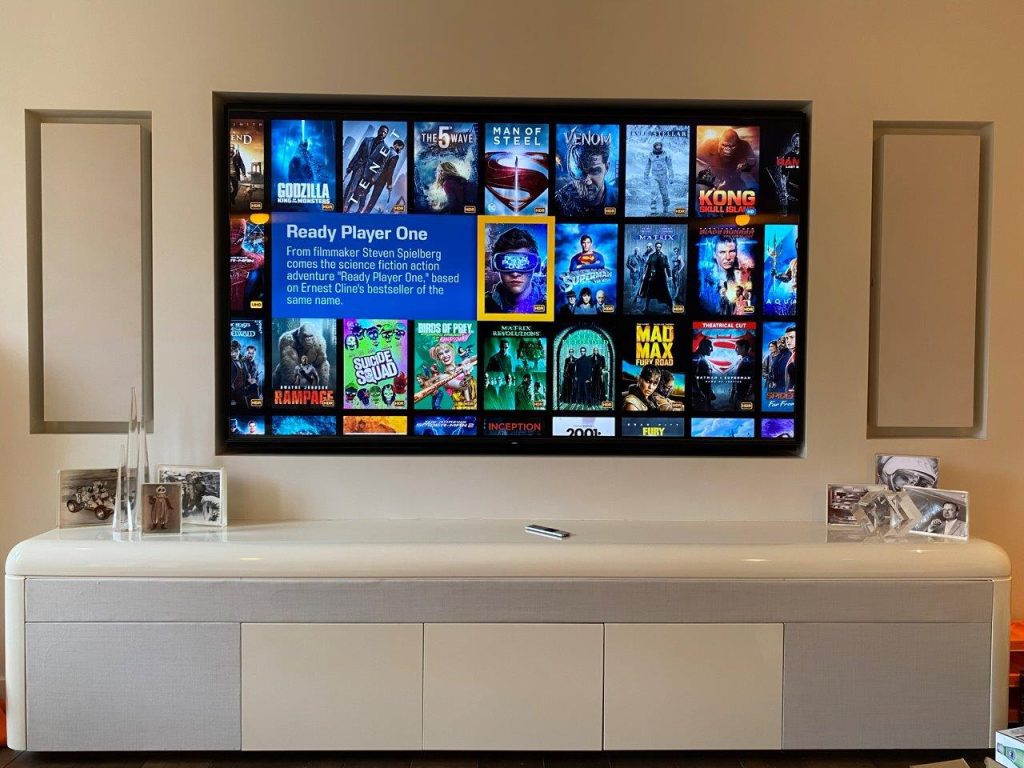 Rob says, "All speakers were colour matched to the respective wall paint colour including bright orange at the rear of the room to match the lacquered paint of the quirky port-hole design. Two dual 10in performance subwoofers are housed at either end of the custom themed lacquered media cabinet with fabric sections to allow for the mass of airflow required to fill the room with accurate bass levels. Within this cabinet also resides three customised Middle Atlantic SRSR pull-out and swivel AV racks which house the required local equipment dedicated to this room along with managing the house-wide equipment fed from the four main AV racks in the adjoining rack area through to the rear of the room."
Rob continues, "All sources, both local and global, are programmed and controlled via the Control4 automation system using any of the handheld Neeo remote, SR260 remote, 10in in wall touchscreen, app or voice. Lighting within the room is part of the house-wide Lutron Homeworks QS lighting system along with Silent Gliss Dim-out blinds which achieves a dark room should the client require it. In keeping with the period styling of this property, we created custom header boxes within the window reveals in order to hide the roller blind boxes with just a slot required for the blind to retract from."
Display of impressive 8K/4K imagery is catered for with Europe's first Sony 98in ZG9 Full Array LED Master Series screen and weighing in at a meaty 180KG, hung on a FA pull-out bracket reinforced with steel-rod and chemical fixings makes servicing and maintenance straight-forward. Rob says, "This 8K monster is capable of upscaling any legacy source or display any of the 4K sources available from the main or local AV racks.
There is also a PS5 used in this room which looks incredible and provides the ultimate in gaming experiences. As this room is used during the day and at night there are two video image pre-sets which can be determined by conditional logic – if blinds are closed, use night calibration settings etc or can be recalled manually should this be desired.
"To the rear of the room we customised three JVC sphere TVs and suspended them from the ceiling to recreate a modern (retro) 'nod to the 70's classic flying ducks. We removed the CRT screens and replaced them with LCD monitors, each with its own Raspberry Pi to show a video loop of each duck, if you look closely, we have even sized them small, medium and large, and they even flap at their own size rate! These can be activated by the C4 system or Amazon Echo just to show off even further!"
Rob concludes, "The client is over the moon with the end result. The room is a great place for them to unwind and have some fun in whilst safe in the knowledge that the experience of the reference system is to the best spec possible. Every person that goes in the room is amazed at the finish and attention to detail and everywhere you look is another wow reaction to the technology within it. It's a real pleasure to show this room off to anyone, and then when you fire the system up, jaws hit the floor!"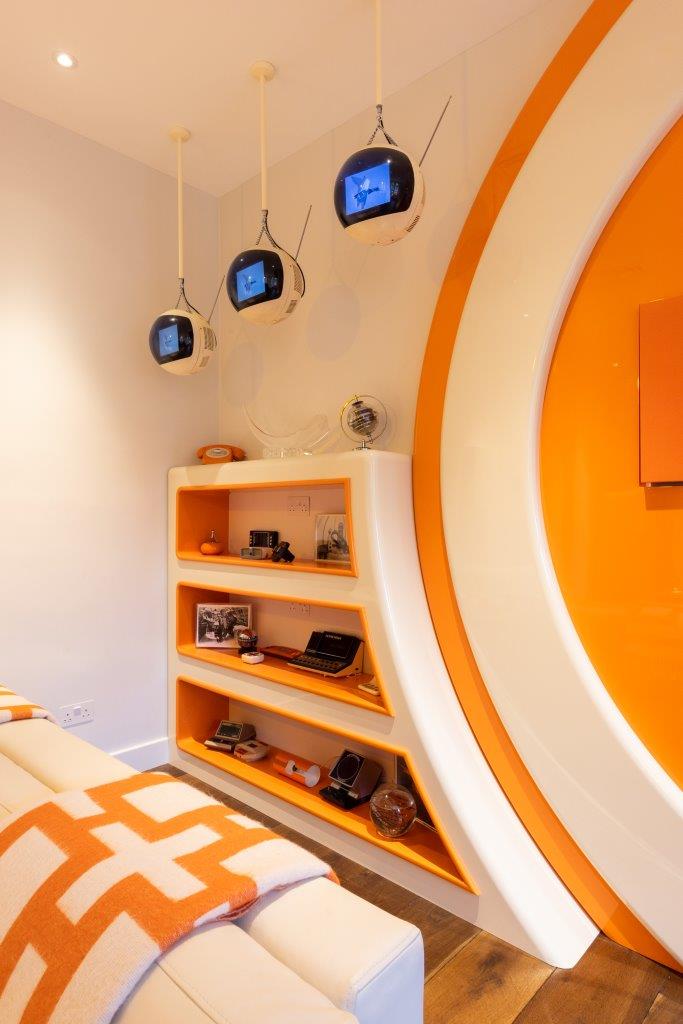 Essential Kit List
3 x Customised JVC Sphere TVs
3 x Raspberry Pi's – programmed with Duck animation loop
Silent Gliss Dim-out Blinds with channel recess
Lutron Homeworks QS Lighting Control
3 x Middle Atlantic SRSR Slide & Rotate Racks
Custom Media Cabinet in high-lacquer finish
Furman Power Conditioning & Surge Protection
Pakedge PDU
Netgear S3300 series (fibre) stackable Gigabit Network switches with POE+ with 10GB Uplink
Control4 EA-3
Control4 10in T3 Touchscreen
Control4 NEEO Touchscreen Remote
Control4 SR260 Handheld Remote & Docking Station
Amazon Echo
SKY HD, SKY Q,
Apple TV 4K
Amazon Fire 4K
Playstation 5
Wyrestorm HDMI over Fibre Balun Kit
Wyrestorm NHD 400 Series Decoder
Kaleidescape Strato C Player
Kaleidescape Mini Player
Sony ZG9 98in Master Series Full Array LED 8K Display
Future Automation PS80 articulated TV wall mount 80in-100in
Arcam AVR 30 AV Receiver
Arcam Power Amplifiers
2 x Artcoustic SL 16-8 TAAA – Two-Way Precision Monitor (Fronts) – RAL Finish
Artcoustic SL HPSL Soundbar (Centre)
2 x Artcoustic SL 8-4 – Two-Way Precision Monitor (Sides) – RAL Finish
2 x Artcoustic SL 8-4 – Two-Way Precision Monitor (Rears) – RAL Finish
2 x Artcoustic SL 4-2 Architect In-Ceiling Speaker (Atmos Fronts)
2 x Artcoustic SL 4-2 Architect In-Ceiling Speaker (Atmos Rears)
2 x Artcoustic Performance PS2 Subwoofer
2 x Artcoustic Subwoofer Power Amplifiers