At a recent Pulse Cinemas event, EI bumped into Terence Ringwood founder of iSee-AV who had come to the event in his amazing camper van packed full of AV goodies featuring a full Kaleidescape system.
EI loves a bit of in-vehicle AV and automation, so there was only one option, to create a case study to show off this impressive vehicle featuring Kaleidescape, Marantz and Artcoustic.
Terence has been in AV and automation for a long time, he explains, "I have been in audio visual industry since I was 12 years old working in the Odeon cinema Norwich doing many different roles at weekends and school holidays, the best part was working in the projection room with projectionist.
"I then got a job after leaving school as a trainee communications engineer for Telefusion Communications installing all the latest in communications technologies as Channel4 started broadcasting working for my Dad, who had started in the industry installing aerials when BBC1 started broadcasting. As more channels become available (BBC 2 and ITV ) he was the first RF design engineer in the industry designing communal aerial systems."
Terence explains, "We are family business been in business for about 39 years in the custom electronics industry and have worked on many fantastic projects – Stoneleigh Abbey renovations ( working for Historical Buildings Rescue ), Offshore platforms in the North Sea, Texas and Rotterdam installing entertainment systems, The Royal family, BBC, ITV, Anglia Television installing 150ft TV receiving towers – wildlife programs, broadcast centres, M.O.D., actors / VIPs, I am currently designing a very large DVX and fibre optic audio visual control systems for a client.
"One of my projects was a very large Manor House renovation project which took over three years to complete, we installed all the latest Crestron audio visual electronics, Artcoustic speakers, Loewe TVs, Kaleidescape, Lutron lighting, Home Cinema Room etc."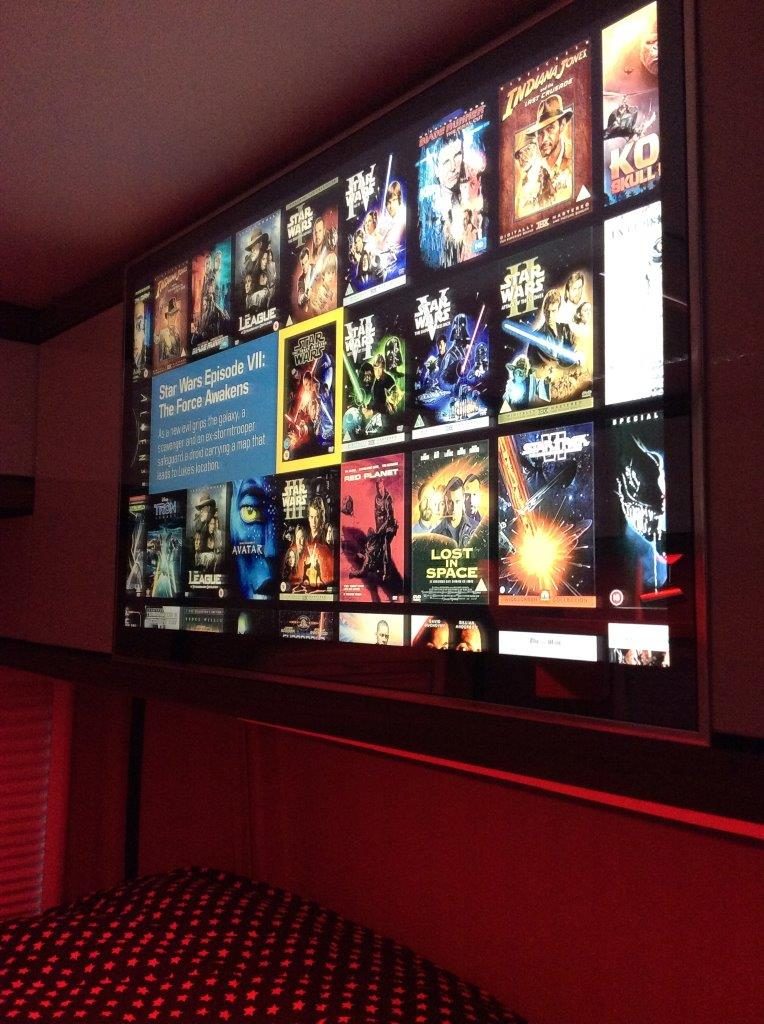 So why the Kaleidescape van? Terence explains, "We have had several different showrooms available in the past for demonstrating all the latest in audio visual and control technologies in industrial units, shops and with interior designers, but have found it getting more and more difficult to get clients to come out to view and hear our systems. For the future of demonstrating products I think the best way forward is to take the products to the client, a couple of years ago with this in mind my wife retired from Boots the chemist and this gave us the opportunity to purchase a motorhome, with latest technologies in place, this then became a great opportunity to custom install the van with latest audio visual control and lighting systems."
"I researched products that would be perfect for the project and set out to survey the van for cable routing, the cable installation took about three weeks to complete all other products took about another two weeks to finish. The Crestron programming we completed in a couple of days. The TVs I installed were from Videotree, I chose these because of their very small bezel, mounting depth and size. As a Crestron dealer, I installed DIN AP-3 control processor and a new DIN Rail LED Lighting product from Crestron which controls RGBW lighting strip.
"The sound system is an Artcoustic based 5.1 home cinema system and in zone 2 there is also a 2.1 system for the living area. The system can be extended into a driveway awning, music comes from a Autonomic MMS-1e which is a very small product ideal for the project, the amplifier is a new slim line Marantz NR1710. For streaming TV services I used an Amazon Fire TV Media player and Apple TV, all products are matrix switched using a HDANYWHERE Pro HDMI matrix switcher. The RGBW lighting strip system I installed is by COLLINGWOOD lighting."
So, fitting all this tech into a such a compact space must have been a challenge.
Terence says, "The main problem installing custom installation products in such a confined area is finding the right products for the project, I researched what was available from all the manufacturers and found the right fit for each aspect of the install."
Life after the installation was completed? "Once I had completed the project we signed up to an event called the Norfolk Motorhome Show which was over four days, the show was brilliant we had a fantastic response from the public, motorhome manufactures and dealers which we are still following up. After the show we went on holiday to a campsite in North Norfolk where we had an amazing response on the van from people staying on the camp site, since then I have been demonstrating the van at business meetings around Norfolk and had more invites from business people to view the van. I am in the process of contacting architects, builders, interior designers and consultant engineers to arrange meetings and demonstrations of the motorhome."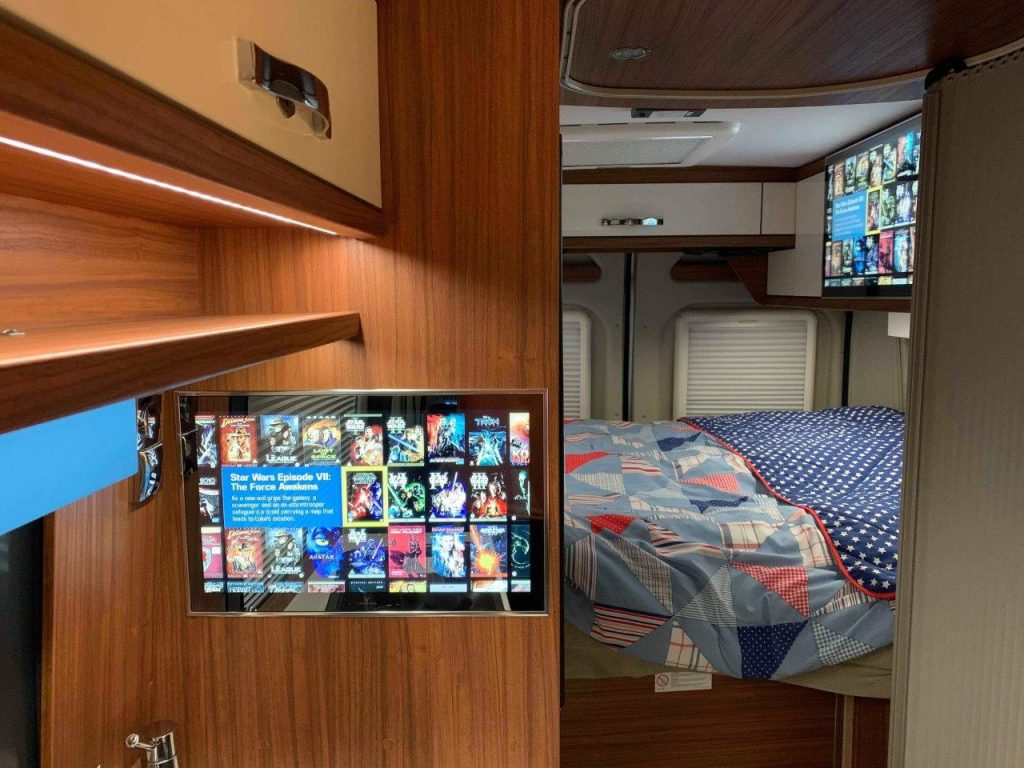 Essential Kit List
Autonomic MMS-1e music server.
Kaleidescape movie server.
Marantz NR1710 AV 2 zone receiver amplifier.
Amazon fire TV media player.
Sony UBP-X800M2 4K DVD player.
Apple TV 4K media player.
HDanywhere 4×4 Pro matrix switcher.
Luxul AGS-1016 AV network switcher.
Artcoustic CPH-TRIO subwoofer processor.
Artcoustic PDA-1000 twin 500watt sub amplifier.
Draytek 4G WiFi Router.
Crestron DIN-AP3 Processor.
Crestron DIN-2LEDPWM8 LED RGBW Strip processor / controller.
COLLINGWOOD LSR05 RGBW LED Strib. 2 zone.
Viveroo iPad table top mount.
Pair of Artcoustic SL C-1 zone 2 speakers.
Artcoustic SL Multi Soundbar – centre and left / right speakers.
Pair of Artcoustic SL Target Mini surround speakers.
Artcoustic CPH-10 Subwoofer. Zone 2.
Artcoustic Diablo Sub Panel, twin 10-inch woofers.