PSB Speakers has launched an all-new range of Alpha speakers that, like their predecessors, are designed to deliver value and performance.
Four models in all, the Alpha Series is comprised of compact monitors P3 (£179 per pair) and P5 (£299 per pair), a centre channel C10 (£249 each) and a tower model T20 (£499 per pair).
Additionally, all four models are available in a choice of Walnut or Black Ash finishes.
PSB introduced its first Alpha speaker range in 1991 with a clear purpose: create an affordable speaker that is focused on performance first. By leveraging the research conducted at the Canadian National Research Council (NRC) over many years by PSB's founder Paul Barton, these early Alphas went on to win lots of shoot outs and garner many 5 star reviews.
PSB has now revisited its Alpha offerings with four models that are 'clean sheet' designs, while maintaining Paul Barton's original intent.
Today's Alphas benefit from improved materials and production techniques, not to mention an additional 30 years of experience, to create a natural sounding speaker of minimalist elegance, while costing less than the original Alphas when adjusted for currency inflation.
In PSB's new Alpha range, the P3 and P5 are classic two-way bookshelf designs that are created to be compact and versatile. They can be placed on a stand, a shelf, a desk or a table and are equally well-suited for home theatre or stereo listening.
The T20 tower adds an additional woofer in a larger floor-standing cabinet yet occupies a small footprint. The C10 centre channel speaker can be used as the centre or dialogue speaker in a home theatre or could also be used for music.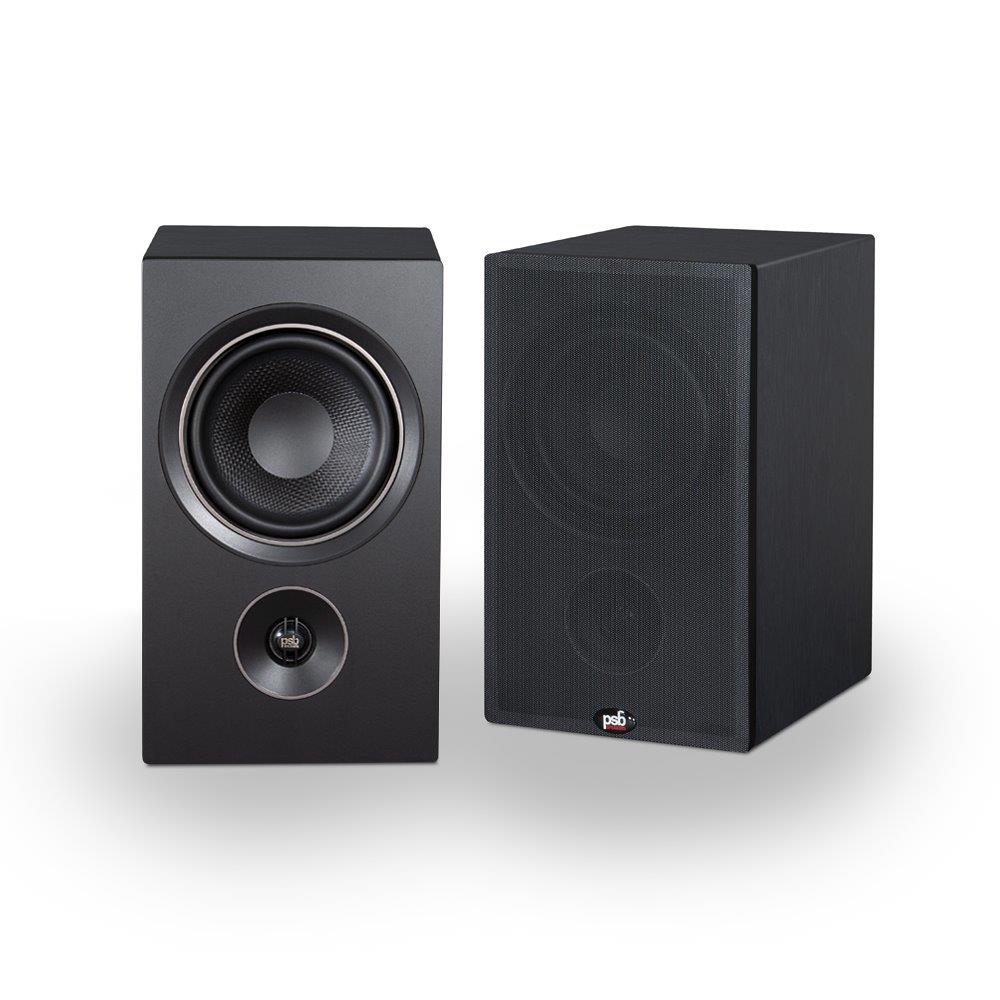 Improved drivers and materials
For the Alphas, PSB developed two new woofers; a 4 1/2in and 5 1/4in both employing dual layer voice coils with powerful magnet structures to provide low distortion and high output levels.
The cones are made from a special textured polypropylene compound that prevents cone breakup and extends frequency response for a smooth integration with the tweeter.
A new 3/4in (19mm) tweeter was designed and is used in all four models. The tweeter is ferrofluid cooled and features a Neodymium magnet for high sensitivity and power handling.
A wave guide on the front of the tweeter helps match the response of the tweeter near the crossover point with the woofer for a smooth transition. Of note, the tweeter is placed below the woofer on some models which, in concert with the precisely engineered crossover network, provides a uniform sound field whether the listener is seated or standing.
Crossover, an unusually complex fourth-order Acoustic Linkwitz-Riley filter design is used to get a good blend between drivers and keep distortion low even at high sound pressure levels.
Cabinets are often overlooked in their importance and for the new Alphas, each model has a unique combination of wall thickness and bracing to control resonances and provide a perfect platform for the drive units.
Notably, the internal damping material is specialised for the purpose having been developed over many years on much more expensive PSB models and positioned precisely for optimum effectiveness.
High quality precision machined cabinets in simulated Black Ash and Walnut finishes combine with magnetically attached grilles to complete the look. The grille is unique in that is does not change the sound of the speaker whether attached or removed.
"The PSB Alpha speakers were among the most popular speakers we have ever made so we have had constant requests from the market to design an updated and improved range. The original Alphas were quite good for the time, so this was a tall order," says Paul Barton, founder and chief designer of PSB. "However, by leveraging new materials and design techniques as well as advanced manufacturing capability, these Alpha models are a substantial improvement over the original ones with respect to looks, performance and value."