Sonos asked EI to look at its new Roam product, a new fully portable platform that the company makes some pretty big claims about for a £150 portable speaker. Whilst on the surface, Roam is more a retail product than an installation one, there are some characteristics of the Roam that could make it a useful ally.
"The best portable speakers should be easy to use, feel good in your hand and most importantly sound much bigger than they are, and Roam hits the mark for me on all three points." Emily Lazar, Grammy award-winning mastering engineer and member of the Sonos sound board.
So, like we said, Sonos puts lots of confidence into the performance curves of this little speaker, how does it stack up to the hype? This of course is not Sonos' first foray into portable speakers, the Move came out in 2020, but Roam is much smaller, lighter and has been created to be a fully mobile take anywhere product. Full portability is delivered by the product switching smoothly between Bluetooth and Wi-Fi connection depending on where the user is and what they request the speaker to do.
The product also doubles down on its portable credentials with an IP67 water and dust resistant rating. Whilst EI has not had the product long enough to fully endorse the dust part of this rating, the water one is certainly well founded, the product stood up to all the Spring weather had to offer including rain and frost (it accidently got left outside and appears no worse for wear). Sonos says the product will go further and survive in 3ft of water for 30 minutes, EI did give the product a brief dunk and the claim looks to hold up, so this should protect the product from accidents and will attract adventurous types such as paddle boarders and other outdoorsy customers.
Roam comes in an elongated triangular shape which feels pleasant in the hand and makes the product easy to carry around, and the soft-touch coating also makes it easy to grip. The product also received some albeit brief canine attention with a little trip around the garden, before being discarded and definitely not edible, again the product survived with no worries.
The product only weighs 430g and its dimensions are just 168 x 62 x 60mm. So, with the added advantage of 'rubberised' ends, the product deniably qualifies as genuinely portable, it feels durable enough to shove in a bag or in the glove compartment of a car or camper van, to get it to where the music needs to be. The product can be placed vertically or horizontally, although vertically is by far the best option with little feat to steady the product, up-right, its just a little too top heavy.
There is lots on the Roam that Sonos users will find familiar, the control buttons are on the top of (play/pause, volume microphone on/off) and Roam connects to a Sonos system via the app in exactly the way you would expect. The Roam also has a single power/Bluetooth button adjacent to the USB-Co port. Other indicators include an LED next to the mic button to show when the product is listening, a power on light next to the Sonos logo which also shows when Roam is in Bluetooth mode and an orange light indicates when battery power is low.
Set up was very easy and straightforward and the product's Wi-Fi capability matched anything else in the locations that we tested it, and maybe even pushed the envelope a little allowing full enjoyment of the product right at the edge of the Wi-Fi network. Fans of voice control will be happy with the inclusion of Google Assistant/Amazon Alexa, not a surprising feature, but a welcome one none the less, particularly when lots of camping locations these days have Wi-Fi making checking the weather or local attractions via this route that little bit easier.
Other features include an EQ function which gives some ability to adjust the sound for different types of music and moods and Roam does introduce Sound Swap, which allows Sonos speakers on the same network to be grouped together and play what Roam is already playing back. A decent feature this and again backs up the Roam's portable credentials.
100 music services can be reached through the Roam, its AirPlay 2 compatible, but like its larger cousin Move, the speaker cannot be part of a surround sound set up with Arc or Sonos and it will not partner with a Sonos sub either. Another Sonos regular Trueplay is on board in its 'Auto' version, a big improvement in terms of functionality on needing an iPhone's microphone to access this feature. Trueplay works in Wi-Fi and Bluetooth modes. Power is delivered to the product via the USB-C port and cable supplied, other power up options have to be purchased separately.
Sonos says the battery will last ten hours or ten days when not being used. These numbers might be a little on the generous side, especially if you are moving the Roam around a lot or playing at high volume, so a little bit of care and planning is needed if the product I to be taken away for a camping trip or a full day at the beach. When not in use, Roam sleeps, and is woken by one touch of the main power button the rear. Appearance wise the Roam is defiantly 'cute', comes in black and white and has an attractive honey combed motive visible behind the main forward-facing speaker casing.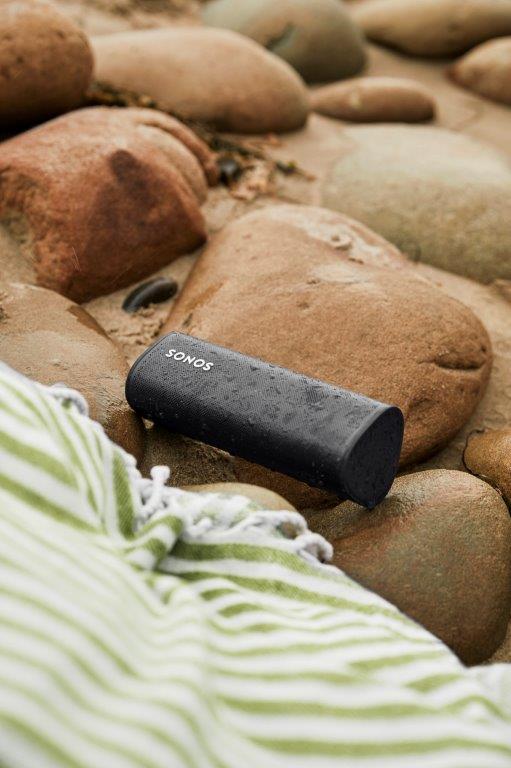 Roam wasn't built in a day
During the build up for the launch of Roam, Sonos put a lot of emphasis on how good the product sounded, an unusual and not entirely risk free strategy for a small portable speaker.
Inside the Roam is a pairing of class-H amps, a single tweeter and mid-woofer all naturally tuned to match the speaker's physical characteristics.
So, what does it sound like? The answer is pretty damn good. Now we need to qualify that, its sounds good for a portable speaker, but seeing as that is exactly what it is, we wont hold that against it. Inside the world of Sonos, performance is very good, perhaps a little bit more than you would expect, with the Sonos One being the closest in terms of performance, but it has to be said with less features than Roam. The sound field is surprisingly big, there is lots of bass, there is a decent level of clarity around vocals and higher frequencies. We tried a few of the 'recommended' tracks from Sonos and the speaker is fun, playful, and good partner for most mainstream pop/rock type artists. However, with this type of test its always a good idea to putt on some content that is perhaps a little less 'friendly'. How does Doctor Rock by Motorhead sound for instance?
Not known for its forgiving nature, the key to this track is the flash grenade explosive start which sets the tone of the rest of song. The Roam handles it well, offering enough grunt to get over the track's full-on approach. However, what about something a little more subtle, a nice outdoor track is Little Fluffy Clouds by the Orb, perhaps a more sympathetic outing for the speaker it nonetheless presents Joni Mitchell's voice with enough of the dreamy quality the song possesses, whilst the rest of the sonic landscape pops and bubbles away happily. So sound quality wise, most of Sonos' promise has been met, but is it really an install product?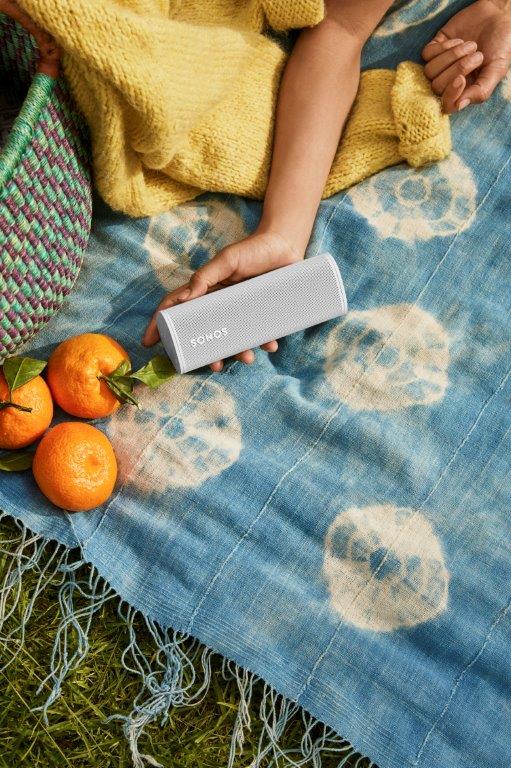 Install?
So, price point wise and with its emphasis on portability, should installers take note, well arguably yes. Of course, plenty of retail customers with get their kicks taking this product out with them, but in the home, the Roam, could be a very useful ally when budgets are a concern for spaces such as the garden, patio, smaller bedrooms, conservatories, with a decent Wi-Fi network, even outside spaces such as studios or home offices. Also worth thinking about for MDU spaces such as student accommodation. Ultimately Roam is a more than decent addition to the Sonos family, even if it never leaves the home.