Our CI focused reviewer, Richard Stevenson, takes a look at the Philips 65in OLED 903 TV.
Philips, once the doyenne of the European TV market, is making headway into regaining that position with its latest line-up of 4K UHD screens. By engaging in strategic partnerships with some of the best in the businesses and adding in a good measure of Philip's historical flair for innovation, 2018 saw the brand scoop more 5-star TV reviews and annual awards than it has seen for many years.
The flagship 65OLED903 maximises that partnership strategy. The 903's picture is based around a top-spec LG-made 4K OLED panel, the sound is courtesy of a project with Bowers & Wilkins (B&W) and the OS is Google's finest. The imaging software, industrial design and Ambilight 3 LED rear lighting with Hue integration is pure Philips' creative gold.
The new OLED panel is said to deliver 10% increase in light output over previous generations, allied to the technology's already class-leading black level and contrast ratio. The latter is further enhanced with HDR10+ support. Philips' own Perfect Natural Reality feature manipulates brightness, sharpness and contrast performance in real-time in an endeavour to give SDR content the same quality and impact as HDR. The panel is driven by Philips own P5 engine.
Sound comes courtesy of an innovative B&W speaker complement. This includes a narrow soundbar below the screen with separate enclosures for each channel and a rear-facing bass driver array set into its own enclosure. B&W worked with Philips on the amplification and DSP with the aim of creating a soundstage much bigger than typical panel TVs, with lower distortion and improved dialogue clarity. Even the soundbar sections acoustically transparent grille cloth is produced in partnership with leading Danish fabric company Kvadrat.
Powered by the Android TV operating system running on quad core processor with 16GB of expandable onboard memory, the user interface and smarts are slick and fast. Imminent firmware updates will bring a new UI, Google Assistant built-in and Amazon Alexa control of the TV. You get on-board twin tuners for DVB, Satellite and HbbTV, with pause live and record to USB, plus networking over Dual-Band Wi-Fi or Ethernet.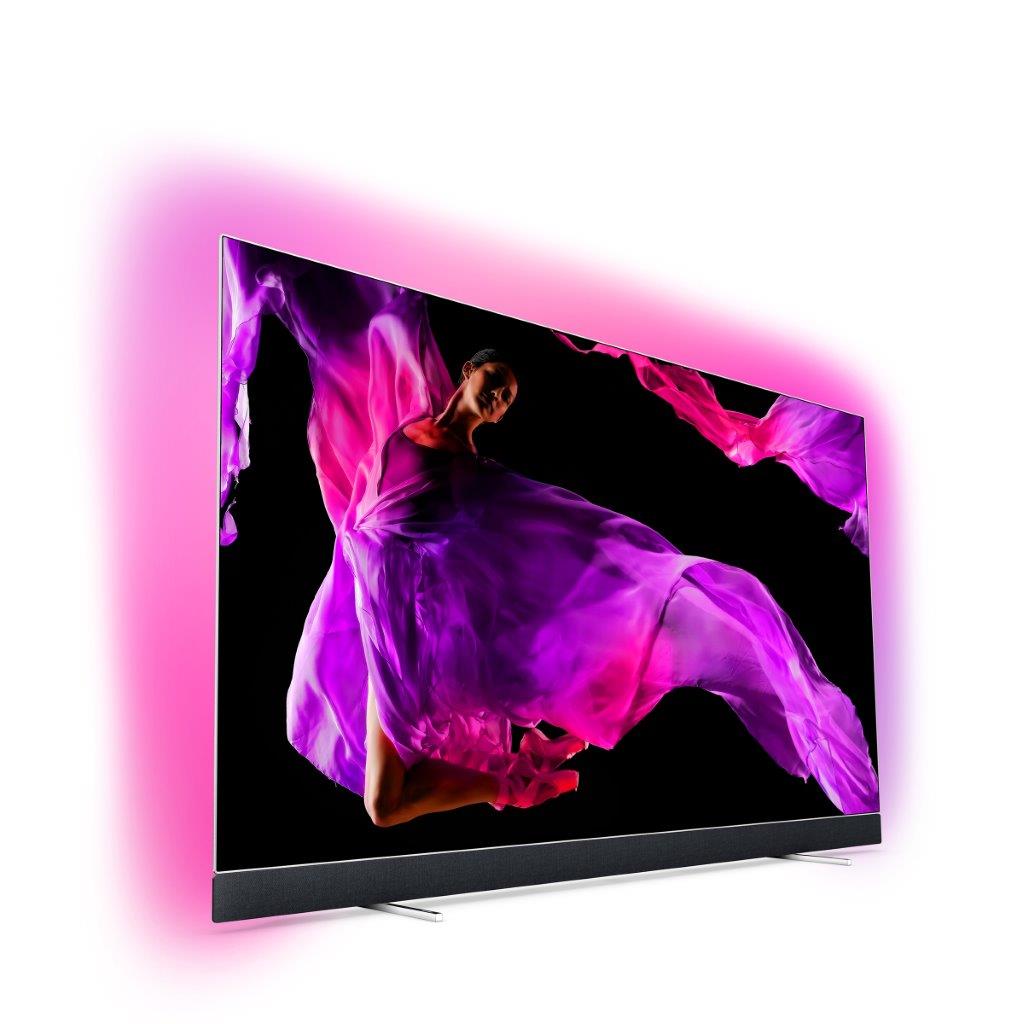 Have you seen the light?
Philips Ambilight has been around for some time and arrives here in its third-generation. At the rear of the TV are lines of powerful RGB LEDs, placed along the sides and the top of the screen and projecting onto the wall behind. It can be set to a single colour, track the colours of on-screen content or change with the TV sound. There is also integration with Philip's own successful Hue smart lighting, allowing room lamps to sync with the Ambilight colours.
The overall package looks stunning even turned off. It is supplied with two remote controls, one with a handy alpha-numeric keyboard on the rear, subtle cross-bar feet for desktop placement and VESA 300 x 300 wall-mount threads.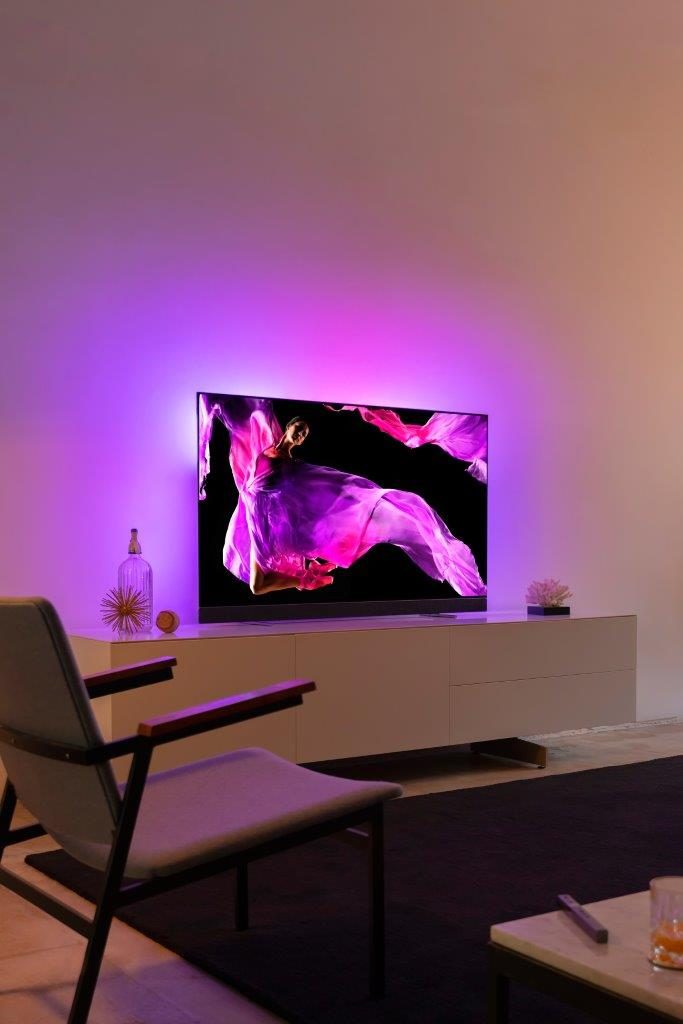 Performance
With a quality 4K feed from the likes of Netflix or a UHB BD player, the 65OLED903's picture really pops with stunning contrast, excellent colour saturation and superb detail. HDR content in particular has masses of punch and impact, making even our reference LG OLED65C8 look rather subtle and understated by comparison. HD to 4K scaling is equally impressive with very smooth motion and impressive resolution.
We struggled to get skin tones spot-on using the basic picture menus, but calibrators can use the full suite of ISF controls built-in. The dynamic picture presentation is also best observed at a reasonable viewing distance, and we would suggest 3m plus. Up close and personal the picture can look a little granular and unnaturally processed. Calibrated and viewed from a suitable distance, the Philip's picture competes head-on with flagship models from LG, Samsung, Sony and Panasonic.
Sound-wise, it surpasses them with consummate ease. There are plenty of trims and DSP modes to choose from but any one of them delivers a sound with scale, robustness and clarity quite unlike any other TV available. B&W has done a first-class job of giving the 65OLED903 perhaps the best on-board sound from any TV since CRT cabinets allowed decent sized drivers and enclosures.
So, could this TV cut out the opportunity to sell and install a soundbar or build an AV system around the TV? Well, no. While the OLED903's audio is a huge improvement for the flat panel TV genre, a top-spec soundbar and subwoofer combination will still create a much bigger and more engaging sound, particularly with movies.
The Philip's ability to deliver crystal clear dialogue, spacious effects and punchy soundtracks without an absolute need to power up such ancillary sound systems is a real boon for basic, day-to-day viewing convenience. The customer can operate the TV without powering up the soundbar, searching for another remote control or trying to select the correct audio input just to watch EastEnders. B&W's influence here has made this a superb sounding everyday TV.
Ambilight 3 may or may not be an everyday feature as its effect can polarize opinion. This implementation is the brightest and most dynamic yet, each area of the LED array independently responding to the colours of nearby on-screen content. We paired the system with 20 meters of Hue Lightstrip Plus room lighting for an incredibly immersive and/or distractingly annoying effect… depending on your point of view. Football footage turned the room green punctuated by colours of team jerseys when the camera zooms in to players, and it made watching colourful films like Incredibles 2, frankly, trippy. I liked it!
Operationally, Android TV is not without its quirks, but these tend to get ironed out quicker than bugs with proprietary platforms. And they all have them. Moreover, seamless integration with Google Apps, Google voice assistant, Chromecast and Google Home make this TV a compelling smart home hub that opens the door to offering customers other smart systems and integrations.
The 65OLED903 is a design masterpiece TV that brings together best-in-class suppliers and Philips' innovative and sometimes left-field ideas. The result is a TV that stands out in terms of picture punch, built-in sound and potential for CI smart home integration.
This review first appeared in the pages of Essential Install Magazine, check out our reviews each month, by subscribing here.