Klipsch and Henley Audio have announced the ProMedia 2.1 BT, the powered speaker system equipped for 'duties way beyond just the desktop'. This redesigned version of the US maker's original 2.1 compact package adds wireless Bluetooth connectivity, further boosting its flexibility. The ProMedia 2.1 BT consists of a pair of powered stereo speakers and an acoustically matched powered subwoofer, finished in black, and ready for a multitude of home and office uses.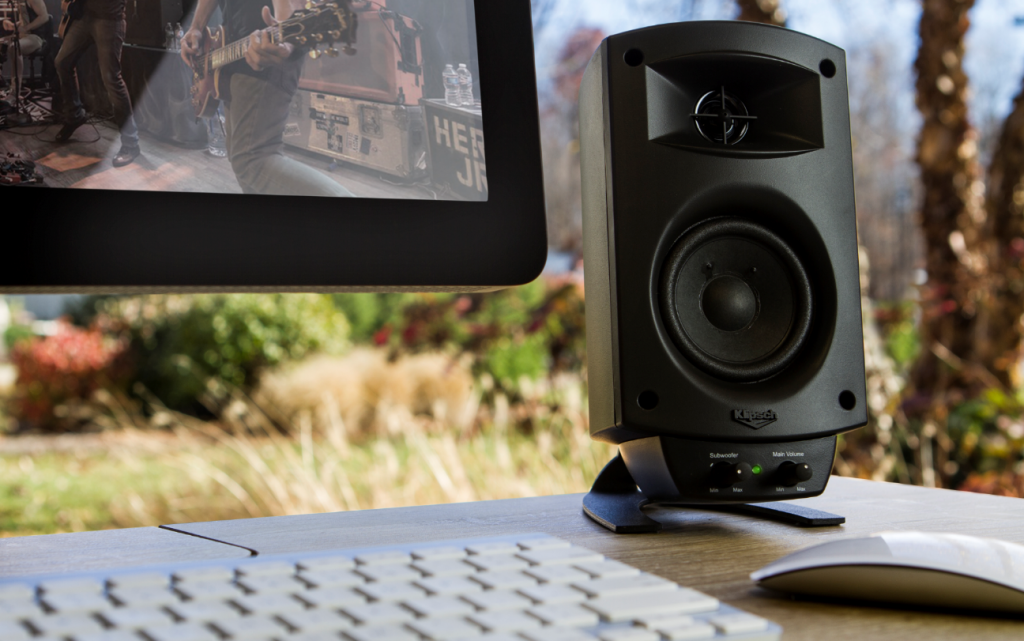 Klipsch is recognised for its skill with horn-loaded speaker technology and each ProMedia 2.1 BT satellite houses an 8cm Klipsch MicroTractrix horn mid-bass driver directly below the 19mm PEI (polyethermide) tweeter. The result is an efficient speaker design, complete with treble and natural midrange, that produces a remarkable amount of sound from its neat footprint. The two satellite speakers deftly integrate with the Klipsch 17cm side-firing, ported subwoofer, creating a sound system that is significantly greater than the sum of its compact parts.

In this 'age of the soundbar' it can be tempting to brand a 2.1 system as merely 'computer speakers', but the ProMedia 2.1 BT, with up to 200 watts of dynamic power on tap, swiftly dispenses with the notion. This sub sat set-up soundtracks whatever you throw at it – from music streaming, to boxset binging, to Fortnite battling.

And, remember, as bass is non-directional, the subwoofer can be conveniently placed out of the way – it just needs to connect to a mains socket and the satellites then connect to the subwoofer – leaving just a pair of compact speakers on display. Just as importantly, by eschewing the soundbars 'all-in-one' cabinet design, this 2.1 system lets you place the stereo speakers further apart, enabling an impressively far-reaching stereo image.

The topics of working from home and home entertainment have never been more pertinent and enabling great audio for both activities is hugely worthwhile. The Klipsch ProMedia 2.1 BT demands little in the way of desk/shelf/table acreage, yet brings spacious stereo sound, deep bass, and Klipsch horn-empowered clarity and naturalness. Whether it's for work, rest or play, the new Klipsch ProMedia 2.1 BT is prepared for your new normal.

The Klipsch ProMedia 2.1 BT is available in the UK now, priced £279.99 SRP. Henley Audio exclusively distributes the Klipsch ProMedia 2.1 BT in the UK and the system is currently offered for purchase online, complete with a choice of home delivery or click & collect.