Immersive audio hardware brand StormAudio has announced that its first 20-channel preamp / processor, the ISP 3D.20 ELITE is now shipping. The unit joins the brand's lineup of 16- and 32-channel analogue and digital preamp / processors, along with its suite of 8- and 16-channel amplifiers. The ISP 3D.20 ELITE has an MSRP of $16,000 (US).

Equipped with 20-XLR outputs, the maker says the ISP 3D.20 ELITE is ideal for theaters that require more than 16-channels, for example those that will employ multiple subwoofers, or speaker configurations that accommodate all three immersive sound formats.It also incorporates the same capabilities as the brand's 16- and 32-channel models.
This includes built-in compatibility with Auro-3D, Dolby Atmos and DTS:X and Dirac Live Room Calibration.


Other key features common to the StormAudio ISP 3D.20 ELITE and the whole suite of immersive preamp/processors include…
9.1.6 Native Firmware
StormAudio says it is leading the charge with the incorporation of 9.1.6 native processing to support Dolby Atmos and DTS: X. The maker adds that the product delivers up to five individual subwoofers to allow for best active room mode compensation.

Advanced Graphic User Interface (WebUI) 
The ISP 3D.20 ELITE employs a unique WebUI interface that is designed to offer intuitive access, setup, and monitoring of the theater. According to StormAudio US operations service / support manager Chrisanne Rhodes, "The interface is intuitive, offering setup from basic to the most advanced. Additionally the installer can prepare the processor in as little as three clicks of their computer mouse, sparing them from the labor intensive setup and calibration requirements imposed by leading competitors' processors."


StormMonitoring Web-based Remote Monitoring
The ISP 3D.20 ELITE incorporates StormMonitoring, a feature that grants the installer the flexibility to diagnose all aspects of system health and reset just as if they were physically onsite. This built-in web-based remote monitoring platform provides complete up-to-date views on all parameters of system health, including critical ones, with ability to receive email notifications of desired thresholds when hooked-up with a Network Management agent and related service subscription such as Domotz.
StormMonitoring also drills all the way down to the speaker channel – with the preamp/processor's included mic kit, the installer can remotely monitor real-time audio frequency from each channel. When the brand's amps are used in the same install, the feature will merge all units into one interface.

Scalable modular platform design approach, including Audio over IP expansion capability

The ISP 3D.20 ELITE processor can be customised and upgraded at time of order, or in the future by way of its scalable, modular platform. Examples include upgrading to fully support 32-channel outputs (digital) over AES/EBU or Audio over IP or upgrading to support a DCI server/player 16-channel AES/EBU interface.
Other key examples include AES Direct Integration with other audio distribution systems such as Meridian's 271 Digital Theatre Controller or next generation AudioVideoBridging Speaker Integration with companies such as ASCENDO Immersive Audio.

StormAudio says it is a leader in Audio over IP capability in the CEDIA channel. Known as AudioVideoBridging (AVB), this simplifies system installation and improves performance. 
The processor and each speaker are connected via standard RJ45 cables to an AV-enabled network router that manages the audio routing, delivering real-time audio-video streams to the speakers over the Ethernet-based network.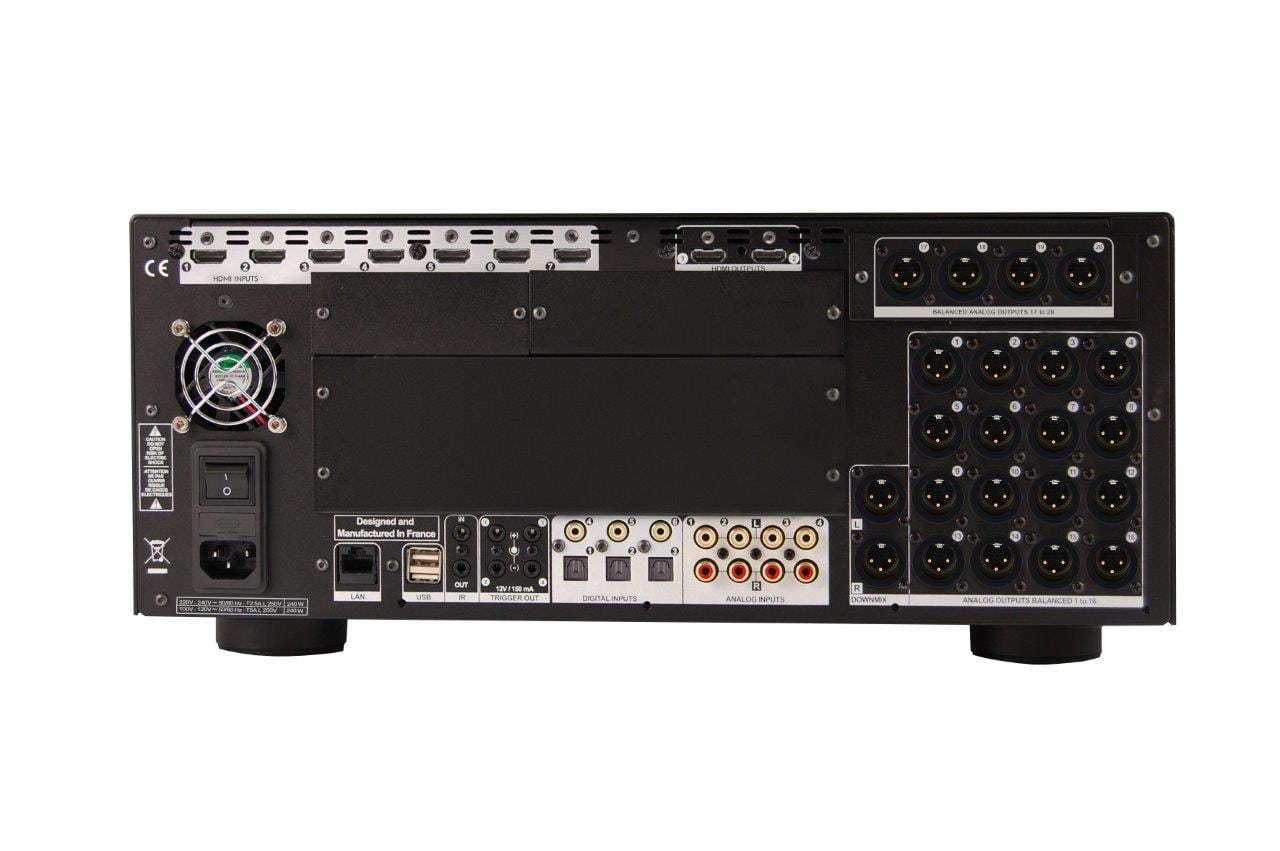 7.2 HDMI with Full 4K Support
In keeping with the evolving 2.0 HDMI format landscape, the brand is now offering a new 7.2 HDMI board with full support of HDMI 2.0 / HDCP2.2 and HDR.
2018 CEDIA Expo Demo of ISP 3D.20 ELITE
The preamp/processor is taking centerstage in the joint StormAudio / Starke Sound Dolby Atmos 9.1.6 home theater demonstrations taking place at CEDIA 2018 Expo, Sound Room #8 in the San Diego Convention Center, September 6-9.