EI Live!, the UK's only dedicated AV and Home automation exhibition, this year in partnership with OneAV, is taking place at the Farnborough Exhibition Centre this September 29-30 and is open for registration right now. Get over to the show website and hit the Get Your Tickets tab at the top of the page to register.
The whole show team is looking forward to welcoming the install and AV industry back to the Farnborough Exhibition Centre for a vital chance for in person interaction and a chance to catch up on everything that is happening across the manufacturer, distributor and service provider landscape.
First stop when planning a trip to EI Live! 2021, is the website. You can register from here of course, but also plan the whole trip by searching for who is exhibiting, which companies and people are speaking in the Technical Theatre, you can also book hotel accommodation from there if planning on staying over.
The show team has been working closely with the venue to ensure all relevant government guidelines in place by the time of the show are in place. Rest assured, all COVID related procedures or recommendations existing at the time of the event will be in place across the show and venue.
EI Live! is now ten years old and will offer its broad pallet of home and building automation, entertainment and AV systems, but will also be welcoming exhibitors with offerings from related fields as well. The organisers announced some time ago that the show this year is completely sold out, so visitors will have a great choice of stands, demonstrations and learning experiences.
The Technical Theatre will return of course presenting many industry experts delivering valuable insight into a whole range of subjects to help expand business and make operations more targeted and successful. Check on the website soon for details of all the speakers, times and any other info you need to attend.
This venue offers the show the attractions of a London venue without the transport challenges of the capital, particularly as public transport can still be a challenge or concern for some. The venue is also surrounded by a large selection of great hotels from high-end luxury to sensible budget choices.The community of local hotels have new StaySafe procedures in place to provide additional protection for event attendees as part of a response to COVID-19. All the information you need is on the website.
Whether you are an established operator/installer, are new to the industry or are looking to expand your presence, EI Live! has the contacts and exhibitors you need.
Show organisers would also like to thank all the sponsors of this year's show and in particular OneAV, main sponsors of this year's event.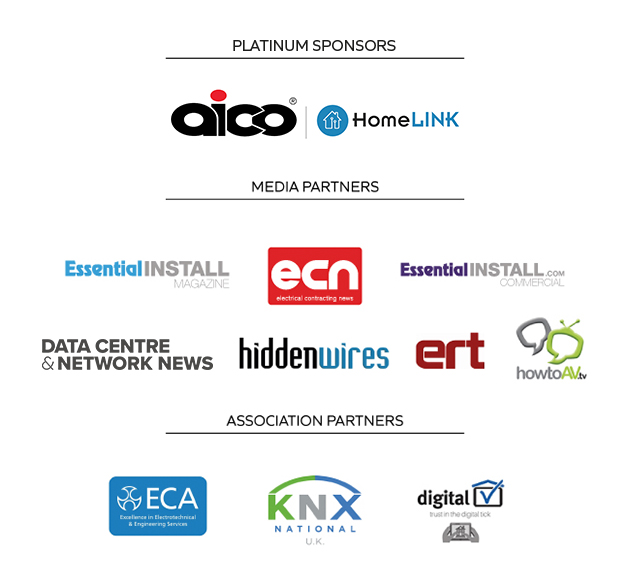 The Technical Theatre and Training
Those appearing in the Technical Theatre this year include:
HDBaseT (training), Vizualization, AWE (Panel Discussion), DbM, KNX, CYP, Aico, GUDE, Snap One/Control4 (Panel Discussion), Light Innovation.
The show is also delighted to welcome back the newly rebranded Snap One to the show as the company will be holding a full programme of Control4 training across the two days of the event, an undertaking that has been a huge success in the past and looks set to be again. Stand by for more details on this exciting news.
Full line up of exhibitors
Aico / Home Link, Aldous systems, Alltrade, Amina Technologies, Anatech, Antiference, Aquavision Distribution, Artcoustic, Avoke Ltd, AWE Europe Ltd, Bespoke Telecoms Ltd, Blustream Ltd, CAI, CAVD, CEDIA, Cinema Build Systems, Connected Distribution, CYP, Device Smart, Display technologies, ELAN (Blustream), Element One screens, Epson – Sound Booth, EZVIZ Ltd, Faradite, FS Cables, Future Automation, Gallo Acoustics, Great British Audio Co, Grenton Smart Home, Gude Systems Gmbh, Habitech, Hayden Furniture, HDAnywhere, Hidden Wires, Hisense, IMP, Indigo Distribution, Into AV Distribution, Intrinsic Group, Invision, Karma AV, Kordz/Blustream, L-Acoustic Creations, Lektropacks, Lithe Audio, Meridian Audio Ltd, My KNX Store, Netvio, OneAV Ltd, Penn Elcom, PictureFrame TV, PMC Ltd, Rako Controls Ltd, RDI, Totem, Redline Scotland, Retrotouch, RGB Lutron, RGB Communications, Sanus (Legrand), SAVANT, Sensible Heat, Sinemas, Snap One/Control4, Sonic Syndicate/Outsourced AV, Specifi, SY Electronics Ltd, TDI, Tindall Security, Together for Cinema, TV Shield, Velodyne, Visualization and WeQuote.
Smart Building Awards
Celebrating the best of the best in the AV and Home automation industry. Wednesday September 29, the evening of the first show day, will see the return of the Smart Building Awards. For full details and to book your ticket go to awards dedicated website.
Due to the restrictions imposed by COVID 19, this year's awards will be judged on the entries received for last year's awards and will be decided by an internal All Things Media panel assisted by industry experts. Next year's awards will be open for new entries and will return to the established system of an on-line independent panel.