We all know big shows like ISE can be difficult to get the maximum benefit from right? Who do you go and see? Where are they based? How long does it take to walk from one appointment to the other? What if there is nobody available to talk when you do get there? Will the demo be full?
These are just a few of the challenging questions that rise up to meet the AV and cinema orientated installer on arrival or when planning a show visit.
Well Pulse Cinemas says it has the perfect answer to those questions – don't worry about any of them, and let Pulse do the organising!
To this end, the company will have a full complement of its experts out at the show ready to take dealers around the show in a series of pre-arranged tours that ensure installers get to talk to the right people, at the right time, all of the time.
The tours are designed into time slots and streams to suit each visitors' different priorities. Amongst the focuses this year will be Anthem and Paradigm brands, StormAudio, Screen Research, Digital Projection and Fortress Seating as well as AudioControl and, of course, Kaleidescape.
Pulse MD, Mike Beatty explains, "With ISE expanding year on year, we recognise it can be a huge task just getting around the show and organising to make sure you get real benefit from attending. As we are committed to genuinely adding value in everything we do, the team here has made sure that our dealers can just turn up and see all of the brands, the demos, and key staff to plan their portfolios and projects for the coming year."
There are a limited number of spaces available, so book early to avoid disappointment.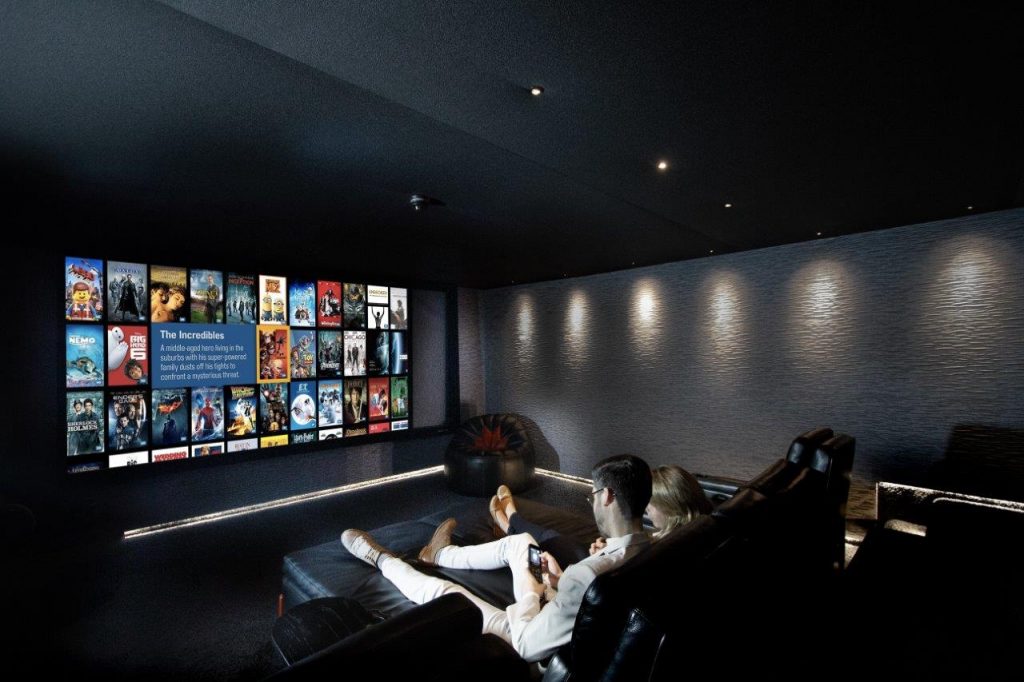 Meet the team
Pulse Cinema's team of brand and technology experts will be on hand to take you around each tour, provide you with the benefit of their knowledge and also introduce you to the key people at each stand.
The tours are suitable for established Pulse dealers, but also act as a great introduction to the company and all the high performance kit and support services it provides.
Simon Schino, internal sales manager at Pulse Cinemas, explains, "As well as the tours we have set aside time for installers to have separate meetings with any of the Pulse team or key people from the brands to discuss anything specific about products or an upcoming project. Our brand line-up has never been better, so it's a great time to come and see how we can supply all the ingredients you need for your AV and cinema projects."
Mike concludes, "ISE can be a daunting prospect. The size and complexity of it can be a real barrier to getting the best from a trip to the show, and this is the reason we came up with our new tour concept. For our established dealers and those wanting to find out more about some top AV and home cinemas brands, I can't think of a better way to visit ISE. Get in touch with the team now and get yourself booked in to find out more about our established brands and some new additions too."
A night to remember
So, shows are not just about the kit, time needs to be set aside for networking and socialising too. However, that also takes effort, so Pulse has thought about this too and will be presenting a top night out for its dealers and a few industry friends.
Pulse Cinemas always likes to provide the all-important social aspect to every event it gets involved with and ISE is no different. Some excellent nights down the years have been delivered and this year all the fun takes place at one of the city's most popular bars, De Biertuin Prinsengracht, or – if your Dutch is a little rusty – The Beergarden Prinsengracht.
Pulse dealers and industry friends are invited to join the team at this top venue which offers first class food and drink on Wednesday, February 6, 19:30-22:30. A specialist in craft beers, this well-known Amsterdam favourite offers 25 different beers on tap or 120 bottled beers.
The Beergarden is also famous for its spit-roasted chicken, burgers and spare ribs. Let the team know if you want to attend whilst booking your show tour.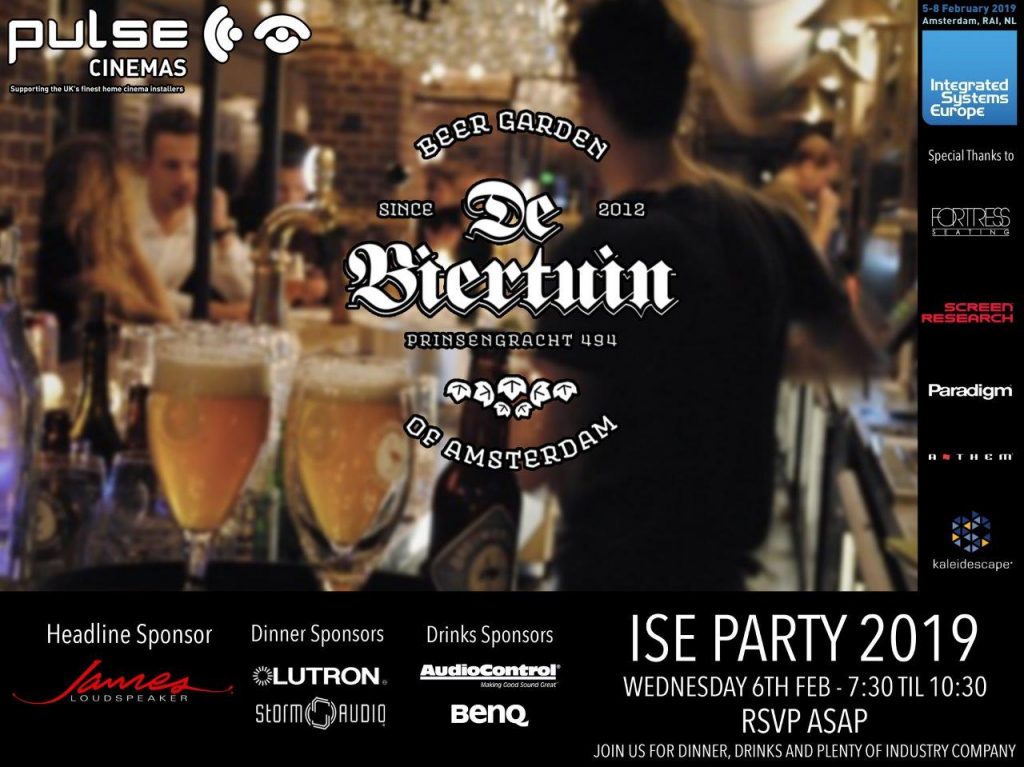 ISE tour schedule
Tuesday
10.20 (1.5 hours) Event – Paradigm/Anthem/Kaleidescape
12.45 (1 hour 15) DP/Screen Research/Fortress/Audio Control/StormAudio
14.00 (1.5 hours) Event – Paradigm/Anthem/Kaleidescape 16.30 (1 hour 15)
Wednesday
9.40 (1.5 hours) Event – Paradigm/Anthem/Kaleidescape
12.15 (1 hour 15) DP/Screen Research/Fortress/Audio Control/StormAudio
14.00 (1.5 hours) Event – Paradigm/Anthem/Kaleidescape (group one)
14.40 (1.5 hours) Event – Paradigm/Anthem/Kaleidescape (group two-full)
Thursday
9.40 (1.5 hours) Event – Paradigm/Anthem/Kaleidescape (group one)
10.20 (1.5 hours) Event – Paradigm/Anthem/Kaleidescape (group two)
12.15 (1 hour 15) DP/Screen Research/Fortress/Audio Control/StormAudio
14.00 (1.5 hours) Event – Paradigm/Anthem/Kaleidescape (group one)
14.40 (1.5 hours) Event – Paradigm/Anthem/Kaleidescape (group one)