The latest design-led offering from Loewe Technology is a premium, sustainably produced, syno-stone 4K OLED TV with a 'state-of-the-art' sound system.
Loewe Technology has revealed the iconic, a high-end, 4K ultra-high definition OLED TV, claimed as the world's first consumer electronics product to be built from Syno-Stone, a solid surface mineral material. Crafted from locally sourced recycled materials that can be recycled again, the iconic is described as truly sustainably produced, while delivering audio-visual qualities that Loewe is known for.
Created to be a marriage of sustainability and style, the Loewe iconic is built using Syno-Stone, a durable, hygienic solid surface material that creates an eye-catching concrete aesthetic. developed by Anders, material and carpentry specialists based near Kronach, Germany.
Available in 55in and 65in models and Graphite Grey and Clay White colourways, the iconic adds to its minimalist appearance with a hidden sound bar that is integrated behind the fabric panel.
Boasting a 4K OLED display, the maker says iconic is the result of decades of optimised algorithms that achieve a natural, harmonious picture so home cinema can be enjoyed at the highest possible level. HLG, HDR10 and Dolby Vision, high-contrast images and a wide colour spectrum are in place to elevate the viewing experience to great heights, says the TV's creator.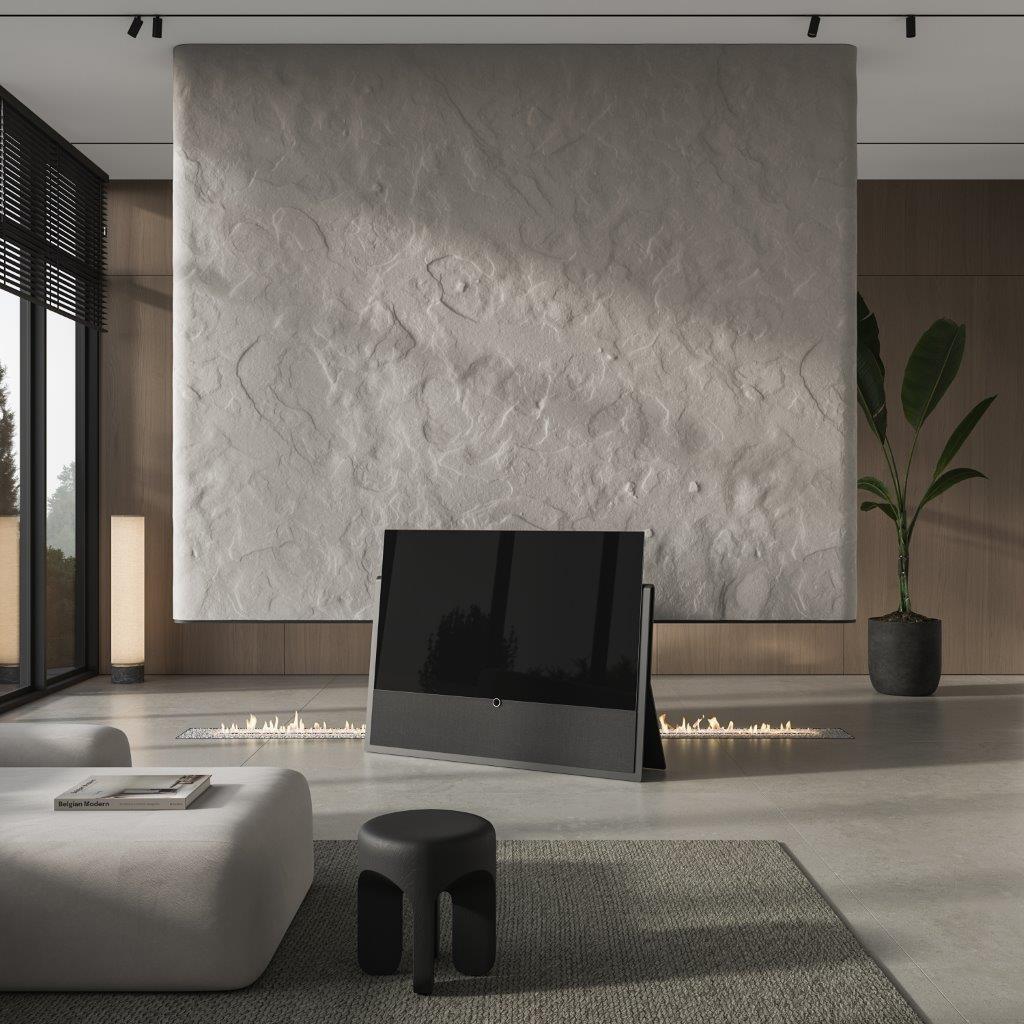 Seamlessly integrated into the design, Loewe says iconic's soundbar offers a natural audio experience with impressive, room-filling cinema sound and excellent speech clarity. With a power of 360W, the soundbar is a 3.1 sound system that can be expanded to a 5.1. The iconic supports Dolby Atmos, DTS:X, Multiroom via Play-Fi, WDAL, AVR adapters. In addition, two front and two rear speakers as well as a subwoofer (e.g. Loewe klang mr1/3/5, Loewe klang sub1) can be paired wirelessly. The product is available now to authorised dealers.