Karma-AV (Stand 102) is delighted that EI Live! will be the stage for the UK launch of Perlisten's S7i and S7ic in-walls, the world's first THX Certified Dominus architectural designs. At just under a metre in length and only 4in deep, their four-way aluminium cabinets house the advanced technologies that have propelled the brand's Hi-Fi speakers to global recognition, producing the high output levels and dynamic range needed for large-scale home cinema deployments. Also on display are the latest EISA award-winning SVS subs, Revel architectural, System Audio's WISA enabled on-walls, Cornered Audio, JVC's DILA projectors, and Ascendo's amazing room-correcting cinema systems.
Integrators can rely on the multi-award-winning prowess of SVS' new SB1000 Pro and SB3000 Micro subwoofers, crowned by EISA as the best home theatre and compact bass engines available, capping an unprecedented five-year run of success.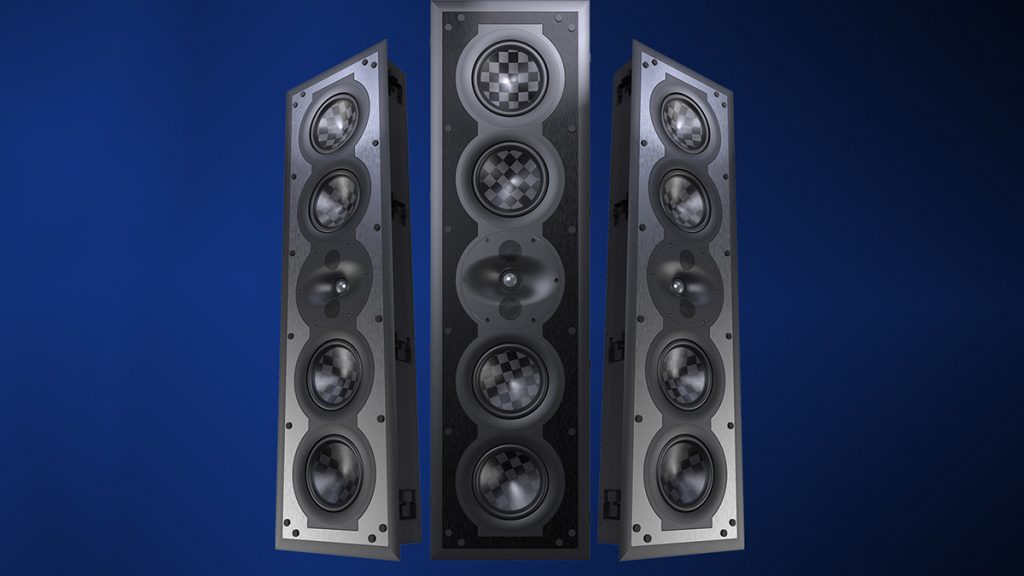 Taking the completist approach to cinema sound design Ascendo Immersive Audio's (AIA) line-up of highly advanced DSP-controlled active speakers and passive designs (with matching outboard DSP amplifiers) build into versatile state-of-the-art cinema systems reproducing audio signals in absolute time coherence across a wide frequency response and with excellent dynamic range, regardless of system configuration and room acoustics. Appealing to purist integrators and enthusiasts alike, AIA systems must be experienced to be believed.
And for a world with fewer wires, System Audio's slender 'Legend Silverback' line of active speakers features driver-dedicated amplification/processing and the latest wireless connectivity via the WiSA-enabled 'Stereo Hub' (a 24/192 capable control centre for wired and wireless sources) and 7.2 channel 'Surround Hub'. SA's easy-to-install wireless on-walls will take all the hard work out of discreet, full-range system design and installation.
On the video design side Karma-AV can offer the widely acknowledged HDR supremacy of JVC's DILA projector line together with Cinema Build Systems' innovative Ultimate Screens range of advanced 4K-ready, acoustically transparent screens, which install easily in four simple steps.
SY Electronics will continue to develop new and exciting products that appeal to AV System Integrators and AV System Designers. SY are well known for reliable yet affordable AV solutions, that can simplify the installation experience. Serving the residential, commercial, education, hospitality and corporate AV sectors. Many products have additional features and functions. Visit Stand 65 to find out more as the company will premiere a new range of products and will be showcasing the latest 18G devices, including the advanced 'Xcalibur' range, alongside the 'Slim 70 Pro' HDBaseT Extender, SY Controller Keypads, Video Switchers, Matrices and Signal Management Tools.
The CAI was formed in 1978 to represent and establish standards in the rapidly growing TV signal reception industry. Although the technologies our members work with have developed beyond anyone's expectations since we formed, our core strengths remain the same. We set industry standards and vet applications to join. Consumers who use a CAI member can be confident that the member they choose will have the skills and expertise necessary to complete their work to the expected standard.
The CAI represent businesses of all sizes from sole traders to multinationals, who specialise in many different areas of the industry. Members work in both the domestic and commercial sectors. Whether the CAI member is an installing company, consultant, distributor or manufacturer, they are all experts in their area of the audio, video and data reception and distribution industry.
CAI are very much looking forward to attending EI Live! again in September. The organisation will have Peter Sealey Chairman and Senior Executive of the CAI along with Kevin Dawson CAI's Assessment and Technical Executive, on hand over the two days to discuss CAI membership/training and all things CAI related. Find the CAI on Stand 38.