Panasonic has announced the launch of its flagship OLED TV for 2021, the JZ2000, available in 65in and 55in sizes.
'Panasonic OLED TVs have always been the best choice for viewing films and high-quality TV series. Panasonic has also made the JZ2000 an excellent choice for gamers, with very low latency as well as support for HDMI2.1 variable refresh rate (VRR) and high frame rate (HFR)' comments Panasonic.
The JZ2000 features a new processor that can use AI to identify what kind of content is being viewed and then auto-optimise the picture and sound – so the user does not have to lift a finger.
The addition of side-firing speakers to Panasonic's implementation of upward-firing speakers also delivers built-in surround sound, which enhances the experience of watching films, sport, or gaming. Combined with Panasonic's custom modified OLED panel, which offers better peak and average brightness levels, this is 'an outstanding one-box powerhouse'.
Yasushi Murayama, Executive of Product Strategy for Panasonic's Visual and Sound Business Unit, says, "The JZ2000 is a symbol of what we at Panasonic want to achieve. Building on the superb accuracy which makes Panasonic's TVs ideal for watching films, we are further improving the experience in other areas such as gaming too. Through the use of AI, we want our viewers enjoy the best picture and sound settings automatically. Our aim is simply to support our customers to really, truly experience their favourite contents. Whether they are into films, games, sports, or something else, we want them to enjoy heightened visual and aural experiences which leave them feeling happy and satisfied."
HCX PRO AI PROCESSOR & AUTO AI MODE
The JZ2000 will include a brand-new processor called the HCX Pro AI Processor – with the AI standing, of course, for Artificial Intelligence.
HCX Pro AI helps to deliver an experience for users by accurately detecting what kind of content is being viewed, whether that be movie, sports, music, news, etc.
Identifying this content in real time, analysing the picture every second and comparing it to a varied library of content that it has learned, the processor is able to automatically adjust both picture and sound quality to suit.
If it detects football, for example, it adjusts the picture to make the grass more life-like, the players more three-dimensional, whilst also automatically adjusting the sound to make it feel like the viewer is right there inside stadium. On the other hand, if it detects film, it dials in the most accurate colours and – based on the knowhow Panasonic has learned though its long-term Hollywood collaborations – adjusts the picture quality to give the more cinematic experience.
This AI has been trained for an extended period of time using over a million different pieces of content to make it easier for the majority of customers to enjoy all their favourite on-screen experiences, without them having to get bogged down in menus.
IMPROVEMENTS TO GAMING EXPERIENCE
Thanks to the power which the HCX Pro AI Processor makes available, Panasonic has been able to further reduce the latency when gaming. Latency (or 'input lag') refers to the delay between pressing a button on a gaming controller such as a joystick and that action being displayed on screen. The JZ2000 reduces latency down to among the very lowest figures in the industry for an OLED TV.
These latency reductions are not down to industry-wide panel improvements, but are the result of significant engineering enhancements says Panasonic.
This low latency is a key component of 'Game Mode Extreme' which will be featured on the JZ2000. Game Mode Extreme is composed of the following elements:
Low latency
Support for HDMI 2.1 variable refresh rate (VRR) and high frame rate (HFR)
A dedicated picture mode for gaming ("game mode")
Supports HDMI Signal Power Link, which will improve the experience and ease of using Panasonic TVs with CEC non-supported devices like old Set Top Boxes or PCs.
Game Mode Extreme will deliver a smooth gaming experience on the JZ2000, making it ideal for professional and amateur gamers alike.
TUNED BY TECHNICS' SOUND SYSTEM
The JZ2000 also expands the boundaries of what is possible in an all-in-one package, says the maker, capable of delivering 'both amazing sound experience on top of the stunning picture quality'.
The JZ2000 includes side-firing speakers in addition to the upward-firing and front-firing speakers that were featured on the JZ2000's predecessor. The total audio package, known as 360° Soundscape Pro, is capable of delivering immersive Dolby Atmos experiences with a spatial sound-stage and powerful bass.
The addition of more speakers means that the JZ2000 is able to pick out directional sounds better than before, giving viewers a real sense of immersion. If watching films, users will feel cinematic-level surround sound; if they are watching sports, they will get an even deeper feeling of being in a stadium.
The total sound system was developed with the support of engineers from Panasonic's audio brand, Technics, making it 'Tuned by Technics'.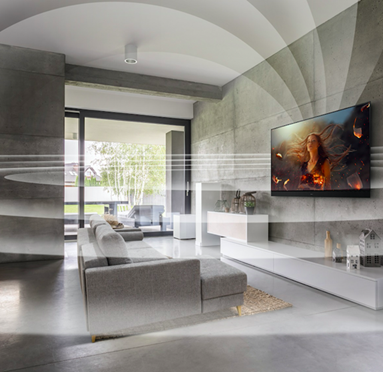 CUSTOM OLED PANEL
Like its predecessor, the JZ2000 features Panasonic's proprietary Master HDR OLED Professional Edition panel, meaning that the JZ2000 OLED delivers strong performance when it comes to brightness.
The bespoke Master HDR OLED Professional Edition panel has been exclusively customised by Panasonic R&D engineers to achieve even greater control of the parameters that affect picture quality.
Panasonic claims that compared to normal OLED TVs, the Master HDR OLED Professional Edition panel delivers higher peak and average brightness levels, resulting in increased dynamic range, making HDR content on other OLED TVs look dim by comparison.
HONED IN HOLLYWOOD
The new JZ2000 OLED represents the combination of Panasonic's technical accuracy, made possible by Japanese knowhow and engineering, with the colour-tuning skills of Stefan Sonnenfeld.
Stefan Sonnenfeld, Founder and CEO of Company 3, is a trusted collaborator of some of the world's best filmmakers. He is among a handful of leading artists who have championed the power of colour grading to tell stories and communicate emotion.
Described by NPR as a "da Vinci of the movies," Sonnenfeld has applied his skills as a colourist to many of the most acclaimed and popular features of the past decade: A Star is Born, Wonder Woman, Man of Steel, Beauty and the Beast, Star Wars: The Force Awakens, Jurassic World, 300, and lots more.
Like many other leading colourists, he uses Panasonic OLED screens as large-format client reference monitors in his daily workflow. Indeed, Panasonic's OLED TVs are widely used in studios and post-production houses.
The JZ2000 supports a wide range of HDR formats, including Dolby Vision IQ, Dolby Vision, Filmmaker Mode, and HLG Photo, the still image format which brings still photography into the HDR world.
With regards to Filmmaker Mode, Panasonic has added its original Intelligent Sensing, which dynamically adjusts the picture based on ambient light levels.
Dolby Vision IQ extends the benefits of Dolby Vision beyond HDR by intelligently optimising picture quality experiences for viewers regardless of ambient light or content type – all without consumers picking up their remote.
The JZ2000 also supports the HDR10+ Adaptive feature, which dynamically adapts HDR content to the room lighting conditions of the viewing area. This maintains the creative intent in any conditions, whether dark or bright, without any loss of detail or contrast.
MY HOME SCREEN 6.0 IMPROVEMENTS
The JZ2000 features the latest iteration of Panasonic's smart TV OS, my Home Screen 6.0. The new version delivers usability improvements.
'My Scenery' allows the selection of restful images and videos to reflect a mood or time of day, for mindfulness sessions or preparing for bed. In addition to photos from LUMIX CLUB, which highlight the beauty of Japan, Panasonic also collaborated with LoungeV Studio to provide beautiful videos to help you relaxation.
Dual Bluetooth Connection allows the TV to transmit sound to two separate Bluetooth devices simultaneously. So, for example, both parents could listen to a film late at night via Bluetooth headphones without disturbing their children's sleep, or headphones could be used by children to avoid disrupting a parent's work-from-home environment.
The menu interface has been improved to allow quick access to the most commonly used picture, sound, and other settings.
The JZ2000 also supports major voice services built-in, allowing users to operate some key TV functions using just their voice.