A new driver provides Crestron installers with an enhanced integration with BluOS and offers end users a content rich user interface, whilst a feature rich integration module to enhance audiophile experiences within URC is also now available.  
BluOS, the premium multi-room music management platform by Lenbrook International, has announced the release and Crestron certification of the new BluOS Media Player Driver. This new driver along with the BluOS public API, provide Crestron integrators a complete set of tools for implementing Hi-Res multi-room audio, says the company.
With a properly configured Media Server Object Router and user interface, users can browse libraries, services and pre-sets and control the playback of the BluOS device.
The maker says that with this new driver, Crestron integrators now have a content rich UI with full user controls like browse and search while streamlining the setup process. Additionally, it offers support for programmatic control of the player transport, volume and pre-set recall.
"Crestron is excited to announce availability for the BluOS updated media player integration," says Ekin Binal, Audio Solutions Manager at Crestron. "BluOS provides a feature-rich, audiophile quality media streaming experience that integrates seamlessly with Crestron automation solutions, providing an optimal user experience."
Joe de Jesus, Product Manager, Custom Installation, Lenbrook International, adds, "The new BluOS Crestron Media Player Driver is a large leap forward in our ability to integrate BluOS with Crestron in a way that offers end users a level of control and browse capabilities similar to what would likely be used in the BluOS app."
The new BluOS Media Player Driver includes:
• Support for Bluesound, Bluesound Professional and NAD products.
• Automatic player discovery and static IP settings.
• Now playing information, playback controls, play queue management, source selection (including analog, optical, coaxial and HDMI auxiliary inputs), content browsing, searching and preset selection.
• Programmatic control to now playing information, playback controls and preset selection.
• Support for all BluOS languages.
This new Media Player Driver v1.0.1 is available for download in the Crestron Application Market, and on the NAD Electronics website under supported products.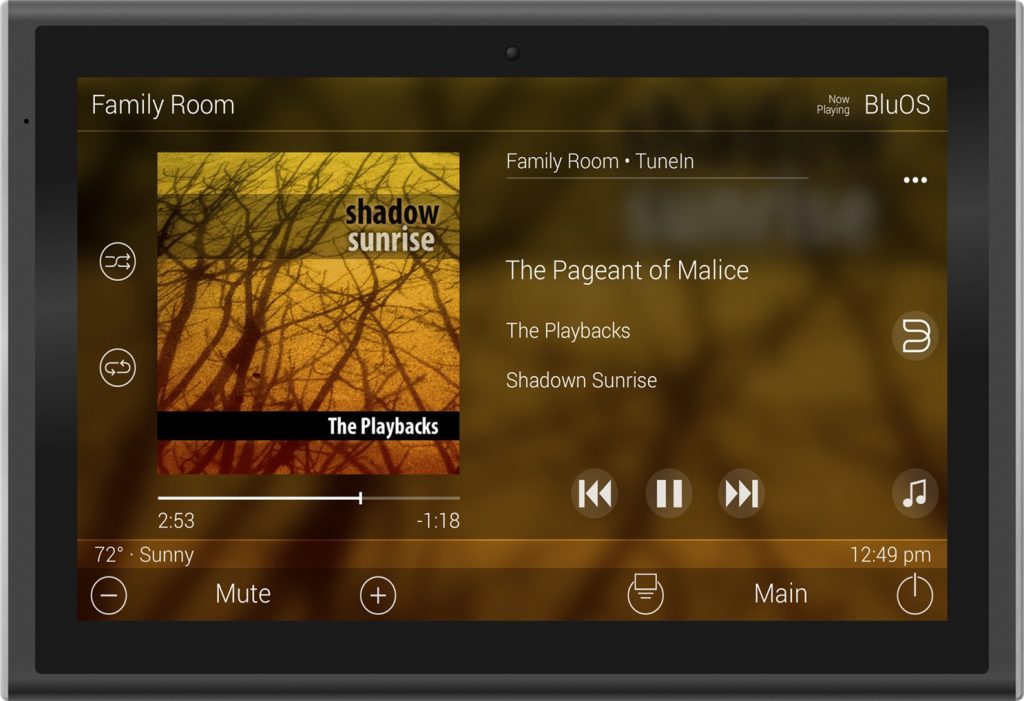 URC compatibility
URC and BluOS have created integrations between Total Control, URC's residential and commercial automation platform.
This allows seamless control of high-definition audio streaming via URC's control products to BluOS-enabled products from Bluesound, Bluesound Professional, NAD Electronics, DALI Loudspeakers and Monitor Audio.
The module provides two-way control and feedback of all BluOS devices. This robust Total Control 2.0 module features a number of innovations developed directly by URC such as:
• Macro integration via two-way module commands and automation capabilities with Device Events
• Compatibility with any Total Control or Total Control Flex system
• Ability to assign a different Default Player to any/each interface
• Discovery and display of all supported BluOS devices in the system
• Source distribution such as a NODE 2i Wireless Multi-Room Hi-Res Music Streamer which can be connected as a source to HDA amplifiers for streaming throughout the entire system
• Ability to generously configure and control macros and user settings
"We are very pleased to team with BluOS to help residential and commercial consumers enjoy the benefits of superior audio distribution via our Total Control system," stated Mr. Lars Granoe, URC's Vice President of Product. "This collaboration allows our dealers to continue to deliver superior sound experiences to luxury spaces."
"URC is always innovating and supporting the Custom Installation market and their most recent innovation in supporting high definition audio products completely aligns to our values," says Andrew Haines, BluOS Product Manager. "We appreciate their support and guidance on developing a robust and feature rich module that delivers what dealers and customers need."
This new Music Player Two-Way Module for URC Total Control systems is available for download in the URC Dealer Portal as well as here and on NAD's website under supported products.