Exertis has announced that it has become a pledge partner as part of the Raise the Game initiative. Raise the Game is a collaborative and high-impact pledge to improve equality, diversity and inclusion in the games industry by creating cultures where everyone belongs, voices are heard, and ideas can thrive. The pledge is a holistic driven initiative, managed and facilitated by UKIE.
To become a partner, Exertis has pledged to make meaningful change within the business to improve equality, diversity and inclusion. This involves committing to introducing a new activity, or to continuing to work on initiatives already in place to improve diversity and inclusion (D&I) within the organisation.
Initiatives introduced by Exertis include a dedicated Equality, Diversity and Inclusion Team (EDIT). The committee is focused on collating diversity information beyond age and gender, improving recruitment and induction practices through a D&I lens and driving education by building on celebration and awareness days with third party engagements.
EDIT was set up as a grassroots group of allies who champion inclusion across the business. The team has executive sponsorship from two Board members: Vishal Chhatralia, Chief Digital Officer, and Jo Lawrence, UK HR Director.
Other initiatives have ensured that all managers across the business have been provided with a diversity and inclusion toolkit and are committed to delivering a demonstrable contribution towards diversity representation within their area of the business.
Exertis also launched online unconscious bias training and are currently tracking around 97% of employees as having undertaken the module.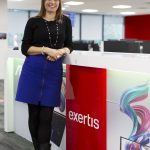 Jonathan Sutherland, Sales Director, Retail, comments, "The Raise the Game initiative is designed to inspire meaningful, cultural and behavioural change in all games organisations. We're delighted to be involved and to continue to promote diversity and inclusion across the industry."
Jo Lawrence, UK HR Director, says, "We're so pleased to have seen great engagement from our people when rolling out new and improved D&I initiatives. The pillars of the Raise the Game pledge fit perfectly with our strategy moving forwards."