Immersive 4K home cinema, the latest 8K TV tech, home control and networking, as well as multi-room audio were just some of the highlights of the AWE Expo 2019. Electrical retailers, technology integrators, electricians, and press attended the event, which took place at the company's headquarters in Epsom, Surrey.
AWE's Show Apartment had been upgraded ahead of the Expo and product experts from AWE and manufacturers' representatives were on hand to talk visitors through what was being demonstrated in each area.
Stuart Tickle, company MD, explains, "The reason we created the Show Apartment is the reason we have the AWE Expo – as a business, although we ultimately sell boxes to make money, our industry actually sells experiences that excite people and provide benefits to families in their homes. The run-up to AWE Expo was pretty intensive because of the scale of the event – with some people working weekends and late nights.
"But you can see how much technology is in every area. The Show Apartment evolves every year and truly sets us apart. If we're asking integrators, retailers, and electricians to spend a day with us, we recognise that they're giving up a day's income, so we always ensure that there's plenty of new kit for people to see and briefing sessions to engage with."
Reference Cinema
The eight-seater Reference Cinema Room has been reconstructed to feature a 4m wide ALR Euroscreen and Sony's flagship VPL-VW5000 4K laser projector, as well as the brand's VPL-VW870 more compact-size model. Thanks to URC's control system, switching between the projectors, screen ratios and lens memory setting is very slick, and a strong feature for demos.
High-performance audio in the Reference Cinema Room is provided by KEF THX and Reference in-wall speakers, as well as four active subwoofers from Definitive Technology, Classé power amps, and a Marantz MM8077 power amplifier driving the height speakers. A Marantz AV8805 pre-amp performs 13-channel immersive-audio processing. This is a cinema really now getting into its stride and fulfilling the potential the AWE team had in mind when it was first created, well worth checking out.
Performance Cinema
The smaller Performance Cinema Room has also been upgraded, so visitors could experience an IMAX Enhanced demonstration, thanks to a 4K Sony VPL-VW570 projector with a Euroscreen 113in acoustically-transparent, fixed-frame screen.
 Nick Cooper, Sales Rep for Hughes Smart, the installer division of East Anglian based retailer Hughes, said, It's great to catch up with the guys at AWE and see how things have progressed, and it's also great for getting ideas and talking to other integrators. I liked seeing the IMAX demonstration in the Performance Cinema Room – it was great and it's attainable for our type of clients. It gave us a good idea of what can be done."
Living Room
One of the highlights of The Living Room is the integration with Sony's flagship 65in AG9 OLED TV. The room is using the Sony OLED's Acoustic Surface technology to act as the centre speaker in a 5.2.2 system. This is being driven, along with the slim floor-standing BP-9060's and matching height speakers, and in ceiling surrounds, by the AWE Exclusive Marantz SR-5014 AV amplifier.
AWE says it makes for a very clean looking, yet powerful media room solution that's great for music and movies. We do like the audio capabilities of the Sony and this one of the best examples we have seen of it working in tandem with other products.
The Den
New for the Show Apartment is The Den has been designed as a cosy space to relax in and enjoy the sound of a pair of KEF R Series speakers, driven by the new Marantz NR1200 two-channel receiver.
Other highlights of The Den include an electric 104in Euroscreen in-ceiling projection screen, the new Epson EH-TW7100 4K PRO-UHD projector and the new EH-LS500 ultra-short throw 4K PRO-UHD laser projector, Philips Hue and Qmotion blinds. All this activates when users press a button on the URC TDC-7100 desktop controller.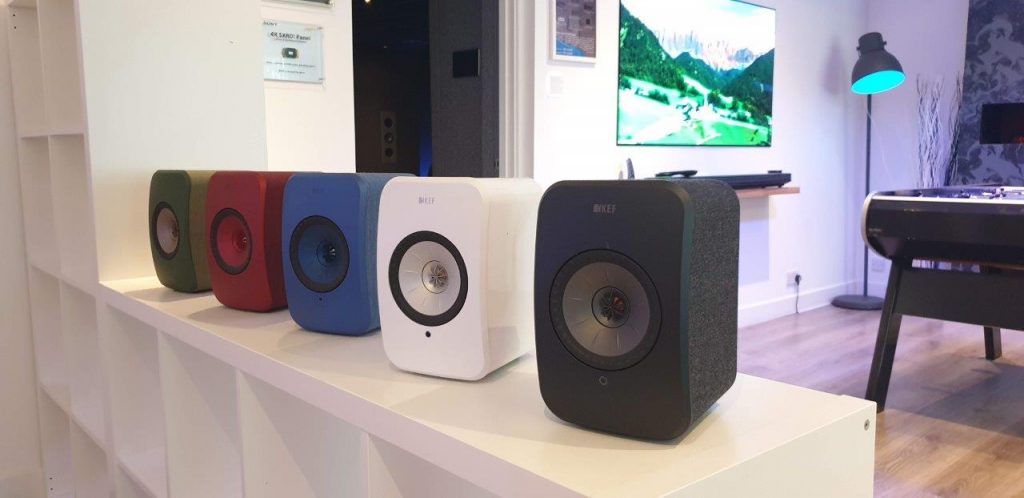 The Show Apartment
In the updated Study area, KEF's compact LSX wireless speakers are in place to showcase their combination of strong sound with good looks – the miniature models are clad in a choice of coloured industrial fabric finishes by Danish textile design company, Kvadrat.
Also on the audio front, Sound United demonstrated the multi-room capabilities of its HEOS platform in a graphic representation of a house. HEOS is a key ingredient within a wide range of Denon and Marantz products.
The new Denon Soundbars were being shown and look to be a strong solution alongside the wide range of AVRs and systems.  AWE also showed its UK exclusive Drive and Superlink professional HEOS models and the packages offered with Definitive Technology speakers and Kinetik Fire Hoods.
Demonstrations were from both the native HEOS app, but also from the URC TDC-7100 touch panel, which was showing URC's integration module.
Integral to the whole Show Apartment experience is URC Total Control 2.0, which controls all the technologies.
New additions to URC included the TRC-1480 remote control with Alexa voice control and Siri for Apple TV, and the MRX-30 system controller, which runs the entire HQ building, as well as customisable graphical user interfaces across the numerous touch panels and controls.
Also on the show was SilentGliss's new smart, motorised curtain track and roller bind system, which comes with a nationwide onsite survey, design, installation, and support service. In the Show Apartment, the company was also demonstrating a new Gateway control system, which provides a simpler and more seamless way of integrating SilentGliss, as was shown with URC.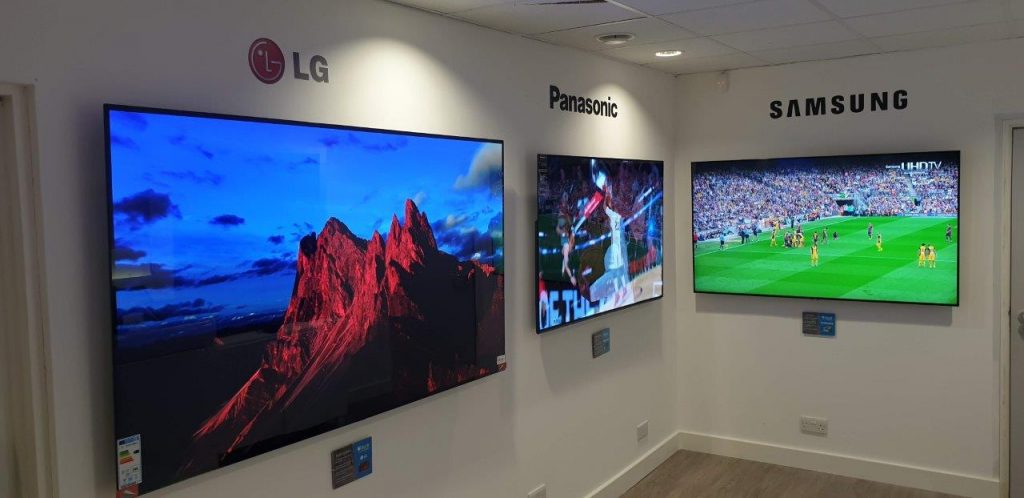 Televisions
In the updated Gallery areas of the Show Apartment, there were new 4K and 8K TVs, including 4K OLED models from Sony, LG and Panasonic, as well as 4K QLED from Samsung, and 8K models by LG (75in 75SM9900PLA), Sony (85in KD85ZG9BU), and Samsung (65in QE65Q950). TV stands and mounts brand, Sanus, demonstrated its new brackets and 19in AV rack cabinet solutions. The Sanus Black Series is a dedicated range of large-screen TV mounts for integrators.
Games Room
In the Games Room, pride of place was given to the 65in LG Wallpaper OLED, which was mounted to the wall and, like all the TVs in the Show Apartment, fed by an HDANYWHERE matrix. When off, it can show artwork and so actually benefiting the interior décor.
Colin Doherty, Managing Director of install company Mount My TV, said, "It's very important to see the latest technology. We install this stuff daily and we recommend it to our clients. There's some great equipment coming out and we wanted a refresher on it. We have a few projects on at the moment, which include Definitive Technology tower speakers and Sony projectors.
"I needed to visit the AWE Expo to get a chance to speak to some of the technicians to get some specialist advice. I really like the Definitive Technology BP speakers – they look unobtrusive, but the quality of the audio is superb. We do a lot of media rooms in residential properties where there's limited space, but they need maximum sound and great performance."
Colin added, "I didn't realise I could use an OLED TV as the centre channel, but I heard it at the Expo and it's a great combination – that was my highlight, as well as hearing the KEF speakers in the cinema rooms. We're looking at a project where we'll likely be recommending them."