We proudly present Part 2 of our comprehensive round up of what went down at EI Live! 2021. With launches, special deals and exclusives galore, make sure you don't miss next year's event! The date has already been set, September 14-15, 2022. Diary that date right now!
David Kitchener, Event Director for the show and MD for All Things Media, owners of EI Live!, commented, "We have been overwhelmed with positive feedback about this year's show. From visitors to exhibitors and industry stakeholders, the reaction has been fantastic. However, we are not resting on our laurels. As you would expect, we are already planning for next year to improve and develop the show even further. Put the date in your diary (September 14-15) and make sure you are involved as EI Live! 2022 comes back again to deliver the platform the industry needs to thrive."
EI Live! 2021 set the stage for the public premiere of Snap One – the company's first UK outing since rebranding from SnapAV + Control4. The event proved to be a fantastic opportunity for integrators to connect with the new Snap One brand, talk to the team and get hands-on with its award-winning business platforms – OvrC Remote Management and Control4 Smart Home OS 3.
"It felt great to be back among the professionals that power our industry at EI Live!," said Mark Reynolds, Senior Director, EMEA, Snap One. "For us, it was exciting to step out for the first time in front of the industry as Snap One and communicate what the brand is all about. The reaction was hugely positive. It was also great to see so many partners take advantage of the Snap One training that we ran on both days at the show. All in all, a terrifically upbeat return for in-person industry shows."
EI Live! visitors were able to learn how Snap One provides seamless, holistic solutions to make their lives easier, by offering exceptional product quality and selection, premium service and support, and a shopping experience that can meet all their needs.
Visitors to the Snap One stand could also see the latest upgrades to OvrC and the Control4 Smart Home OS 3 platform. These now include support for OvrC Pro to all EA and CA series Control4 Controllers, enabling remote management and servicing to all Control4 connected devices on a system and opening up new business opportunities for partners.
In addition, Snap One hosted two training sessions on each day of EI Live! tailored to the needs of existing partners. One session covered technical updates whilst the other training course was targeted at growing sales for partners.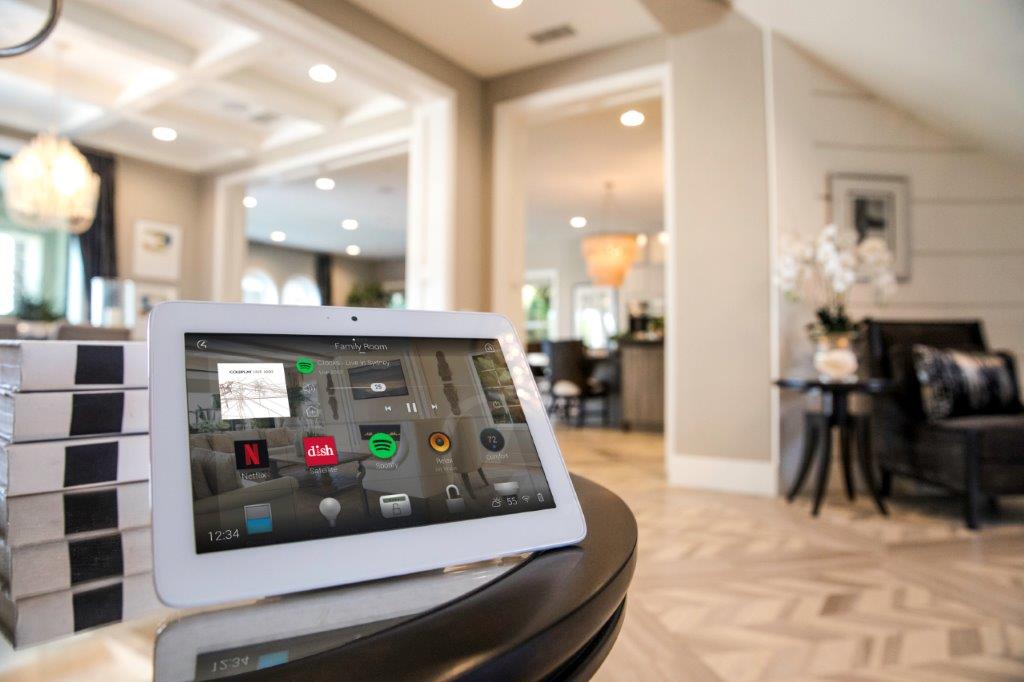 Show regulars Redline enjoyed showing of the company's carefully chosen line up of high-quality AV brands. During the show, the team was able to show case the abilities of Totem Acoustics brand and in particular the Kin Play Series. The show offered an opportunity to get first-hand experience of these fun, high-performance speaker products. Kin Play has been created to cater for modern listening habits, but without genuine 'two-channel' sensibilities. The Tribe Series of products from Totem were also featured, offering high performance audio combined with strong aesthetics.
Velodyne presence included the recently released DB-8/10/12/15 and the existing DD+10 subwoofer products. The DB Series has been designed from the ground up to give superb performance and was recently recognised with a Home Cinema Choice Highly Recommended rating for the DB15. With new amps, drivers and cabinet design being a few of the highlights from this bass reinforcement family, they are well worth checking out.
Redline also showcased Velodyne's new SPL-X due out late this/early next year. With the SPL-X series, Velodyne is following the lead of SPL Ultra and DD series. An automatic room calibration ensures strong, distortion-free bass and a multitude of high-quality connections secures a trouble-free connection for this accomplished subwoofer family. Also on show was the soon to be released small, but mighty MicroVee-X, described as the last word in compact, but powerful subwoofers. Redline's in-house created custom cloth service also went down a storm offering installers the chance to combine high-quality AV with strong and bespoke aesthetics.
Flawless
First time exhibitors WeQuote reports that the show was 'was run flawlessly, so clearly, some excellent planning went into it!' The company was at the show to promote its on-line quoting platform, created for installers and designed by Lee Roche of LCR Integrated Systems.
A company spokesperson went on to say, "The reception for the platform was brilliant, it was most people's first time hearing about WeQuote. The stand was so busy for both days that we didn't even have time to eat.
"We met with distributors, many of whom are already on the platform but also lots of new distributors looking to join the platform, among them some very big names to be announced. Onboarding packages were free for show attendees so we have a lot of work to do over the coming weeks.
"Before the end of the year, we will be releasing our mobile application for quick quoting and snagging extras, alongside much sought-after Xero & QuickBooks integrations. It was great to see so much interest in the platform and hear customer feedback on what they would like to see in the future from WeQuote. Lee (creator of the platform) was flat out the entire event, literally floored by the end of it!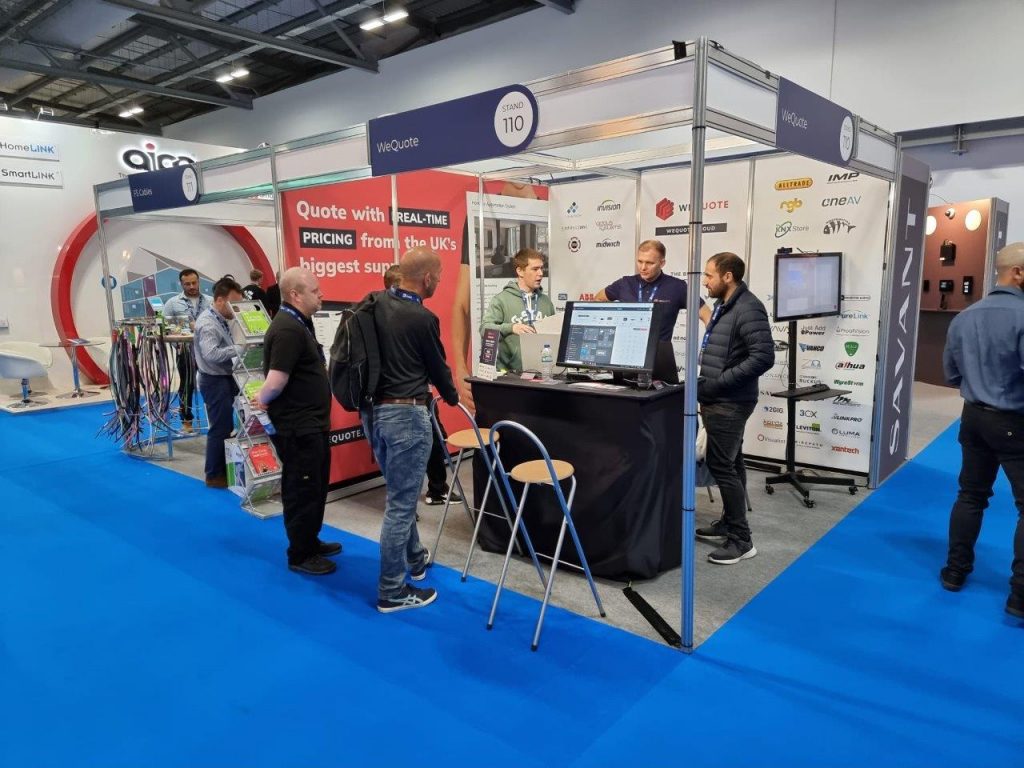 Dan Winterton, Sales and marketing Director for Antiference, specialist distributor into the AV and CI spaces, also reported a positive experience. "The team at Antiference were looking forward to what the (long awaited!) EI Live! Show would deliver and we were not disappointed," said Dan, "The show organisers, our friends at All Things Media certainly had all bases covered so there is much thanks for a very well organised show."
Dan continued, "The two-day event was well attended which was great as many exhibitors (us included) were really not sure what to expect since the pandemic last year. We met lots of existing customers and new contacts and enjoyed time discussing new product developments and future plans.
"We were able to showcase our new 1 x 4 HDBaseT splitter kit, the HDMI0104SBTV3 which offers extra-long range for 4K distribution and an autoscaling function enabling a combination of 4K and 1080p screens to be connected simultaneously."
Dan added, "Also on the stand, we showcased our new storage solution, StorageTek which is now available in the UK. StorageTek offers an innovative solution for the storage of consumables and tools in the van or workshop. We also showed off our new team member, Matt Presdee who took up the role of Technical Manager, joining the Antiference team this summer. Matt has much industry experience and we are delighted to welcome him to our team. Overall, the show was great and we were very pleased exhibit our products to the industry once more. We look forward to the next one!"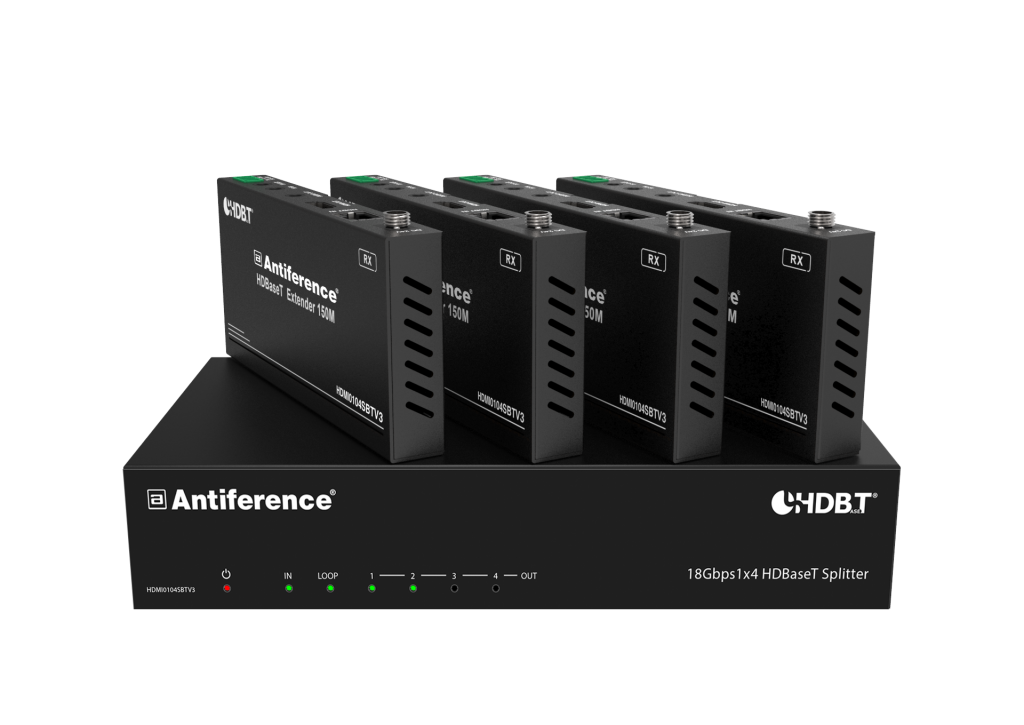 Peter Sealey, Senior Executive at the aerial and comms association CAI Ltd, added his voice of approval, "Another great show for CAI at EI Live! Well attended, with many enquiries regarding CAI's training and membership. For us, it's great to attend a show again and meet and greet again in person. We look forward to the next one!"
"It was great to see the UK's custom installers face to face for the first time in nearly 2½ years," said Mike Bonnette, Connected Distribution's Director, "and especially to put faces to the names of those new customers we have only dealt with on email or the phone during the lockdown period."
Connected Distribution presented a selection of products from each of its partner brands, including new products from Russound, Parasound, Pulse-Eight and Yamaha, which received their UK show debuts at EI Live!
Mike said, "Of particular interest to the many visitors to our stand was the new Russound VoicePlay system, an amplified in-wall keypad that has Amazon Alexa built in, plus Airplay 2 and Bluetooth and works as a retro-fit system utilising almost any existing wiring in the room.
"And given the global shortage of AVRs, we were kept busy talking about the Yamaha range and were pleased to be able to give the new flagship RX-A8A its first UK show outing. Demand remains high for these products and since the show we've had even more enquiries from installers requiring units for their installs – many of them new to us, proving the worth of exhibiting at the show."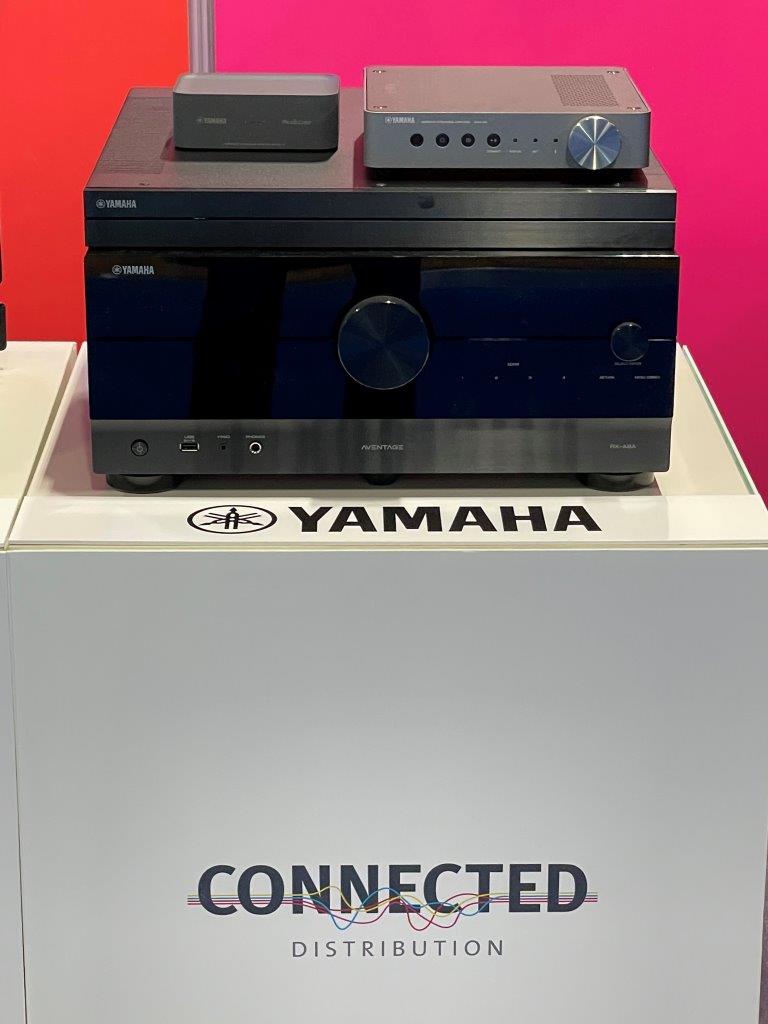 Nick Pidgeon, Managing Director of Visualization, added his voice in positive response to the show, "EI Live! 2021 was a huge success for Visualization. There was a real buzz at the show and seeing people face to face after such a long time had a very positive effect.
"We saw lots of interest in our evolution from AV Rack Build to Technical Solutions Distributor and explained to attendees that Visualization has bolstered its years of experience and engineering heritage and now offers both product and services for the channel, to deliver a fully integrated solution for any project. The VUE2 projector giveaway we offered on the stand was very popular and we look forward to presenting the winner with their prize shortly."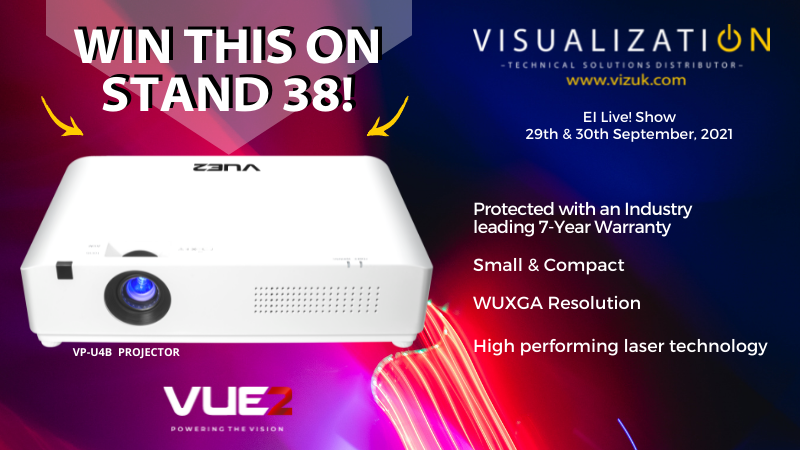 More positive feedback
David Anderson, Managing Director, Avoke Ltd, contacted the show to report, "EI Live! was an excellent opportunity for Avoke to showcase all our new products. We were also able to take advantage of having Trend Networks on the stand giving free training on the key testers, including the certifier. and the much-heralded VDV II Pro. We were based over three stands, Avoke, Blusteam and Kordz.
"For Blustream, it was the 18G extenders kits that caused a real stir and we were able to support these with the Kordz CAT6A patch leads. The new HDBaseT ARC matrices with their flexible and innovative audio options were also a real hit with many quotations being amended that day to switch to these. Yet another example of Blustream's innovation providing installers' needs."
David added, "The Vailcast, by Vanguard Dynamics (sister company of TDG Audio), is a brand-new Universal Streaming Amplifier. This was a massive hit at the show; we were able to demonstrate it installed in a car subwoofer box. Everyone was surprised by its sheer power, but also its versatility and just how easy it is to set up. The Vailcast can be used as a single room or multi-room system, it can be wired back to the rack or left in the room. There are some big hitters in this space already, but the feedback on the Vailcast demonstrated that the features were clearly understood. Much loved was the fact that you don't use the Vailcast's app, you use the native app Vailcast has acknowledged that users prefer to use their Spotify, Tidal, Apple Music, Alexa Music etc apps and so simply doesn't create an extra layer."
Finally, David reported, "Elipson is a French Hi-Fi brand, who have been around since the 1940s. We were delighted to show a selection of their electronics and speakers. Many installers saw an instant opportunity to sell additional products for the lounge/den/kids' rooms etc. From turntables and all-in-one systems Elipson has an excellent range of two-channel products. Finally, we showed off our new Sonos brackets by Nova, and the Power Distribution Units by Netio. It was a great show, we loved seeing everyone again, and we loved the feedback to all our excellent products."
The strong feedback continues as Sy reports the whole team were delighted to be exhibiting at EI Live! once again, as the show afforded the opportunity to meet up with both new and existing customers and show off the new range of products, which generated lots of interest.
PMC Distribution UK took the opportunity to showcase their brands' products at the event including the new PMC ci series in-wall and on-wall speakers, the Martin Logan Architectural products and Bryston power amplification.
Ian Sutton, Divisional Director, was pleased with the show and reaction to the company's brands, "We saw a good number of potential new customers throughout the show, with a steady flow of people virtually all the time. There was considerable interest in the new PMC ci series, which was on display in both its on-wall and in-wall variants, which were creating conversations and the strong possibility that new business will emerge as a result."
PMC Distribution is also responsible for the distribution of the very well-known US speaker brand, Martin Logan in the UK and, as Ian points out, there was a lot for people to see. "The Martin Logan range of Architectural loudspeakers and the associated multi-channel audio matrix and amplifier products is vast. We took a good cross section of their offerings that attracted new clients to the stand – it's the first time these custom products have been seen in the UK and so were certainly a talking point."
PMC's overall reaction to the show was very positive and the company intends returning to the show in 2022, with an even more extensive display of products!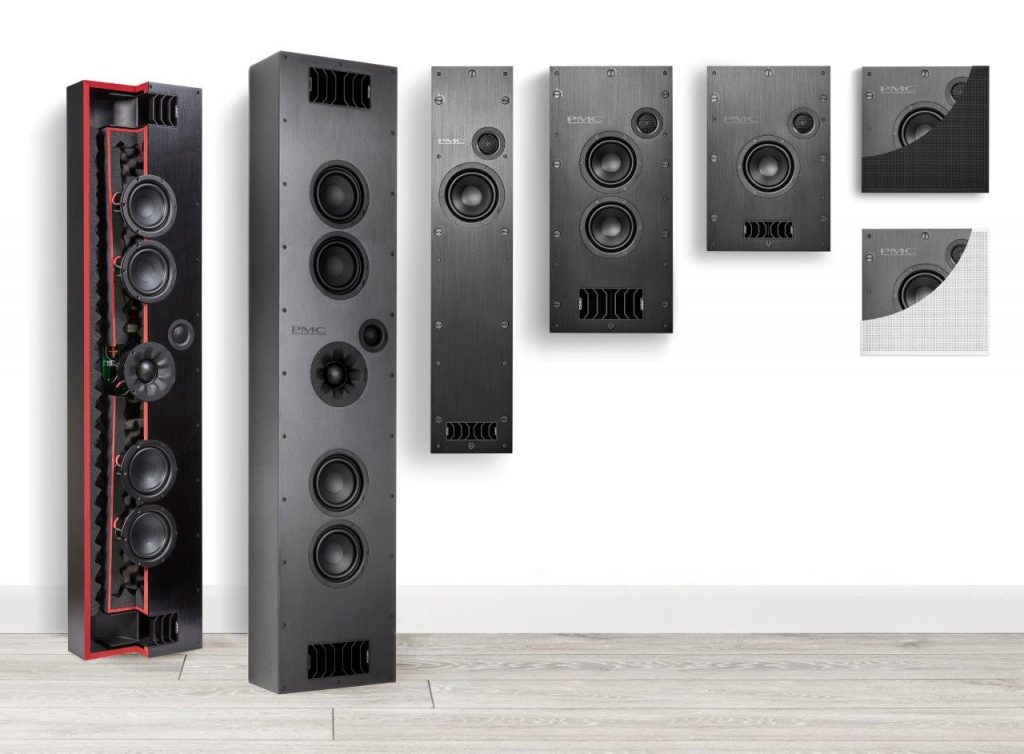 Damien Winters, Director of Marketing and Brand Management at Aldous Systems (Europe) Ltd, also wanted to express delight at the reception the company received, "Congratulations to the EI Live! team for working so hard to get an event together for 2021! We had a great two days, with a constantly busy stand, and the quality of the attendees was as high as ever.
"Our focus for EI Live! was to highlight some of the products and brands we have brought to market in the last 18months that many people will not have had the ability to get hands on with, some of our key solutions were: the Cerasonar brand of hidden speakers was launched at the event and was extremely well received, with project discussions and new dealer accounts being opened on show floor – our apologies to the technical arena for the volume from time to time! Our new showroom will be ready for visits soon with a full range of speakers to experience."
Damien added, "AVProedge released their amazing video over IP solution a few months ago that supports 4K 4:4:4 with HDR, but it was the first chance to show it running in anger with seven screens fully configured for instant switching, and connected through their own brand of network switches for a true end to end solution. Of course it all carries a standard 10yr manufacturer's warranty as well. We'll be making a big pricing announcement in the next couple of weeks as well.
"Speakercraft Subwoofers – it wouldn't be a party without some low down BASS, EI Live! was our opportunity to show the nine new subs launched to cover every room and budget. Looking forward to EI Live! 2022 already!"
Rako, smart lighting controls manufacturer, is also celebrating after an action packed EI Live! The company showcased its new Modular WK-MOD and RK-MOD keypads for wired and wireless systems and won the Best Lighting Control Product category at the Smart Building awards.
"It was great to be back at EI Live! and being able to meet everyone face-to-face," commented Peter Broome, Director at Rako. "There was a good buzz on the show floor and the feedback we had from visitors to our stand was fantastic. We were delighted to be able to introduce our latest innovations, including the new Modular Keypad range. It has felt a long time in the making bringing these keypads to a UK show and we were thrilled with the feedback. The show did not disappoint and to also come away with an award is something we did not expect but we are immensely proud of the recognition."
Capable of accommodating up to 12 push buttons in a variety of lighting, shading and audio control configurations, the Modular range offers unrivalled customisation and a premium finish to suit varying application requirements, says Rako. The range features three different button sizes which can be combined in multiple ways to create custom button layouts, perfectly tailored to an installation. All keypads are fully programmable with Rako's Rasoft Pro software.
During the show, Rako also revealed more about its partnership with QMotion UK which now provides dealers with a seamless experience when they specify and install automated wireless blinds and Rako lighting control on a project.
QMotion FM Roller and Roman blinds can already be natively integrated via the Rako RK-HUB or WK-HUB into Rako wired and wireless lighting control systems, without the need for special drivers or additional interfaces. Now, Rako customers will be able to access QMotion wireless shading solutions via Rako as well as training, sales, technical support and additional window treatment offerings.