A new venue and fresh impetus from visitors, organisers and exhibitors alike, has helped EI Live! reach the next level in its development. Check out some of the news and views from the UK's only national smart building and AV trade show.
Mixing established exhibitors with some new faces, an increased presence for commercial products and services, and hosting the Smart Building Awards, EI Live! 2019 reflected a more mature market-place and provided an important insight into the companies and sectors that are going to be setting the pace over the next few years.
This is the first in a series of three rounds up looking at differing sectors of the market.
Audio Visual Experiences
The reaction to the show from high-quality, aesthetically sensitive speaker brand Artcoustic was typical. UK Director, Paul Cummin, says, "The show was a huge success, maturing into the new, more professional venue, but keeping the focussed and friendly feel that has made the show as popular as it is.
"EI Live! has very much announced itself as a vital fixture in the CI calendar. More competitive and popular than ever, the Smart Building Awards also found themselves really coming into their own. A great night was had with plenty of industry friends."
Artcoustic used the show to underline its versatility with the floor-standing option for the SL12-6 speakers, running with two PS2 subwoofers discreetly installed within elegant furniture. Partners on the stand included Cineca seating and Hayden Furniture underlining the company's ability to deliver strong quality, but sympathetic design to suit modern interior design.
Another company strong in the design department and an established exhibitor, PictureFrame TV was keen to show off some new concepts including a bathroom mirror TV. The unit is available in different widths, both with and without LED lighting, there is also a choice of two screen sizes at 19in and 24in.
Gallo Acoustics had a world first on its stand in the form of the Profile3on-wall subwoofer. Like the rest of the company's range, the Profile3 is completely customisable to match RAL, Pantone, Farrow and Ball colours for example.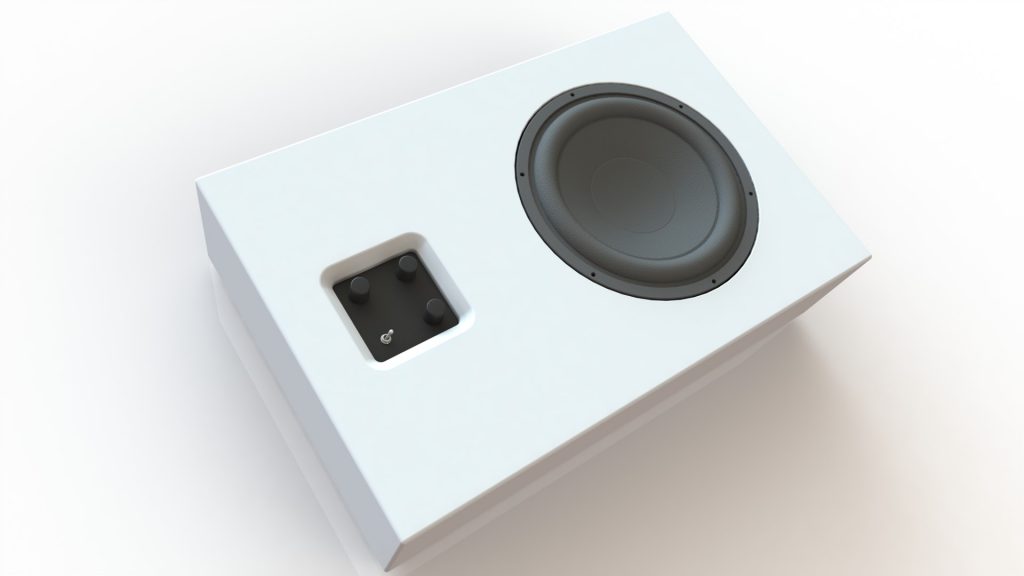 The product will arrive in Q3 of this year. Also on the stand was the complete product range, including the classic 4in Micro, 5in A'Diva, Droplet pendant speaker and reference-standard Strada 2 loudspeaker. The standard 11 colour range was presented as well as examples from the SPECTRUM bespoke colour service – colour matched speakers from sources such as Pantone, RAL and Farrow & Ball to name but a few. Also previewed was the IP66 rated outdoor range.
EI Live! 2019 proved highly successful for the British Pioneer of High Resolution audio, Meridian, as the company showcased its extensive product portfolio and innovative solutions, and celebrated after taking home the award for 'Manufacturer of the Year' at the Smart Building Awards 2019.
The win comes after an impressive year for Meridian which saw the launch of the DSP640.2 and DSP520.2 In-Wall Digital Active Loudspeakers demonstrating the company's commitment to delivering high performance audio solutions to the industry. This is alongside its training initiatives and technical support.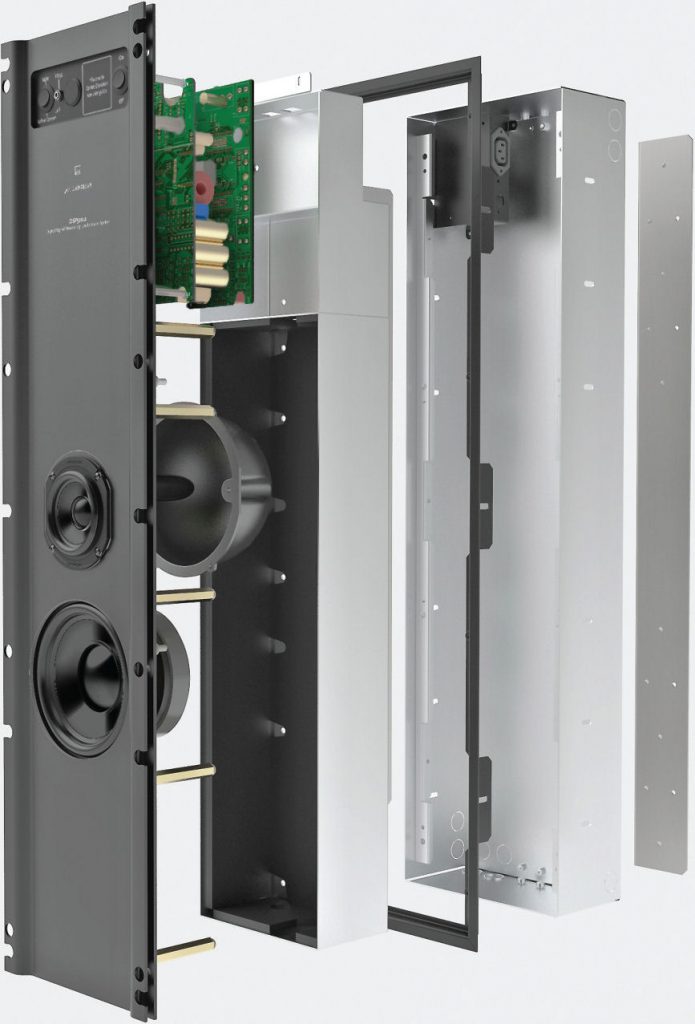 On winning the award, Katy Bradshaw, Director of Marketing at Meridian commented, "Our passion is to provide the most authentic experience for our customers, no matter where they listen. Our goal is to enable more people to enjoy their favourite music and movies, wherever they are. We achieve this through constant product development and refinement which, combined with our evolving technologies, means Meridian remains at the forefront of innovation. This award win is testament to our dedicated team and commitment to the industry – to have won 'Manufacturer of the Year' is a great achievement for us."
Zak Vracevic, Director of M.E.G.A AV Installations and a judge for this year's Smart Building Awards commented, "What I liked about Meridian was its new in-wall loudspeakers with their 'all-in-one' design, properly designed back boxes, and integrated amplification with DSP.
"The back box is as important as the rest of the speaker, and there are many manufacturers still selling expensive speakers with open-back designs. Inadequate DIY back boxes can seriously impact the sound and performance of in-wall speakers. The in-built amplification is just the icing on the cake! Meridian are worthy winners of this award."
Visitors to Meridian were able to learn more about the new DSP640.2 and DSP520.2 from their recently updated Architectural range of Loudspeakers. This range is characterised by their high SPL's and strong bass performance capabilities which is powered by the all-new Meridian 'CLASS-M' DSP engine. The growing 200 Series was also on display, including the 251 Powered Zone Controller, 218 Zone Controller, 271 Digital Theatre Controller, and 258 Hi-Res Eight Channel Power Amplifier in addition to the visually impressive DSP5200 Special Edition loudspeaker.
The Meridian team were also on-hand to explain how the Design and Specification Service, which integrates Meridian's own products as well as those from Barco Residential, Display Technologies, and Cinema Acoustic Treatment Systems, making it quicker and easier for integrators to specify the right products for each installation. An extension of the Service, integrators can also create their own instant cinema and media room designs by using the award-winning The CEDIA Designer (TCD) software, which is offered for free to Meridian dealers.
In the show's Technical Theatre, Meridian's Education Manager, Hugo Fitzjohn delivered a well-attended presentation on how to make multi-room audio more profitable.
Pulse-Eight
Pulse-Eight was proud to exhibit at EI Live! for the fourth consecutive year and used the show as a platform to announce its biggest product launch ever – not just one product but whole new range.
The ProAudio range is a series of DSP pre-amp audio matrix systems which are designed to provide a world class audio experience with maximum flexibility and capability.
Launching the series with five models, the maker argues its range is destined to take the UK audio market by storm with feature-rich systems designed to eliminate the need for an AVR in large scale audio environments.
Each system features Stereo L/R inputs and outputs, S/PDIF inputs and outputs and optical inputs plus on the larger systems there are 12V trigger inputs.
Starting with the ProAudio 16 which features 48 inputs and 16 outputs, the range goes all the way up to the huge ProAudio 3264 which boasts 80 inputs and 128 outputs, with three systems in between, there is a ProAudio suitable for many different requirements.
Alongside the new ProAudio range, Pulse-Eight exhibited the multi-award winning neo matrix range featuring the neo:X, the company's first Video and Audio matrix. With an integrated audio matrix, the system supports audio breakout and ARC (audio return channel) for the ability to pull audio from the output, meaning the matrix can extract the audio back from smart TV apps such as Netflix.
Integrating DSC (Display Stream Compression) technology creates the ability to reach further distances than before, extending full 4K up to 100 meters and 1080p up to 150 meters. DSC is a visually lossless compression that supports 4K/60, 4:4:4, 8bit or 4K/60 4:2:2, 12bit without taking away any of the colour depth that modern day installations need.
The DSC products were the first in the 4K@60Hz type A category to be fully certified by HDBaseT Alliance.
Home cinema statements
Home cinema was a big theme at the show and one of the main attractions was the very first official demonstration of an IMAX Enhanced home cinema set up courtesy of AWE, Denon, Marantz, Sony, Definitive Technology and, of course, IMAX. A specially constructed high-end home cinema room was created just for the event. With equipment priced at around the 100K mark and the much-anticipated debut of IMAX Enhanced, the cinema had a lot to live up to and it certainly did not disappoint.
Those backing this initiative want to convert the IMAX brand footprint and profile into the home market offering brighter, clearer images. The increased aspect ratio is more immersive and the audio is basically a development on top of the existing DTS:X standard.
The cinema was very impressive and, as you would expect from an IMAX branded experience, big on impact handling the louder scenes very well. A potential trap for the idea might be to go for power and forget about subtlety, but the experience performed well there too.
There are lots of brands behind the project and obviously content is going to be key, the next 12 months will be crucial to see if the idea can catch up with Dolby Atmos which obviously has a considerable head start in terms of market maturity.
MD at AWE, Stuart Tickle, comments, "Visitors were truly amazed by the IMAX Enhanced experience. The demo made a real impact at the show, and it was fantastic to see so many integrators queueing up to be part of the experience. We'd like to thank the team at Xperi and DTS for making this possible and we look forward to continuing to help spread the message within the trade.
"For those who were unable to attend the demo at EI Live! or would like to find out more, we encourage you to visit AWE HQ to experience IMAX Enhanced and the certified products for yourself."
Representatives from AWE, DTS, and the brands that offer IMAX Enhanced products were on-hand to provide expert advice and answer questions from integrators during the show. They also took part in a panel discussion in the Technical Theatre where they explored the future of this technology and how integrators can take advantage of the new initiative.
Close to the IMAX Enhanced demonstration on the AWE stand, Espon also had a demonstration set up focusing on the affordable EH-TW7400 PRO-UHD projector. Available in wired and wireless versions, the machine is not native 4K nevertheless it hits a strong price point (around 2.5K) for the performance.
Featuring an EH-TW9400 home cinema projector, this area also included a Draper projection screen, speakers from KEF and Marantz amplification.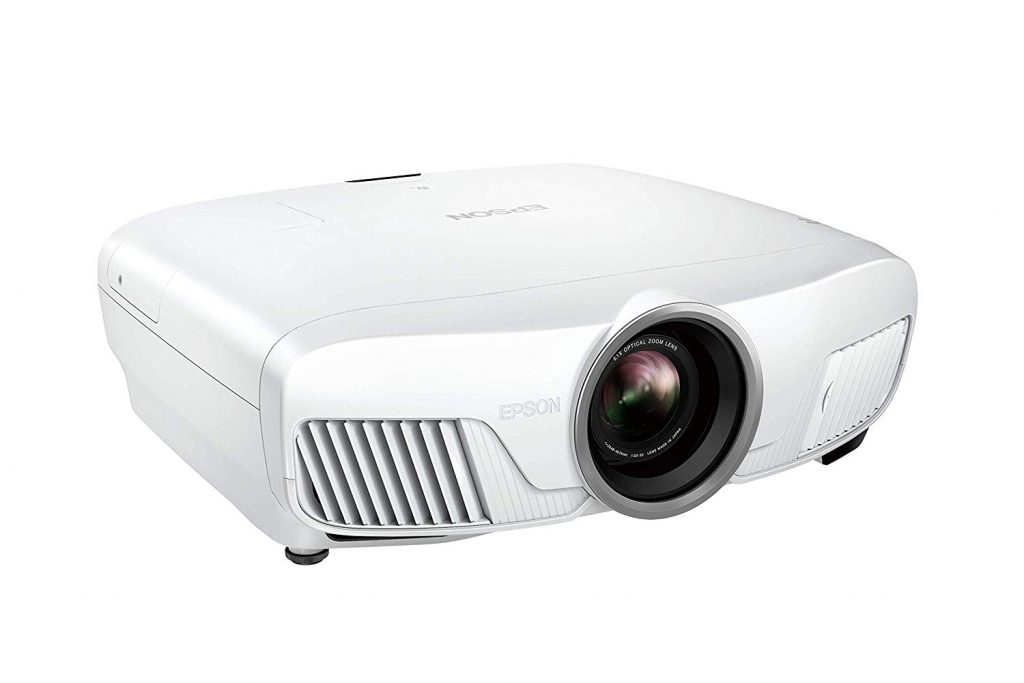 Epson has seen its presence in the install sector really develop of late with sales of this type of machine now split 80/20 in favour of install over retail. Strong features of this machine include easy set up, full support from AWE and Epson, in fact the maker says the only issue has been getting enough stock. The same model can be seen in demo at the AWE Smart Home Apartment at company HQ in Epsom.
Also wading in with a top demonstration was Pulse Cinemas as the company looked to underline what can be achieved for a relatively modest budget of 40K for the equipment and installation.
The specially contracted cinema included Sim2, Screen Research, Anthem and Paradigm. Hosting the demonstrations, which played to packed houses throughout the two days, was Simon Schino, Pulse Cinemas' Internal Sales Manager, "This year we really wanted to show what amazing results can be achieved for a relatively modest budget. The system we demonstrated would come in at around a £40K price tag to the customer, costing around £30K for the kit. The system price surprised many and was received very well. We believe that the level of performance we demonstrated for that budget is a very strong proposition."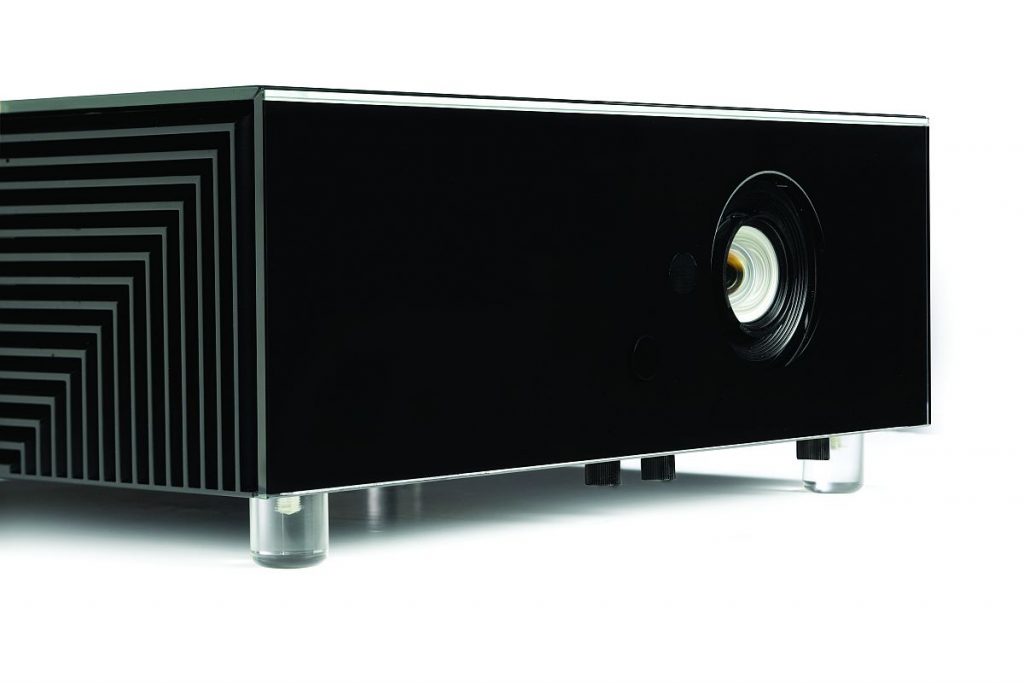 Picking out particular highlights from the demonstration, Simon explains, "The powerful Paradigm Defiance X15 subs were a big hit. For the price point, these large and powerful bass drivers offer the precision and presence that content needs to really impact the viewer. They don't overpower but give whatever you are playing the backbone to offer an immersive experience and the punch for impactful scenes when needed."
Pulse Cinemas also wanted to show off how good the single-chip DMD 4K UHD SIM2 Domino 4 is. This is the brand's lowest priced machine but handles HDR very well. The unit is also very attractive to look at, so although of course it can be hidden away if needed, for media room installs, it's striking crystal glass exterior can be an asset.
Simon underlines that visitors were also impressed with the Screen Research woven FS3 screen. The ClearPix material used in this product only loses .75dB of the 10-20K frequencies, as opposed to 4db with perforated materials, making for a much more satisfying and believable image.
Driving and controlling the cinema was the Anthem MRX 1120 AV receiver. Simon enthuses, "This unit delivers the wide-expansive sound you are looking for when creating an immersive Dolby Atmos experience. In this case, we had created a full 7.2.4 Atmos cinema, and all you need to drive it is the MRX 1120. This product also has built in the Anthem Room Correction (ARC) calibration system, which is both easy to use and highly effective."
For the speaker configuration, a full complement of Paradigm drivers rounded out the offering.
Simon notes, "Visitors were particularly taken with the on-wall Millenia we used for the surrounds as they are very high output, but deliver a narrow depth form factor, meaning they are perfect for all types of install including cinemas, media rooms, space conscious installs and for LCR channels around a TV."
Other brands featured in the room included content delivery from Kaleidescape with a Strato 4K movie player and the room was treated with Vicoustic panels for absorption, diffusion and bass management.
Completing the picture was an anamorphic super wide lens from Primasonic.
With plenty of installers packing the demo over the two days, the reaction from Ajay Pattni owner of Soundz Good was typical, "The system was brilliant! The Paradigm speakers and the subs in particular were really impressive. The sound was really clear, crisp and the vocals especially good. The price point was also a strong aspect of the system."
Simon sums up, "In a strong price category for the sector as whole right now, we wanted to show what our brands could do, and I think we really underlined the performance available has developed hugely in recent years. Yes, there are customers who want to go up a few notches in terms of performance, and we can definitely look after them too, but for this system cost, we believe there is nothing to touch what we can offer."
Installation company Cinema Build Systems' Ultimate Screens range offers installers high performance 4K-ready, acoustically transparent screens, designed for the easiest assembly and installation. Created for fellow cinema installers, Ultimate Screens promises highly competitive pricing devoid of hidden costs and fast, efficient, secure delivery from a UK factory.
Featuring an innovative and extremely easy four-stage assembly and installation, Ultimate Screens in fixed Wide, Slim and Edge bezel models allow the screen to be attached to the frame and tensioned in an on-wall position rather than from the floor, avoiding the risk of damage to screen and frame.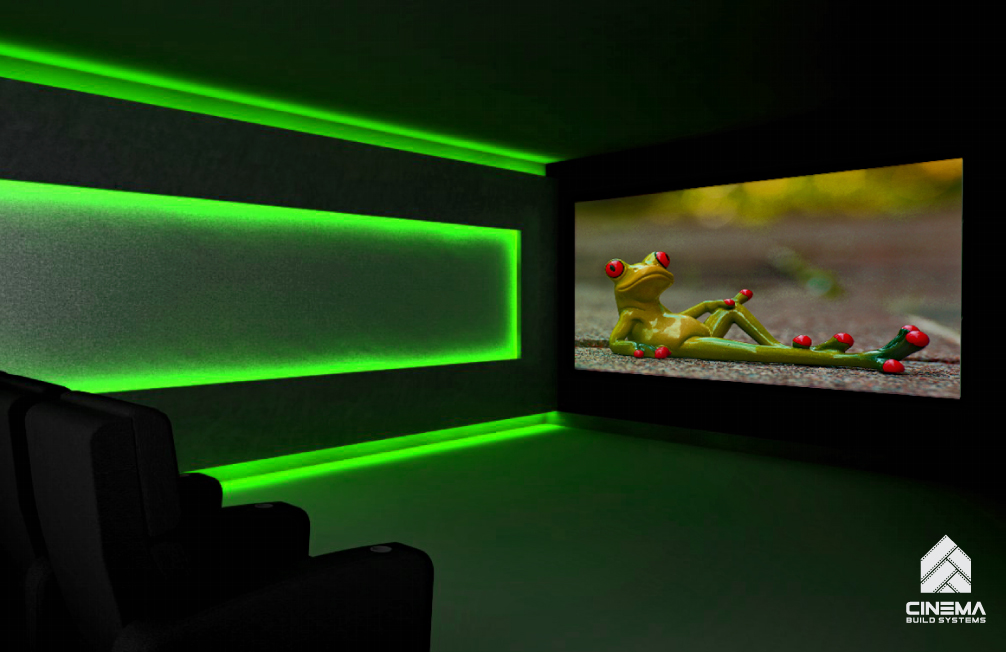 Launched at the show, Cinema Build Systems' innovative new Ultimate Deep model saves the installer the trouble of having to introduce secondary wall structures in brick-built rooms such as basements in older buildings. It's a 110mm deep fixed frame screen designed to install over popular on-wall speakers.
A very neat piece of lateral thinking results in an elegant solution, completed in a fraction of the time and with pristine finish and performance quality.
Cinema Build Systems also introduced a new magnetic bracket system for all its screen models, making installation even more straightforward and secure, complete with a unique 'tether' feature, which allows the frame to hang in space while the installer works behind it.
Cinema Build Systems' stand also featured its Cinema Space Frame kits, which offer a time efficient way to assemble structures for fabric walling systems.
The assembled louvre wall frames are designed to create a stunning overlapping wall effect in conjunction with the company's Ultimate Track fabric walling track, conceived to be the most installer-friendly fabric walling system available.
Designed to remedy many of the problems posed by existing track system designs, Ultimate Track is supplied in metric sizes allowing the installer to use standard MDF or Plywood 18mm materials to create support structures for sockets, speakers or lights beneath the stretched fabric.
Created for a consistent high-quality outcome, the Ultimate Track design allows the use of drywall guns for rapid installation. The extra width of the Ultimate Track system makes it simple to overhang the track to create a hidden channel for LED lighting.