"We are thrilled to have teamed up with leading UK distributor AWE to support our range of Laser TVs across the UK" says Andy Wood, Sales Director at Hisense "As a premium product it is essential for our distribution partner to provide professional service to their dealers. This ensures the customer journey is as smooth as possible and the Laser TV is set up correctly for maximum enjoyment. AWE's knowledge and expertise in home cinema will help deliver this."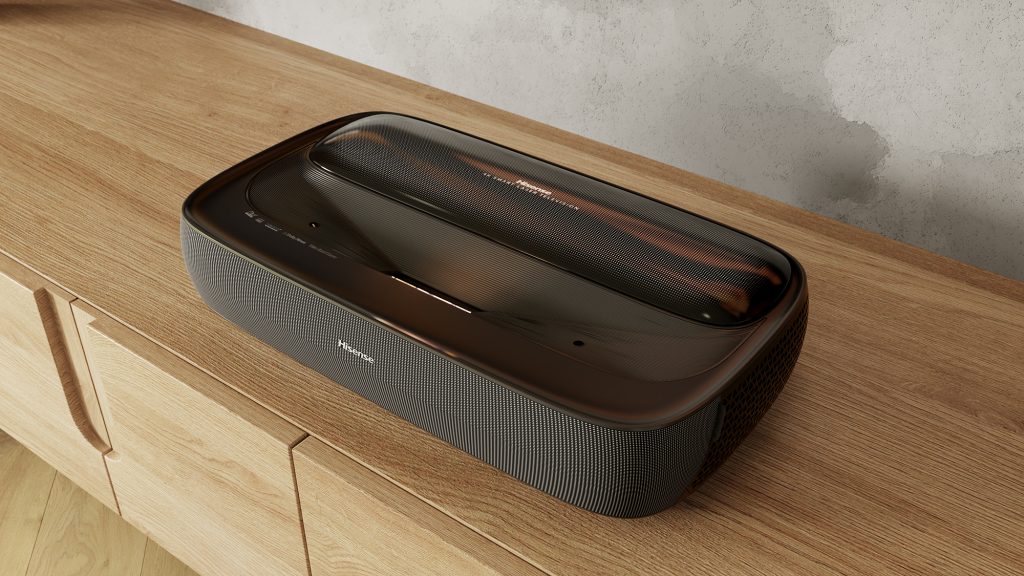 AWE are excited to introduce the latest generation of Hisense 'laser TVs' to the AWE distribution portfolio. Available now, the 100in and 120in L9 models provide an amazing big screen experience under £4,500! But how can this be?
The Hisense L9 Laser TV comes in two-parts – an ultra-short throw laser projector and a 100in, or 120in, ambient light rejecting screen. This means clients get a large screen TV at a fraction of the cost of a similar-sized traditional flat panel, which currently top out at 100in. It's an ideal option for bright, multi-purpose spaces like media rooms, living rooms or games rooms – where you want that large screen experience but don't want a dedicated, blacked-out cinema room.
It works exactly like a normal Smart TV. It has a built-in Freeview tuner, integral streaming services – using Hisense's very responsive VIDAA operating system, and integral 40 watt 'Dolby Atmos' speakers. Even the remote control looks like a normal TV remote.
Let's talk picture quality. The projector is actually a single chip DLP projector and creates a 4k image using advanced pixel shift technology. What makes it different from other DLPs is that three lasers – one red, one green and one blue – produce the bright, punchy colours instead of a colour wheel. In fact, Hisense state that they can exceed the BT.2020 colour gamut!
Coming in at 3,000 lumens, the triple Laser engine offers consistent colour and brightness over a 25,000-hour lifetime. To ensure a bright image in most lighting conditions, there are two options of ambient light rejecting screen available – the 100in hard screen and the 120in soft screen.
The 100in is a fixed rigid screen, with no assembly required. It's a Fresnel screen that pushes the light from the projector directly forward, whilst rejecting most other ambient light. This means that it can be used in any room even if there's no light control.
The 120in is a soft screen that comes flat-packed and so requires assembly and, featuring a wide 150 degree viewing angle.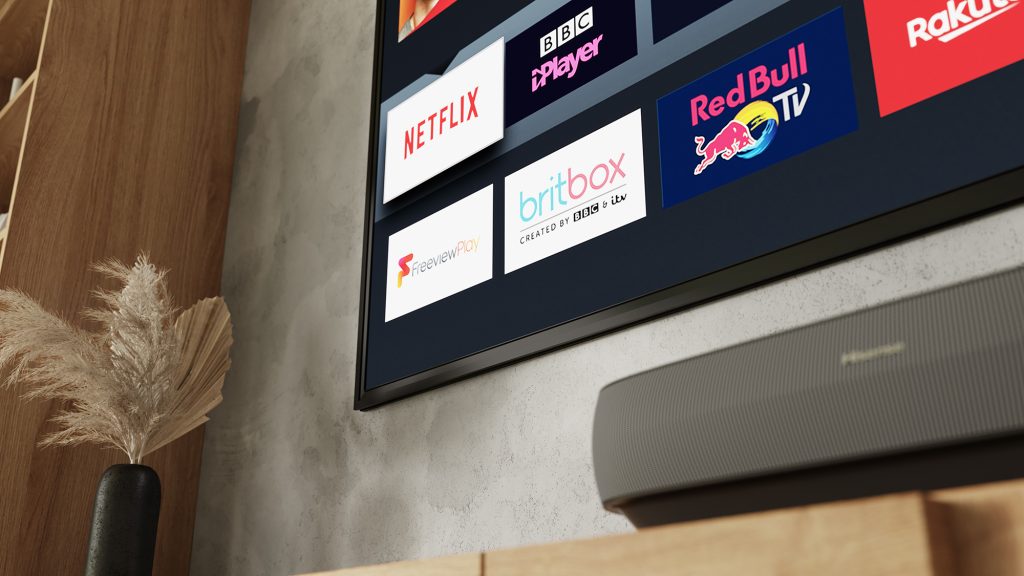 And installation? The Hisense L9 Laser TV requires precise positioning to ensure the highest viewing quality. Each of the projectors has a fixed focal length and the lens matches the screen. Care must be taken when positioning the height of the projector and its distance to the screen. To ensure this is adhered to for the best experience, Hisense offer a free installation option with every TV in a consumer's home. Alternatively, AWE will be training and approving Hisense Laser TV Installers who will benefit from a contribution towards the cost of installer level installation.
Stuart Tickle, Managing Director at AWE adds "Media rooms have seen a huge surge in demand, so big screen family entertainment is high up on a home-owners wish list. Conventional projection is the most popular option for installers, but not everyone has either the money or space for a dedicated projection system or 100in TV. Therefore, we have partnered with Hisense to bring their 100in and 120in Laser TVs. Their ease of installation and use, combined with a great quality 4K HDR picture at a superb price point opens the door to a new end-user segment in our market. Take a look at the Hisense products at our showroom and I challenge you not to be impressed."
AWE now stock both the 100 and 120in L9 laser TV from Hisense. If you're a UK integrator, contact sales for more information or book a visit to the AWE HQ in Epsom where it has the 120in version on demonstration.