Reconnecting in the living room: 63% of UK parents believe cinematic TV experiences help bring families closer together according to new research from Epson.
More than half of parents say separate screens interfere with time spent together as a family. Epson's research finds watching films or TV with children could help bring families back together.
As theuse of technology amongst youngsters is of course rising, this is having a knock-on impact on time adults and children are spending together as a family.
According to new research from Epson, conducted with UK parents, nearly two-thirds (63%) of parents believe that a cinematic viewing experience – whether it's watching films or TV – could help bring reverse the trend.
This comes after a 2018 report from Ofcom showed that 42% of 5-7-year olds now own a tablet, up 7% from the previous year.
TV is centric to time spent between families, shown by the 82% of parents that said they spend most of their family leisure time watching films or TV with their children at home.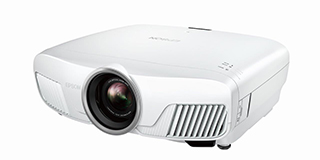 Adding to this, nearly three-quarters (74%) of parents believe that their living room is central to the time spent together as a family, and it is clear that the household television – as well as the living room – is key to keeping families connected.
The survey also revealed that more than half (55%) of parents agree that separate screen time on devices often interferes with family time.
Additionally, more than a quarter (26%) of parents say they are frequently aware that one or more of their family members are isolating themselves, prioritising spending time on electronic devices (including a smartphone, tablet or laptop), over time spent with their families.
Epson's main take on the research is that its affordable range of machines are much better value per inch of screen delivered when compared to the average spend of family TV.
Epson argues Families with an average 55in TV, costing around £499, are spending £8.47 per inch.
However, one of its entry level projectors that can scale up to 300 inches, also costing £499, offers better value – as they pay only £1.66 per inch.
However, it's also worth point out that this research is equally valid when looking at the high-quality home cinema market. One strong argument in the sales drive should always be the ability a good AV or cinema experience can be at bring friends and family together.
As other forms of technology push families apart, technology integrators have the ability to pull them back together.   
Alice Ramsden de Gómez, product manager for consumer products at Epson UK, says: "Family members – of all ages – now regularly isolate themselves with separate screens.
And with nearly three-quarters (74%) of UK parents agreeing that the living/family room is integral to time spent together as a family, it is clear that screens are essential to the home – which is where projectors can add real value.
That's because size matters when it comes to creating an enhanced family viewing experience."
Epson also points to the longer lifespan that projectors enjoy over their flat screen rivals making them better value and a little greener.