EI headed to Maidenhead to Evolve Audio Visual, and discovered a company with an experience centre with official Control4 showroom status and an expanding project portfolio.
The company's two principles, Mark Micallef and Luke Macfarren, have a bunch of experience under their belt having spent their whole careers in AV, so Evolve began with a strong experience base when the company launched in 2015.
Luke explains, "I began as a Saturday boy at a local independent electrical dealer. I learnt lots about AV as the channel transitioned through into flatscreen TVs and other new technologies and I worked my way up to be store manager."
Mark and Luke actually met at school, but began to work together when Mark came in to help with the install side of the business mainly fitting flat screen TVs in the early days. Unfortunately, the changing face of retail meant that eventually the retailer was forced to close its doors.
Mark explains, "I carried on with install work, mainly in the commercial sector and Luke moved on to another retail company. Five years ago, however, we decided we should combine our knowledge, Luke with his sales background and me with my install knowledge."
Luke adds, "Our first few projects were fuelled through Mark's contacts in the building trade and a lot of what the company has now become is based around serving the needs of developers as we have become their go-to company for AV and automation."
Working mainly in the new build, high-end, single dwelling market, aptly the company has evolved its offering as each project and relationship has built. Gaining the trust of the developers and end-users alike has enabled the team to increase their involvement and spend on each project as Evolve has become a genuine one-call solution for the whole project.
Mark underlines, "From getting involved right at the earliest stages of planning, to pulling our own cables and providing every type of AV and automation available, we aim to make life as easy as possible for our customers."
Luke agrees, "We do get a big thumbs up in the market for the way we are able to deliver everything the building needs. We have expanded our expertise to deliver AV, cinema, security, automation and newer areas like window treatments and networking. Each customer can have the functionality suited to them and we put ourselves in the position of being able to increase the profitability of each job as no stone is left unturned."
The pair underline the profitability available through areas such as window treatments, which can be considerable in the larger properties, and also the vital delivery of networking – not just any old networking either – fast networks which deliver functionality the customer has not seen before.
Mark says, "We have some clients where networking is so important. A customer of ours is a YouTuber who is able to run his whole operation with the system we have built for him."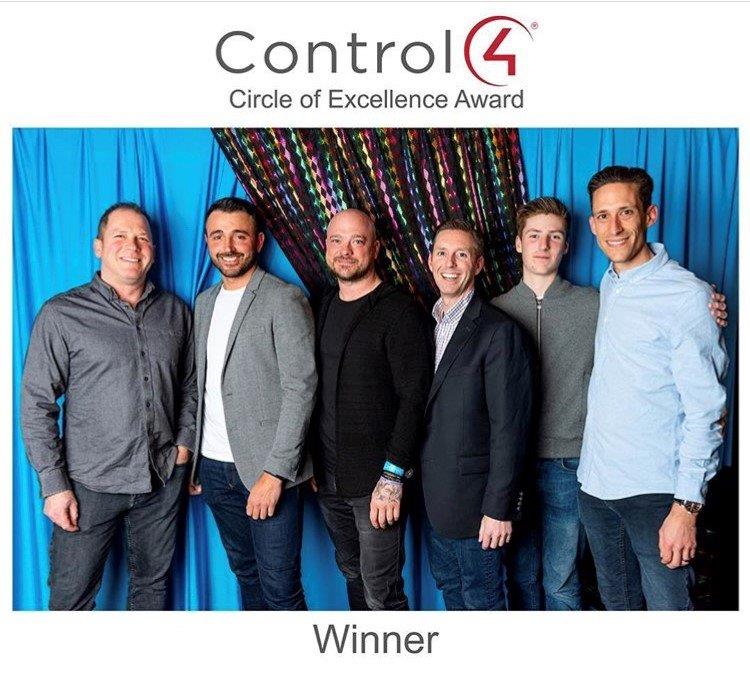 The Experience Centre
Clearly the team have been getting it right as Evolve has self-financed the build of a Control4 Certified showroom. No mean feat as the building is a period town house with plenty of structural challenges, which made the build that little bit more tricky.
However, Luke and Mark have done a sterling job with a kitchen, study, bathroom, dedicated cinema and media room all cleverly displaying every type of technology the company can deliver.
What is cool about this place, is it is literally in a house, so it feels accessible to the end user and they can easily imagine how their own property could perform.
Evolve is proud of its Control4 Certified showroom status and reports that the process was a positive one, and actually provided them with the spec they used to build quite a bit of the showroom.
Luke enthuses, "The experience centre is by appointment only and it is very powerful to be able to sit people down, relax them and just show them what can be done. It's the best up-selling tool you can have. Just one example is a client we have who is an interior designer. She visited and the spec for her build was transformed. After a less than positive previous experience with another dealer and system, she had no idea technology could be so well woven into a building and her own experience will probably lead to us getting work with her clients as well."
Mark adds, "Control4 has become our main automation focus as the system works well and we do like the way Control4 listens to its dealers, that is a big part of it for us. We became Platinum dealers in our first year and have grown with the system from there. We were included in the Circle of Excellence at this year's Control4 dealer awards. We are also just starting to check out the new functionality of the recently launched OS3 software."
Exploring new areas
The company has also been keen to include new areas such as voice control in its projects.
Mark argues, "Voice control is getting better and customers do ask about it. But the trick is to know its limitations and find stuff for it to do that gives the wow factor and gets used. Turning things on and off, volume/ channel control are obvious options and visitors do like our voice activated coffee machine in the showroom, it's just really cool. The strong Control4 drivers have been a big help with voice."
Exterior audio has also been embraced by Evolve and the way properties often get built or extended these days, with large bifold doors to the garden, extended patio, and well equipped outside areas, has really helped.
Mark adds, "These types of install have also led to some really interesting jobs helping people put on fun events in their homes. We have a customer who wanted to hold an 'Ascot Day' party at their home, so they all got dressed up as if they were going to Ascot and we provided the extra AV."
Project-wise some current highlights include two very nice dedicated cinema projects and it's an area the company clearly loves working in.
Luke underlines, "We do really love doing cinemas, especially like on these two current jobs where the customers are really into it. We are at first fix basically with both of these, but we have already included some new technology, as we have been able to show what the cinemas will look like via the VR service from Sinemas. The customers were really impressed, and it definitely helped develop the project."
What's Next?
Plans for the next phase of development include reaching out to more related trades including developing more relationships with developers and interior designers. The company has a strong install team now and Luke and Mark feel it's time to spend a little less time on site and look to develop the company further. And who would bet against them doing exactly that, the growth of the outfit has been impressive to this point.
Luke concludes, "The company has done well so far, but in many ways we feel we are just getting started, we are always looking for new ways to expand and evolve. We are like a big open book just waiting to be filled and we can't wait to start the next chapter."
This article first appeared in the pages of Essential Install Magazine. Subscribe here.