Sonos brings spatial audio and Dolby Atmos to its latest speaker, adding further flexibility to the Sonos ecosystem. But how does it perform? Our trusty trade reviewer, Richard Stevenson, takes a listen.
The Era 300 join's Sonos' third generation of connected speakers, bringing with it multi-driver immersive audio including Dolby Atmos, voice controlled smart-speaker functionality and a raft of Sonos system-specific integration features. Yet outside of a Sonos ecosystem, the Era 300 is hobbled by design to keep things in the family, limiting its integration options for larger projects.
Supplied in a neat card box with built-in slide-clips, the Era 300 exudes an 'Appleness' of design from packing upwards that few other brands can touch. That extends to the unique shape, solid build quality, responsive touch control and slick app. Form follows function and a quick look at the exploded animation on Sonos's website reveals a six-driver array. This is configured as tweeter and woofer either side, plus a tweeter each for firing upwards for overhead and spatial effects and forward for vocals and dialogue – each with its own Class D amp.
Alexa integration comes courtesy of a far-field mic that has a physical on-off switch on the back, but there is no Google Assistant or Chromecast support.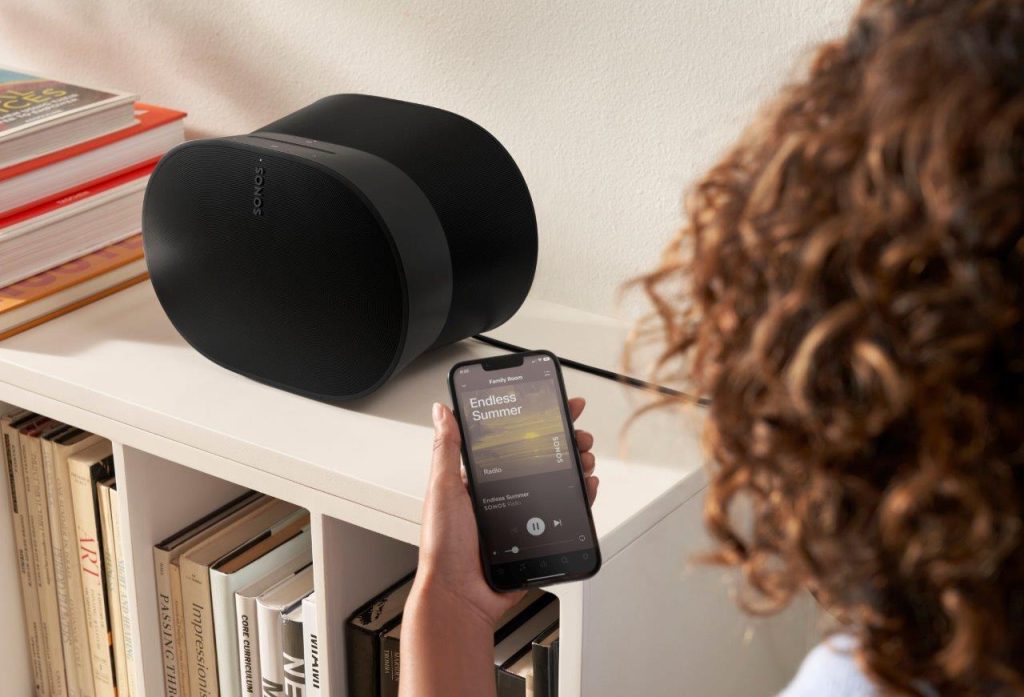 A compact overall size makes it easy to place on a tabletop or an optional Sonos stand, which – given its potential use scenarios – is well conceived. You can set up the Era 300 as a standalone speaker, leveraging its multi-channel/multi-driver array to create stereo to surround sound audio, pair them as left/right main stereo speakers or even use them as rear channels to accompany the Sonos Arc Soundbar.
While using two Era 300s as rear speakers may seem a little over-kill when more compact and lower cost alternatives in the Sonos range (Era 100 or One SL) can do the job, it's an excellent trade up. The added power and multi-direction speaker array of the Era 300 make it a big and easily demonstrable, sonic upgrade for relatively little outlay over the other choices. Add a Sonos sub or maybe two and you could create a fully amplified, 7.2.4 system without a single speaker cable to be seen. Sonos' neat stands and wall bracket options for the Era 300 make that even easier.
Alongside WiFi 6 and Bluetooth, connectivity is limited to Sonos' signature right-angle moulded fig-8 power lead and a single USB-C port. There is no HDMI so no eARC, ensuring if you want to bolster a TV's sound with Sonos, you will need one of its dedicated soundbars.
The USB-C port can, with a suitable optional Sonos adapter, offer a single analogue connection or hardwired Ethernet. Don't get too excited by the latter however, as native immersive audio like Dolby Atmos music can only be streamed over Wi-Fi and even then only through Apple or Amazon music services (not Tidal) and even then only via the Sonos app not directly via AirPlay or Bluetooth. That is a niggly extra layer of faff for those looking specifically for spatial audio tracks. Nor is there any open IP control driver/protocol over the Ethernet connection as Sonos IP control requires knowledge and licensing of the Sonos API.
The Sonos app has something of a marmite reputation, but I personally like 99% of its UI and setting up the Era 300, particularly if you are simply adding it to an existing Sonos set-up, is very slick.
Aforementioned foibles aside, retailing at £449 in either black or white, the Era 300 is a sonic bargain. The scale of the sound and bass punch is frankly astounding from such a small relatively inexpensive box of tricks, and this is backed up with enviable clarity and brilliant spatial imaging. As a single speaker placed symmetrically in a room to maximise driver directivity, it creates a wholly convincing spatial effect with even stereo music and is quite the eye opener with true spatial audio. Apple Music is probably the easiest way get dedicated spatial audio recorded tracks, and limited Apple Music functionality within the Sonos app aside, it delivers great results and even glosses over some of the distinctly dodgy spatial mixes.
ON ME ED…
Ed Sheeran's mellow Eyes Closed leverages the space and clarity in the track's mix, with the vocal remaining front soundstage and rhythm filling the room. The bass line kicks in when Ed hits the chorus and it is a thoroughly musical and engaging experience. The spatial remaster of Goodbye Yellow Brick Road is not the best but the Era 300 manages to make it sound better integrated than a discrete 7.1.4 system and delivers Elton's unmistakable timbre and clarity. We are yet to test a stereo pair of Era 300's but the omens for an impressive stereo system are good.
For installers, Sonos always represents either an ecosystem with annoying compromises or a slick, easy to install, robust and relatively low cost multi-room audio and AV solution. The Era 300 fits perfectly into that mould, yet elevates the performance considerably along the way. As a stand alone speaker, it's a very neat plug-and-play speaker for secondary rooms, assuming the home is running Sonos architecture for multiroom.
Perhaps even more appealing is for AV installs. A pair of Era 300s would be the ideal partner to an Arc and Sub, creating a very cost effective wireless 7.1.4 system – with only some mains cables to hide. That could be bolted into a TV room with minimal décor disruption and eliminates the need, or the end-user complexity, of a high-tech AVR.
Sonos is never going to be the panacea for true high-performance AV, but if the customer's budget is tight, the Era 300 adds real flexibility and exceptional sound to the Sonos eco system.