Our resident CI focused review, Richard Stevenson, sets his sights on the Roon Nucleus+ music server
Roon is a software-based music service that merges stored and streaming music content into a single library interface, adding a raft of detailed information on tracks, artists and albums along the way. It can be run on any PC, so why has Roon created a premium hardware platform for the service? The answer is ease of installation, improved reliability and a slicker, faster experience for the end-user. Sounds like an ideal installation product then.
The Nucleus+ is the higher specified of a two-strong rangefrom Roon, based on a fast Intel i7 processor with 8GB of RAM. The custom Linuxoperating system and Roon firmware is stored on its own SSD, and the unit has a2.5in HDD space for an on-board library. We used a second SSD drive here tokeep the whole unit completely silent in operation, although if you have musicon a NAS or other external devices, the extra drive is not essential.
Roon is very proud of the work it has done in conjunction with Intel on the Nucleus family architecture, creating a powerful, fan-less unit with passive fin cooling along both sides of the cast aluminium case. With no controls, lights or even legends on the front, the Nucleus+ is a sleek looking device, although will require a shelf and 2U of vertical space to accommodate in a rack.
Roon OS eschews the advanced functionality (and associatedissues) of larger OS's such as Windows, Mac OS etc, in favour of a system thathandles just networking, storage and fast database access. It's relativelysecure against end-user hacking and is designed to be reliable and robust.
The system evolves regularly, with Roon-approved features appearing via automated network updates. That recently included Chromecast support. The rear panelhouses an RJ45, two USB 3.0 ports for external storage devices or a USB DAC, HDMI audio output for hooking it up to an AV system, and a currently redundant Thunderbolt port. The sockets are neatly recessed in the rear of the case beside an illuminated power switch. The power supply is a simple in-line19V/3.4A switch-mode device.
The Nucleus+ is effectively a digital source device with no on-board DAC. Options for audio output are perhaps the most comprehensive of any server on the market including USB 3.0, HDMI or any number of Roon Partner end-point devices from brands including Sonos, Bluesound, Kef, Naim and many, many more.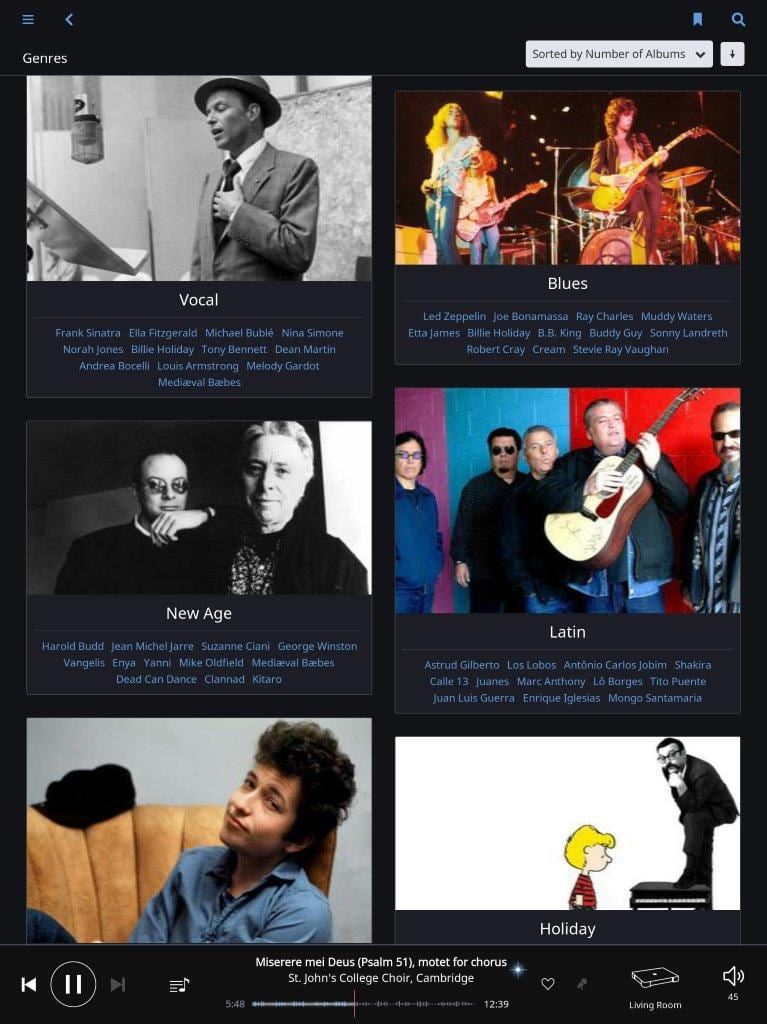 Installation
Installation set-up and operation of the Nucleus+ is alldone through the Roon app, available on iOS, Android, Mac OS and Windows. As aninstaller or retailer, you can set-up as a Roon partner, giving you free accessto the fully-featured Roon 1.5 suite of features. You can manage yourcustomers' subscription to the service, currently running at $119 per year or$499 lifetime membership.
The Nucleaus+ is a Roon Core device that acts as the central hub and library management tool to all content on the network. This can include NAS drives, HDDs plugged into the Nucleus+, an iTunes library, network shares, UPnP storage, streaming services and libraries from Roon partner storage platforms such as the Bluesound Vault. The Core collates the content, manages the library and pulls in Roon metadata. The library information, metadata and indexing is built and held on the Nucleus+'s storage, while the content remains in its native location.
Once connected to the network and logged into a Roon partner account, the Nucleus+ undertakes a network search to discover all compatible Roon endpoints and shared available libraries. The interface here is supremely slick, right down to little line drawings of the end-point devices to help work out what is what. Each device can have completely different capabilities regarding format support, sample rates and streaming protocols. You can enable each device individually, set up how they operate and where the format decoding takes place. The Signal Path feature shows a slick graphical illustration of the data path and status at every point from source to output.
The general settings menu is huge, but logical and comprehensive. Options from here include a suite of DSP pre-sets, manual five-band parametric EQ, sample rate conversion, pre-sets for various headphones and speaker set-up for each end-point. All of which can be disabled for the audio purist.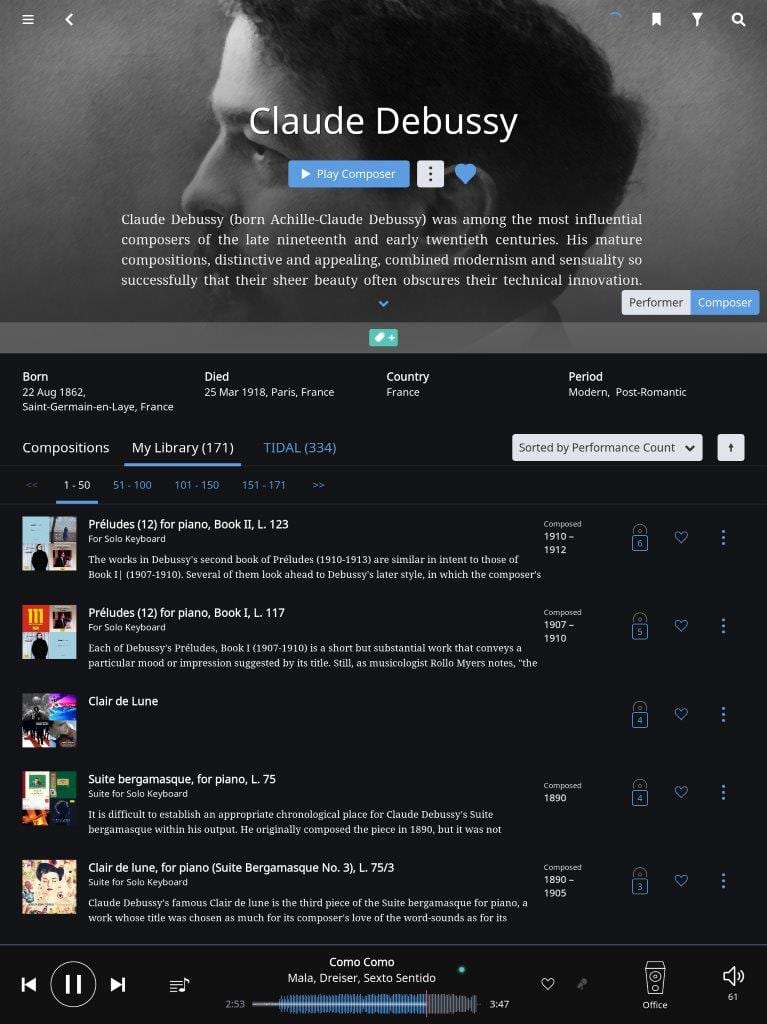 Performance
The Nucleus+ makes for a blisteringly fast Roon interface.The system discovered 15 potential endpoints on my network (mostly Bluesounddevices) and five storage devices with content, including NAS, iTunes and twoPC libraries.
It built a 30,000 song database, complete with 6,600 reviews and biographies, 6,000 images and 20,000 lyrics in less than an hour. That is afraction of the time I have seen Roon take to build smaller cores on a Windows laptop in the past. The metadata is variable depending on artist, so the likes of the Rolling Stones get the full treatment with detailed bios, PDF album notes, cover art and reviews.
Hyperlinks in the text lead you to other bands, colorations and information. Lesser known artists from the niche depths of my library got no more than track listing and an album image. Irrespective of the amount of metadata, the Nucleus+'s speed and seamless access to content shines through the app controller interface. There is no lag and very little delay in finding or selecting content from a variety of sources, including streaming services. It is easy to search for Masters MQA content on Tidal too. Having no DACs on-board, the final audio sound quality is largely at the behest of connected devices, such as a USB DAC, AVR or Roon end-point.
Yet, the Nucleus+ goes along way to ensure as clean and low-jitter feed to those devices as possible.The result is a significantly more engaging and rhythmic sound to audiophile end-devices than is possible using a noisy PC to build the Roon Core. Roon remains the most compelling music service for serious music enthusiasts and the Nucleus+ makes the concept super-slick, very fast and seriously robust. For premium audio installations, the Nucleus+ is a simply outstanding solution.
This article first appeared in the pages of Essential Install Magazine, sign up here.