Denon has announced four new products in honour of the brand's 110-year anniversary. These include the Denon AVC-A110 AV amplifier, PMA-A110 integrated amplifier, DCD-A110 SACD player, and DL-A110 MC phono cartridge.
The maker says these are all designed and manufactured to the highest standard, built upon Denon's century-plus of experience in crafting top-of-the-line audio components.
Each new anniversary edition product features an exclusive silver-graphite colourway, 110 Anniversary logos on the front panel and were tuned by Denon Sound Masters to set them apart from their standard counterparts.
In addition, each new product comes with a special certificate of authenticity stamped with the approval of Denon's head engineer and a five-year warranty. All four 110 Anniversary products are manufactured exclusively at the Denon factory in Shirakawa, Japan and undergo an extended quality assurance process prior to delivery. 
AVC-A110 AV Amplifier (€5500/$5499/£4999)
Denon says it is proud to introduce the flagship AVC-A110 13.2-channel 8K AV amplifier, designed to deliver the most immersive home theatre experience yet, combining all popular 3D formats such as Dolby Atmos, DTS:X, DTS:X Pro, IMAX Enhanced and Auro-3D.
The AVC-A110 was developed with attention to detail and tuned by a Denon sound master at its component level to solidify its place as one of the most special AV amplifiers Denon has ever produced. The AV amplifier's all-black interior is housed in a limited-edition silver-graphite finish with aluminium front and side panels, custom die cast feet and a copper transformer plate for superior isolation.
Providing 8K/60Hz pass-through or upscaling, 4K/120Hz pass-through for gaming and support for the latest HDMI specifications, Denon says the AVC-A110 enables enthusiasts to build the best 4K home theatre systems while incorporating 8K compatibility to accommodate future upgrades more easily.
For cutting-edge gamers, the AVC-A110 offers Auto Low Latency Mode (ALLM), Variable Refresh Rate (VRR) and Quick Frame Transport (QFT), minimising lag and latency while eliminating frame tearing for more fluid gameplay and enhanced gaming thrills.
The AVC-A110 creates a lifelike cinematic experience thanks to its monolithic amplifier design, hefty 8.2kg high current power transformer and custom 22,000uF/80V audio capacitors delivering 150W per channel (8 ohm, 20 Hz – 20 kHz, 0.05% 2ch Drive).
Featuring the most advanced HDMI connectivity (8-in/3-out) including a dedicated 8K input along with the latest dynamic HDR standard, users can enjoy their favourite movies, shows and games with exceptional colour, clarity and contrast, says Denon.
The eARC HDMI feature (through the main HDMI output) enables uncompressed and object-based audio formats like Dolby Atmos and DTS:X to connect directly from a smart TV app to the AVC-A110 for lifelike audio performance.
HEOS built-in wireless multi-room music streaming technology is also included puting the listener's favourite content anywhere throughout the home (requires HEOS-compatible speakers) and adds Apple AirPlay 2 for streaming from mobile devices.
The AVC-A110 also offers access to the most popular music services such as Spotify, Amazon Music HD, TIDAL and Deezer to provide users with limitless access to their favourite music and podcasts. Users can enjoy hands-free control of the AVC-A110 thanks to compatibility with Amazon Alexa, Google Assistant and Apple Siri voice command engines.
PMA-A110 Integrated Amplifier (€3500/$3499/£3199)
The Denon PMA-A110 is billed as the ultimate choice for music enthusiasts seeking to build their dream two-channel Hi-Fi system. Powered by Denon's patented 7th generation advanced Ultra High Current (UHC) topology, the PMA-A110 integrated amplifier delivers 80W at 8 ohms (20kHz-20Hz, THD: 0.07%) of ultra-clean power per-channel. It can capably deliver massive current output to drive even the most demanding speakers and ensure superior linearity at the output stage.
Offering precision and refinement with exceptional dynamics and the ability to elevate fine details, the PMA-A110 helps bringing music to life. Denon engineers carefully constructed the amplifier circuit to secure a frequency response of up to 100-kHz during applied use.
The volume circuit suppresses noise in the amplifier, achieving high sonic resolution. The PMA-A110 handles a wide, dynamic range of Hi-Res audio sources. In addition, the Quad D/A converter which uses the 4x Burr Brown PCM1795 chip operates in a quadruple configuration for optimal high-grade sound. Each channel has two PCM1795 chips working in a differential mode to achieve the highest accuracy and best signal to noise ratio.
The PMA-A110 is also equipped with Ultra AL32 Processing, the latest in analogue waveform reproduction technology from Denon. By using data interpolation algorithms and supporting Hi-Res 384-kHz/24-bit PCM signal input, these algorithms interpolate points that should exist before and after the points in large quantities of data to achieve a smooth waveform that is close to the original signal.
With a maximum of 32x oversampling of the input signals sampling frequency the output sampling frequency is either 1.411MHz (on fs 44.1kHz) or 1.536MHz (on fs 48kHz) reproducing the audio signal with any detail.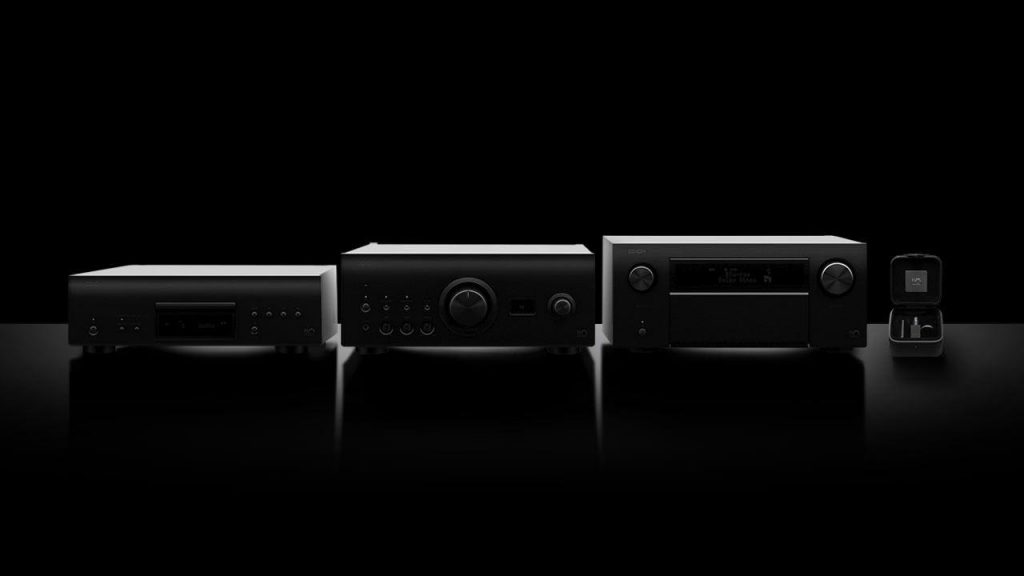 Users can connect both analogue and digital sources, including a turntable to the built-in phono preamp compatible with both Moving Magnet (MM) and Moving Coil (MC) cartridges.
Effortlessly enjoy high-resolution digital audio content using jitter-suppressing Coaxial, Optical or USB-B inputs connected to an exceptional Quad DAC for high-quality playback of PCM up to 384kHz and DSD up 11.2Mhz aka DSD256.
Denon says the PMA-A110 is the ideal foundation for a modern audiophile music system when paired with the 110-year Anniversary Edition DCD-A110 SACD player and the DL-A110 MC phono cartridge, both engineered and specially tuned by Denon Sound Masters to achieve ultimate performance.
DCD-A110 SACD Player (€3000/$2999/£2799)
As part of the special edition 110 Anniversary Series, Denon is introducing a limited-edition DCD-A110 flagship SACD player. This new model offers the finest playback of CDs and Super Audio CDs, as well as DSD (2.8-Mhz/5.6-MHz) files and high-resolution audio files up to 192-kHz/24-bit recorded on DVD-R/RW and DVD+R/RW discs. Users can also play music files with sampling frequencies of up to 48kHz recorded on CD-R/RW discs.
 DL-A110 Phono Cartridge (€599/$599/£499)
The new Denon DL-A110 phono cartridge is a premium Moving Coil design, hand-spun in the Denon Audio Works factory in Shirakawa, Japan just as it was in the 1960s when it was first introduced as the DL-103 cartridge. These anniversary edition Denon cartridges represent the longest-running products to wear the Denon badge and maintain the original headshell design initially developed for wideband stereo FM radio broadcast applications.
Weighing only 6 grams, the lightweight DL-A110 silver-graphite headshell ensures the cartridge is held securely and perfectly aligned, producing a balanced, detailed sonic signature with extended low frequency performance ideal for vinyl LP record enthusiasts. The DL-A110 is equipped with a bayonet connector also known as the SME tonearm interface.
Three special edition 110 Anniversary Products will be available from October 2020, including the AVC-A110, PMA-A110 and DCD-A110. The final special edition product, the DL-A110 will be available in November 2020.
.