Hayden furniture is now available in the UK, offering custom installers a unique solution in addressing the consistent problem of housing AV equipment.
This new brand has launched eight products, with another raft of products coming soon.
The eight products available right now work on a modular system, so all the 550mm or the 350mm tall units can be combined to make a bespoke solution for the client.
Each product has been specifically designed for the custom install market, not the furniture market like some other products, using extensive direct experience of the market.
For example, each unit will come with either a 9U or 5U rack within the price, but unlike some other solutions, this rack will be completely serviceable, it will come straight out of the cabinet and can even be populated off site and brought back for extra convenience and forward planning.
Another feature that the suppliers say installers will love, are the dedicated subwoofer cabinets, which incorporate acoustic isolation points to ensure acoustic integrity.
These units are specially designed so that they can hold even the larger subs in the marketplace. Other really important features include a huge range of finishes, from glass to wood or ceramic, a handy integrated soundbar space and of course the vital heat management.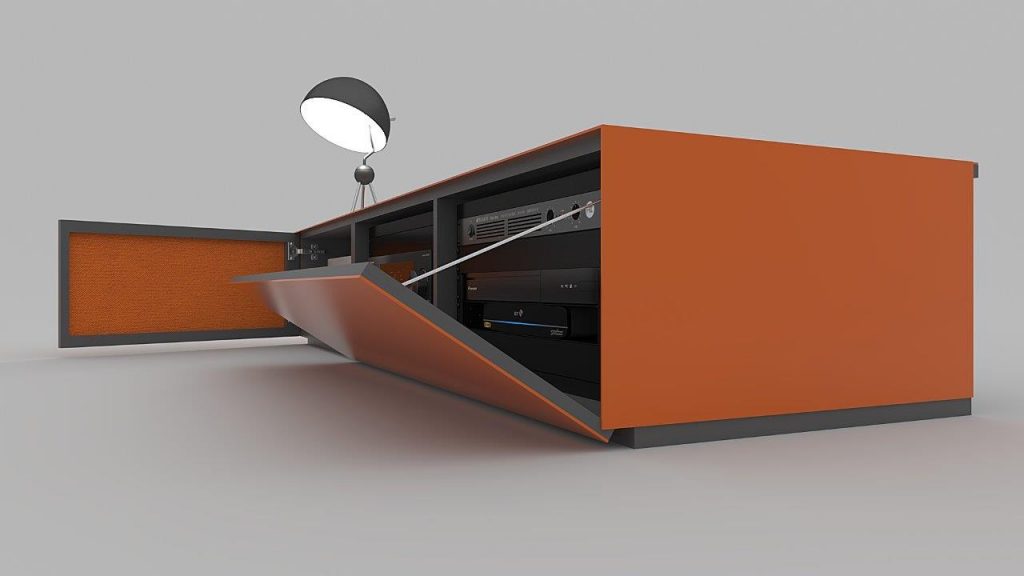 Designing the furniture of the future
Part of the design team contributing to the new range are experienced AV professionals Charlie McClarron and Paul Cummin, which has helped ensure that the products and the company's ethos were all geared towards the install market.
Charlie says, "Before I was in the AV and custom install industry, I actually worked for a furniture company. When I joined the install market, I instantly saw a big problem; dealers were spending hours designing furniture for their projects, but then having to use a local furniture company to build them, who would charge a lot of money and not leave any margin for the dealer.
"Another scenario was that the interior designer would arrange the furniture for the client, leaving the dealer no money at all and then finding that the furniture they do end up with is impractical for the installation."
Charlie explains, "With Hayden we have come up with a range of furniture that adds something special and unique to the dealer's portfolio and fills a gap in the market that many have been asking for.
"Along with our eight standard models, we do also have the capability to make bespoke one-off pieces for our dealers, which will still include all the features that make us custom install friendly. This can include taller media wall units or even matching tables and sideboards."
Paul adds, "There is a lot of emphasis on how a room is finished these days, we are seeing lots of companies try and offer a complete turn key solution, but actually often that is not what a dealer wants. They don't want to be forced to use kit they don't want to use, they want the flexibility to pick and choose, so offering a range of furniture like this was a no brainer.
"Time and time again we were seeing people struggle to hide subwoofers, for example, or situations where rack space was a premium, yet the customer was still having furniture built. Hayden solves all these problems for you, whilst delivering a beautiful product that is built to last."
Hayden Furniture is available to purchase now, with the team ready to help you specify the right furniture for your projects.