This month our intrepid reviewer Richard Stevenson travels to Canada, figuratively speaking, to check out the Paradigm XR 13 sub.
Canadian brand Paradigm has been making waves in the UK install and audiophile scene of late, and is set to make even bigger waves, bass ones, with the new XR Series subwoofers. Available in 11in and the larger 13in model we tested, I already love the wilful offering of models that offer an inch larger driver than the market norms (10in and 12in) for a Spinal Tap-esque 'ours goes to 11' vibe.
The XR series is a part of Paradigm's flagship Founder Series range of freestanding loudspeakers, with plenty of cosmetic and technology cues shared between the two. This includes angular sided cabinets, the advanced bass driver technology and the finishes; satin walnut, rosewood or 'subwoofer noir' in satin or piano gloss. Our satin walnut review sample didn't float my home cinema boat cosmetically, but customers with wood finish speakers may love them and black is a double option.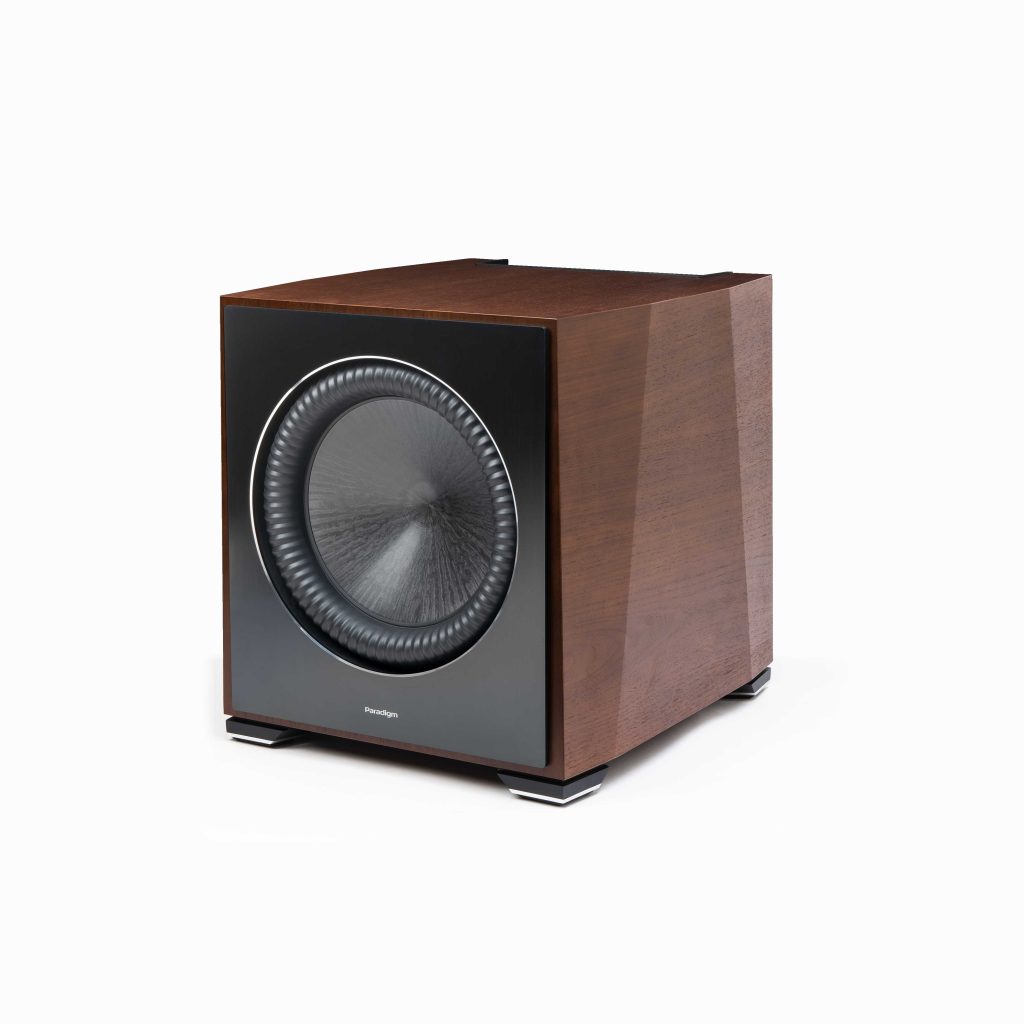 Continuing the Spinal Tap metaphor, the XR13 cabinet is far from Stonehenge monolith size and emerged from the packing crate considerably more compact than expected. Coming in at under 50cm on all three major dimensions, the Paradigm rather bucks the trend of transatlantic flagship subs and will slip fairly discretely into almost any cinema install, even if the room is rather bijou.
Paradigm aims to get the biggest, tightest bass from the relatively compact cabinet with some clever engineering based around maximising potential output SPLs across the LF range and then using sophisticated EQ to deliver a smooth response in room. That EQ comes courtesy of 'sister-brand', Anthem, and its much respect ARC software. That is supplied free, along with a pre calibrated mic, cables and stand with the sub. No additional licenses are required: simply load the ARC software onto a laptop, hook up the sub, and away you go.
The heavy engineering comprises Paradigm's 13in Carbon-X driver, with its truly enormous ferrite motor almost the same diameter and depth as the cone itself, and a substantially braced cabinet built from some of the chunkiest MDF I have ever seen used seen in a speaker design. Despite its relatively sensible dimensions, this is a near 50kg sub.
The driver, based on the Founder Series' ultra-high excursion LF units, uses Paradigm's innovative Trilinear Suspension to keep the voice coil on the straightest path and has a smooth profile Carbon-X Unibody cone with bespoke ridged roll-surround. The amplifier is a 2,200W RMS Class-D power unit, with its DSP controls and comprehensive sound tuning options found in the Paradigm Subwoofer app. Build quality is absolutely first class throughout, the hefty and exceptionally well finished cabinet not looking out of place in the most affluent of installs.
Around the back there is an equally high level of attention to design detail, including – hallelujah – recessed connections. For anyone who has ever designed an install to the millimetre, then realised the sub won't go close to the wall due to four inches of IEC or XLR plug and cable sticking straight out of the back, this is at least an inch or so of help. The connection count covers XLR and RCA LFE, stereo RCA line level and stereo speaker level inputs. Use right angle connectors and this will be a very svelte close-to-wall solution. The lack of loop outputs for additional subwoofers is arguably an oversight, but with AVR/Ps coming with ever more sub-out channels, it's not a deal breaker.
UNIQUE APPROACH
Uniquely, Paradigm has installed an output level control in the form of a large, illuminated touch panel slider at the rear of the top panel. It's probably more wow factor for retail / freestanding customers than install systems, but it's impressive to look at and equally impressively responsive in use. If the user wants to leap up and dial the sub gain up or down between differently balance music tracks without having to keep the Paradigm Sub app open, it could be useful. The LED illumination goes off after a few seconds from last touch to keep things discreet in cinemas too.
Yet, it does rather open the door to user-based mucking up of your finely tuned acoustic balance. Either way, like the app, the volume slider is easy to use and impressively executed.
The app itself connects seamlessly to the XR13 over Bluetooth and is supremely intuitive. You get individual modes for RCA and XLR inputs covering Movie, Music and Night pre-sets, the option to adjust the type of low pass filter (3rd or 4th order), 0-180 variable phase and deep bass enhancement should the XR13 natural output not already be calling building foundations into question. The app is open to
end user settings calamity, but for cinema installs, where LFE level can be left to the processor/AVR, I would argue for not mentioning the app to the client as being probably the best bet.
And then there is the ARC EQ system. Unlike subs with built-in EQ that is 'nice to have' or 'may' improve sound over manual filter application, the ARC is an absolutely integral part of the XR13.
On a first test run without ARC, the sub managed several new records in the Stevenson Ranch cinema. That included knocking an upright Blu- Ray case over at 5m away and the biggest 30Hz peak output I have ever seen, registering more than +15dB above response average. That is an astoundingly low resonant frequency, and very, very loud at well over 110db before things started get even marginally ragged, which really is 'going to 11' for a domestic sub. Sounded bloody awful, obviously. ARC is essential.
The ARC kit supplied has 3m cables for PC to sub and PC to mic, which had me laying on the floor in the middle of the room for the want of longer USB cables, but otherwise the mic, adjustable metal tripod stand and software are all faultlessly good. There is a neat simplicity to ARC that makes the likes of Audyssey Mult-EQ-X and Dirac Live look complex to navigate and, being the in-house brand, the software switches to sub measurement as soon as the XR13 is detected. Not 10 minutes of sweeps across eight room positions later, the ARC displayed results, suggested some target curves and calculated the EQ files to upload to the XR13. Press upload, save results in case of user meddling and you are good to go.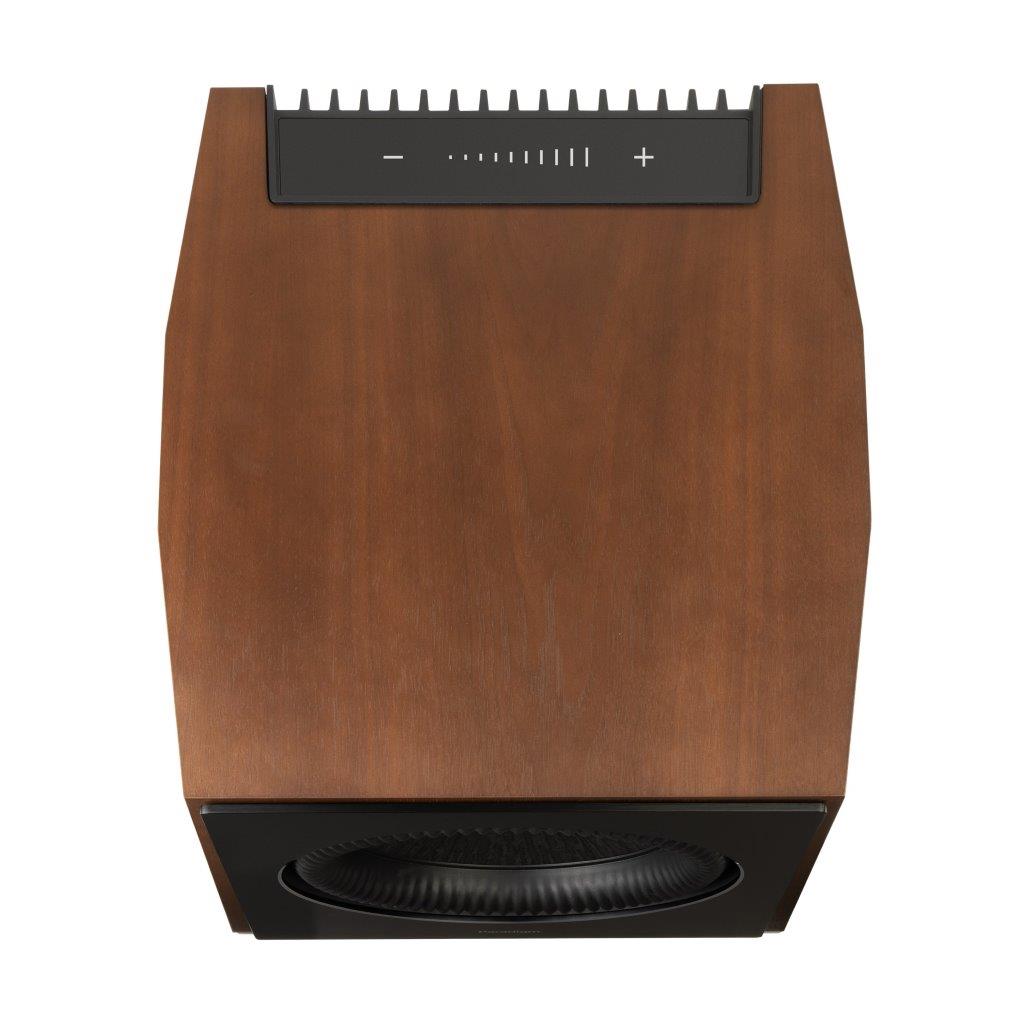 The result is a frankly phenomenal transition from OTT boom-box to a tremendously powerful and articulate LFE engine with very little to touch it for sheer visceral entertainment at the price.
While peak output level get necessary trimmed down to only 'fairly outrageous', the in-room balance was incredibly flat from 20Hz to 100Hz+ as measured by ARC's own software and latterly REW, as I didn't believe the former and had to check. The monster 30hz bloom had gone, revealing a hugely potent and articulate LFE channel output that will appease even the most bass-hungry cinephile.
Crushing bass impact with razor sharp punch is the XR13's post-ARC signature and it's a thoroughly addictive audio and physical experience. For customers that want their gizzards turned inside out with LFE without exciting the room into seismic resonance, I can't think of a better sub and EQ system combo. Okay, if I were designing a system for media room that had to integrate cinema with audiophile pretentions in stereo, I may look elsewhere for sub with perhaps a little more finesse – but for sheer LFE might, muscle and deep bass control, not much comes close to the XR13 at the price.
Our findings open an interesting solution for higher end home theatre installs. With the likes of Trinnov, Denon and Marantz electronics offering quad sub integration, a full 'four pack' of XR13s would be a seriously appealing install. The LFE speaker system would be relatively discreet thanks to the XR13's sensible size, relatively affordable thanks to the XR13's under £5,000 per unit retail ticket, and would deliver massive, OMG-scale ultra controlled LFE – with absolutely no 'relatively' caveat whatsoever!