WyreStorm, AV distribution and control over IP, HDBaseT and HDMI specialist is launching two new pure HDMI 4K matrix switchers at ISE 2019.
The brands says that the humble HDMI cable is still the best method to send high-bandwidth AV signals from A-B; and the updated pure-HDMI H2 matrix switchers from WyreStorm pack even more of a punch.
With a backplane capable of handling every type of AV signal within the HDMI 2.0 specification, these 4×4 and 6×6 models can also automatically trigger a connected CEC compatible screen on or off based on signal presence and with a new AV function, that signal can itself be switched on or off via the API making it strong choice for education or signage environments. Audio breakouts for each zone complete the package.
Unfortunately, as HDMI bandwidths go up, transmission distances go down…or so they used to. Coupled with WyreStorm's Active optical HDMI cables with CEC pass-through, these once simple switching platforms have become a compelling AV distribution solution, capable of reaching distances of up to 50m/164ft, says the maker. These new solutions will ship in Q1 2019.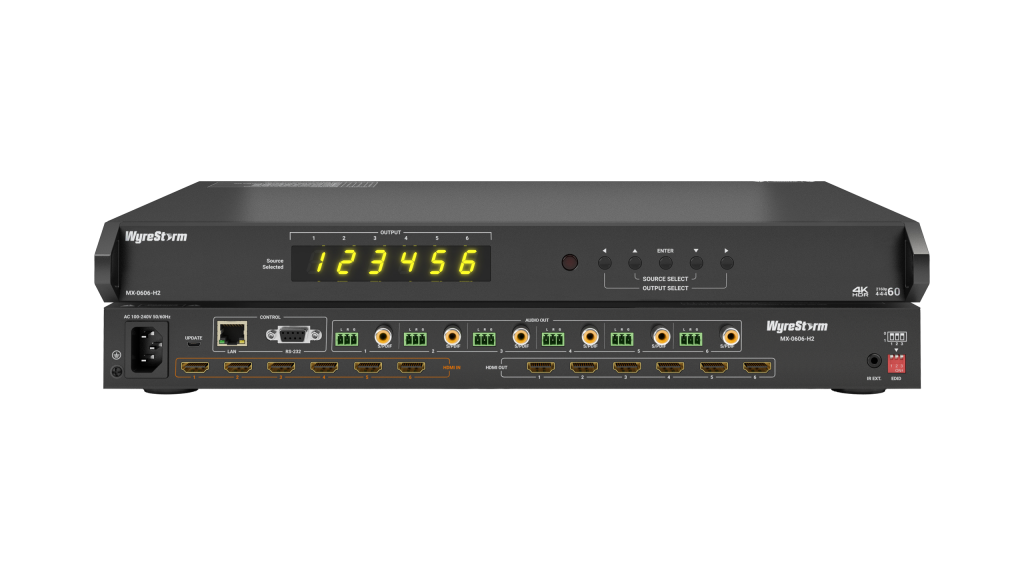 The brand is also using the event to launch with Pre-Configured Luxul Network Switches.
Configuration and installation labour times have always been an important factor for any integrator when choosing the right technology for the right application. WyreStorm considers its NetworkHD AV over IP software configuration solutions one of the fastest todeploy on the market.
To reduce the deployment time of NetworkHD systems even further, WyreStorm now has an alignment with Luxul, a leading name in IT network products.
With a range of leading-edge Luxul managed network switches available from WyreStorm now available preconfigured, the process of adding switch setup times to an installation can be removed, adding more value to a WyreStorm and Luxul solution.
With Domotz integration as standard for both Luxul and WyreStorm, fast deployments times are further enhanced with ongoing remote monitoring and event notifications, combining the best in speed, convenience and reliability. Check it all out on Stand 1-N100.