Award organisers are thrilled to announce the winners of this year's highly anticipated Smart Building Awards, which were revealed with great excitement during EI Live! 2023 last week. These awards serve as a beacon of recognition and celebration for the most innovative and ground-breaking achievements in the ever-evolving world of smart buildings and luxury AV.
Hosted once again at the Village hotel, this highly anticipated calendar event in the realm of smart technology and home automation, has become a distinguished platform for honouring exceptional contributions to the industry. This year's ceremony marked a momentous occasion where brilliance and ingenuity were brought to the forefront in a fun filled night of awards and networking.
A massive thank you to the sponsors of the awards this year, the returning main sponsor of the night Sonos and drinks reception sponsor Gaia International.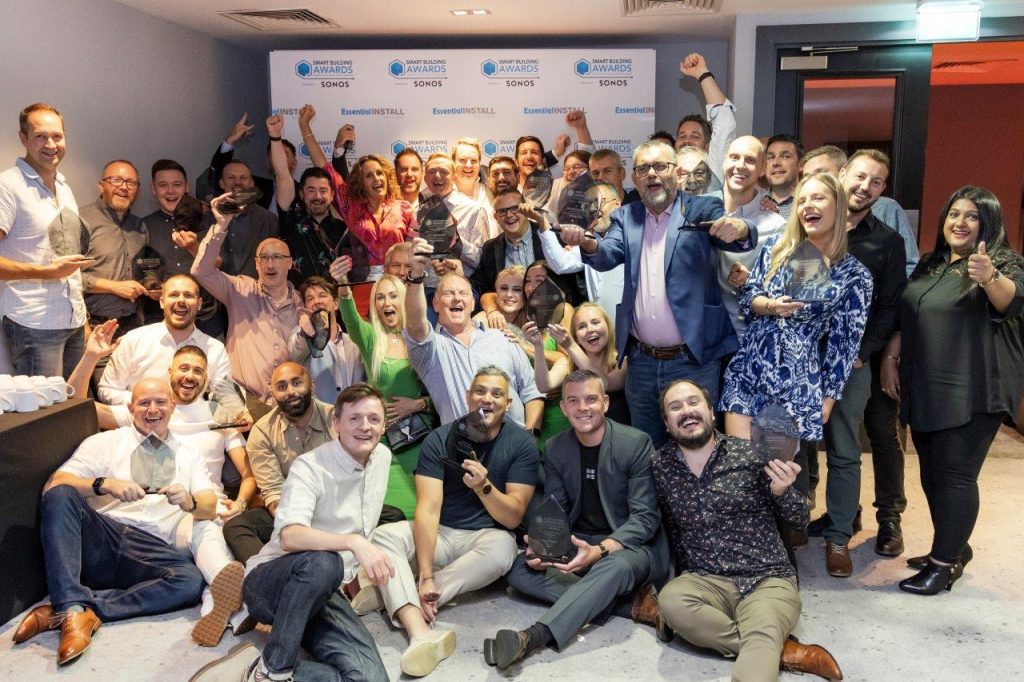 Our esteemed panel of judges, comprised of industry experts and thought leaders, meticulously assessed an array of impressive submissions. They considered projects, products, and initiatives that have redefined the way we perceive and interact with modern buildings and entertainment systems. A big thank you to all the judges this year….
• Melanie Malcolm – Bespoke Home Cinemas
• Simon Gregory – Cinema Rooms
• Richard Stevenson – Quick Brown Fox PR/EI Reviewer
• Stephen Rhead – Sonos
• Carl Nycz – Home IQ Ltd
• Daniel J Sait, Essential Install Editor in Chief
Without further ado, we invite you to join us in celebrating the brilliant minds and trailblazing technologies that have earned the coveted Smart Building Awards. Check out our winners gallery receiving their awards from Stephen Rhead, Installed Solutions Manager at SBA sponsor Sonos.
Product categories
Best Lighting Control
EOS Portrait Keypad, Rako Controls Ltd
Best matrix Signal distribution
MHUB S: The Stackable Matrix, HDanywhere
Best Projector
VPL- XW7000ES, Sony
Entered by AWE Europe
Best rack or Mounting Product
Clear Flow Media & Data Cabinets, Antiference
Best Security Solution
Luma X20 Family, Snap One
Best software release solution update
OS 8.8 NICE/ELAN
Entered by Aldous Systems
Best Standalone speaker
Model A, Steinway Lyngdorf
Best TV display conventional
BRAVIA XR98X90LU 98", Sony
Entered by AWE Europe
Best cable solution
WEB-LED
Webro Cables & Connectors Limited
Best Dedicated Touchscreen controller
Nice EL-HR40
NICE/ELAN
Entered by Aldous Systems
Best exterior AV or smart home product
Lithe Audio i01 Outdoor Active Surface Mount Speaker
Best Integrated TV display
Lusiom, Videotree
Best In wall or in wall or in celling speaker
CI800 Series Diamond CWM8.3 D, Bowers & Wilkins
Entered by AWE Europe
Best Multi room zone music system
MZMA, HDANYWHERE
Project categories
Best media room over £50,000
Jungle Atmos Media Room
Cyberhomes UK
Best media Room under £50,000
Disco Room
Electric Orange
Best Multi Dwelling Unit
Riverstone Fulham: High-End MDU AV
Prestige Audio
Best rack Installation
Silver Lining Storage Solutions
AMARARAJA
Best Whole home integration project
South Lodge
Majik House
Best home cinema project over £50,000
Senior Cinema, Riverstone Fulham
Prestige Audio
Best Home Cinema project under £50,000
Lake District Cinema Room
Finite Solutions
Best Commercial Integration project
The Collective
Luuxx
Company categories
Best Training
Control4 Automation Programmer
Snap One
Distributor of the year
DbM
Manufacturer of the year
Rako Lighting Controls