Automation platform Savant has a busy CEDIA Expo program including new relationships with intelligent energy management solutions provider Racepoint Energy and sonnen ecoLinx to deliver energy automation and the most advanced Savant smart home yet.  The company has also added Apple TV compatibility within the Smart Home App.
The energy management part of the equation leverages Savant's home automation and control platform (along with the Savant Pro App), Racepoint Energy's Dynamic Load Management (DLM) and Breaker-Companion Module technology and sonnen's innovative ecoLinx intelligent energy storage system to facilitate a cutting edge clean energy management solution. Savant says integrators can now deliver all of these components and their related functionality in a fully-integrated solution that seamlessly manages energy usage, providing homeowners with greater overall energy efficiency and energy independence during peak periods, power outages and beyond.
The ecoLinx system enhances the capabilities of Savant's automation platform, providing a flexible way to dynamically control power loads in the home with an intelligent, fully-managed clean energy solution. Savant says the ecoLinx system offers the safest, longest-lasting and most innovative storage technology on the market. By storing excess energy generated by the sun and deploying it when needed most – like on cloudy days, peak, periods, and power outages – it manages and maximises energy usage day and night to power the home in the cleanest way possible. Now, by combining sonnen's intelligent energy storage technology with Savant's smart home ecosystem and Racepoint Energy's controllable breaker modules, homeowners have access to smart configurable backup power during outages, robust circuit monitoring, intelligent demand control for Savant sub-systems, automated weather response to prepare the home for potential outages, and real-time household energy consumption data from the Savant App and platform.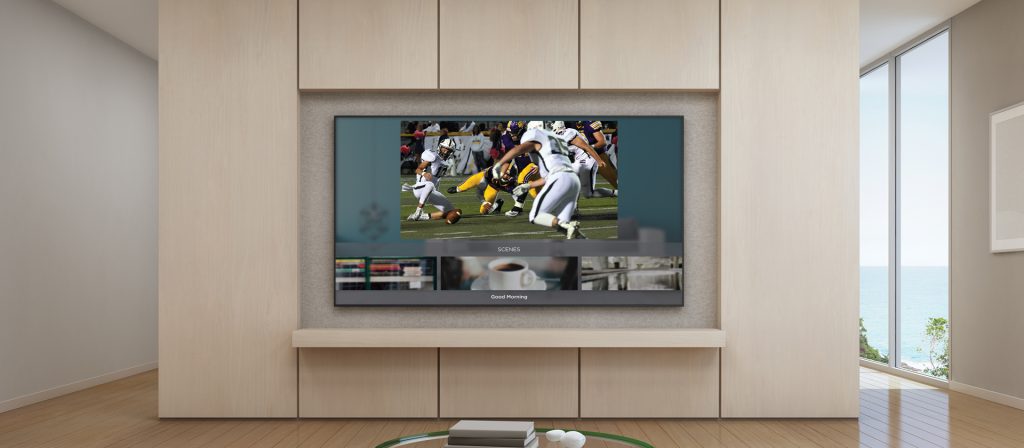 Racepoint Breaker-Companion Modules
Savant says that Racepoint Energy Breaker-Companion Modules provide breaker-level energy and panelised lighting control that delivers individual, utility-grade monitoring, data usage and control throughout the home. The Breaker-Companion Modules and Dynamic Load Management system provides energy management functionality at the individual load level. These modules have been designed to fit into standard electrical panels as a companion to any circuit breaker.
"Energy monitoring and management is a relatively new and growing category that represents an important opportunity for the custom integration channel," says Savant CEO Bob Madonna. "Savant and Racepoint Energy are excited to be partnering with sonnen, creating the most effective solutions available while accelerating market potential and overall visibility for the category."
Apple TV
Savant has also introduced the Smart Home App for Apple TV, an on-screen control platform designed to provide fast and intuitive access to smart home functionality via high-definition graphics. The graphical control icons can be shown full screen or as an overlay to live TV or a movie that is currently playing.
Savant says its Smart Home App for Apple TV provides an easy-to-navigate menu of icons in a large visual format representing key features such as climate, lighting, audio and Savant Scenes. This on-screen experience is part of the company's Pro App software that provides an intuitive interface with smart home functionality via touch panels, mobile devices, the award-winning Savant Pro Remote—and now the TV too. Users can select their favorite channels, choose to control or view the status of a service in the home or to activate a Savant Scene.
More than a decade ago, Savant says its original on-screen display (OSD) won multiple awards and thrilled homeowners with unmatched levels of convenience and effortless operability. The new Smart Home App for Apple TV is part of its aim to carry forward the company's culture of innovation, providing easy access to the latest in smart home technologies.
With The Smart Home App for Apple TV, Savant can not only provide access to quick control options, but also provide the user with 'live' features such as door station or security camera views, TrueImage control of lighting including applying favorite colors to USAI Lighting Fixtures, Savant DMX Light Strips and Smart Bulbs, along with a view into energy usage history and current generation statistics. Integrators will appreciate the ease of implementation, managed through the Savant IP Video feature set or as a standalone 'Direct Mode' option with a dedicated Apple TV.
"The Savant Smart Home App for Apple TV has been designed to round out our control offering, delivering to the user a consistent and powerful experience whether they are controlling the system on a mobile device, touch panel or tablet, remote control, voice engine, TV, or even an Apple Watch," says VP of Design Andy Hamm. "We strive to create experiences that are engaging and ultra-intuitive, making it easy, effortless and fun for anyone to interact with their Savant system." The Savant Smart Home App for Apple TV will become available late 2019. Stand 1500 at the 2019 CEDIA Expo is the place foe a demo if you are at the show.