Following on from the announcement at CES of its flagship JZ2000 OLED TV, Panasonic has revealed more of its OLED and LED TV line-up for 2021.
Thanks to their Hollywood tuning and superb colour accuracy, Panasonic TVs have always been the best choice for viewing movies and high-quality TV series. In 2021, guided by its See it all. Feel it all concept, Panasonic is using this expertise to further improve the immersive viewing enjoyment of sports, gaming, streaming, and all other content.
Class-leading picture quality delivers all the detail, colour and contrast the content creators intended, and is combined with precise, powerful sound to really let you see it all and feel it all.
New OLED TVs: Superb for Cinematic Content
For OLED, Panasonic has complemented the flagship JZ2000 with the new JZ1500, JZ1000 and JZ980 series, with the latter three series available in 65-inch, 55-inch and – new for 2021 – 48-inch sizes.
As with the JZ2000, these sets benefit from the colour tuning of Stefan Sonnenfeld, Founder and CEO of Company 3, and a trusted collaborator of some of the world's best filmmakers. Combined with Panasonic technical colour accuracy, these new OLED TVs will set the benchmark for watching cinematic and premium content.
Panasonic's engineering expertise and excellence has gone into pioneering a much brighter OLED experience in the shape of its Master HDR OLED Professional Edition panels. In the past these were confined to its flagship televisions, but in 2021 Panasonic will include the brighter Master HDR OLED Professional Edition panel in both the JZ2000 and the JZ1500 – great news for viewers who want to enjoy better HDR performance, but don't require the sonic power of the JZ2000 because they already have a comprehensive home sound system.
All of these OLED series will feature the brand new HCX Pro AI processor which was announced with the JZ2000, enabling the new Auto AI picture mode. Auto AI helps deliver an optimum experience to viewers by accurately detecting what kind of content is being viewed – for example, cinema or sports – and then automatically adjusts the picture quality accordingly. The Auto AI mode is a standalone picture mode, so viewers who want to manually select their preferred settings will still be able to do so.
As they feature the new HCX AI Pro processor, the new OLEDs will also support Game Mode Extreme, which reduces latency down to amongst the very lowest figures in the industry for an OLED TV. These latency reductions are the result of significant engineering enhancements made by Panasonic, rather than industry-wide panel improvements. All OLED models will also support AMD FreeSync Premium.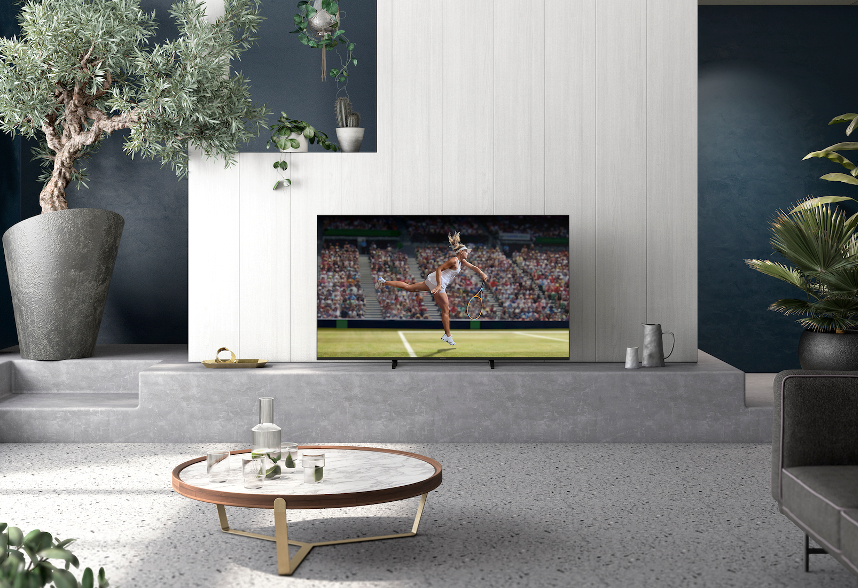 New LED TVs: Ideal for Sports and Gaming
Panasonic has also announced three new LED TV series for 2021: the JX940 series (75in, 65in, 55in, 49in), the JX850 series (65in, 58in, 50in, 40in), and JX800 series (65in, 58in, 50in, 40in).
The JX940 series will have particular appeal for sports and gaming enthusiasts. Firstly, like the newly announced OLED TVs, the JX940 also features the new HCX Pro AI processor, meaning it can automatically detect sports broadcasts and optimise the picture quality accordingly. Intelligent Clear Motion also smooths out dynamic actions for flicker-free viewing.
Secondly, the JX940 series comes with a 120Hz, bright HDR Cinema Display Pro panel with wide viewing angles – ideal for watching sports with family or friends.
Dolby Atmos support delivers room-filling stadium sound from the JX940. In addition, it features an innovative iteration of Panasonic's flexible pedestal design. When the pedestals are placed in the outer position, it raises the TV up slightly to allow for a soundbar (such as Panasonic's design-matching HTB490 model) to be placed below it, further enhancing the audio performance.
In terms of gaming, as the JX940 series features the new HCX Pro AI processor, it supports game-friendly HDMI 2.1 features such as High Frame Rate (HFR) and Variable Refresh Rate (VRR). The JX940 also supports AMD FreeSync Premium.
JX800: Great for Streaming
The introduction of the new HCX Pro AI processor in Panasonic's higher-end sets means that Panasonic has now brought its previous generation HCX processor down to core models such as the JX800 series. So now even these sets will have access to the vast wealth of Panasonic colour science expertise.
As a result, the JX800 unlocks a level of picture quality which, in combination with the HDR Bright Panel Plus and a very wide range of streaming services, makes it an ideal budget-friendly family TV for binge watching.
The JX800 also combines, for the first time, Android OS with some of the user-friendliness of Panasonic's my Home Screen operating system.
Format Support
in 2021 Panasonic continues its strong tradition of supporting premium features all the way down through the line-up.
Film Maker Mode with Intelligent Sensing, which Panasonic announced in its 2020 OLED models, will be supported in 2021 all the way down to the JX800 series.
In terms of HDR formats, Dolby Vision IQ will be supported in all 2021 OLED TVs and also on the JX940 series LED TV. Dolby Vision and the HDR10+ Adaptive format will be supported all the way down to the JX800, in addition to the HDR10 and Hybrid Log Gamma.
When it comes to gaming, Game Mode Extreme will be supported down to the JX940, bringing with it the advantages of 4K High Frame Rate (HFR) and Variable Refresh Rates.
Dolby Atmos audio will be supported down to the JX850 series.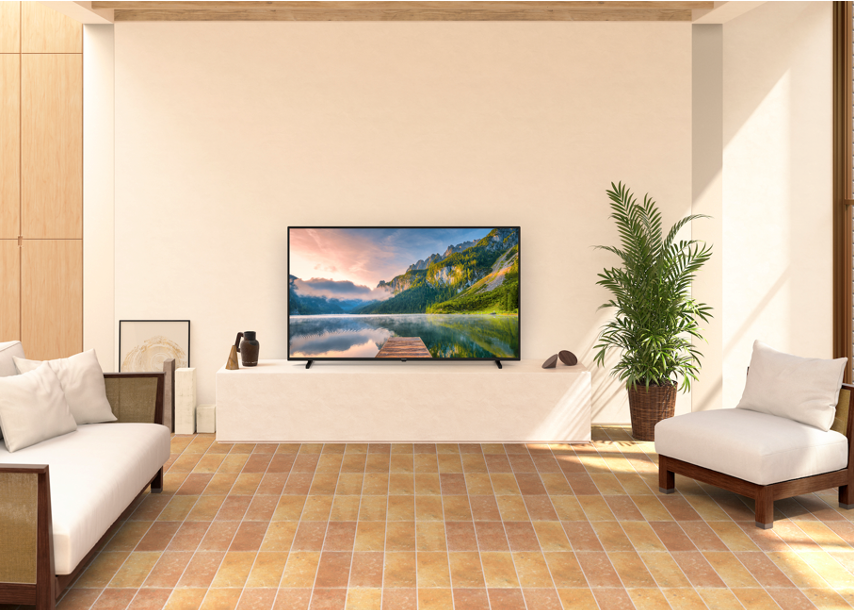 my Home Screen 6.0
All new models down to the JX850 series feature the latest iteration of Panasonic's highly regarded smart TV OS, my Home Screen 6.0. The new version delivers considerable usability improvements.
my Scenery allows you to choose a selection of restful images and videos, or set your own, to reflect your mood or time of day. Perfect for mindfulness sessions or preparing for bed. In addition to photos from LUMIX CLUB, which highlight the beauty of Japan, we also collaborated with LoungeV Studio to provide you with the most beautiful videos to help you relax after a hard day's work.
A new On Timer allows users to schedule a time when the TV will automatically switch itself on, while users can also pre-select a favourite channel, or which HDMI input they want to display. Alternatively, the TV can also show the new my Scenery feature.
Dual Bluetooth Connection allows the TV to transmit sound to two separate Bluetooth devices simultaneously, meaning that, for example, both you and your spouse can listen to a film late at night via Bluetooth headphones without disturbing your children's sleep.
The menu interface has been improved to allow quick access to the most commonly used picture, sound, and other settings.
All models down to and including the JX850 support both Google Assistant and Amazon Alexa built-in, allowing users to use their voice to check the weather or the news in addition to other useful information right on their TV.  The JX800 supports Google Assistant but not Amazon Alexa.
Other new features include HDMI Signal Power Link which enables automatic power on from standby and input switching, even for devices such a PCs, which are not CEC compatible.
Design and New Remote Control
True to Panasonic's philosophy of delivering immersive true-to-life experiences, the design of the 2021 line-up is simple and minimal so as to allow viewers to be fully focused on their favourite content.
Panasonic will also be introducing a brand-new remote control in 2021. Seamlessly fitting into your living room environment, it has been modelled on the rounded shape of decorative bowls. The round edges also make it ergonomic and comfortable to hold.