Flexson, the brand known for its quality accessories for Sonos, has launched upgraded mounting options for the Sonos Five. The S5-FM Flexson Floor Stand for Sonos Five and Play:5 and S5-WM Vertical Wall Mount for Sonos Five and Play:5 are designed to securely mount the current iteration of Sonos Five speaker, as well as the previous second generation Play:5.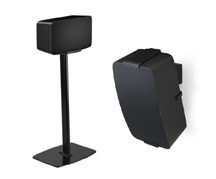 Built to position the speaker at the perfect height for seated listening, the Flexson Floor Stand can hold the speaker in either horizontal or vertical orientation. Constructed from steel and aluminium, the stand is quick and easy to assemble and securely holds the speaker, while the clever cable management design keeps the installation neat and tidy. The stable base is thin enough to slide under sofas and chairs if needed, and adjustable carpet spikes mean the Flexson Floor Stand is suitable for all floor types and interiors.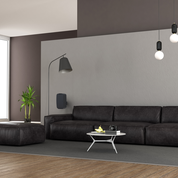 The Flexson Vertical Wall Mount for Sonos Five and Play:5 securely, yet discreetly, holds the speaker in a portrait position. From the upright position, the speaker can be swivelled up to 60-degrees (30-degrees left and right) and tilted up to 15-degrees down, to perfectly angle the sound. Designed to suit any space, the Flexson Vertical Wall Mount comes equipped with the fixing hardware for Brick/Masonry and Wood/Studwork.
Both the Floor Stand and Vertical Wall Mount for Sonos Five and Play:5 are available in black and white finishes to match the speaker.