Serving both the custom integration and the retail Hi-Fi channels, American speaker brand KLH has expanded into Europe, partnering with Ireland's TBM Solution to manage sales, marketing, logistics and dealer/distributor support.
Recently reborn and revitalised, the new KLH consists of former Klipsch and loudspeaker industry specialists that have created a range of performance-rich yet modestly-priced in-room and architectural loudspeakers for home cinema and Hi-Fi and there is also a range of headphones.
TBM Solution has a team of specialists on the ground throughout Europe to work closely with dealers and distributors. For additional convenience, the two companies have created a multi-lingual KLH website.
KLH is perhaps best remembered for its Model Nine full-range electrostatic speaker (1960's), but is now an all-new venture led by former Klipsch Global Sales President David P. Kelley and a team of former Klipsch and loudspeaker industry executives.
Launched during the 2018 CEDIA Expo in the US, the brand says its in-room speakers and headphones have already received high-praise from the press for their tremendous performance and value propositions, including a glowing review of the flagship Kendall floor-stander by AVS Forum.
"As we expand KLH globally, presently we are in 22 countries and growing, it is critical to partner with the right companies," says David. "Having TBM Solution as an extension of KLH will allow us to best serve our European customers. They will handle everything, in real-time, in their time zone, with inventory readily available to ship and fast support for dealers and distributors."
"TBM Solution brings unrivalled logistics and distribution skills to bear along with over 50-years of combined HiFi industry knowledge," says TBM Solution Account Manager Walter Hegarty. "We are hugely excited to be involved at the start of the epic journey that KLH is going to be, and are committed to provide the level of support that such a legendary brand deserves."
The TBM Solution team consists of co-founders Alan Eustace and Ed Corkery, Account Manager Walter Hegarty, and Customer Excellence Team Leader Imelda Russell.
There is no news so far on special distribution for the UK, but naturally we will bring you that when we get it.
In-Room Loudspeakers
The KLH in-room loudspeaker range consists of 12 models. As a nod to the brand's history, each is named after a street in Cambridge, Massachusetts, the birthplace of KLH. Models are the three-way Kendall, Quincy and Cambridge (two-way) floor-standers; Ames and Albany two-way bookshelf; Story centre channel; Beacon and Broadway surrounds and Stratton and Windsor 10in and 12in powered subwoofers – with a 1,000W Class AB amplified dual 12in, side-firing subwoofer becoming available the summer.
All have real-wood veneer finishes, high-quality MDF cabinetry, internal components and dampening, and Kevlar drivers with anodised aluminum dome tweeters. To maximise floor-standers' bass performance, incorporated are low resonance driver chambers with hand-tunable baffle ports.
"With a KLH executive team that together brings nearly 200-years of combined experience, plus our deep global manufacturing and distribution relationships, vertical integration and world-class engineering, we've got a range so serious that we confidently pit each model against competitors' similar designs, including those 2 and 3 times the price," says David. "And our warranty is unprecedented: 10-years on passive speakers and five years on subwoofers."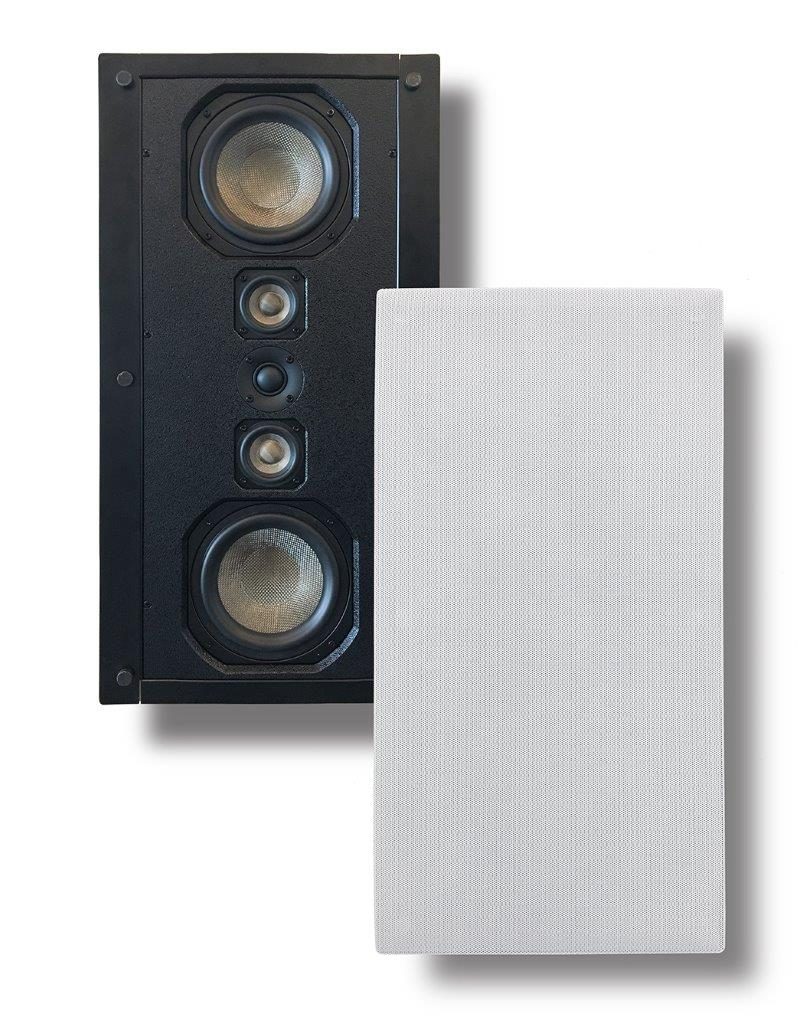 Architectural Series Speakers
KLH's architectural speakers are named after physicist James Clerk Maxwell and scientist Michael Faraday, both of whose names appear on buildings at the Massachusetts Institute of Technology, which KLH co-founder Henry Kloss attended.
The Maxwell In-Walls are comprised of two and three-way models. They incorporate tuned, sealed back-boxes with MDF baffles, powerful 6.5in Kevlar-coated fiberglass drivers, 1in silk dome tweeters, tapered array crossovers and gold-plated five-way push-pin binding posts.
The Maxwell In-Ceilings utilise a concentric design to achieve broad dispersion plus sealed tuned enclosures with integrated back cans. Three two-way models are available including both 5.25in and 6.5in driver versions with an extra-large voice coil version.
The Faraday two-way in-ceiling and in-wall speakers are designed to be solid performers yet at lesser price points. All feature injection molded graphite woofers, soft dome tweeters, magnetic bezel-less paintable microperf grilles and gold-plated, five-way push-pin binding posts.
Options include 6.5in and 8.5in driver versions with a dual voice coil version. Also available is an All-Weather outdoor model.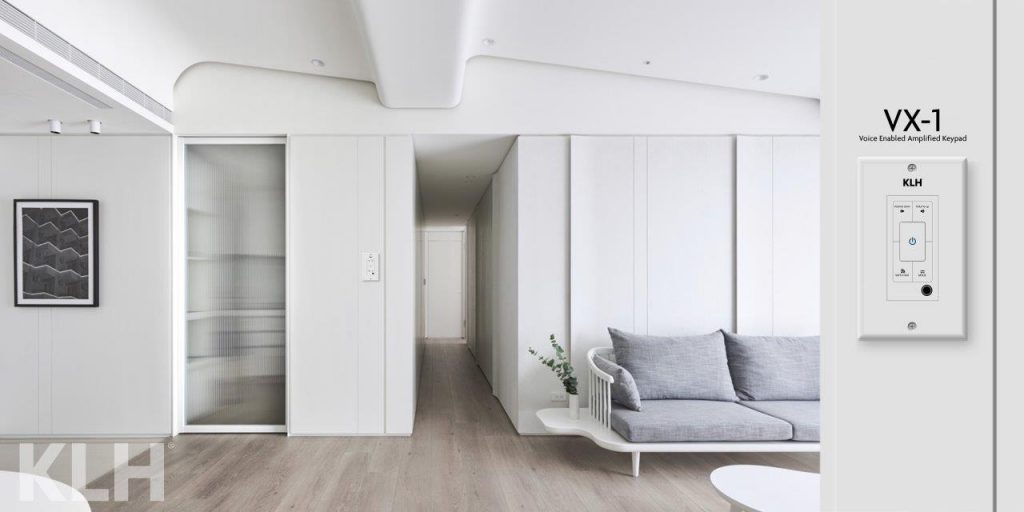 And that's not all….
KLH also offers something quite unusual for a speaker brand, its own patented VX-1 Voice-Enabled Amplified Keypad.
The unit is designed to be a simple and cost-efficient solution to create wireless streaming music in the home.
Outfitted with Wi-Fi, Bluetooth with aptX, HiRES audio circuitry, and amplification, the VX-1 replaces a home's existing passive in-wall volume control while using the existing speaker wires, making it easy to install.
It can also be paired with new speakers. The VX-1 becomes Alexa voice control-enabled when used with the free MUZO iOS / Android control app.
In addition to this local zone, the addition of any Amazon Alexa device allows voice-enabled control of other sources / components throughout the home.
David sums up, "KLH is one of the most storied and revered audio brands in the world, founded by one of the most iconic engineers in the history of consumer electronics.
"I am taking the brand back to its roots, to Henry's original mission, to build world-class loudspeakers and radios at affordable prices. I am proud to be the new owner of KLH and will honour Henry and his many contributions to the audio industry through the introduction of our extraordinary new KLH products."