Is it sub mission accomplished for the new Sonos bass solution?
Designed most specifically to partner the company's range of sound bars and speakers, the Sonos Sub Mini has been created to offer a more affordable, perhaps better-looking solution when compared to the existing Sonos sub. The Mini comes in at £429, around half that of its bigger brother. The only Sonos products it cannot partner with are the portable offerings of Roam and Move, and its performance curves are aimed mostly at partnering the company's soundbars (reviewers are supplied with one to use when testing the Sub Mini to underline this fact).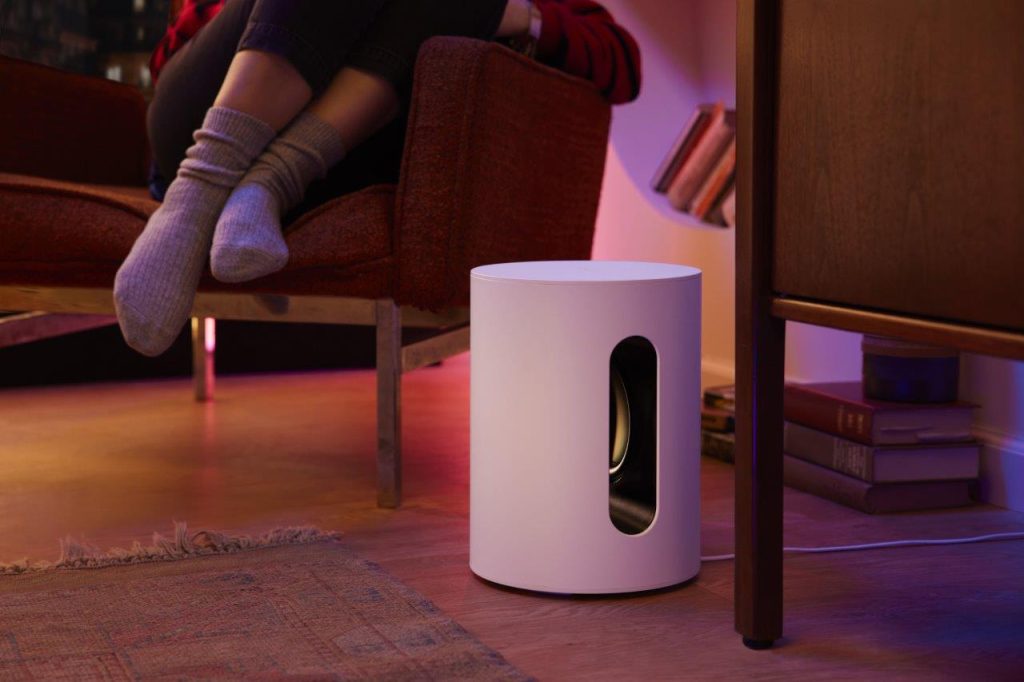 The size and shape of the product has received some attention, with some suggesting that it does not really look like a sub, that's no bad thing as the cylindrical design means it feels at home in quite a few different environments and the dimensions (23cm wide and 30.5cm tall) means it is a strong option for when space is at a premium in smaller living spaces such as apartments or if the product is destined for somewhere such as a home office. The performance means it can be placed more or less anywhere in the room with similar results and its Wi-Fi connectivity (helped by an embedded NFC tag) also promotes flexibility. All it needs is a power sockets and you are good to go. One slight caveat, the unit supports 802.11n (Wi-Fi 4), not the more recent Wi-Fi 6, but this did not present us with any issues during use. As usual, set up is via the Sonos app. If convenient and desired, the unit can also connect via ethernet cable.
The performance
Following the familiar simple set up procedure, partnering the Sub Mini with the most recently introduced soundbar the Ray delivers a decent and very obvious uptick in performance. EI tried the product in a living room context and threw at it some streaming services using some familiar content such as Amazon's Rings of Power as well as Andor from Disney+'s Star Wars family. Atmospherics are much better than with just the Ray alone, which offers decent clarity but obviously lacks the range to underline audio such as the drone of a Tie fighter or bass rumbles during the battle sense of the Tolkien series. What is on screen tightens well with the audio with more dynamism and control being the main features. Music footage is always a good test of any type of home cinema set up and a well-worn favourite at EI towers is the Blu-Ray of AC/DC Live At Donnington recorded in 1992 and released as a Blu-Ray in 2007. This, for the time, surprisingly well captured footage, has loads going on with different camera angles from the 26 cameras used in the recording and is presented in three audio options of 48kHz/24bit PCM stereo, Dolby Digital 5.1 (640 kbps) and PCM 5.1 48kHz/24bit. Comparing the listening experience to Sub Mini and Ray to just Ray, the standout improvements include Chris Slade's drumming, a behemoth of a performance and the sheer confidence and power of Angus Young's guitars. The Sub Mini definitely adds a new level of rawness and atmosphere. Capable of going down to 25Hz, in the context of where this product is aimed at, a definite plus to audio reinforcement for smaller rooms and systems.
This little product can get down to those levels by employing its pair of 'force-cancelling' 6in woofers, backed by sealed chambers, that deliver audio inwards at each other, which is sent into the room via the Sub Minis' curved cavity.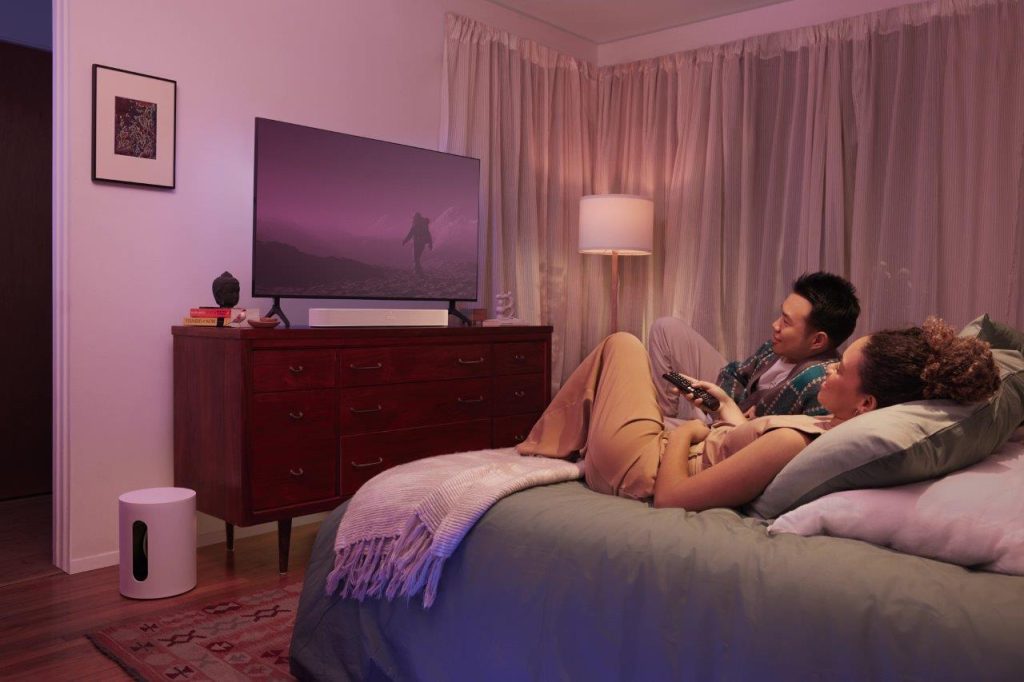 Away from the more impactful words of rock music and big bold cinematic TV series, the Sub Mini is also subtle enough to add something to more calming choices. Mortimer and Whitehouse Gone Fishing on the BBC iPlayer is about as calm as it gets and here it's nice to let the Ray do all the work in the mid and higher frequencies whilst the Sub delivers the low end offering some more clarity to the dialogue and a more pleasingly complete atmosphere. What about music only playback though? Surely an area this Sub must perform well in considering its likely target audience and use context. As you might expect the Sub Mini copes really well with bass heavy material cutting a fine rug when presenting a Love Like Blood by Killing Joke or something more dance/ambient like Metallic Spheres by the Orb. Taking the foot off the gas a little, there is also decent improvement when tackling something a little more subtle with tracks from the Grateful Dead's Aoxomoxoa album enjoying more reach and improved rounded tone to their scatological approach to music making. Offering the Sub Mini lots of different thing to do is enhanced by the unit's ability to be adjusted by 15 points up or down to give either less or more impact in the room, so most users should be able to find a level that suits them or the content being played.
Also present is night mode, important as this product is going to end up in many flats and MDU situations. Also on-board is Sonos' 'room correction' software, Trueplay. Being an Andriod user, EI could not test this aspect. The company's reason for not expanding beyond iPhone is the mics on all iPhones are basically the same and are a known quantity, not so with Andriod. A valid point, but perhaps something for the clever people in RnD to look into at Sonos HQ.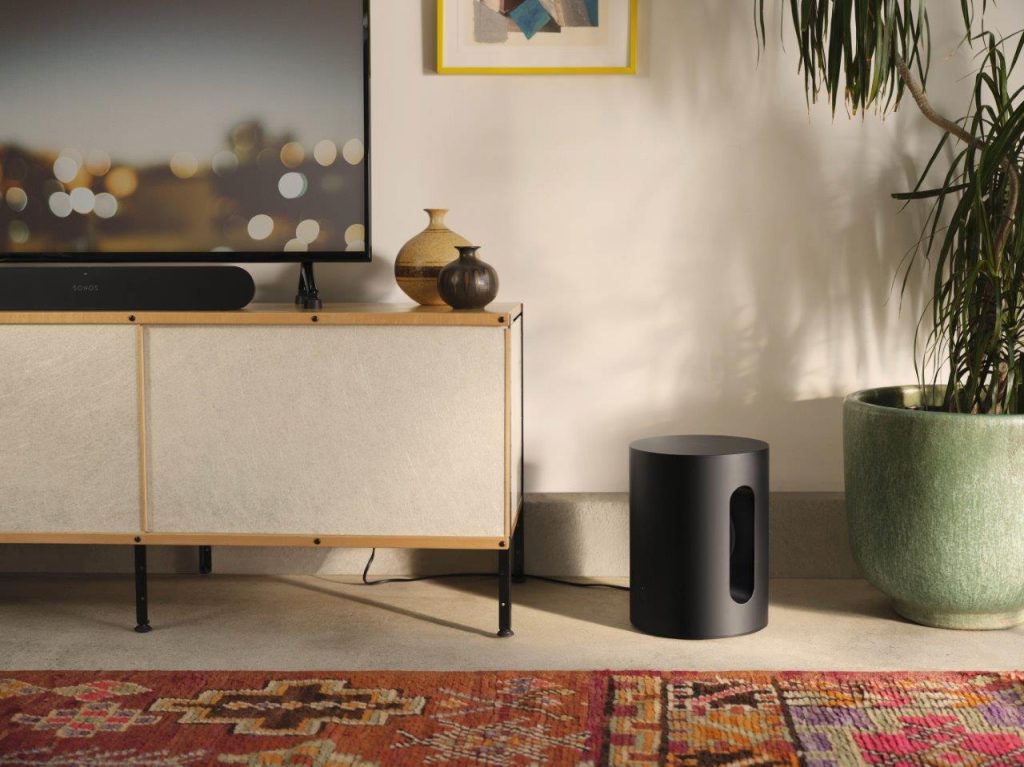 The verdict
So clearly the Sonos Sub Mini has, like all its cousins, been born to live and breathe within a Sonos world and it does that very well. You can really hear the work that has gone into matching this product with all the others meaning that many of the existing speakers like Ray and Beam are set free to reach their full potential as the bass end is competently taken care of by the Sub Mini. In short, a positive addition to the family that will enjoy use in many different contexts able to cope with many types of content.